Review: MTT takes Mahler to a new level in San Francisco Symphony tour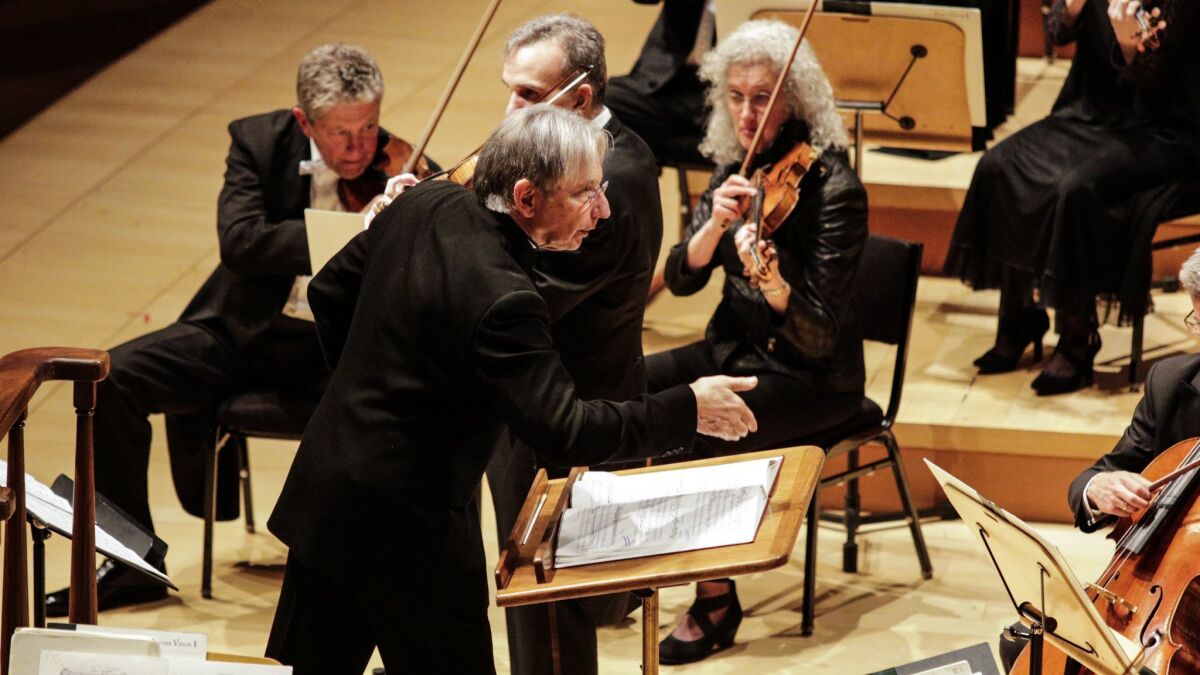 It was a fall evening in 2005 in San Francisco. Michael Tilson Thomas had just begun his second decade as the San Francisco Symphony music director. He was in the midst of recording a cycle of Mahler symphonies, and expectations were high on this occasion for the Fifth, a symphony in which he had long excelled and which was being recorded live.
When the performance was over, someone sitting near me exclaimed for all to hear: "That was a great performance!" I'm leaving out an adjective, because this is a family newspaper. But the sentiment was appreciated and others around us sagely nodded their heads. The playing embraced all that Mahler was in a vast symphony with the emotional trajectory of a classic novel.
Tuesday night, Tilson Thomas, a.k.a. MTT, brought his orchestra to Walt Disney Concert Hall to begin a three-stop Southern California tour (Santa Barbara on Wednesday and Costa Mesa on Thursday). He steps down in two seasons, and no more tours to Southern California are planned. The program at all three places is Mahler's Fifth, preceded by Berg's Violin Concerto.
Were I able to step back in time, I would have only one thing to say to that fellow in San Francisco 13 years ago: You ain't heard nothing yet.
This may sound ridiculous, but it took less than half a minute of a 75-minute symphony and only a trumpet solo to tell that MTT had the key to Mahler like never before. The composer began writing this symphony in 1901 — a new century was on hand, and he embraced it. But first he bid farewell to the comforts of the 19th century with a dirge of extravagant emotion, heralded by the trumpet call.
It is an extraordinary solo, seemingly straightforward but with subtle twists and, typical of Mahler, constant changes of expression. "Ask six friends who know this symphony to sing this dirge for you," Michael Steinberg wrote in the program notes for Tilson Thomas' recording of the Fifth, "and you may well get six versions, no two identical but all correct."
That long, exposed solo scares the you-know-what out of trumpet players. Break a note or mess up, and the whole performance is off on the wrong foot. The orchestra's principal trumpet, Mark Inouye (who was a member of the section for the earlier recorded performance but not yet principal), brought to the solo something resembling but not jazz, something resembling but not soulful klezmer. He made it his own, but he also made it MTT's Mahler.
One of the hallmarks of Tilson Thomas' nearly quarter century with this orchestra is the way he has fostered his players' individuality. At its best, as in this performance of Mahler's Fifth, that is what makes otherwise resonant strings, robust brass, elegant winds and feisty percussion sound like what the Bay Area is supposed to sound like — bohemian, tolerant, unconventional, multicultural and artistically embracing — no matter the reality of having become an exorbitantly exclusive seat of Silicon Valley.
This makes it a perfect Mahler orchestra, and all kinds of things (including growing up in the musical melting pot of L.A.) make Tilson Thomas a perfect Mahler conductor, able to control the big picture while being alert to the symphony's multicultural inner life. While beautifully played, the beautiful playing didn't prevent him from finding a place at the raucous table for everything and everybody, the roiling and ever-changing emotions of what is a huge orchestral cast of characters.
The funeral march opening was followed by nerve-racking turbulence of torn-apart grief mixed with a sentimental new look at the miracle of life. The scherzo was allowed its craziness, San Francisco style. The famous Adagietto for strings and harp, so often played to mourn the death of an important figure but written as a love song to Mahler's wife, was very slow, as Mahler scholars say it's not supposed to be. For MTT the sentiment was the slow cooking of tenderness, with each string player a distinct voice in a mass effusion of lyricism.
The last movement is a joyous rush into the new age. Again, Tilson Thomas kept it on the slow side. He was not so much after Mahler at the beginning of the 20th century as he was MTT early in 21st, knowing that Mahler's trepidations matter more to us now than his fearlessness.
The Berg concerto, written in 1935, the last year of Berg's life, set the scene for all that. The score was intended as a requiem to the daughter of Mahler's widow, Alma, and her second husband, architect Walter Gropius. It is a concerto that, like Mahler's Fifth, looks back and ahead, the ahead here being the political and artistic storm clouds hanging over Germany.
Violinist Gil Shaham brought aching lyricism to the solo line, and Tilson Thomas, not hesitating to drown him out when Berg allowed no other choice, once more sought every ounce of expression from every line in the complex symphonic accompaniment.
ALSO
The voices of Angela Davis and Lech Walesa, via piano
'New Colossus,' the Actors' Gang tale of immigrant struggle, extends its run
At Pasadena Symphony, a musical puzzle played with high spirits
---
Get our L.A. Goes Out newsletter, with the week's best events, to help you explore and experience our city.
You may occasionally receive promotional content from the Los Angeles Times.