Pakistani rape survivor Mukhtar Mai comes to L.A. to see justice, if only onstage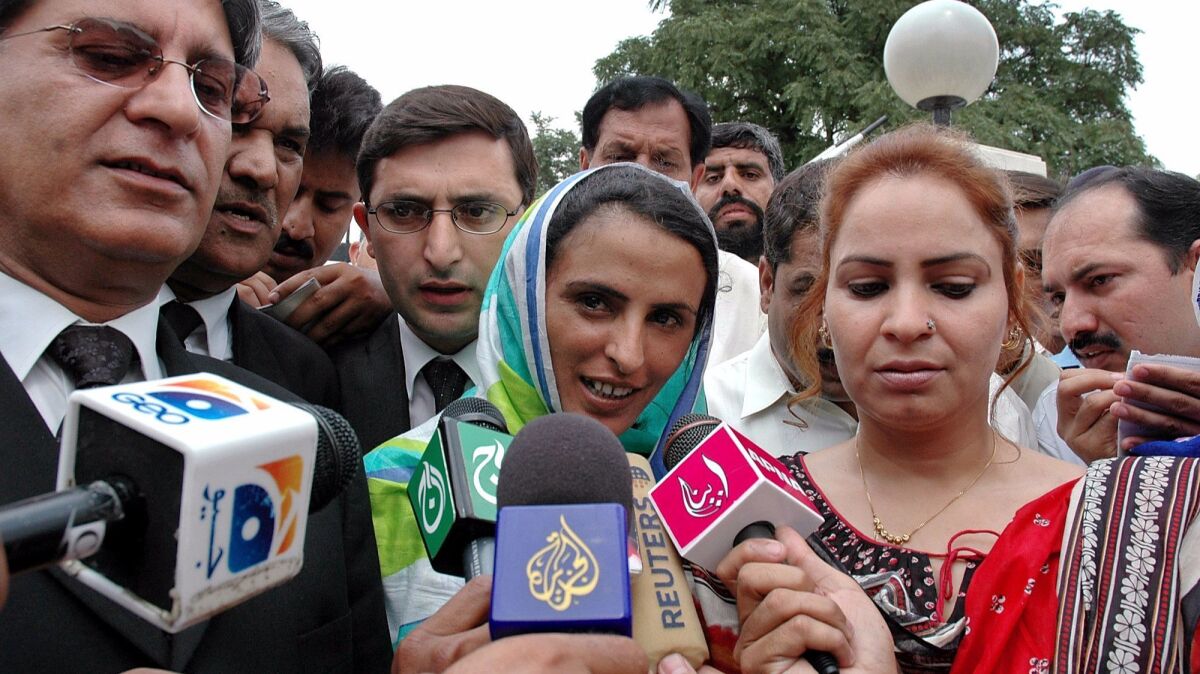 On Thursday night, Mukhtar Mai went to the opera for the first time in her life. And though the experience might have been new for the Pakistani educator and activist, the opera's plot was wholly familiar.
Mai came to Los Angeles from her home in Meerwala, Pakistan, to attend the West Coast premiere of "Thumbprint," an opera by composer Kamala Sankaram and librettist Susan Yankowitz based on Mai's story.
Fifteen years ago this month, Mai was gang raped by members of a powerful tribe in her village. She gained international attention when she defied local tradition by taking her case to the police in pursuit of justice. "Thumbprint" tells that story, ending with a local court's prosecution of her rapists.
In real life that prosecution was overturned in convoluted legal proceedings, by Western standards, and Mai's rapists ultimately acquitted. The legal battles that Mai continues to fight have changed her life. She used the money she received after news of her case spread worldwide to found Mukhtar Mai Women's Organisation, a nonprofit that supports two co-ed elementary schools, a high school for girls, a free legal help clinic and a women's shelter.
Illiterate at the time of her trial, Mai become the first student in her own school. She learned to read so that she could fight for justice.
In her hotel a few hours before Thursday's performance of "Thumbprint," Mai described the challenges she faces today: More than 400 women come to her for help every year. Financial resources are limited, and she struggles to keep up with the demand and properly maintain the shelter's crumbling structure. She regularly receives threatening phone calls, and she fears for the safety of her family and staff. When she walks to the school she founded, she has to pass the home of her rapists, who often mock and catcall her.
"I used to think I was the only one in this predicament," Mai said. "I never thought there were so many others. Every day women come to us for help. It is heart-wrenching. Emotionally one might feel like reacting and solving everything immediately, but that is not possible. We have to follow due process, and that takes time."
SIGN UP for the free Essential Arts & Culture newsletter »
Despite her lack of formal education, Mai's knowledge of the Pakistani legal system is expansive. When the case workers in her clinic are stumped, they come to her for guidance. "If I had an education, I would be a lawyer," she said matter of factly.
The men who assaulted her send their children to her school, which Mai says she does not mind because "children are innocent" and "education teaches right from wrong." Recently the men have become jealous of the international attention her organization has received and are trying to put their names on her school.
"They want to erase me," Mai said. "But I don't care. My intention is to provide education to people, whether I do it or they do it doesn't matter. I just tell them to build two schools."
Mai said there are days when she feels discouraged, but she draws strength from her God, her mother and people around the world who support her cause.
"Many days I do get depressed, but then I get back on my feet. If Allah wants something to be done, it will get done. Another door will open. I just keep going forward."
During a post-performance talk-back Thursday night, Mai said watching "Thumbprint" was uncomfortable because "it was so real."
"I felt good at the same time," she said. Because, at least in the opera, justice was served.
♦ ♦ ♦ ♦ ♦ ♦ ♦ ♦ ♦ ♦
'Thumbprint'
Where: REDCAT, 631 W. 2nd St., L.A.
When: 8 p.m. Friday-Saturday, 2 p.m. Sunday
Tickets: $69 (subject to change)
Info: (213) 972-8001, LAOpera.org
Support coverage of the arts. Share this article.
ALSO
New York's new 'supertall' condo towers
Housing protest posters from around the globe
---
Get our L.A. Goes Out newsletter, with the week's best events, to help you explore and experience our city.
You may occasionally receive promotional content from the Los Angeles Times.