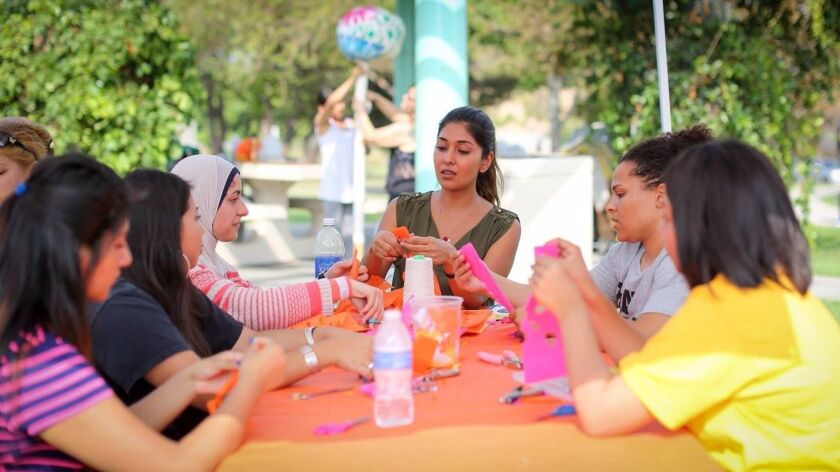 Come May, the community arts center Self Help Graphics will traverse the Eastside of Los Angeles staging pop-up workshops. Its target students? Local day laborers and street vendors who might not otherwise have time for art classes.
The project, JornARTleros, is the brainchild of the 44-year-old nonprofit in partnership with Leadership for Urban Renewal Network, the Boyle Heights-based economic development organization known as LURN, and the L.A.-based National Day Laborer Organizing Network. The project was significantly funded with a $20,000 grant from the National Endowment for the Arts.
"The NEA is the reason we were able to do the project," says Self Help Graphics & Art associate director Betty Avila.
The goal of JornARTleros is to empower laborers — men and women who may run fruit stands or ice cream carts in public parks or await construction gigs from a Home Depot parking lot — with art skills they can use to distinguish themselves professionally and to develop their businesses. That could be as tangible as making a colorful logo or a uniform to build a visual identity. Or it could be the process of crafting these goods that helps students unearth their inherent creativity, which can open up their minds to the skills they possess and how to use them to better their lives.
"These are people who would be considered unskilled laborers," Avila says. "But in their day-to-day work they have to bring a lot of creativity to the table. Our hope is we can bring a creative process to them and show them the creativity that exists already in their skill sets."
During the last 10 years, Self Help Graphics has received about $100,000 in funding from the NEA, the organization says. That money typically goes toward their two signature programs, a month-long Day of the Dead, or Dia de los Muertos, event in October, which includes art workshops culminating in an exhibition and celebration with food, crafts and live music, and its long-running printmaking program in which artists create works in a communal setting.
An NEA grant of $20,000 makes up only 4% of Self Help Graphics' budget, Avila says, but that support is critical toward securing funding elsewhere. "It's such a tool. We can say to other vendors that we've been supported by the NEA — vetted — so it's a chip we can use to continue to fundraise."
Self Help Graphics boasts one of the longest running Day of the Dead celebrations nationwide, and the NEA's support of the program dating to the early '70s has resonated culturally, Avila says. "Their support, so early on, was a cultural affirmation for a community at a time when the Chicano identity was being crafted and built," she says.
This year's JornARTleros is a pilot program that, if successful, Self Help Graphics hopes to grow in scope. An August exhibition of work created in the program is planned.
Were the NEA to disappear, Avila says, it would create not only obvious budgetary and fundraising difficulties, but also a vortex of competition among local arts organizations.
"There are so many other amazing organizations in the L.A. area funded by the NEA," she says. "All of a sudden all these organizations are missing a percentage from their income. Where do we go?
"And also just to lose a national body that really values the work that's being done through the arts, there's no way that could be replaced."
"L.A. Without the NEA" is a series looking at a different community group, how its NEA funds were spent, what artistic or public good did or didn't result and what the cultural landscape would look like if that program were to disappear. Look for more installments to follow at latimes.com/LAwithouttheNEA.
Follow me on Twitter: @debvankin
ALSO
Auction battles and encounters with royalty: LACMA curator looks back at 24 years of adventures
With bold brush strokes and luminous neon, L.A. painter Mary Weatherford comes into her own
Doug Aitken's 'Mirage': a funhouse mirror for the age of social media
100 missing women: Drawings at African American museum tell a powerful story of loss
---