Review: Ojai Music Festival witnesses Barbara Hannigan, Wonder Woman in Wonderland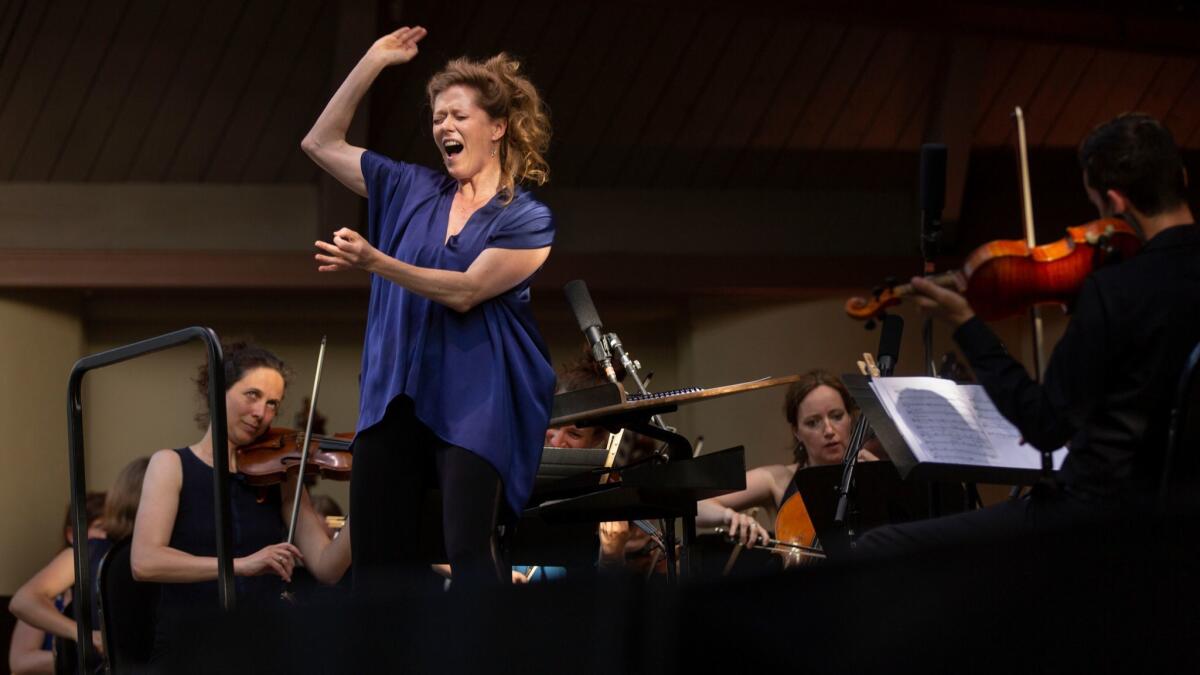 Music Critic
We aptly idealize Ojai as another word for another world, a spiritual escape from industry. In fact, the opposite is also true.
The famed pink moment that comes in the evening glorifies an industrious valley of marvelous mystics, artists, craftspeople, growers, vintners, brewers and olive oil makers. And on the second weekend in June, Ojai is home to the most obsessively motivated musicians, and audiences, on the planet.
The Ojai Music Festival, four days of programming that can go from early morning to late night, has become a trial of endurance for its music director. This year that was the indefatigable Barbara Hannigan, for whom the festival became an ironwoman musical triathlon of exacting singing, vital conducting and inspiring mentoring. No music director of the 72 earlier festivals has had quite that combination of skills.
But beyond the sheer quantity, even beyond the conventional quality, what makes the festival essentially Ojai is an obligatory questing spirit. Music experiments might bomb or performances disappoint, yet the festival can produce a transforming effect on musicians and listeners if the intention is profoundly searching. Disenchantment in an Ojai state of mind is the tried and true.
The unique challenge and greatness of this festival, then, is for music directors to be stimulated to push beyond what might seem possible and in so doing, deplete their defenses, allowing for an enlightened openness to new experiences. For that a guide is required.
Since 2004 Thomas Morris has been the Ojai festival's Obi-Wan Kenobi, seeking a music director each year rather like a Tibetan monk looking for a reincarnation of a spiritual leader and then guiding the development. This was his final year as artistic director, and his presence was more prominently displayed than it usually is.
Morris will be particularly remembered for his surprising and unconventional choice of brilliant risk takers as game-changing music directors, especially opera director Peter Sellars, choreographer Mark Morris, percussionist Steven Schick and, last year, violinist Patricia Kopatchinskaja.
Hannigan, on the other hand, was an inevitable appointment. She can do it all. If her festival had less vision or spiritual nourishment than some earlier ones, there wasn't a lack. She is a rigorous perfectionist who could reach her level of accomplishment only through intense devotion, which is, of course, its own kind of spiritual activity.
Both Hannigan and Morris seemed intent on including a kind of Ojai Festival summing-up for this, its 73rd iteration. Looking back in festival history, Hannigan offered substantial works by Stravinsky and Schoenberg. In continuing Morris' own contributions, Schick was again on hand as percussionist and conductor; the JACK quartet returned; afternoons in Libbey park resonated once more with John Luther Adams' percussion music; filmed documentaries were screened of performers and composers. There was also a tribute to Morris' first choice for music director when he arrived, with a moving hour of the late Oliver Knussen's chamber music.
The schedule, though, was less punishing than in nonstop recent years, allowing for a fraction more free time in the afternoons and no 11 p.m. concerts, although the provocative 8 a.m. sunrise events continue (all of which I unfortunately had to miss). But I doubt it could have been any less punishing on Hannigan herself.
Having opened the festival Thursday night in Libbey Bowl conducting Stravinsky's opera "The Rake's Progress," the first full-length opera production ever attempted by the festival, Hannigan was the emotionally gripping soprano soloist in Schoenberg's trailblazing Friday night. She followed that by conducting the excellent Dutch chamber orchestra Ludwig in Schoenberg's "Transfigured Night" and Canadian composer Claude Vivier's "Lonely Child." Later in the night, Ludwig let down its hair with ballroom dancing, and Hannigan, who also has dance training, impressively cut the rug.
The next night Hannigan was the incomparable vocal soloist in John Zorn's "Jumalattaret," which she proved not to be unsingable, and in French composer Gérard Grisey's ephemeral death meditation, "Quatre Chants pour Franchir le Seuil" (Four songs for Crossing the Threshold).
Sunday morning was all silliness with William Walton's "Façade — an Entertainment," which Hannigan conducted and acted as a reciter along with other singers, including Morris, each performer competing in outlandish dress. In the late afternoon finale, Hannigan conducted Stravinsky's complete "Pulcinella," Haydn's Symphony No. 49 ("La Passione") and the "Girl Crazy" Suite, an arrangement of hit tunes from the Gershwin musical by Bill Elliott.
On top of all this, Hannigan oversaw appearances by the seven singers from seven countries in her Equilibrium Young Artists initiative, or EQ, along with a feisty young conductor and keyboard player, Edo Frenkel, who works closely with EQ. Although the singers were not always shown to their best advantage in "The Rake," each shined in later appearances that included a set of folk songs from their native lands.
As a singer Hannigan is simply an astonishment. Zorn's "Jumalattaret," which used Finnish texts from "The Kalevala" and was accompanied by pianist Stephen Gosling, was a series of vocal dares for Hannigan, each of which she scaled spectacularly. She proved funnily deft in "Façade." She brought the house down with her Gershwin.
But it was only in Grisey's "Quatre Chants," for orchestra and electronics and superbly conducted by Schick, that you got a sense of her depth in this mystical evocation of weary civilization.
As a conductor, Hannigan throws herself bodily into her interpretations. She was at her best in Haydn, where every phrase danced to life. But she also caught the perfect Ojai moment in exotic "Lonely Child," a gorgeous performance featuring the EQ soprano Aphrodite Patoulidou. We were left with magical gong vibrations of struck Tibetan bowl that managed to hang in the air long after the piece ended.
It turned out that the bowl procured for the performance from an Ojai resident had previously belonged to famed Zen monk Thich Nhat Hanh. "Only in Ojai" may now seem an expression so overused as to be a cliché. It's not, and Hannigan at her most substantial earned her a place in its pantheon. But no need to take my word for it. All of her performances can be watched on the festival website.
Get our L.A. Goes Out newsletter, with the week's best events, to help you explore and experience our city.
You may occasionally receive promotional content from the Los Angeles Times.