'Madama Butterfly' like never before: Sung in Japanese and English, with ethnically accurate casting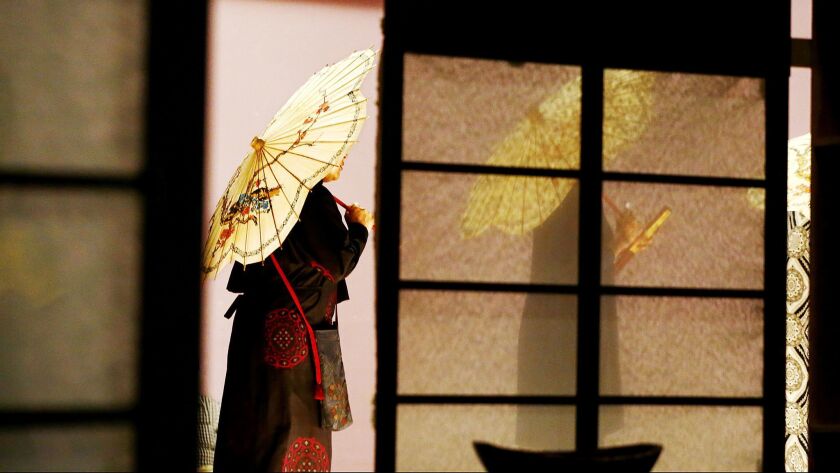 Ah, "Madama Butterfly," Puccini's classic operatic tale about a Japanese geisha and an American Navy lieutenant who meet in Nagasaki and fall in love as they sing to each other –– in Italian.
It is a scenario that requires generous mental gymnastics on behalf of the audience. For more than a century, many "Butterfly" fans have forgiven or ignored the unrealistic linguistic premise in order to indulge in Puccini's heart-wrenching drama and beloved, lush score.
Now, for what they say is the first time ever, two regional opera companies –– Los Angeles' Pacific Opera Project and Houston's Opera in the Heights, or Oh! –– are joining forces to co-present an English and Japanese version of "Madama Butterfly."
Although Japanese opera companies have presented "Butterfly" in Japanese and American companies have staged an English version, this show's producers are not aware of any instance in which the opera has been presented bilingually, with all American characters singing in English and all Japanese characters singing in Japanese.
It is an ambitious project with a newly translated libretto co-written by POP artistic and executive director Josh Shaw and Oh! artistic director Eiki Isomura. Three performances are scheduled between April 6 and 14 at the Aratani Theatre in Little Tokyo before the production travels to Houston for four shows in late April and early May.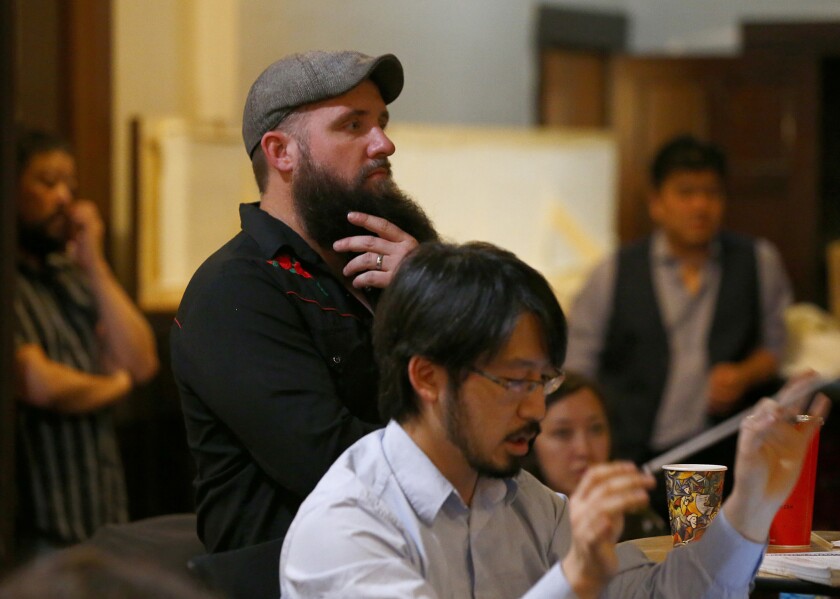 Many "Butterfly" productions have drawn criticism for relying on racist stereotypes and appropriations of Japanese culture. A product of the early 20th century, "Butterfly" tells a young Japanese woman's story from a Western male perspective. At its best, it sheds light on a woman's tragic circumstances. At its worst, it relies on "yellowface" makeup and makes a mockery of her culture.
For Shaw, the impetus for this project was never an attempt to create a politically correct "Butterfly." It was simply a matter of telling the story in a way that makes sense linguistically.
"Here's this thing that we all just accept as one of the greatest operas in the world, and it doesn't make any sense at all," Shaw said. "How has this just slid by for decades? The crux of this project is just to show how this story that we all know could've actually happened.
"If we started adapting things or trying to fix the politically incorrect things, it would be a slippery slope and we would not be telling the original story anymore. Instead, we didn't change anything. We tried to stay as literal as possible, painstakingly so."
POP is not known for literal, traditional productions. Shaw's pop-up opera company has transported a Mozart opera to outer space and another Puccini classic to 21st century Los Angeles. Most recently, POP presented a "Magic Flute" set inside the Super Nintendo universe complete with edible mushrooms and Papageno as an Italian plumber in a floppy red hat and overalls.
In those productions, Shaw played fast and loose with updated English translations that he wrote for the super-titles, chucking corny rhymes at the audience in a rapid-fire onslaught of not-always-politically-correct jokes.
"Butterfly," then, is somewhat of a departure, featuring POP's most traditional set to date and eschewing updates and puns.
Still, within this translation, Shaw and Isomura said revelations about the opera and its characters are coming to light. Inserting a language barrier into the story alters relationship dynamics and changes how characters' actions and motivations are portrayed and perceived.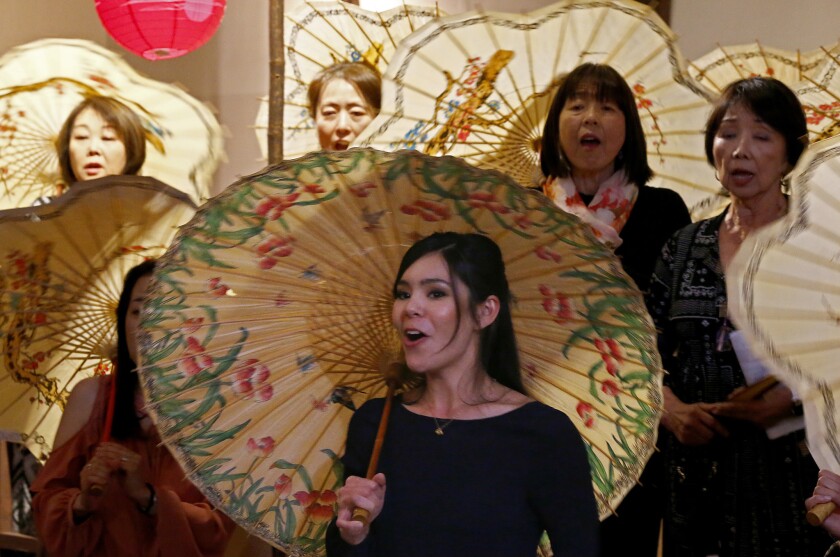 Isomura, who is conducting during the run in both cities, said one result of the translation is that all of the Japanese characters sound more polite.
"I built in the social codes so that when anyone addresses someone older or of a higher station, they use a more formal language," he said.
For Shaw, the new translation brought fresh insight into the character of Pinkerton, a role he has sung himself.
"I always played Pinkerton as this brash, in-charge kind of guy. But in this production, our tenor is playing the role with more nuance and a more complex back story," Shaw said. "I don't care how American and loud you are, when you're at a party and you're the only person who can't speak the language, you're going to feel out of place. That dynamic has been eye-opening during rehearsals."
Perhaps more so than the translation of the libretto, Shaw and Isomura point to the ethnically accurate casting of this production as its most transformative –– and challenging –– element.
"Finding Japanese singers in the United States who are right for every single Japanese role in this opera is a lot harder than it might sound," Isomura said.
Casting their bilingual "Butterfly" took several years, multiple rounds of auditions and plenty of painstaking internet searches and cold calls. There were also hiccups along the way: The soprano originally cast as Cio-Cio-san had a dental emergency and had to back out, leaving Shaw and Isomura scrambling to find a replacement.
In addition to casting Japanese or Japanese American singers in the opera's Japanese roles, Shaw and Isomura hired a Japanese chorus (South Bay Singers), choral director and costume designer. Both directors are particularly excited about the costumes –– vibrant, authentic kimonos designed by Sueko Oshimoto and Kentaro Terra of Kimono SK in North Hollywood.
"I don't mean to be hyperbolic," Isomura said, "but when I saw pictures just on someone's iPhone, they took my breath away."
Isomura said what excited him about this project from the start was that "Josh came at it with this noble ambition to portray Japanese culture accurately and to tell the story in a way that felt real."
The conductor said that there are limitations to how realistic he and Shaw can make the work because it is inherently misinformed. Still, he said, it's worth a try.
"What I don't want is for anyone to ever feel like this piece is taboo," Isomura said. "I think we have to engage with it. Because one thing that really holds up is Puccini's score."
Having worked through it with different eyes and ears, Isomura said Puccini's incorporation of Japanese folk tunes and scales "went beyond tokenism or trying to cash in on a trend of orientalism. It seems to me to have been really lovingly done, and I appreciate the score more than ever."
Certainly some people will find some elements of "Butterfly" still "not totally on point," Isomura said. "But we are coming at it from a shared goal to honor the culture as best we can with the resources we have. I'm pretty darn optimistic that Japanese audience members will appreciate the work and care that went into it."
♦ ♦ ♦ ♦ ♦ ♦ ♦ ♦ ♦ ♦
'Madama Butterfly'
Where: Aratani Theatre, 244 San Pedro St., Los Angeles
When: 7 p.m. Saturday and April 13, 2 p.m. April 14
Tickets: $15-$75
Info: (213) 680-3700 or pacificoperaproject.com
Support our coverage of local artists and the local arts scene by becoming a digital subscriber.
See all of our latest arts news and reviews at latimes.com/arts.
---
From the Oscars to the Emmys.
Get the Envelope newsletter for exclusive awards season coverage, behind-the-scenes stories from the Envelope podcast and columnist Glenn Whipp's must-read analysis.
You may occasionally receive promotional content from the Los Angeles Times.