Review: The spangles are flying as 'Priscilla Queen of the Desert' hits the road again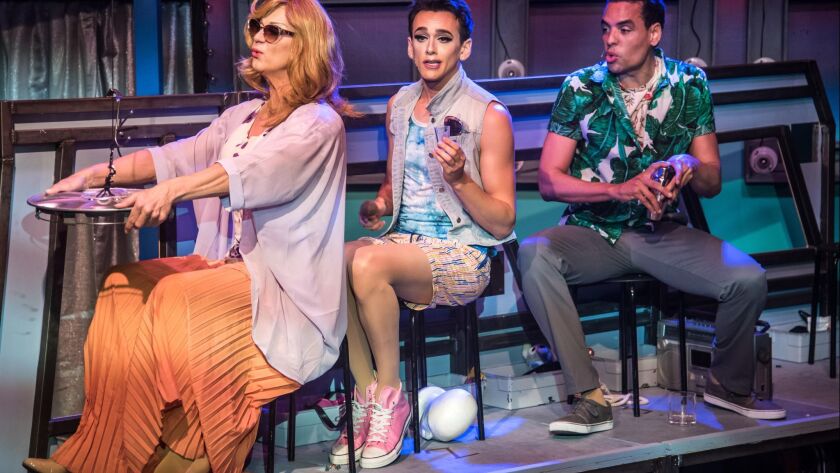 Somewhere in Los Angeles, a Jo-Ann fabrics and a 99 Cents Only store must be seriously depleted.
Their stock seemingly can be found onstage at the Lex Theatre, where "Priscilla Queen of the Desert" is dazzlingly sheathed in drag couture made of tulle, satin and spangles, adorned with sections of clear plastic umbrellas and sea-themed plushies.
The stage-musical adaptation of the beloved 1994 movie is being given its Los Angeles intimate-theater premiere by a group singularly suited to the endeavor: the LGBTQ-supportive Celebration company, one of the city's nimblest stagers of musicals.
This glittery, high-energy production has viewers hollering with delight, even if the thinly written adaptation — heavy on catty exchanges, thin on character development — unintentionally emphasizes the plot's improbabilities. But then, strict realism doesn't seem to have been the intent of this theatrical export from Australia or the original movie fable about two Sydney drag queens and a regal transgender woman who set off by private bus across the outback, spreading fabulousness as they go.
Perhaps Celebration's chief achievement is that it squeezed this big, showstopper-besotted musical into the 47-seat Lex in Hollywood, with its minuscule 21-foot-by-17-foot performing area.
For starters, there is the small matter of fitting a bus on stage. (She's Priscilla, the title "character.") The masterful solution: Dressing tables at a Sydney drag club are rolled away from the walls, spun around and formed into a line. Their reverse sides depict the bus' exterior. With a bit of minor retrofitting, the tabletops, when rolled around again later, are the bus' interior. A hubcap is lowered from the ceiling to serve as the steering wheel, and the story gets rolling.
The hard-working performers might receive all the applause, but the biggest ovation belongs to director Jessica Hanna, choreographer Roman Pantoja and designers Pete Hickok (set), Allison Dillard (costumes), Byron Batista (wigs) and a long list of others.
The story is set in motion by a phone call to Tick, better known as Mitzi, a drag performer in Sydney. On the other end of the line is his wife, who informs him that his son needs fathering — and, by the way, she could use a new act at the casino she runs in Alice Springs, roughly 1,725 miles away. Tick recruits two fellow performers to share the bill with him.
Mario Burrell, who portrays Tick, is introduced interpreting the Weather Girls' "It's Raining Men" in a miniskirt made of the aforementioned clear plastic umbrella, but we get to know him better a few minutes later when he's alone and, in a tender baritone, sings the Dionne Warwick standard "I Say a Little Prayer" as he contemplates the son he's loved from afar all these years.
Introspective moments like that are few and far between, but they give the show some heart. As "Little Prayer" also demonstrates, constructing a score from Top 40 hits turned out particularly well for this show. "The moment I wake up / Before I put on my makeup … " — works well, yes?
Traveling companion Adam, better known as Felicia, is portrayed by Lyle Colby Mackston, who uses his propulsive tenor to striking effect when he's introduced personifying Bananarama's "Venus" in full-on Botticelli mode with windswept wig and clamshell-adorned hot pants.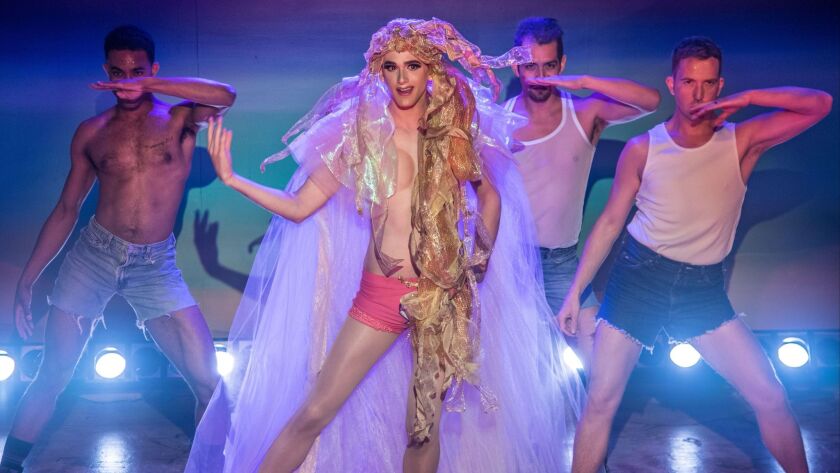 The trio's voice of experience is Bernadette, an older, old-school drag queen who's transitioned to female. As played by Tad Coughenour, she stands tall and unblinkingly confronts whatever prejudice the travelers encounter.
Musical numbers get a boost from three female singers, led by powerhouse Markesha Chatfield, and four male dancers. Most fill in as various townspeople and supporting characters. Every person in the 13-member cast shines, but none more so than George Chavez, first as a sparkle-bearded MC, then as the gentlemanly outback mechanic who catches Bernadette's eye.
To maximize space, the energetic four-person band, led by Jennifer Lin, has been elevated above a rear corner of the stage on a musicians' balcony.
"Priscilla" — which the movie's writer-director, Stephan Elliott, adapted with Allan Scott — is mostly silly fun, but in its irreverent way it is a celebration of families both biological and chosen. And that's a notion sturdy enough for miles and miles of travel.
♦ ♦ ♦ ♦ ♦ ♦ ♦ ♦ ♦ ♦
'Priscilla Queen of the Desert'
Where: Lex Theatre, 6760 Lexington Ave., Hollywood
When: 8 p.m. Thursdays-Saturdays, 2 p.m. Sundays; ends May 6
Tickets: $30-$60
Info: (323) 957-1884, www.celebrationtheatre.com
Running time: 2 hours, 30 minutes
Twitter: @darylhmiller
MORE THEATER
The play at the Santa Monica Pier carousel, plus other Times picks
Inside the 'Frozen' dress rehearsal: Broadway's new musical prepares to lift the curtain
The Actors' Gang and an immigrants' story of America
---
UPDATES:
12:40 p.m. Feb. 27: The run has been extended through May 6.
---
Your essential guide to the arts in L.A.
Get Carolina A. Miranda's weekly newsletter for what's happening, plus openings, critics' picks and more.
You may occasionally receive promotional content from the Los Angeles Times.