Where is Rick Owens in MOCA's 'Rick Owens: Furniture'? Ask Michèle Lamy
Paris-based designer Rick Owens is a rock star of the fashion world, with a global network of stores carrying his androgynous, punk aesthetic — think jacket toggle buttons that look like miniature weapons or clunky shoes that resemble military tanks.
Last week, however, in a chilly garage workshop that Owens set up in Hollywood, it was new furniture and sculptural works, not high-end clothing, that was being assembled. The pieces were being readied for exhibition at the Museum of Contemporary Art's Pacific Design Center branch as part of "Rick Owens: Furniture."
But during the frenetic whirl of exhibition preparations, Owens was nowhere on site.
Instead, it was his wife and business partner, Michèle Lamy, who hobbled around the cavernous workspace supervising production in a pair of Owens' heavy, ski bootlike shoes with near-5-inch platform heel-slabs. She oversaw a scene that was a textural bonanza of contrasting materials. In one corner alone: a silky-smooth alabaster bench, a totem nearly 9 feet high and wrapped in fuzzy camel hair, delicate ox-bone benches, chocolate-colored camelskin ottomans and a cast aluminum obelisk. Nearby, craftsmen slathered wet cement over one of Owens' prong-shaped chairs, as if icing a giant cake.
Lamy was no less a canvas of opposing textures herself, with dark, bindi-like markings on her forehead, a mouthful of glinting, gold front teeth, henna-stained fingertips stacked with rings and her long, inky-black hair topped with a tight stocking cap.
When "Rick Owens: Furniture" opened Friday night, what exhibition-goers may not have guessed from the marketing was that this exhibition, being billed as Owens' first U.S. museum show of furniture and sculpture, is actually Lamy's project — "her thing," not his, Owens said by phone from Italy. He didn't even fly in for the opening.
"I don't want to get in her way," he said. "This is really a moment for Michèle, it's about celebrating her. I participate to a certain extent, but she's the one who put the blood, sweat and tears into it. So the MOCA show is more her victory than mine."
So why, then, is the MOCA exhibition titled "Rick Owens: Furniture"?
"The logic is very much the logic of the fashion world," MOCA chief curator Helen Molesworth said. "Coco Chanel invented the little black dress and Chanel suit and then she died and her house was run by Karl Lagerfeld. Everyone knows that Raf Simons designs for Jil Sander. Once the name becomes a brand, then other things happen within the logic of the brand; but there is a sense that one can easily know the names of the people who actually work on the line. That's not the way we do art, it's not the way we do film or the way that music happens, but it is the way fashion happens."
Lamy, Molesworth points out, is recognized as the primary creative force behind the exhibition in the museum's brochure and wall text — something Owens insisted on, she said.
"We work closely with artists," Molesworth said. "So when it became clear that this is how Rick and Michèle were organizing their labor and the credit for their label, we remained faithful to that and transparent about it."
For her part, Lamy said she doesn't feel bad about her absence from the exhibition title.
"We do everything together and I have no problem," she said, adding later: "I'm the producer of this show. Everything that was made, and the way it was made, he was not involved; but nevertheless, in spirit he was very involved and it was interesting to translate his ideas. We have this thing: 'I'm going to show you what I can do!' And I wanted to knock him down so he'd say, 'Wow!'"
Throughout their 27 years as a couple — they married in 2006 — Lamy has been not only Owens' romantic partner and business collaborator, but also his muse. He's attracted to her "wildly freestyle" spirit and "primal, instinctive energy," he said, a contrast to his own more controlled manner.
Lamy, 72, was raised in the French Alps by parents who manufactured fashion accessories. During the '60s and '70s she worked, at different points, as a defense attorney and as a cabaret dancer in Paris. She moved to L.A. in '79 and created the clothing line Michèle Lamy. She had a daughter with her second husband, an L.A. artist, before divorcing and ultimately falling in love with a pattern cutter 17 years her junior she had hired.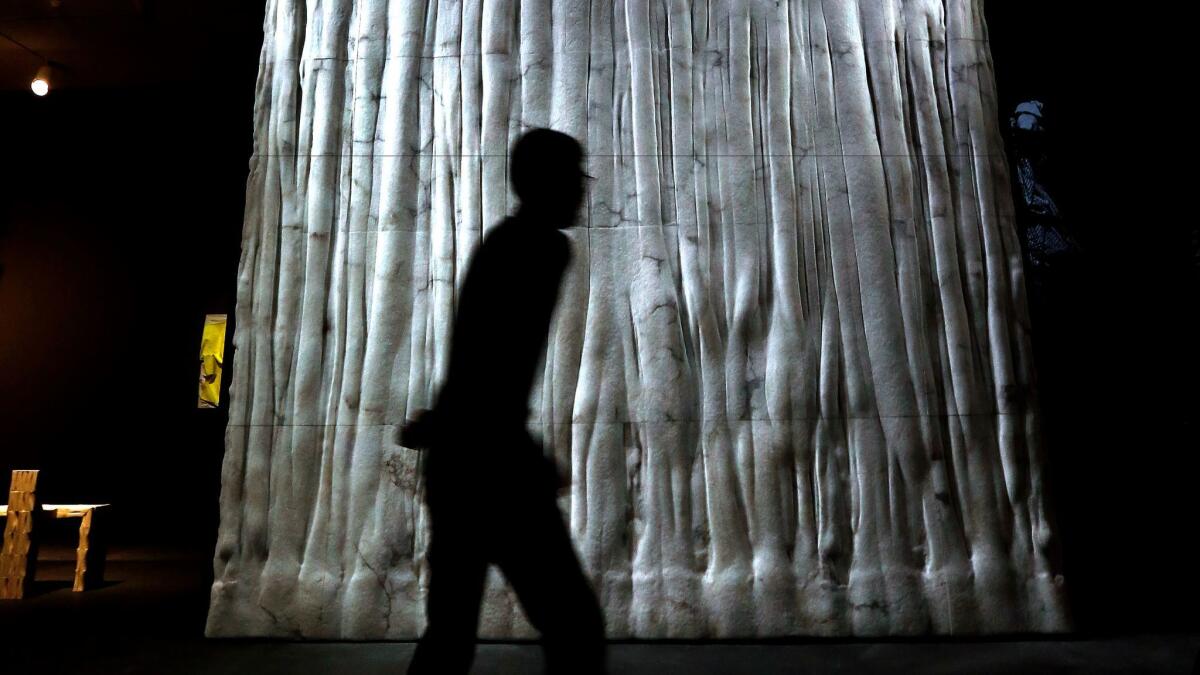 Always restless and with an entrepreneurial spirit, she said, she gave up her clothing line to open two restaurants, Café des Artistes and Les Deux Cafés. Owens founded his avant-garde fashion line in '94, and the couple left L.A. for Paris in 2003. They began producing furniture in 2007, which is sold in galleries such as New York's Salon 94.
Owens sketches the furniture, and Lamy chooses and sources the materials and oversees fabrication, they said. Last year they exhibited the furniture alongside works by the late Italian artist Carol Rama at the Musée d'art Moderne de la Ville de Paris. Lamy helped oversee that show, she said, as she did at MOCA, working with curatorial assistant Rebecca Matalon.
Owens typically designs his stores himself, but for the opening of a New York store last summer, he turned over the reins to Lamy. With the MOCA show coming up, he said, he wanted to use the space to experiment with new materials, like molded plastic foam and rock crystal.
"The store already had this severe aesthetic," he said, "and I thought: I just want to let Michèle loose in there and create a big mess."
Lamy said she decided what to showcase at MOCA based on how the works played in the New York store.
Which is how retail decoration has led to "Rick Owens: Furniture," 22 works paired with six paintings by the late artist and musician Steven Parrino. Inspired by '60s minimalism, much of the furniture is more akin to geometric sculptures than functional objects. And like Owens' clothing, the furniture has an ambiguous nature. Is it a chair? A table? A bed?
Owens and Lamy have long felt an aesthetic kinship with Parrino, who's known for ragged, deconstructed canvases.
For Lamy, the MOCA show is a homecoming of sorts.
"There is a lot of Los Angeles in our lives, the way we see things," Lamy said. "We started here together. So being here, the MOCA show, it all feels perfect, it feels just right."
Rick Owens: Furniture
MOCA: 250 S. Grand Ave., Los Angeles
On display: Through April 2
Admission: $15 general admission, $8 students, $10 seniors.
Info: www.moca.org/visit/grand-ave
Follow me on Twitter: @debvankin
'Office Christmas Party' is breaking out the bubbly, snags top spot at box office
Review: Frank Gohlke photographs vernacular truths in 'Texas Memories'
Director Pablo Larraín is this awards season's double threat with 'Jackie' and the poet caper 'Neruda'
CalArts names Ravi Rajan president, the first Asian American to be named to the post
Get our L.A. Goes Out newsletter, with the week's best events, to help you explore and experience our city.
You may occasionally receive promotional content from the Los Angeles Times.