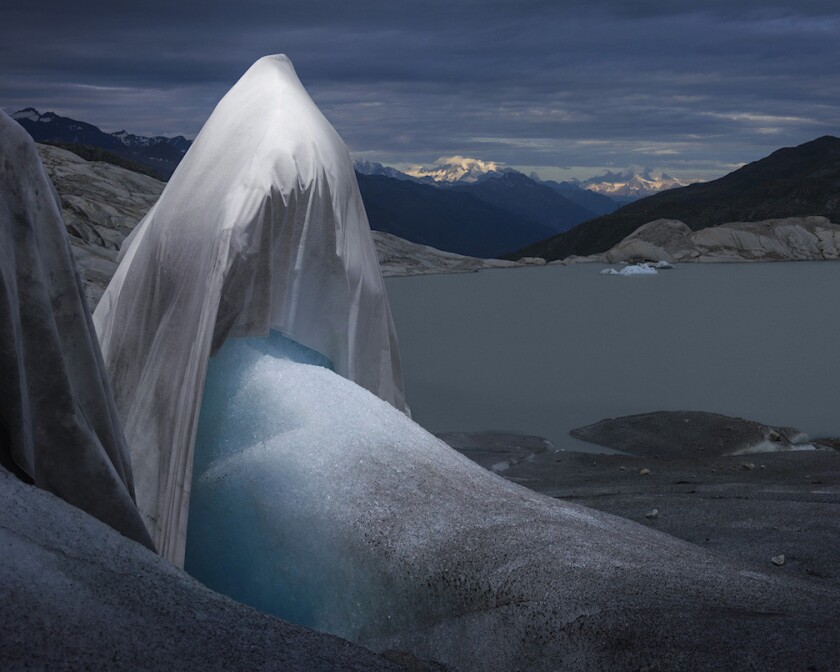 Glaciers around the world are endangered, that we know. Statistics on climate change and measurements of retreating ice bear this out. What to do about it? How to combat indifference and its corollary, inaction? How to stimulate people out of their environmental compassion fatigue?
One way is to convert abstract information about the catastrophe into visible proof, proof that startles and leaves an itch under the skin. Simon Norfolk's show "Shroud" at Gallery Luisotti in Santa Monica is a provocative example. Just six large color photographs are on view. All are stunning. Cumulatively, they form an articulate essay, a dramatic lament and an urgent appeal.
The first picture you encounter is intentionally baffling. A full-frame view of patched-together fabric, it suggests some sort of Wagnerian theatrical spectacle — or maybe Christo's latest wrapping project.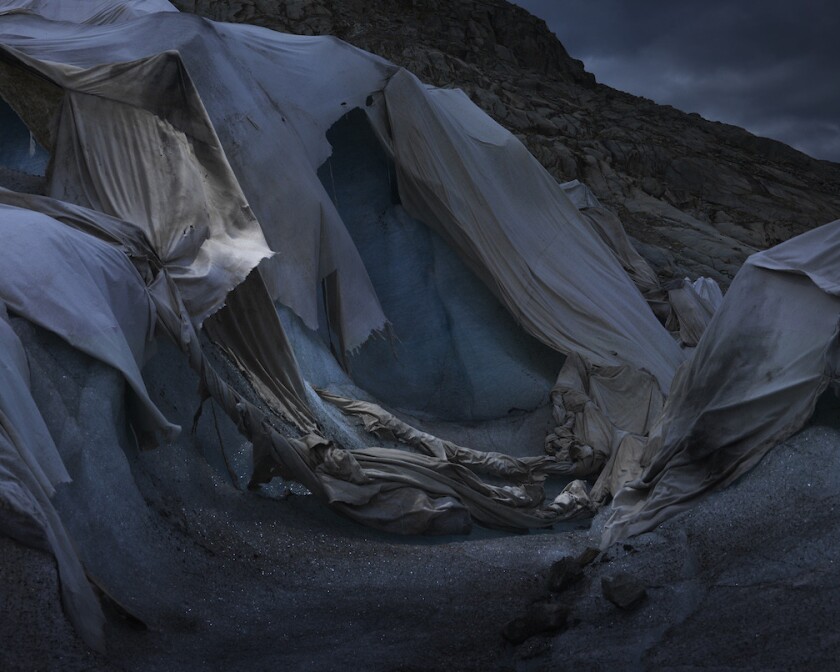 The material, as we discern from the subsequent images, covers several square kilometers of the Rhône Glacier in Switzerland. A thermal blanket, it absorbs the sun's heat and slows the glacial melt. The effort isn't part of a large-scale public or governmental initiative but a matter of private enterprise. For more than a century, tourists have been able to explore the glacier from inside a human-carved ice cave there. The family that runs the attraction started laying down the thermal blanket 20 years ago to protect the glacier — and their livelihood— from vanishing.
Norfolk was commissioned to photograph the site by Project Pressure, a 10-year-old organization dedicated to raising consciousness — through pictures — about the threats to glaciers worldwide. He worked with the nonprofit's founder and director, Klaus Thymann, to shoot the surreal scene, at the rosy hours of dawn and dusk, with the help of a balloon-mounted light.
In one photograph, a pointed rise of ice is hooded by the blanket, like a mysterious, if not menacing, character. The lake adjacent is new to the landscape, the glacier gone liquid. In another picture, the rugged ridge line in the distance is countered by a nearer, softer horizon under draped fabric. And in another, the blanket sheathes mounds that read as bodies, and "Shroud" comes to serve as a title for our own death wrap, not just the ice's.
'ARTIST IN RESIDENCE': How one phrase is powering L.A.'s cultural explosion »
Throughout, the ragged, torn tenting assumes the violet and peach tints of the sky, or the gleaming blue of what it protects. The beauty is jarring. Norfolk, who is based in Kabul, Afghanistan, and Hove, England, has long focused on injured landscapes, sites of human-inflicted trauma and the unfolding aftermath of war. Here, he turns to a small act of repair, an act so relative to the scope of the environmental problem as to be absurd.
It's this futility, the tiny bandage of a gesture, that is most relatable. It personalizes what can otherwise seem too daunting and vast to grasp, an extinction of our own making.
Gallery Luisotti, Bergamot Station, 2525 Michigan Ave., Santa Monica. Tuesdays-Saturdays, through May 31. (310) 453-0043 www.galleryluisotti.com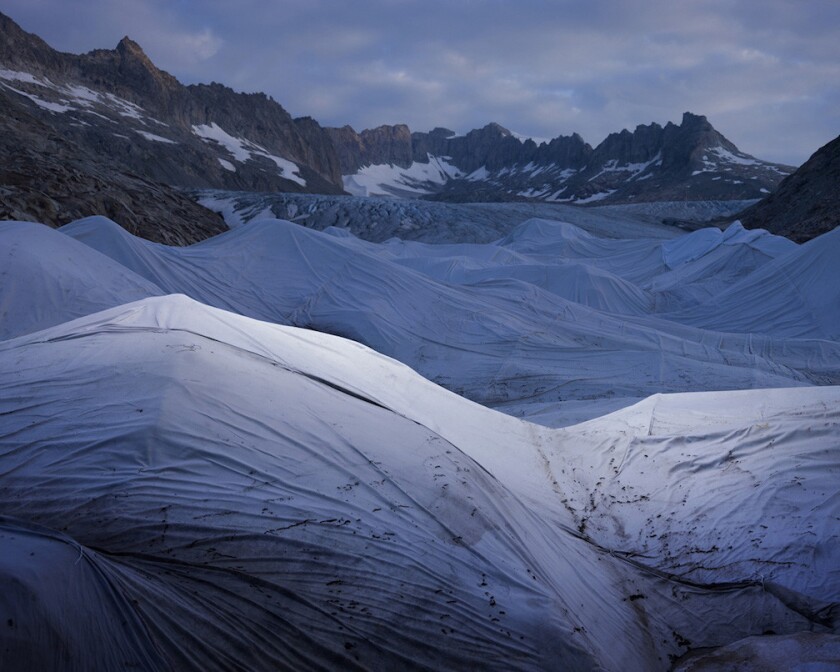 Support our coverage of local artists and the local arts scene by becoming a digital subscriber.
See all of our latest arts news and reviews at latimes.com/arts.
---