Inuit throat singer Tanya Tagaq joins feminist performance series at the Broad on Saturday
Tanya Tagaq looks as if she's having an out-of-body experience onstage. Her voice flickers like a sonic candle, rising and fading with the music. It becomes guttural as Tagaq drops to her knees, and she chitters high and desperate as she flutters her hands about her face. She sings no discernible words — it's as if she were speaking in tongues.
Tagaq practices a personalized version of Inuit throat singing, and she will bring it to the Broad on Saturday as part of the museum's feminist performance series, "Tip of Her Tongue." It will be her first solo show in Los Angeles.
The surprisingly soft-spoken singer is from Nunavut, Canada, where her art is generally practiced as a call-and-response between two women in friendly competition. Tagaq, who performs solo, has raised awareness of throat singing through her work with pop star Björk as well as through her brash, electric performances over the last decade and a half.
"Typically, people tend to see indigenous culture as something that belongs in a museum," Tagaq said by phone from her home in Toronto. "Lots of people don't understand that we are living and breathing in the world right now."
Tagaq will underscore this thought with her appearance at the Broad, during which she, and two musicians, will perform with a screening of Robert Flaherty's 1922 documentary "Nanook of the North." That film, which depicts the lives of an Inuit family in Arctic Canada as it navigates some of the Earth's harshest elements in order to survive, has been criticized for staging scenes and for reinforcing stereotypes of Inuit life.
Typically, people tend to see indigenous culture as something that belongs in a museum.
— Tanya Tagaq
Through performance, Tagaq said, she can crack those stereotypes wide open while still celebrating the bold perseverance of her ancestors, and the beauty of the rugged landscape they loved. She said the imagery in the film is not a distant thing for her. Her mother was born and raised in an igloo until she was 12, but her family was moved as part of a devastating government relocation program. Her mother went on to receive her bachelor's degree from McGill University in Montreal.
"I can't believe how swift the transition has been," Tagaq said of her family's journey. "The Inuit are a good example of what happens when a culture becomes assimilated very quickly."
The contemporary soundtrack Tagaq improvises for the film provides a stark juxtaposition between the old stereotypes and the modern reality of Inuit life.
Examining cultural approbation is only part of Tagaq's interest as an artist. Her latest album, "Retribution," released this month on Six Shooter Records, has been dubbed "Wombcore" and is about rape of all kinds: of women, of land, of children.
"I have daughters, and in Canada, indigenous women are four times more likely to be murdered than any other demographic," Tagaq said. "I'm very interested in shifting social consciousness enough that we get the government involved in righting those wrongs."
FROM THE ARCHIVE: Mark Swed's 2008 review of Tanya Tagaq's concert with the Kronos Quartet »
Feminism, she said, is simply women looking to be safe, so she's amazed to see any backlash against it.
Jennifer Doyle, the UC Riverside English professor who curates "Tip of Her Tongue," agreed that feminism is misunderstood on multiple levels.
"When people hear the word 'feminist' and think about feminist art, they imagine a very straight-forward version of what it should be like," Doyle said. "But how people tell stories varies immensely. I'm interested in people who are fighting to tell a story for which there are no words."
In the case of Tagaq, Doyle said, this is literal. Tagaq's singing can be likened to what jazz vocalists do when they scat. It's highly improvisational in nature and driven by audience reaction.
"The audience provides so much energy and direction in the concert," said Tagaq, who has also been called an Inuk punk rocker thanks to the volatility and unpredictability of her live performances. "If people are scared, I probably wind up being creepy. The concerts become an act of self-acceptance."
During her time onstage, Tagaq said, she sheds all sense of shame. She believes that humans are connected by their fears and are having similar experiences in life. Her work is her way of probing that interconnectedness and providing her viewers with the relief of communion.
"Tip of Her Tongue" at the Broad has proved that there is a large and enthusiastic audience in Los Angeles for this type of experimental performance work, Doyle said.
"Tanya is an artist that more people need to know of," she said, adding that she has seen only excerpts of Tagaq's work online but never live. "It's a completely selfish programming choice from my standpoint."
-------
'Tip of Her Tongue: Tanya Tagaq in Concert With "Nanook of the North" '
Where: Zipper Concert Hall, the Colburn School, 200 S. Grand Ave., Los Angeles
When: 8 p.m. Saturday
Tickets: $30
Info: (213) 232-6250, www.thebroad.org/programs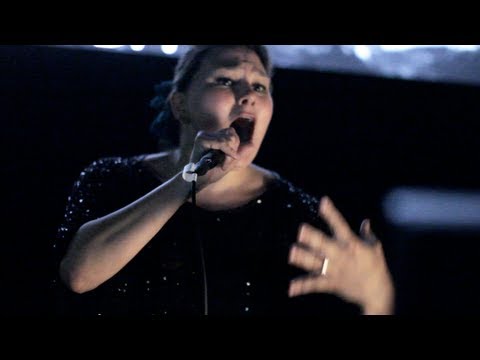 ALSO:
These rainstorms are made of chicken wire and xylophone notes. But L.A. will take them.
Larry Clark turns life into art for photo exhibit at new United Talent Agency gallery
The most striking thing missing from last night's debate stage
Get our L.A. Goes Out newsletter, with the week's best events, to help you explore and experience our city.
You may occasionally receive promotional content from the Los Angeles Times.