Review: How do you link classical Indian dance to American tap? Four women show how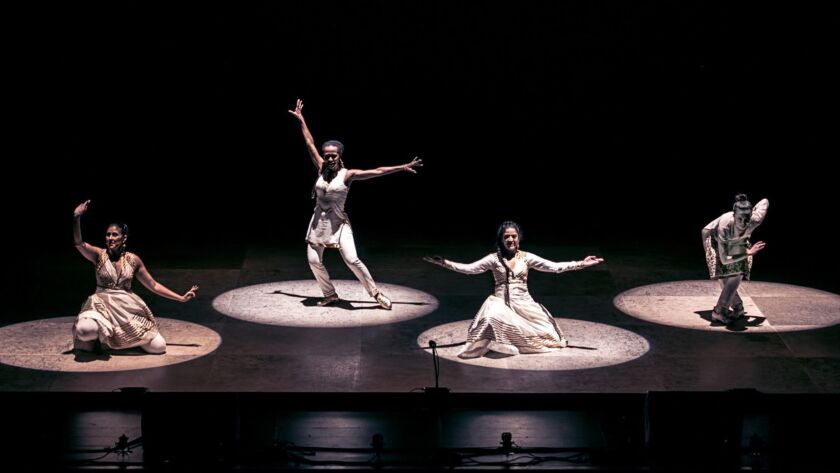 "Speak: Tap & Kathak Unite" is yet another in a growing list of entertaining shows conceived in an it's-a-small-world spirit of togetherness — one that links kathak, the centuries-old classical dance of India, and tap, the fusion dance form created in America by Africans kidnapped into slavery.
Thanks to a smart concept and some exciting moments, the program running through Saturday at the Broad Stage in Santa Monica is a sunny break from our me-first fractured world.
India's Hindustani classical music tradition and American jazz were equal partners at the performance Thursday, and the excellent musicianship was one of the best parts of "Speak." The show updates an earlier kathak-meets-tap program, "India Jazz Suites," which starred two indisputable masters of their art, Pandit Chitresh Das and Jason Samuels Smith.
"Speak" is rather lopsided. Tap dancers Michelle Dorrance and Dormeshia Sumbry-Edwards are thrilling performers, full-bodied and muscular, imaginative with their tapping and extraordinarily nuanced musically. Kathak dancers Rina Mehta and Rachna Nivas were students of Das (who died in 2015) and are dedicated performers. They are not, however, at the same high level as their sister dancers.
While a shortcoming, this imbalance does not torpedo the show. Divided into seven sections, "Speak" is structured so everyone alternates in the spotlight. Jayanta Banerjee on sitar, vocalist Vaibhav Mankad and tabla player Satyaprakash Mishra performed sitting up on a platform stage left, while pianist Carmen Staaf, bassist Tabari Lake and drummer Allison Miller accompanied at stage right. In one section, they formed an ensemble for an imaginative original composition by Banerjee and Miller, with breaks for each to improvise. The musical focus was jubilantly tossed back across the stage.
The dancers leaned into this spirit of playful competition and cultural comparison. Sumbry-Edwards and Dorrance had a back-and-forth with Mishra, each one upping the rhythmic complexity with split-second timing.
Throughout the 90-minute show, different aspects of dance techniques were unveiled, as during a duet for Nivas and Mehta when they vocalized, in a scat-like manner, a recitation of the steps they were performing. Nivas and Sumbry-Edwards also met up for a kind of scat battle.
Beginning with a hail storm of equal-intensity tapping, Sumbry-Edwards executed a lyrical solo to the jazz standard "Tenderly." The gifted Dorrance also had a too-brief moment alone, skittering and sliding in what always looks like sheer joy.
The costumes stayed true to the show's double purpose of singular identity and shared values. The tap women were dressed in white and golden accented kurta (tunics and pants), while Nivas and Mehta wore similarly colored Anarkali suits (slim pants over dress-like tops that ballooned out when they spun).
Two bulky sound monitors at the foot of the stage were an annoyance, blocking the view of the dancers' feet. In general, the rake of the Broad Stage auditorium makes it a challenge for dance — but it's a difficulty worth putting up with.
♦ ♦ ♦ ♦ ♦ ♦ ♦ ♦ ♦ ♦
'Speak: Tap & Kathak Unite'
Where: The Broad Stage, 1310 11th St., Santa Monica
When: 7:30 p.m. Friday and Saturday
Tickets: $45 and up (subject to change)
Info: (310) 434-3200, www.thebroadstage.org
See all of our latest arts news and reviews at latimes.com/arts.
ALSO
Our spring dance picks: Bowie-themed 'StarDust,' an angry 'Giselle' and more
'Frozen' on Broadway: It's no 'Lion King,' but this sister act still sings
---
The complete guide to home viewing
Get Screen Gab for weekly recommendations, analysis, interviews and irreverent discussion of the TV and streaming movies everyone's talking about.
You may occasionally receive promotional content from the Los Angeles Times.