Review: Minimalist music groundbreaker Terry Riley plays among buffalo, peacocks and a wet platypus at MOCA's Geffen
Music Critic
When Philippe Vergne became the new director of the Museum of Contemporary Art in 2014, he said he considered performance as "essential" to MOCA's mission as it had originally been, before losing currency under other directors. Vergne also insisted he would not be rushed in any of his plans for the museum, taking whatever time he needed to do it right.
Nearly three years later, he has begun living up to both of those promises. Thursday night the pianist and composer Terry Riley, whose 1964 "In C" instigated the musical Minimalist rage, began a short residency at MOCA's Geffen Contemporary that involves giving daily hour-long improvisations in reaction to various installations of the "Doug Aitken: Electric Earth" exhibition curated by Vergne.
This is an intriguing return of the 81-year-old Riley to his 1960s experimental roots in collaborating with visual artists, composing experimental film scores and performing in art galleries, which supported experimental new music back when the traditional concert establishment would not think of such a thing. Thursday's performance was in the Aitken cinema gallery, with Riley seated at keyboards (a Steinway and an electronic instrument) between two wide screens displaying, in mirrored images, wild animals quirkily taking over motel rooms.
Riley's work has never been one thing. He has written indeterminate scores, like "In C," which allows performers to repeat patterns an unspecified number of times over a pulse. His large body of fully composed works for the Kronos Quartet is among the greatest, least predictable and most original collections of American string quartets. Riley is a master singer of Indian raga. He has written orchestral pieces and concertos that are irresponsibly neglected in the concert hall (and even on recording). His opera based on the early 20th century Swiss outsider artist Adolf Wölfli has, again irresponsibly, yet to be produced.
And then there is Riley the master improviser, able to play from dusk to dawn on electric organs in alternative spaces or on grand pipe organs in Gothic cathedrals. His stylist range is unprecedented, absorbing musical cultures from India and the Middle East, playing rhythmically intricate phase music with himself on tape or digital delays, picking up bits of Renaissance music, Ravel, rag, Ellington or bebop on the way. He can even come up with a sentimental tune now and then that will stay with you maybe forever.
There were hints of all the above as Riley sat mostly at the Steinway, looking intently at the images on the screen. There is often a winning smile on Riley's face when he performs, but here he seemed deadly serious. A native Californian who has spent most of his life living in nature north of Sebastopol, he has always expressed a deep-seated reverence for animal and plant life.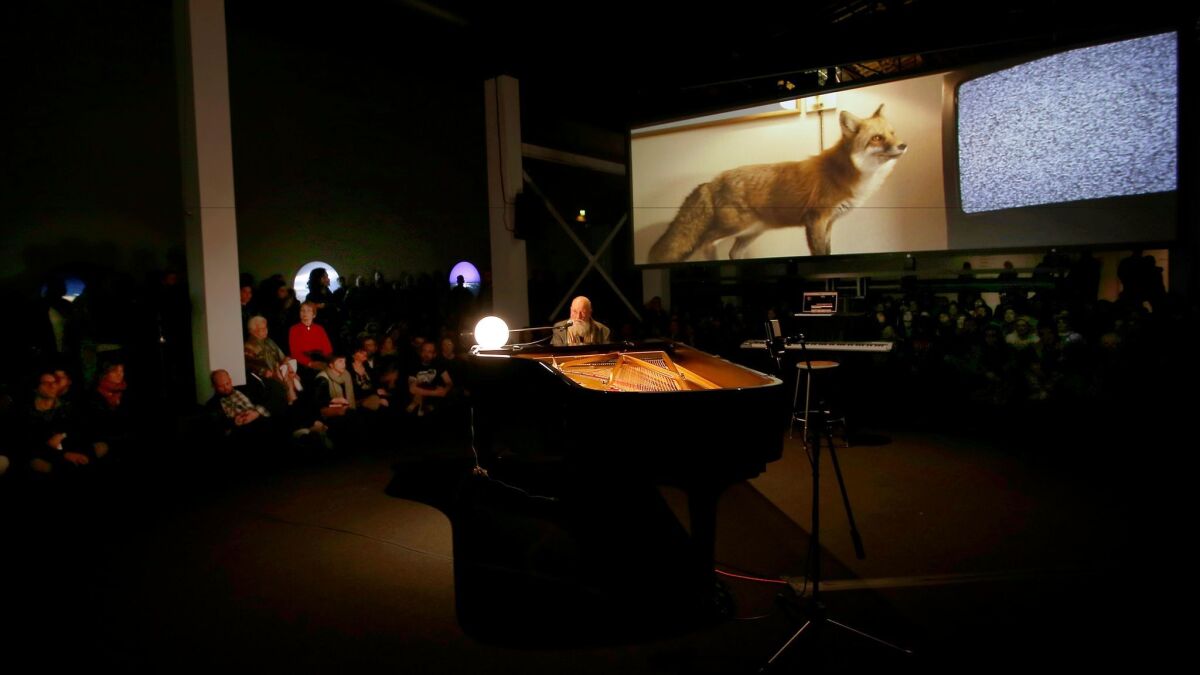 Riley — like Vergne — is not to be rushed. He spent many minutes vamping in the bass register of the piano with rumbling trills, arpeggios that rose across the keys but only fleetingly. Peacocks on twin beds, or a horse uncomfortably confined in a room, didn't seem to do it for him. But when a buffalo rubbed against a sheet, Riley sympathetically sang, vocalizing in the Hindustani style of his legendary Pakistani teacher, Pandit Pran Nath.
A fox knocked down a TV and a lamp. Rabbits took over the beds; a deer, the motel swimming pool. Was that a platypus in the bathtub? Riley's response was often troubled. He was at the left-hand range of the piano, dark and dissonant.
With things getting a little out of hand, a playful cougar pup violently tearing up sheets and pillows, Riley moved to the electric keyboards and produced alluringly reedy, Moroccan-evoking electronic sounds. But just as the music was coming to life, the film became more abstract, the moon becoming a glowing orb, and Riley returned to contemplative pulsing.
Fifty minutes can be but a blink of the eye in Riley time, and much of those 50 minutes felt as though Riley's efforts were to somehow slow the rhythms of Aitken's arrhythmic quick-cutting. In some ways Riley and Aitken were at cross-purposes, a musician who is able to find natural connections between different types of world music more effectively than any I have ever encountered and a visual artist who thwarts our expectations of belonging. Aitken put animals in an alien environment, whereas I have seen Riley carefully pick up a frog that has dangerously wandered onto the road outside his ranch and carefully put it on safe ground.
Aitken's "migration (empire)" is one of what were listed as "Linear Films." Riley is not a linear improviser, although he has an ethereally refined sense of ebb and flow. As the 50 minutes ended, I had the feeling that he was just beginning to give Aitken's creatures context and their environment meaning. He left listeners and viewers with plenty to think about but wanting more.
Still, I heard no complaints from a large crowd that had lined up for more than a half-hour to get in and sat uncomfortably on the gallery floor (or stood against the wall), all the while listening intently. Riley, no matter what, inspires awe.
------------
'The Idea of Sound With Terry Riley'
Where: MOCA's Geffen Contemporary, 152 N. Central Ave, L.A.
When: 3 p.m. Saturday and Sunday, plus an impromptu performance Monday
Cost: Included with museum admission of $8-$15
Info: (213) 625-4390, www.moca.org/program/the-idea-of-sound
ALSO
Feature: Doug Aitken's 'Electric Earth'
Steven Mnuchin, Trump's pick for Treasury, resigns as MOCA board member
Get our L.A. Goes Out newsletter, with the week's best events, to help you explore and experience our city.
You may occasionally receive promotional content from the Los Angeles Times.