What's drawing millennials to downtown L.A.'s Broad museum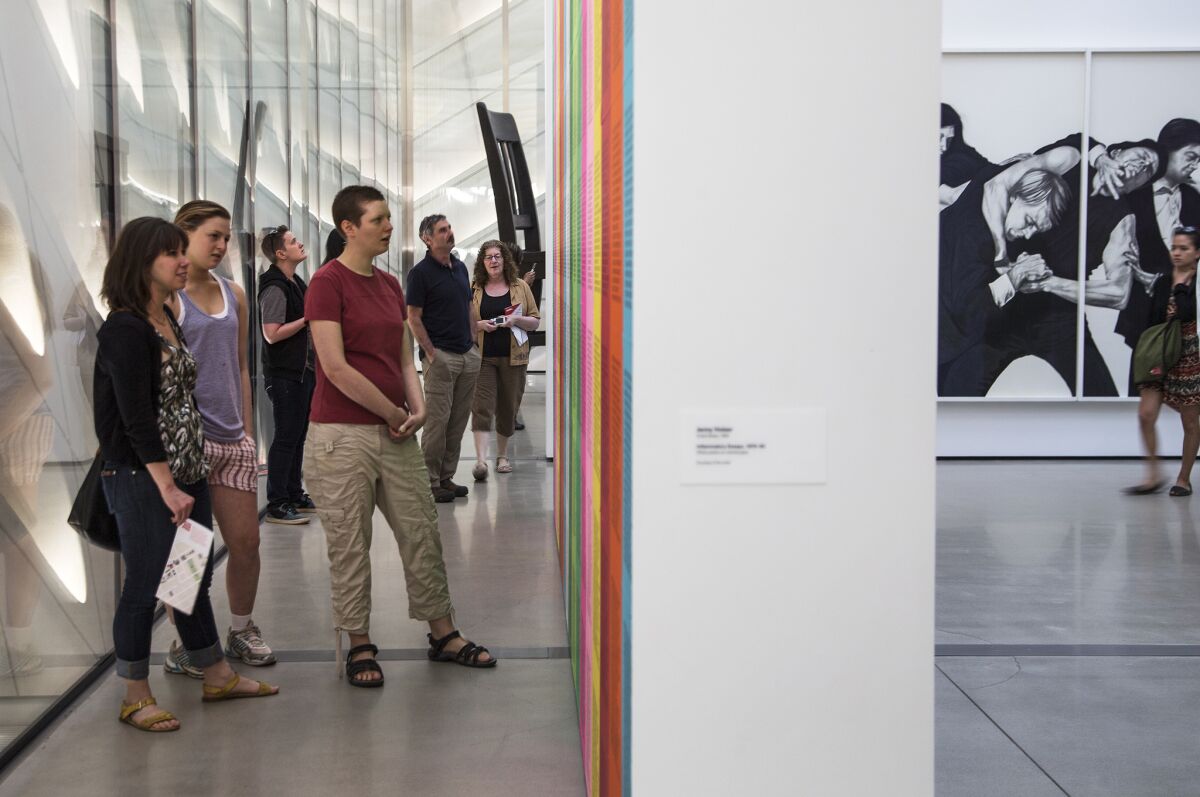 The line is long and chatty, thick with restless, tattooed twentysomethings. A food truck dispenses vegan ice cream to the selfie-snapping crowd while a young man, with a bushy beard and glasses, reads beat generation poetry beneath an olive tree.
The scene is outside downtown L.A.'s Broad museum. Since opening six months ago, it has attracted a decidedly youthful crowd.
The average visitor age is 32 — a full 14 years younger than the national average for art museum attendance in the U.S., according to the National Endowment for the Arts' most recent study.
The collection of postwar and contemporary art assembled by genteel, octogenarian philanthropists Eli and Edythe Broad has, out of the gate, won over millennials.
The Broad's appeal to young people starts with colorful edgy art, such as Jeff Koons' glaring, gold-hued sculpture of Michael Jackson and his chimp, Bubbles, and Takashi Murakami's psychedelic-looking, dancing mushrooms. The museum is also located downtown, increasingly an entertainment and nightlife hub. And it's free.
Young people — munching on hot dogs in line, touring the galleries and gathering on the grassy lawn outside — say they were drawn by the museum's reputation as anything but stuffy.
Instead of security guards, the Broad has "visitor service associates" who roam the galleries and are happy to chat about the art as well as to point people to the nearest restroom. And instead of centuries-old paintings, there are the bold color blocks in Ellsworth Kelly's "Green Blue Red."
"I identify more with pop art than other types of art," says pink-haired Marisol Rodriguez, 28, visiting from Mexico City. "It's just fun."
Then there's the fact that timed tickets to the Broad are sold out months ahead of time. Young people such as Rodriguez seem to be more willing to wait hours in line than their elders.
"I don't mind waiting, even one hour, because it's worth it," Rodriguez says, eyeballing the line unfazed. "And maybe I can find some cool people in line to talk to."
Indeed, the standby line — typically a 45-minute wait on weekdays, twice that on weekends — is a bustling social scene, with spirited attendees exchanging snacks, gossip and cellphone numbers with new friends.
"We got food at the trucks, talked. We waited about an hour, but it only felt like 10 minutes," says Tiffany Ming, 27, of Long Beach.
Many of the young people in line say they found out about the Broad from social media. Seeing the fun that friends were having from afar, in pictures and videos, they didn't want to fall prey to "FOMO" (fear of missing out). According to an on-site survey, conducted by Morey Group for the Broad, 1 in 4 visitors heard about the museum through someone else's social media feed.
Hayley Alnaal, 24, and Selena Borrayo, 23, both of Garden Grove, didn't have to brave the standby line. They say there's been such buzz about the Broad on their friends' social media accounts that they made their reservations months ago.
"I've heard a lot of friends talking about it," Alnaal says. "On Facebook, Instagram you see pictures. It looked fun, interesting, cool."
"I came because she told me about it!" Borrayo jokes, pointing to Alnaal. "She showed me pictures on Instagram and Yelp. It looked fun."
Juan Prieto, a 21-year-old waiter from Montebello, had also seen a blitz of Broad museum imagery online. But he ventured to the museum, despite little knowledge about art, he said, "because of my girlfriend. It's really, really nice. I like it so far."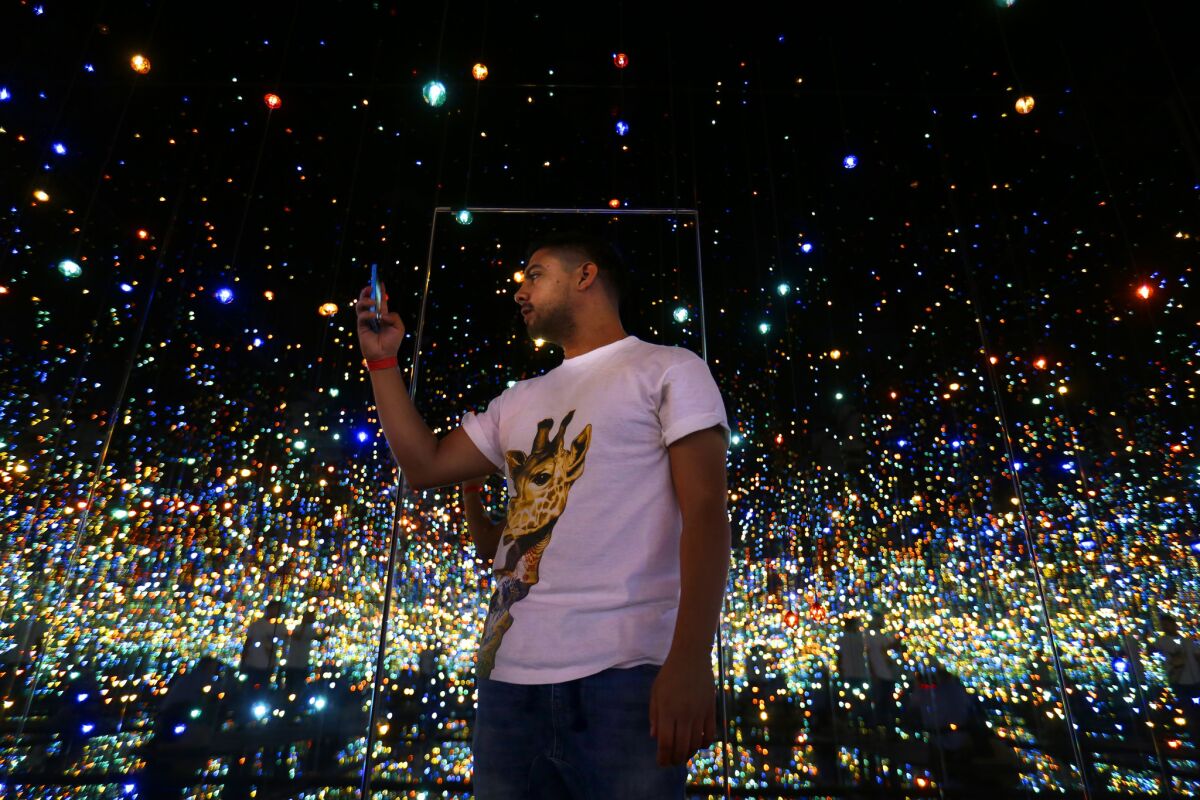 The social media star at the Broad is undoubtedly Yayoi Kusama's "Infinity Mirrored Room — The Souls of Millions of Light Years Away," with its colorful blitz of glimmering outer-spacelike lights. Like the Los Angeles County Museum of Art's "Rain Room" exhibit, the installation has become an art-selfie magnet and a viral meme on Facebook and Instagram.
"I have a lot of artist friends and they're all talking about it," says 25-year-old Lindsey Jakstis, who's visiting the museum from Orange County. "It's pretty much what everyone's been posting."
Murakami's vibrant, 82-foot-long painting, "In the Land of the Dead, Stepping on the Tail of a Rainbow" — featuring demons, dragons and ships roiling in a tsunami — is also one of the Broad's biggest youth attractions. The museum says Glenn Ligon's neon sign "Double America 2," Koons' multicolored, metallic "Tulips," Robert Therrien's towering dining room set "Under the Table" and the works of Jean-Michel Basquiat are social media hits as well.
The Broad has also been a draw for celebrities — they in turn have fueled millennial interest. Katy Perry, Kate Hudson, January Jones, Reese Witherspoon and James Franco have visited and posted photos on their social media.
British singer-songwriter Adele filmed a video inside the Kusama room for the backdrop of her February Brit Awards live performance of "When We Were Young." A photo of the singer inside the exhibit, posted on her Instagram account, generated more than 665,000 likes.
"I saw an Instagram snap from Katy Perry from awhile ago, and I was so blown away by the photograph — I had no idea what it was — and then I showed it to my creative director and it happens to be by her favorite artist," Adele said in a video interview with the Broad.
The museum posted the interview on its Facebook page, generating more than 180,000 views and hundreds of comments along the lines of: "When are we going to goooooooooo," Farah Thustra posted.
"I wanted to go before, but now I need to," Jenny Dally commented.
It has always been our mission to introduce contemporary art to the broadest possible audience.
— Eli Broad
Of the more than 400,000 people who have streamed through the Broad's doors so far, 6 out of 10 said their ethnicity was other than Caucasian and 70% were younger than 34.
"It has always been our mission to introduce contemporary art to the broadest possible audience," Eli Broad says. "As a result, we've succeeded in attracting a diverse and young audience."
Among other local museums, LACMA says its average age is 40 (still below the national average). The Hammer Museum doesn't collect visitor data, but officials there say it's become a hangout for students from nearby UCLA. The Museum of Contemporary Art, across the street from the Broad, also doesn't collect visitor data, but a spokeswoman said the visitors skew young.
That goes against the national trend. Youth attendance at art museums and galleries has declined over the last decade, according to the National Endowment for the Arts — it's dropped at a roughly 20% rate among 18- to 34-year-olds from 2002 to 2012. Art museums, however, draw younger audiences, on average, than performance-oriented events, such as classical music concerts, the ballet and opera.
The National Endowment for the Arts attributes that to the way art museums are embracing technology.
At the Broad, for example, guests can make reservations on iPads for timed entry to special exhibits, and the museum will text people back when they may enter.
See more of our top stories on Facebook >>
That the Broad is nestled among other downtown museums, art galleries and restaurants, says American Alliance of Museums' Elizabeth Merritt, doesn't hurt.
"Unlike traditional forms of performance arts, museum visits can be relatively spontaneous and unscheduled. And we're very much in an of-the-moment social environment right now — people want to use their mobile devices to decide what they want to do right now, and then meet up with their friends and do it," she says.
Unless, of course, there's a line.
Late in the afternoon, Jakstis and Ming were still waiting — more than an hour now — to see the Kusama exhibit that their friends had been raving about. But they were undaunted.
"When art is this intriguing and generating this much conversation," Jakstis says, "I think it's worth it."
MORE:
Why does DTLA's huge new Hauser Wirth & Schimmel art complex underwhelm? It's a familiar story
Why theater owners are rejecting Sean Parker's controversial Screening Room
Museum of Broken Relationships puts heartbreak on display
Meet the philanthropic couple behind the Musco Center for the Arts
Art exhibits featuring Marilyn Minter, Roman mosaics and Agnes Martin highlight the spring
---
Get our L.A. Goes Out newsletter, with the week's best events, to help you explore and experience our city.
You may occasionally receive promotional content from the Los Angeles Times.