Review: Víkingur Ólafsson uncovers Icelandic vistas in Bach and Glass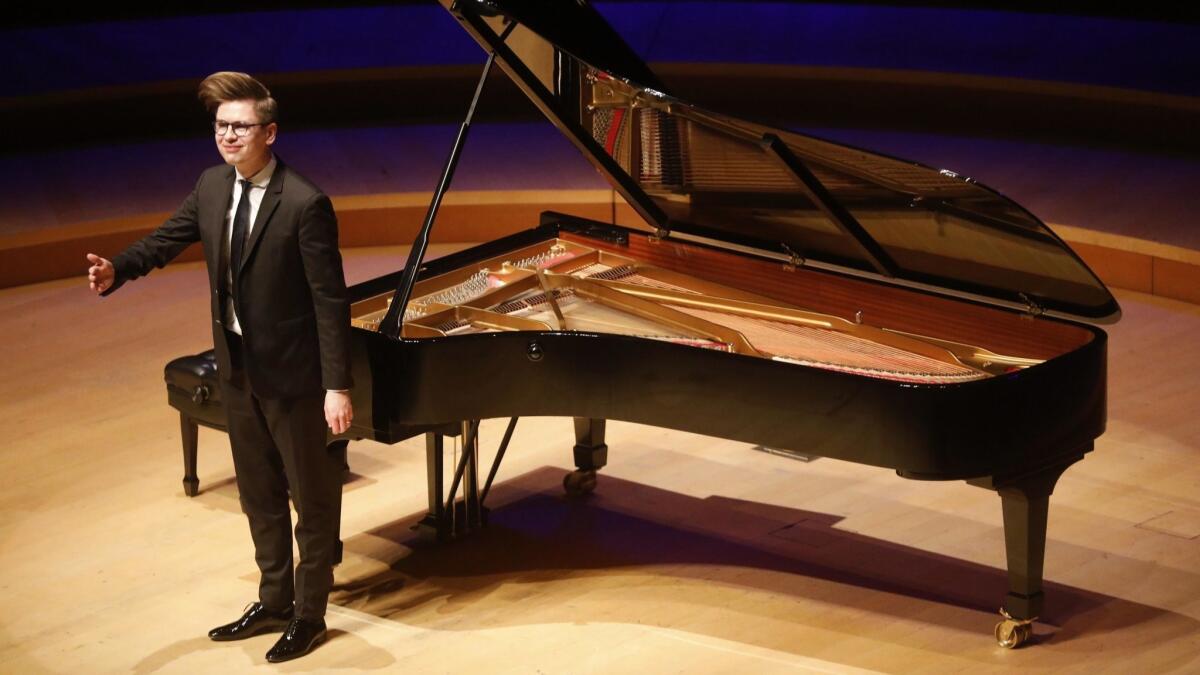 Music Critic
When Murray Perahia canceled his U.S. recital tour this spring due to an otherwise unexplained "sudden medical setback," presenters were stuck with the seeming impossible. How to replace a piano legend? Among the excellent artistic choices were Peter Serkin and Kirill Gerstein. Carnegie went commercial with Nobuyuki Tsujii. Some venues understandably threw up their hands and gave ticket buyers their money back.
Are you surprised that the Los Angeles Philharmonic had to think differently? It managed to snag the hot, hip 35-year-old pianist Víkingur Ólafsson for the Easter Sunday date at Walt Disney Concert Hall. The hall wasn't full, as it surely would have been for Perahia, but the hipness quotient clearly attracted others. Ólafsson is hot because he comes across as very cool. And Icelandic!
I, however, couldn't at first quite grasp what all the fuss was about. There's cool and there's chilly. Two years ago, the scintillating sparkle that Ólafsson brought to the premiere of an Icelandic concerto may have been the highlight of the L.A. Phil's Reykjavik Festival, but that wasn't enough to go on. In a Hollywood Bowl appearance the next year, Ólafsson had moments of great beauty in Beethoven's Piano Concerto No. 2, but it was understated to a fault.
With a flashy recording contract from Deutsche Grammophon, Ólafsson proved either oddly precious or overblown in a selection of Philip Glass piano etudes for his first release. His follow-up Bach recording looked like a lightweight collection of well-known bits and pieces and an earlier set of variations from Bach's youth that most people hadn't heard of, probably for a good reason. It sounded nice when given half a listen.
The Bach, though, really caught on. It streamed like hotcakes (if that analogy still holds) and this month was stunningly named recording of the year by BBC Music Magazine. With a careful listen, this time on good headphones, there could be no mistaking exquisite playing.
Ólafsson's recital Sunday was basically a rehash of selections from these two celebrated recordings — the first half all Bach, the second all Glass. But there was, at last, plenty to go on. I was sold.
He's an arresting artist who in concert creates unique aural landscapes. The music seems to evoke Icelandic vistas, and you hear the flickering colors of light reflected on snow and on water, highlighting unimaginable shapes. Background becomes foreground and vice versa. Ólafsson captures what cameras miss.
The Bach first half was pretty much everything a Bach first half shouldn't be. It was a fancifully arranged half-hour set of Bach bonbons, a prelude and fugue from the Well-Tempered Clavier here, a Rachmaninoff-arranged gavotte there, or, maybe, a two-part invention you might have learned during piano lessons when you were 11. All were played gapless. The lights were kept too low to read the program. The audience had no choice but go with the Ólafsson flow.
MERCE: For Cunningham's 100th birthday, an exceptional 'Night of 100 Solos' »
In the liner notes to his Bach recording, the pianist said he liked the idea of taking these little gems out of context of their larger sets and letting each shine by itself, although what he really did was make a new Bach necklace. He also noted that he had examined over the years all the differing performance styles, which allowed him to be open to whatever the music of each suggested. He could bring anything he wanted any way he wanted.
As for that cool style, Ólafsson has mastered the most advanced keyboard refrigeration technology for the purpose of assuring absolute freshness. And that is not just the release of perfectly preserved flavors or the smell of a rose, but also the cryogenics of bringing almost-dead dance to life. Melodic lines too took on lives of their own. Accompanying figures (and what was melody and what accompaniment wasn't always what we have come to expect) seemed to take almost indecent pleasure in being helpmates to the dominant line.
Then there was Ólafsson's tone. Rather than select one of the L.A. Phil's excellent modern Steinways, he found an older model in storage and made it sing with the joy of newfound freedom. Some Bach came out of storage too with the "Aria and Variations in an Italian Manner," a set of theme and 10 variations written before Bach was fully Bach but still brilliant. It's no "Goldberg," but Ólafsson nonetheless brilliantly revealed it as Bach-to-be, which is saying something.
OPERA: Want the West Coast's best? Why you have to go to Europe to see it »
After intermission, six of Glass' 20 etudes and the opening from "Glassworks" had maybe a little of the expected quality of glassy Icelandic trance music under exceedingly steady Icelandic hands. But they were also exceedingly warm, so much so that at times the music hardly sounded like Glass.
A bass line that might otherwise just sit there as harmonic reinforcement suddenly jumped into action and took over with utterly compelling force. No. 13 became a Lisztian rush job, Glass' changing meters blurring in gale-force pianistic winds. In the minimal No. 2, a single high note sounded like a bell ringing 200 feet above the piano. Finding common cause with the evening's two composers, Ólafsson turned No. 5 into a Bachian cathedral of sound.
The comparison isn't fair, but later that night, I put on Perahia's celebrated latest Bach recording. The intensity here is a search for meaning in the French Suites.
At half Perahia's age, Ólafsson is on a search for being. We need both, of course, but having gotten on the bandwagon, I soon became impatient to get back to Ólafsson, whom I now love as much as the next guy does.
Get our L.A. Goes Out newsletter, with the week's best events, to help you explore and experience our city.
You may occasionally receive promotional content from the Los Angeles Times.