Review: Musical Middle Eastern diplomacy from Daniel Barenboim's West-Eastern Divan Orchestra in its L.A. debut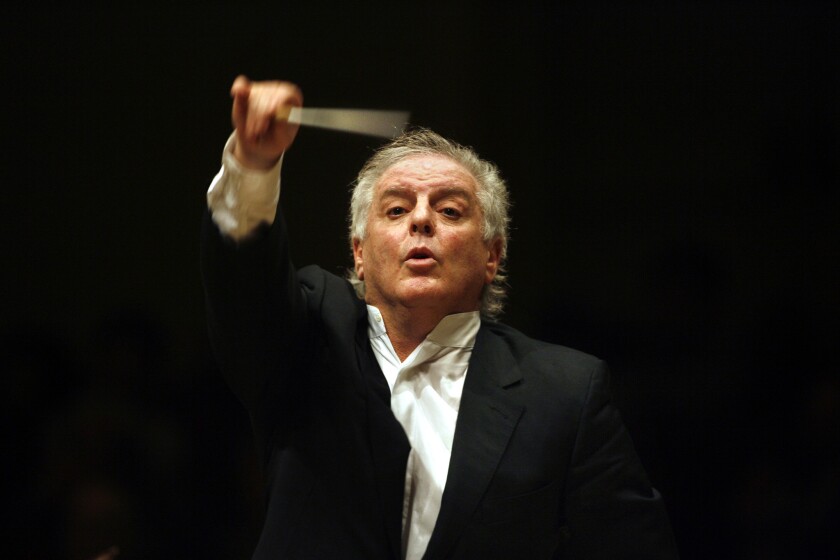 Music Critic
The world is angry. There is hardly a leader anywhere whom people don't consider to be a scoundrel. If you really want to get worked up, look at the Middle East.
Yet, there is Daniel Barenboim's West-Eastern Divan Orchestra, which made its long-awaited Los Angeles debut at Walt Disney Concert Hall on Sunday night in an extraordinary concert of solutions.
Earlier in the day, the Los Angeles Philharmonic, which presented the Divan as part of its centennial season, also offered its final performance of John Cage's "Europeras 1 & 2" at Sony Studios. Included in the program notes were prescient remarks from the composer.
"Human nature is not as bad as we are often told," a disheartened Cage wrote in a letter to a frivolously irresponsible orchestra sabotaging a 1990 production of "Europeras" in Zurich, Switzerland. "People can actually change their minds.
"If we do change our minds, life on Earth for all of us may become a success rather than, as now, a failure."
Can an unusually humane performance of Strauss' "Don Quixote," as the Divan's was, change minds? How about a playing of Tchaikovsky's Fifth Symphony so stirring that nearly all of the members of the audience didn't just leap to their feet but also cheered as if swept off them? And what about Wagner's "Die Meistersinger" Overture, the encore, played with a warmth unfeasible to accurately describe without getting, ugh, all touchy feely?
The Divan, which was founded 19 years ago by Barenboim and Palestinian literary scholar Edward Said to bring young Israeli and Arab musicians together into a training orchestra, did not set out to prove that minds could be changed politically, just as Cage didn't expect to change the minds of the Zurich musicians about the value of his music or ideas.
What is needed, Cage asserted, to make life on Earth a success — rather than it is now for far too few people — is goodwill. The Divan is goodwill in action.
I've met a couple of the musicians in the Divan and been told to leave my rose-colored glasses at home. Put Israelis, Palestinians from Gaza and the West Bank, Syrians, Iranians, Lebanese and others from the region, along with a scattering of African and European musicians, together and you will have issues. Apparently, there is a predictable degree of tribalism.
But watching them, and even more impressively hearing them, I couldn't tell who came from where. The program book did not include a roster of musicians. They watch each other, they listen to each other, they support each other toward a common goal.
That common goal happens to be performances that require no excuses. In "Don Quixote," the solo cellist, who represents the Don, was a rising star, Kian Soltani, Austrian from a family of Iranian musicians. Sancho Panza is left to an orchestra violist, in this case Miriam Manasherov, an Israeli.
The performance of the tone poem overall had an irresistible appeal. I have never heard any conductor or orchestra appearing for the first time in Disney Hall be as attuned to its acoustics to provide the exquisite sensitivity of Strauss' opening measures as were Barenboim and the Divan. I was awestruck by the Divan at its New York debut in Carnegie Hall in 2006 and have had the same reaction to it at festivals in London, Salzburg, Austria, and Lucerne, Switzerland. But never has it shone as it did in Disney Hall.
It may help that the orchestra has a magical new home in Berlin, the Pierre Boulez Saal, designed by the Disney Hall architect-acoustician team of Frank Gehry and Yasuhisa Toyota (both of whom were present Sunday). It is also worth an aside to note that Barenboim's close friend Zubin Mehta was also on hand, looking robust in his first public outing here after a long battle with cancer.
In the Strauss, Soltani's Don revealed an eloquent dreaminess that was gently yet playfully leveled by Manasherov's persuasively level-headed Sancho. Their adventures were fraught. Barenboim produced a fabulous racket when needed for the Don's battle with windmills. At the other extreme, the conductor also kept the textures so transparent that Strauss' toying with atonality sounded modernist.
In Tchaikovsky's Fifth, the instrumental solos, particularly from the winds and horns, were soulfully insinuating. Any one of those players could have stood in front of the orchestra in a concerto. The last movement had hurricane force, and did those strings ever like showing their chops.
Barenboim gets credit for this unique orchestra's existence, its character and its exceptional quality. The ensemble is the musical self-portrait of a legendary pianist. With it, he magnifies the deep, rich tone and articulation he is known for at the keyboard. The piano is Barenboim in black and white. The Divan is him in Technicolor.
The state of the Middle East can be summed up as a region where no country that has supplied these incredible musicians will allow the Divan to play, because the orchestra also includes the other. Were diplomats and peacemakers tuned in, they might make concerts by the Divan a condition of foreign aid, sanctions and talks. Open ears and just maybe minds will follow, proving human nature to not be as bad as we are told, every angry second.
---
Inside the business of entertainment
The Wide Shot brings you news, analysis and insights on everything from streaming wars to production — and what it all means for the future.
You may occasionally receive promotional content from the Los Angeles Times.