Review: Three ballet companies prove the brilliance of one legendary choreographer in 'Celebrate Forsythe'
We had to wait until the curtain call at the Dorothy Chandler Pavilion for "Celebrate Forsythe" to feel like the mini-festival it truly was.
The Music Center on Friday night had brought together exemplary artists from the San Francisco Ballet, Pacific Northwest Ballet and the Houston Ballet. On the downstage apron stood the man of the hour, choreographer and former Frankfurt Ballet artistic director William Forsythe, grinning ever wider at the audience's standing ovation and the dancers' applause. He crossed his arms on his chest in a gesture of humbleness and mouthed a big "thank you." It was one big welcome-to-L.A. for Forsythe, newly ensconced as a professor at USC.
The weekend's unusual program, repeated Saturday and Sunday, kicked off the 2016-17 Glorya Kaufman Presents Dance at the Music Center series with three companies performing different Forsythe pieces.
SIGN UP for the free Essential Arts & Culture newsletter »
Beginning in the 1980s, Forsythe staged a choreographic ballet revolution, evoking both cheers and howls from the establishment. Forsythe and Frankfurt Ballet made a 1989 appearance at the Wiltern theater that left many of us perplexed — by theatrical devices, such as the repeated lowering and raising of the curtain during the show, and by his reconfigured ballet vocabulary, his different rhythmic structuring and the diffused focus onstage, with every dancer pointed at odd angles, doing different steps.
Companies around the world performed Forsythe's work, but he seemed to disappear from L.A. Local appearances were rare.
"Celebrate Forsythe" affirmed how thoroughly Forsythe's innovations have been adopted by others and how they have become the norm of today's dance aesthetic. Forsythe has upgraded our visual literary. We know how to watch and "read" the previously unrecognizable group patterns, we see his logic.
The opening piece, "Pas/Parts 2016," is one of Forsythe's newest, and it showcases individual virtuosity in distinct scenes, contrasting movement with grace-note alacrity against others that feel like luxurious breaths. These scenes unreel quickly, and each dancer dazzles; so does the bare stage with opalescent lighting (Forsythe's designs) and white-fabric faux walls.
Originally created for Paris Opera Ballet in 1989, the work was adapted for San Francisco Ballet, which dances Forsythe better than any other American company, making it a tough act to follow Friday night.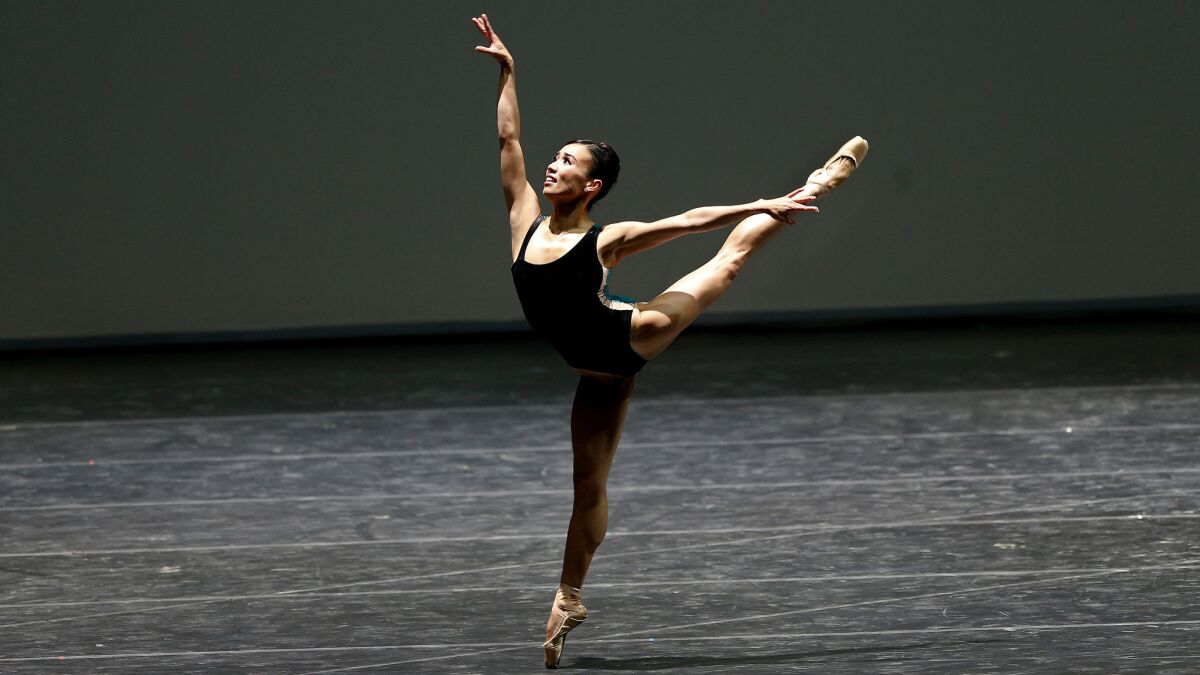 Solos, duets, trios and larger group scenes featured raw, yet polished technique, dancers springing out of one step and imperceptibly shifting into another. The San Francisco dancers articulated every bit, small and large, with unhurried precision. There was Frances Chung's series of jumps on point and clear-cut beats. Sofiane Sylve and Jennifer Stahl, at separate times, scooped air with curved arms, holding onto a balance for that extra syncopated beat. Joseph Walsh inspired awe just by shifting his body's focal point on each leap in a series.
Frequent Forsythe collaborator and composer Thom Willems provided sonic scenery for each part; the dancers played the rhythm with their bodies, creating the illusion that we were not only watching them but also listening to them.
In "The Vertiginous Thrill of Exactitude," Forsythe attaches his speed-driven, looping body line to a lush allegro from Franz Schubert's Symphony No. 9. It's a jarring juxtaposition.
Pacific Northwest Ballet dancers Carrie Imler, Margaret Mullin, Leta Biasucci, Benjamin Griffiths and Jonathan Porretta put on overly broad relaxed smiles, while their bodies looked to be in overdrive, trying to keep up with the windmill arms, turns and leaps of this showcase piece. As perfect as Stephen Galloway's costumes were for "Pas/Parts 2016," they were just that distracting in "Exactitude," particularly the unflattering platter tutus and the men's velveteen briefs. Perhaps more time with this 1996 piece, which PNB started dancing last year, will enhance its luster.
The closing work, "Artifact Suite," is an adaptation of the full-length "Artifact," seen in excerpt at the previously mentioned 1989 performance. Bridget Kuhns was Friday's exemplary soloist, dispensing semaphore-like arm signals to the corps of 32 Houston men and women. The evening had moved from an examination of the individual to a kind of cohesive group machinery.
Divided into yellow and blue sections, with music, respectively, by J.S. Bach (Chaconne from Partita No. 2) and a piano composition by Eva Crossman-Hecht (played live by Margot Kazimirska), "Artifact Suite" is still fresh, if no longer shocking. The audience applauded each time the curtain fell; it then rose to reveal the dancers in different geometric formations, as though the dance had gone on while we'd taken a forced break. Houston's dancers approached some of it like a drill team; at other times, they deftly attacked it.
That is the best way to approach Forsythe, and it is how he brings out the best in the dancers he adores.
Follow The Times' arts team @culturemonster.
---
Get our daily Entertainment newsletter
Get the day's top stories on Hollywood, film, television, music, arts, culture and more.
You may occasionally receive promotional content from the Los Angeles Times.