Review: Jeffrey Kahane leaves L.A. Chamber Orchestra as master musician and mensch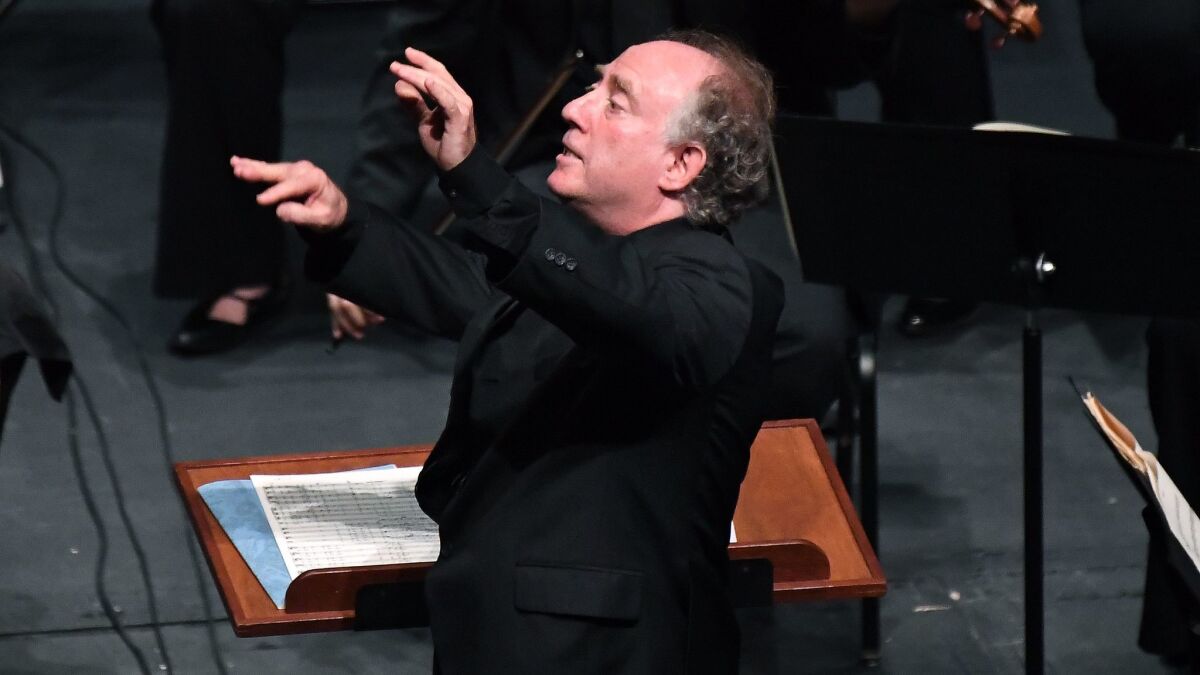 Music Critic
When it became time for the speeches after intermission Sunday night at Royce Hall, no one needed to be told how splendid a musician Jeffrey Kahane is. This was his last concert as music director of Los Angeles Chamber Orchestra. He had just led Mozart's last piano concerto, No. 27, from the keyboard with buoyancy that felt almost superhuman.
So instead we were told what was just plain human about Kahane, what makes him a mensch and more. Kristy Edmunds, the director of the Center for the Art of Performance at UCLA, noted how Kahane exemplified the ideals of Josiah Royce, the 19th century California philosopher for whom UCLA's hall was named. Royce professed that the role of the individual is to serve a greater whole, namely that of society.
"Jeffrey," Edmunds revealed, "puts love into the broken places. He puts love into the ebullient places."
The ebullient side of this human equation sufficed, and that was as it should be in celebration of Kahane's 20-year tenure with LACO. Composer Christopher Cerrone contributed a stunning new piece, "Will There Be Singing," for an occasion that ended with a mighty performance of Schubert's Ninth Symphony and, as an ebullient-squared encore, Strauss' "Die Fledermaus" Overture.
The broken places, however, were what made all the difference.
Kahane became the first native Angeleno to take over LACO after the ensemble had gone through three lackluster years under German conductor Christof Perick. The orchestra was demoralized and marginalized. Kahane had to begin his first concert as music director in fall 1997 in an out-of-the-way church on Mulholland Drive with such dreadful acoustics you simply couldn't tell if the playing was any good or not.
Desperate, LACO took a chance with Kahane as a conductor, not a musician. A consummate pianist best known for his Bach and Classical-era repertory, he appealed to the chamber orchestra's generally conservative subscriber base. He had been appointed two years earlier as music director of the Santa Rose Symphony, and the awkwardness of a pianist-turned-conductor was countered by his natural ease as a chamber musician. He quickly developed the reputation of being able to win over temperamental soloists who drove other conductors to distraction.
Kahane approached his first decade with LACO in contradictory fashion — gingerly and exhaustively. He was cautiously conventional in his programming. When it came to new music, he took no chances with modernity. He was a genial music director who put the attention on his players first and who was committed to community engagement and education. Musical standards kept rising.
And so, it appears, did his blood pressure. Under it all was burning ambition. Kahane took on a third orchestra, the Colorado Symphony. In addition he was tempted by ever-increasing offers to appear with major orchestras in America and abroad. He burned out.
Although physically forced to cut back, Kahane found a new ambition in his second decade with LACO, deepening his commitment not to career but to humanistic pursuits. He studied classical Greek and Sanskrit to better understand the roots of his art and the world we live in. He furthered his involvement in community activities.
Broadening his musical outlook also meant bringing into the LACO family imaginative composers of a new generation, such as Derek Bermel, Andrew Norman and Kahane's son, Gabriel. Kahane reminded us of his uniquely L.A. background that included involvement in folk music, rock and jazz. He became all the more adamant in his need to place important works in context of world events, as he did as early as 2000, treating a magnificent performance of Bach's Mass in B Minor as a call to peace at a time when the Israel-Palestine conflict was top of the news.
All this came to heightened fruition in Kahane's uncompromising final LACO season, with an unstated theme of justice. He staged Kurt Weill's South African music drama, "Lost In the Stars," and led a formidable performance of Beethoven's Ninth prefaced by a powerful philosophical talk about the symphony (recently made available on the orchestra's website).
A political statement also characterized Cerrone's "Will There Be Singing." The Brooklyn-based 33-year-old composer, whose opera "Invisible Cities" was given at L.A.'s Union Station in 2014, writes in a program note on his website that although he does not consider himself politically inclined, he felt compelled to address America's depressing political atmosphere.
The title comes from Bertolt Brecht: "In dark times/Will there also be singing?" Cerrone doesn't need Brecht's question mark, so sure is he that the answer is yes. Yet in the end Cerrone produces far more light than darkness in the 11-minute score, which opens with the radiance of ringing bells and flows through a wondrous soundscape of glowing winds and rapturous string harmonics.
Whatever meaning Kahane implied by choosing Mozart's last piano concerto and Schubert's last symphony for his last concert is undercut by the fact that all three works on the program were written by composers under 35. Schubert's symphony was by a 29-year-old, and it is coincidentally the same work with which Gustavo Dudamel concluded his Los Angeles Philharmonic Schubert symphony cycle over the weekend.
The two performances showed different sides of the work. Although he had the larger orchestra, Dudamel went for lightness and transparency; Kahane provided weight and grandeur as a counterpoint to the buoyancy he had brought to Mozart. My guess is that there would have been no way to stop these musicians from playing their hearts out. So they did.
Under it all was a kind of ferocity of intent, an example of Kahane's compulsion to find love in the dark places, the moodiness that is the secret sauce in Schubert's sublime lyricism.
Now what? Kahane becomes conductor laureate, but the orchestra has been dragging its heels in finding a replacement. The search has been going on for three years.
A board member addressed the audience with a mock suggestion that a job application be placed in the New York Times or Wall Street Journal to demonstrate how we'll never find another Kahane. However right he was, the remarks were worrisome.
LACO did not find Kahane by advertising on the East Coast. He is part of a long line of uniquely imaginative L.A. conductors, and he already had a long history with the orchestra.
None of next season's guest conductors, who are likely candidates, has such credentials. But Kahane's example of imagination, devotion and supreme musicianship is key.
ALSO
L.A. Chamber Orchestra offers a riveting performance of 'I Will Not Remain Silent'
In Yo-Yo Ma concert with L.A. Chamber Orchestra, simplicity outshines the showmanship
A race-themed work not performed in L.A. for 67 years is back for a Black Lives Matter era
---
Get our daily Entertainment newsletter
Get the day's top stories on Hollywood, film, television, music, arts, culture and more.
You may occasionally receive promotional content from the Los Angeles Times.