L.A. Opera accessorizes 'Tosca' revival with Maria Callas' jewelry
Maria Callas and jewelry in "Tosca." The set was created for Callas by the Atelier Marangoni in Milan, Italy.
(Metropolitan Opera Archives)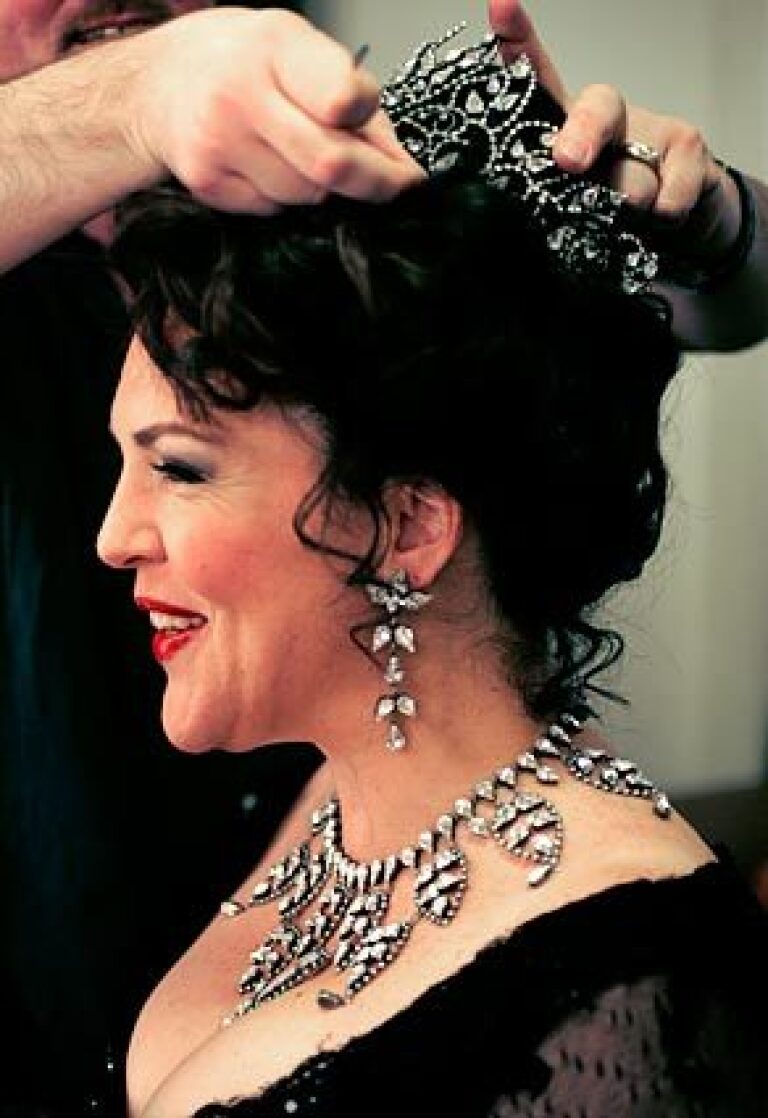 Soprano Adrianne Pieczonka will wear the original set — tiara, earrings and necklace — in Act 2. The jewelry, made of nearly 200 crystals, is worth about $85,000.
(Annie Wells / Los Angeles Times)
Los Angeles Times Staff Writer
HOW DO you add sparkle to a fatigued operatic war horse? Bring out the jewelry and let it shine under the spotlight.
But not just any old jewelry. For its latest revival of "Tosca," opening Saturday, Los Angeles Opera has obtained a rare stage artifact -- the jewelry worn by Maria Callas in 1956 for her Metropolitan Opera debut as Giacomo Puccini's tragic heroine.
Made of nearly 200 tear-shaped Swarovski crystals, the jewelry was created specifically for Callas by the Atelier Marangoni in Milan, Italy.
The three-piece set, which consists of a tiara, earrings and a fanned-out necklace, is worth approximately $85,000, according to Swarovski, the current owner.
"To wear this talisman -- I have to pinch myself," says soprano Adrianne Pieczonka, who shares the role of Tosca in this revival with Georgina Lukacs. "People were taken aback by how bright they were during rehearsals. It doesn't bother me, but I hope it won't be a distraction for the audience."
Pieczonka will wear the Callas jewelry in Act 2 of "Tosca," which is the most vocally and physically demanding section of the opera.
To save her lover from execution, the tempestuous singer Floria Tosca agrees to enter a relationship with the evil Baron Scarpia (baritone Juan Pons). But during a candlelight dinner, she pulls a knife and murders the baron in a fit of hysteria.
The scene requires the two singers to tussle on the floor, with Scarpia expiring on top of the leading lady. The Callas jewelry might seem too unwieldy for such intense action. But since the individual pieces are made entirely of crystals (no diamonds or real stones), the total weight of the set is only about 3 1/3 pounds.
"At first, I was afraid the jewelry could bog me down. But it's very much doable," says Pieczonka.
Coincidentally, this year marks the 50th anniversary of Callas' L.A. debut. The soprano performed a concert on Nov. 29, 1958, at the Shrine Auditorium as part of a U.S. tour.
Swarovski, based in Austria, is lending the Callas crystals to L.A. Opera free. The gesture is part of a larger marketing effort to highlight Swarovski's long collaboration with the legendary diva, who died in 1977.
An exhibition featuring Callas jewelry for 18 operas -- including "La Gioconda," "Tristan and Isolde" and "La Traviata" -- is touring the major opera houses of the world. Swarovski is in discussions to bring the exhibition to the Dorothy Chandler Pavilion in May 2009.
"We think that culture is a good way for the company to communicate," says Giovanna Grassi, a project manager at Swarovski who is in charge of the project. She adds that Swarovski isn't making any money from the exhibition and that the company is paying all transportation costs for the jewelry.
For the current "Tosca" revival, the crystals were flown from Milan and hand-delivered by Swarovski's special cultural consultant, Andrea Scarduelli. They are being kept in a special safe at the Music Center, and a security guard must be present at all times when they are moved from the safe to the stage.
Anecdotes about Callas and her crystals are numerous, although many are considered apocryphal.
One involves the soprano traveling with her "Tosca" jewelry across the Italian-Swiss border. Customs officials searching her bags found the crystals and mistook them for real stones. Callas had to telephone the Atelier Marangoni and request papers verifying that they were crystals and not diamonds.
In November 1956, Callas appeared on television's "Ed Sullivan Show" to sing selections from Act 2 of "Tosca." According to several accounts, the crystals sparkled so brightly under the studio lights that Callas was able to wear just the earrings while performing on the air.
Today, opera houses tend to use plastic baubles or paste to adorn their performers. "I can't think of another instance of a singer who was so involved with the making of jewelry as Callas was," says Robert Tuggle, head of archives at the Met. "In the 18th and 19th centuries, most singers performed wearing the jewelry that they personally owned."
If Callas' hotblooded personality has rubbed off onto the crystals, audiences will be hard-pressed to detect it during "Tosca." That's because Pieczonka says she won't be channeling the diva's darker side.
"I'm a huge fan of Callas. I watched her over and over again for this role, mostly on YouTube," says the soprano. "I never thought she was a [nasty] person. I always thought she was vulnerable and almost a woman to be pitied. We know her love life was problematic and all of these other horrible things. I think in the end she was simply a grand, tragic figure."
---
The complete guide to home viewing
Get Screen Gab for weekly recommendations, analysis, interviews and irreverent discussion of the TV and streaming movies everyone's talking about.
You may occasionally receive promotional content from the Los Angeles Times.