Things get silly at salute to a maverick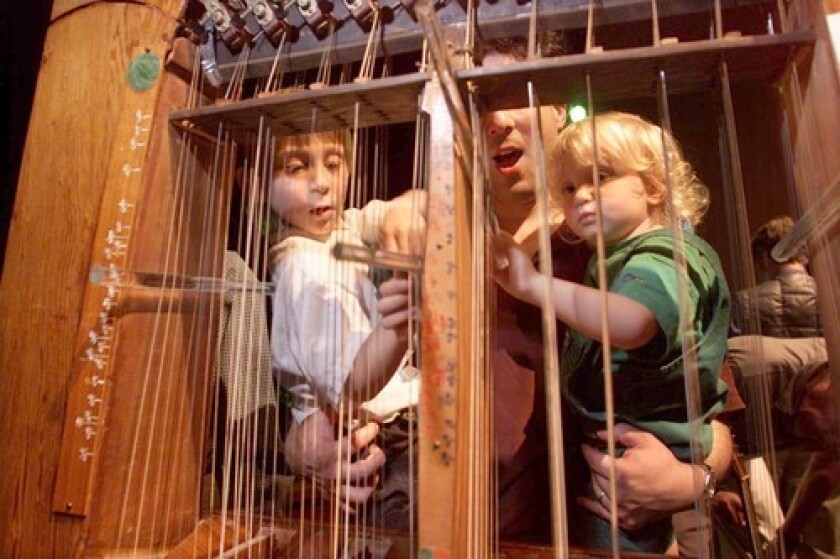 Times Music Critic
Harry Partch invented and built his own weird (and beautiful) instruments. He developed his own weird (and beautiful) micro-tonal musical scale, adding an extra 31 pitches to the normal 12. He created his own odd aesthetic that joined modern music with ancient Greece and China (with hints of Latin America) and that included his own peculiar notions of dance, theater and ritual.
A musical maverick among West Coast mavericks, Partch died in 1974 in San Diego, thumbing his nose at posterity. He left behind one set of fragile instruments (he once refused a commission from the Smithsonian Institution to build copies) and a handful of acolytes who knew how to play them and understood his ideas. The original instruments, the cloud-chamber bowls and marimbas tall as a percussionist, are now cared for in Montclair, N.J., and cost an arm and a leg to transport.
But posterity has proven impossible to deny. REDCAT was not large enough to hold all those hoping to hear the annual late-spring program by an ensemble called Partch on Friday night. And what made this program particularly heartening was that Partch, the ensemble, which is gradually building its own instruments, now has enough to begin offering some of the composer's major compositions. "Plectra and Percussion Dances" had its first complete performance Friday since its premiere in Berkeley 55 years ago.
The dances are the combination of three different works that Partch felt made a 50-minute whole and that he subtitled "Satyr-Play Music for Dance Theater." He meant the result to be the other side of tragedy, his previous large-scale work having been a setting of Yeat's version of "King Oedipus."
In the first section, "Castor and Pollux," Partch describes the visit of Zeus to Leda, in the form of a swan. A series of duets are titled "Insemination," "Conception," "Incubation." The concluding "Chorus of Delivery" is for all six instruments. Castor and Pollux, each, get "musical fertilization."
For the middle part, Partch rewrote his "Sonata Dementia" as a kind of satyr satire called "Ring Around the Moon -- a Dance Fantasm for Here and Now." He mocks singers and singing, concerts and concertgoers. As marimbas large and small ding and dong, as cloud-chamber bowls tinkle and as plucked instruments wiggle in and out of standard harmonies, a singer becomes silly. One text begins "Mumbo jumbo, hocus pocus, hoity, toity, hotsy totsy," and continues in that vein for longer than you might think advisable.
The final series of dances, "Eleven Wild Horses," is the most substantial. The text comes from Rimbaud's "A Season in Hell," and Partch, who called this section "Dance Music for an Absent Drama," interpreted the poet's African exile through vague evocations of Afro-Latin dances. One has to strain to hear samba, rumba and conga through all the curious sounds, but Partch insisted they were there. He also found room to micro-tone "Happy Birthday to You," which he turned into an "Afro-Chinese Minuet."
The ensemble, led by guitarist John Schneider, is now 11 strong and made up of several local players, many associated with the California Institute of the Arts. Slowly, they build more instruments, but quickly master them.
This music, the way it sounds, the way it functions, cannot be described in relation to music otherwise known. The handsome, unusual craftsman-like instruments have the wacky, visceral tonal qualities they look like they should have. Rhythms are complicated but designed to encourage dance. The harmonies are out of this world. The music appears primitive and knowable but remains just out of reach of the ear's expectations.
Partch managed to be ahead of his time and behind it at the same time. Schneider and his wonderful ensemble are the latest announcement that whatever time that is, Partch's has come.
---
Inside the business of entertainment
The Wide Shot brings you news, analysis and insights on everything from streaming wars to production — and what it all means for the future.
You may occasionally receive promotional content from the Los Angeles Times.