Esa-Pekka Salonen exits on a high note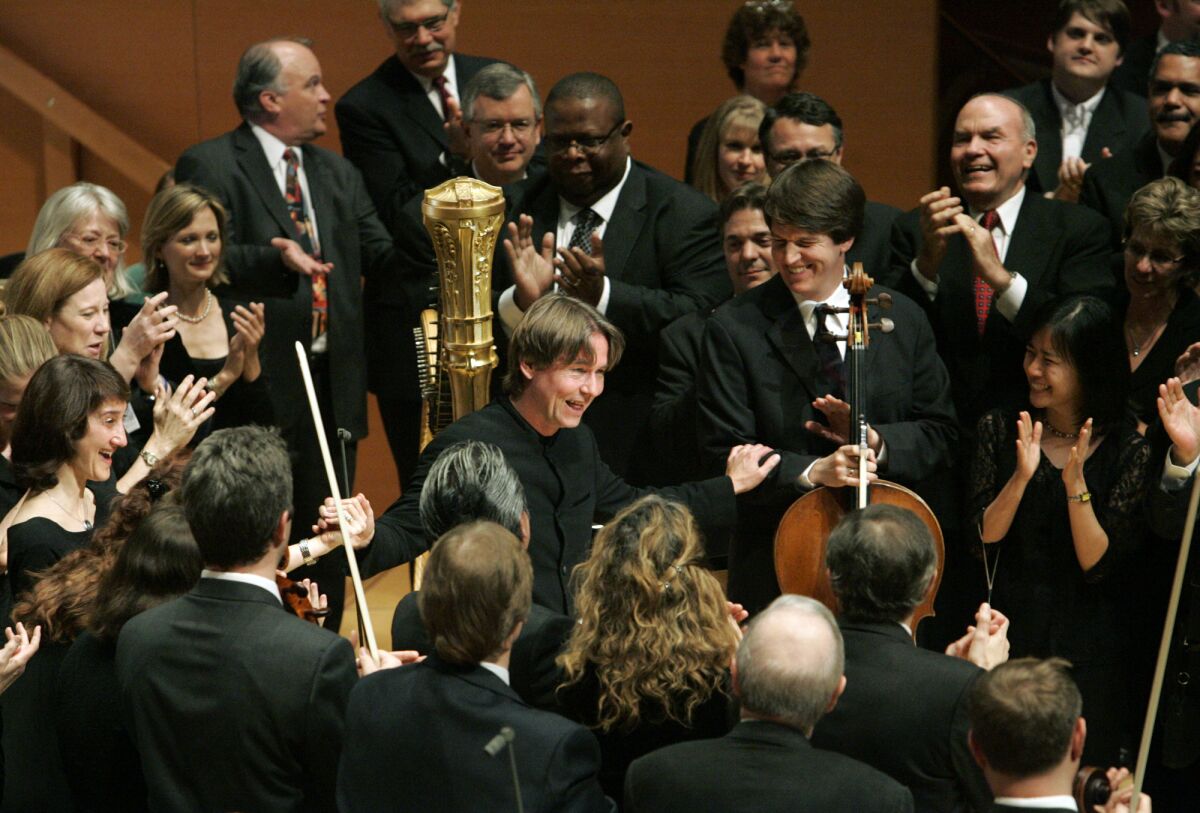 Esa-Pekka Salonen, the wunderkind turned maestro who changed the face of classical music in Los Angeles, took the podium Sunday afternoon at Walt Disney Concert Hall for the last time as music director of the Los Angeles Philharmonic -- and left, to stormy applause and tearful embraces, as the orchestra's first "conductor laureate."
Salonen's 17-year tenure as music director was the longest in the Philharmonic's nine-decade history and included, among other milestones, the inauguration of Frank Gehry's soaring and acoustically acclaimed Grand Avenue concert hall and the orchestra's emergence as what many regard as the city's most vital and forward-looking arts institution.
Sunday's concert -- the 973rd in which the Finnish-born composer-conductor has led the Philharmonic -- was an all-Igor Stravinsky program, his operatic oratorio "Oedipus Rex" and "Symphony of Psalms" staged as a single work by director Peter Sellars. It was demanding music performed without compromise, but spring's sunniest day so far and the first game of the Lakers' 2009 playoff campaign notwithstanding, every seat in Disney Hall was filled with people who'd come to say goodbye to a conductor who changed not only an orchestra, but also its audience.
As the last chord of Stravinsky's homage to the psalms faded from the air in Disney Hall, the audience broke into stormy applause that lasted more than 10 minutes. Time after time, the famously reticent Salonen tried to return to the stage in the company of his soloists, only to be forced back on by rhythmic clapping that would not be put off. As he crossed the stage alone, he was startled when the Philharmonic broke into that traditional -- and oh-so-rare -- brass fanfare, known as the tusch, which is the highest honor an orchestra can accord another musician. Players who had not been part of the reduced company required by the second piece filed back onto the stage, the women bearing bouquets of roses.
The concert was preceded by a brief video tribute to Salonen, who is stepping down to devote more time to his first love, composition. After the orchestra and chorus had taken their positions, but before the conductor had ascended the podium, David C. Bohnett, chairman of the Philharmonic's board of directors, and President Deborah Borda announced Salonen's appointment as conductor laureate, a title designed to signal a continuing connection between Salonen and the orchestra.
Borda chuckled when she told The Times in an interview that the thought of offering the impossibly boyish 50-year-old Finn the more traditional designation of "conductor emeritus" had seemed somehow ridiculous. "We wanted something that would signal our belief that Esa-Pekka's tenure has been most distinguished by his legacy," she said. "Unless we could do that, we knew we wouldn't have the continuing connection we wanted.
"We thought a great deal about how to give that connection life, and we came up with conductor laureate because we felt it was more than a gesture. This appointment comes from all our hearts. There's deep significance to it. We regard it as a designation of triumph."
Salonen, Borda said, "was a bit perplexed when we first offered him the appointment. He said, 'I'm not a guy for titles.' " His decision to accept this one was clearly popular not only with the audience, but also with the Philharmonic players. In her remarks, Borda described the triangular relationship shared by the conductor, orchestra and audience as "a unique musical community" and so it has become -- one in which the city changed Salonen as much as he changed the Philharmonic and its listeners.
Although he regarded himself as primarily a composer -- almost "an accidental conductor" -- when he arrived here, Salonen is frank about the fact that he'd hit an aesthetic impasse in his compositions. In California, he found a new artistic freedom and fresh collegial influences, particularly in the work of composer John Adams, who was one of the many international musical notables -- including pianist Yefim Bronfman and soprano Dawn Upshaw -- who attended Sunday's farewell.
Salonen not only rediscovered himself as a composer but reshaped the Philharmonic into an ensemble whose ability to play the most demanding new music with conviction is unmatched by any other major orchestra.
During Salonen's tenure as music director, the Philharmonic introduced 54 commissioned works and gave 120 other pieces their world or American debuts. It's a remarkable record, and once the orchestra took up residence in Disney Hall, with its extraordinary acoustics, once-conservative local audiences began to enthusiastically follow their orchestra and its young conductor's lead.
As Alex Ross wrote not long ago in the New Yorker, "The Salonen era in L.A. may mark a turning point in the recent history of classical music in America. It is a story not of an individual magically imprinting his personality on an institution -- what Salonen has called the 'empty hype' of conductor worship -- but of an individual and an institution bringing out unforeseen capabilities in each other, and thereby proving much life remains in the orchestra itself, at once the most conservative and most powerful of musical organisms."
Speaking with a Finnish journalist, the conductor once described his relationship with the Philharmonic this way: "I felt from the beginning that the orchestra had enormous potential. All that had to be done was to turn its nose to the wind, and the energy raised the thing off the ground automatically."
Something of that subtle collaboration and energy was on display in the conductor's selection of his farewell program. Any number of safe and beloved pieces that could have been appropriately programmed come to mind. Instead, Salonen chose the stern drama of Stravinsky's "Oedipus," an exploration of conflicted identity and civic dysfunction, then followed with the "Symphony of Psalms," which celebrates that most ancient form of communal music making -- one with a healing, even redemptive overtone. (Somehow, one wants to take into account, as well, the fact that Finland's ancient national epic and grand aesthetic inspiration, the Kalevala, is unique in that its main character is a music-making shaman who plucks a zither-like instrument made from the jawbone of a giant pike.)
As the ovations mounted following Sunday's concert, the musicians, one by one, left their chairs and embraced the conductor; some shot memorial snaps with their camera phones. The applause continued. Salonen's eyes glistened; his cheeks colored. Suddenly, you realized there were two novelties underway: A Los Angeles celebrity was actually blushing, and a Los Angeles audience had not deserted its seats early to beat the traffic.
Get our L.A. Goes Out newsletter, with the week's best events, to help you explore and experience our city.
You may occasionally receive promotional content from the Los Angeles Times.