'American Dead,' 'Mrs. Warren's Profession' and more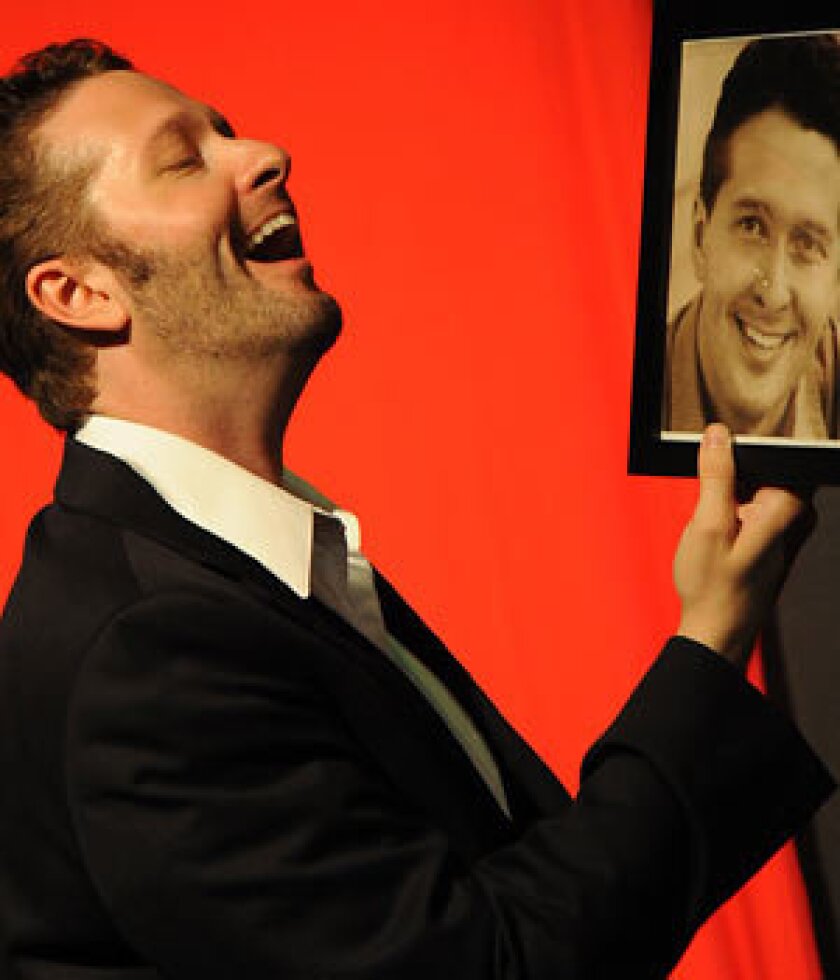 Imagine a recession art-directed by Edward Hopper, and you're in "American Dead," Brett Neveu's spare tale of Midwestern obsolescence, now receiving its West Coast premiere by Rogue Machine and John Perrin Flynn. Ian Garrett's sprawling, dilapidated set is a hodgepodge of buildings that have given up the ghost: crooked screen doors, sagging lintels, a row of rusty school lockers.
Lewie Froah (Mark St. Amant) wanders his near-empty hometown like a deadbeat Ancient Mariner. He's mourning the unsolved death of his sister, Grace (Deborah Puette), killed in a store robbery. Grace's husband (David Paluck) has remarried and is moving away; a dwindling local population has even closed the high school. But at a dusty bar tended by the officious Bill (a droll Bradley Fisher), a quiet stranger (Darin Singleton) stops in for beer -- and a fateful encounter with Lewie.
The play isn't in a hurry; it meanders in, a grubby stranger keeping to himself. Slowly, though, Neveu's world reveals itself: fugitive connections that accumulate into a story you find yourself investing in -- due in large part to "Dead's" impressive cohesion of direction, design and performance. Garrett's set, Leigh Allen's eerie lighting and Bob Rokos' sound design all work to focus Neveu's elliptical storytelling. Director Dado is a Steppenwolf alum, and the Chicago ensemble's signature features -- the ground-level desperation of working people, the awkward truth of the lived moment, sudden explosions of violence -- feel strongly in evidence.
The play chases its mysteries only so far. The question of what to do with the dead -- a way of life or a family member -- isn't fully explored. But Neveu and this excellent company ponder the dilemmas of the living with tenderness and admirable simplicity.
--
Charlotte Stoudt
"American Dead," Theatre Theater, 5041 Pico Blvd., Los Angeles. 8 p.m. Thursday through Saturday, 7 p.m. Sunday. Ends Aug. 24. $25. Contact: (323) 960-7726. Running time: 1 hour, 45 minutes.
What mother does for a living
England, 1893. Vivie Warren (Joanna Strapp) has been raised in an atmosphere of utter respectability: the finest boarding schools, a Cambridge education. After graduation, she reunites with her self-made, elusive mother (Gillian Doyle) only to learn with horror just what -- and who -- has financed her ascent into good society. "Mrs. Warren's Profession," of course, is the oldest one, and Kitty Warren has profited considerably from it. She refuses, however, to apologize for deploying her talents to take her out of Victorian slums and into economic independence. She's like any other entrepreneur, even if society wrings its pious hands over the services she offers.
George Bernard Shaw's play was censored for decades and could only be presented publicly in 1925, after World War I had shifted British attitudes toward women. But it's the author's merciless attack on hypocrisy -- a fault both sexes are subject to -- that remains fresh today. The Production Company's staging, directed with admirable pace by August Viverito, emphasizes the play's satirical edge. If occasionally a little broad and not so deep, it never fails to entertain. Like Viverito's ingenious fold-out set, Shaw keeps revealing an unexpected angle, and, plot-wise, "Mrs. Warren" is one of his tightest works.
The excellent Doyle and Strapp tear into the juicy dialogue with relish, and their scenes together crackle with spirit and urgency. And Jeremy Lelliott, as Vivie's astute but caddish suitor, tosses off witticisms with appealing insouciance. But for all the fun, there's grief at the story's center: Mrs. Warren may have saved herself, but her daughter remains forever out of reach.
--
C.S.
"Mrs. Warren's Profession," The Chandler Studio Theatre Center, 12443 Chandler Blvd., North Hollywood. 8 p.m. Fridays and Saturdays, 3 p.m. Sundays. Ends Aug. 24. $22. Contact: (800) 838-3006. Running time: 2 hours.
Reenacting comedic history
Los Angeles audiences of the late 1970s and early '80s roared whenever the War Babies comedy collective went to work. These quick-thinking performers would improvise mini-dramas and even micro-operas, in between the ever-popular rehearsed sketches that they referred to as their set pieces.
History is hard to re-create, however, as witnessed in a show that sets out to revisit "The Works of War Babies." This isn't a reunion of the original group, which most famously included Peter Riegert and Caren Kaye. Rather, it's a sampler of nearly 20 of the group's set pieces, reanimated by new performers under the guidance of original member Renny Temple.
The excitement of these pieces -- as can only be imagined by those of us not fortunate enough to have experienced the originals -- would have derived largely from the electricity arcing between comedians in creative hyper-drive and an awestruck audience. But at the Complex, the new performers work from a script, a constraint that shuts off some of the power.
The setups include an Old West saloon fight in which the actors generate their own sound effects, a visit to Rodgers and Hammerstein as they test-run some humorously awful lyrics that prefigure the timeless final versions, and two women encountering a succession of singularly repulsive men at a singles bar. Between scenes, the War Babies' history is mapped, and faux testimonials are delivered, via video, by Garry Marshall, Joel Zwick and Norman Lear.
Performers Gwendolyn Druyor, Brian Girard, Sy Ozcan, Matt Ryan, Robert Scheid, Jessica Kaye Temple and Diana Toshiko specialize in a nice assortment of character types: the brain, the schlub, the firecracker and so on.
Expect future wackiness from each of them, especially Girard. But here, they're pretty much limited to whatever filigrees they can add to their predecessors' moments of inspiration.
--
Daryl H. Miller
"The Works of War Babies," the Complex, 6470 Santa Monica Blvd., Hollywood. 8 tonight and Saturday, 7 p.m. Sunday. Ends Sunday. $20. (323) 960-5771. Running time: 2 hours, 10 minutes.
This show could be the eighth sin
The program for Rude Guerrilla's short-play collection "The Seven Deadly Sins" states that the first piece, about greed, will be "presented by Lady Charis and her most particular Troupe de Comique Tragédienes Antiquité Gothique."
Say what?
If that sounds self-consciously arty, well, it is. Two actresses in ghostly masks enact the birth of the seven sins while the troupe proprietress, in white mime paint, narrates. The faux-classical text is moaned and howled while demon babies -- puppets with dolls' faces and skeleton bodies -- are given life, then cut down.
And this turns out to be the best play of the bunch.
Some way or other, Rude Guerrilla is always trying to push the envelope and push buttons. Here, in plays written at the theater's invitation, the title sins are exemplified in the gent sheepishly waiting to shove bills into a go-go boy's shorts, the interrogator who snarls at the prisoner he's waterboarding, the doughy guy whose hand is grotesquely busy inside his boxers and so on. The actors look ill-at-ease -- and who could blame them?
The tales leapfrog crazily through time periods and performance styles. Four-letter words abound; aha moments are rare. There's not much to learn here beyond the slap-to-the-forehead obvious moral that you reap what you sow.
Well, perhaps one other lesson can be gleaned: Always glance through a program, looking for warning signs, before a performance begins, while there's still time to flee.
--
D.H.M.
"The Seven Deadly Sins," Rude Guerrilla Theater, 202 N. Broadway, Santa Ana. 8 p.m. Fridays and Saturdays, 2:30 p.m. Sundays. Ends Aug. 30. $20. (714) 547-4688. Running time: 1 hour, 25 minutes.
'Merry Wives' of the 1950s
The Classical Theatre Lab sets its production of Shakespeare's "The Merry Wives of Windsor" in a vaguely 1950s American suburb -- a land where men smoke pipes and wear cardigans, and women strut around in flouncy dresses and sport astronaut-wife hairdos.
The costumes are the main attraction in this colorful but uneven staging of the Bard's bawdy farce. In a showdown between Shakespeare's verse and the women's floral print dresses, the poetry sadly loses out.
In a cozy upscale neighborhood, Mistress Page (Victoria Hoffman) and Mistress Ford (Elyse Ashton) find themselves the target of a romantic plot by Jack Falstaff (Joe Hulser), a corpulent scoundrel who has sworn to seduce them. The ladies seek revenge on the troublemaker and hatch a complicated counterplot involving fake identities and a large laundry basket.
A few sparkling performances stand out: Kevin Fabian transforms timidity into an art form as the quivering Sir Hugh Evans, and Jean Gilpin balances on a fine line between unctuousness and sincerity as the meddlesome Mistress Quickly. In the lead roles, Hoffman and Ashton prove to be an excellent comic duo with impeccable timing.
Oddly, the most subdued character is Falstaff, who comes off not as the uproarious drunk we know him to be but rather a mildly tipsy grifter past his prime.
Director Carey Upton's staging in Plummer Park's Great Hall is frequently wobbly, emphasizing frenzy over diction and ending on a flat note.
--
David Ng
"The Merry Wives of Windsor," Great Hall in Plummer Park, 7377 Santa Monica Blvd., West Hollywood. 5 p.m., Saturday and Sunday. Ends Aug. 3. Also at West Hollywood Park, 647 N. San Vicente Blvd., West Hollywood. 5 p.m., Saturdays and Sundays, Aug. 9-24. Free. (323) 960-5691 Running time: 2 hours, 10 minutes.
---
Your essential guide to the arts in L.A.
Get Carolina A. Miranda's weekly newsletter for what's happening, plus openings, critics' picks and more.
You may occasionally receive promotional content from the Los Angeles Times.