Shakespeare's 'Tempest' wizard enchants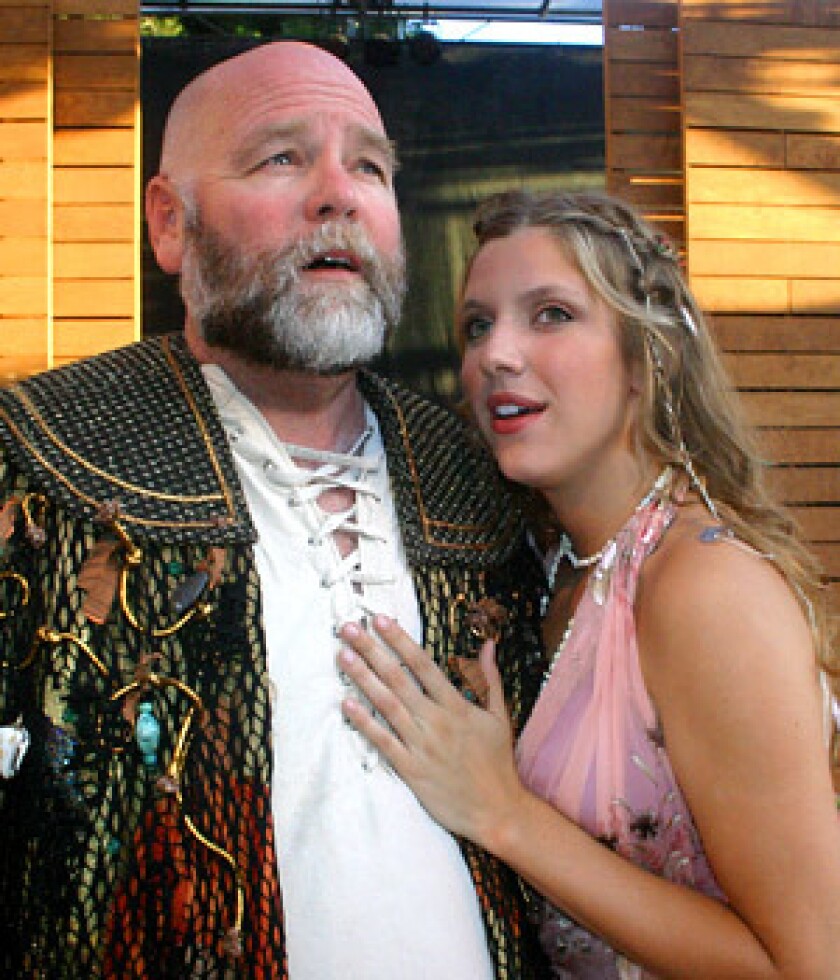 Set on a sandy island where scantily clad castaways compete against each other for power, Shakespeare's "The Tempest" could qualify as the proto-"Survivor." If that sounds like literary heresy, consider the fact that the Bard himself was seldom above baser pleasures, filling his final play with winking double-entendres involving birds, bees and bodily gratification.
Shakespeare Orange County's production features an abundance of ambitious young flesh, but the real attraction is a bald and middle-aged body in the form of Michael Nehring as the wizard Prospero. Nehring's performance is a marvelously confident portrayal -- a beautifully nuanced alchemy of heavy wisdom and comic lightness.
An exiled Milanese duke living on a haunted island with his daughter (Jenni Putney), Prospero conjures a powerful storm to shipwreck his royal enemies. A mix of political and romantic intrigue ensues. Prince Ferdinand (John DiAntonio) falls in love with Prospero's daughter, noblemen conspire to take over the throne of Naples and the sprite Ariel (Edgar Landa) concocts a series of comic mishaps involving two servants (Alyssa Bradac and Joshua Snyder) and the monster Caliban (Daniel Tobin).
Directed by Thomas F. Bradac, the production features several visually striking scenes when reality and sorcery collide. But the play feels lopsided whenever Nehring's Prospero isn't on stage. His complete mastery of Shakespeare's text makes the rest of the cast by comparison seem like college students on spring break.
--
David Ng
"The Tempest," Festival Amphitheatre, 12740 Main St., Garden Grove. 8:15 p.m. Thursdays through Saturdays. Ends Aug. 23. (714) 590-1575. Running time: 2 hours, 15 minutes.
Mother love goes way over the top
Summer movies boast psychotic villains with cool explosives, but in the theater, we have something far more dangerous -- the Monstrous Mother. Often a free-floating source of bitterness and self-pity, the Monstrous Mother is a timeless theatrical staple, popping up everywhere from ancient Greece to Osage County.
David Marshall Grant's magical-realist drama "Pen," now at Theatre 40 in Beverly Hills, introduces us to a particularly venomous member of the species -- a wheelchair-bound matriarch (Jill Remez) who clings to her teen son with the intensity of a jealous lover.
Directed by Jeff G. Rack, Theatre 40's revival is an intelligent and strongly acted production, though the play itself goes to great metaphysical lengths to make some obvious emotional points.
Imprisoned within her disease-ravaged body, Mommie Dearest goes ballistic when she learns that her only son (Dennis Bendersky) intends to abandon her for a faraway university. Her anger literally ruptures the fabric of the play, skewing the story line in ways that are best left unrevealed.
Mother-son codependency is the real subject of "Pen," and the actors juice the characters' pathologies with scary vigor. Remez is excellent as the needy mother and Bendersky is ferocious (in a good way) as her dishonest offspring.
So tightly sealed is the mother-son bond that the entrance of the absent father (Robert MacKenzie) almost feels like an intrusion. With its pat conclusion and warmhearted moral, this exercise in family trigonometry feels a little too elegant.
--
D.N.
"Pen," Theatre 40's Reuben Cordova Theatre, 241 Moreno Drive, Beverly Hills. See www.theatre40.org for schedule. Ends Aug. 31. $20-$22. (310) 364-0535. Running time: 2 hours, 15 minutes.
Lear tale gets a royal tweaking
Theater mavens may well devour "deLEARious," playing in repertory with "The Comedy of Errors" at Open Fist. Ron West and Phil Swann's ambitiously wacky musical, which conflates its own creation with that of "King Lear," the King James Bible and virtually every showbiz trope in the book, keeps one winking eye on its audience.
After James I ascends the throne, he orders Shakespeare to help revise the Scriptures and brings in Francis Bacon to goose up "King Lear." West and Swann frame the proceedings in lowbrow Pirandello manner, as West auditions potential daughters (and bed partners) for an old-school tuner based on the Bard's greatest tragedy. This preposterous idea unfolds in cross-pollinated sections, laced with anachronisms, topical jabs and enough jazz hands to resurrect Bob Fosse.
There's wit afoot in West's direction, which gives even mundane bits a lift. The modern-dress designs are suitably grab bag, Ellen Monocroussos' lighting especially well considered, and the large cast plays multiple roles with élan. West gives Lear a caustic, Larry David-like attack, while Michael Churven's peeved Shakespeare is as droll as Bruce Green's aside-prone James is loco. Robyn Roth, Briga Heelan and Kerri-Anne Lavin dispatch Lear's progeny with panache. Scott Palmason's crooning Edmund (whom James renames "Dennis"), Sarah Buster's full-throttle Anne Hathaway and Conor Lane's arch Rev. Andrewes typify the group commitment.
Still, capering players and a clever staging can stretch a self-deprecating concept only so far. The tripartite libretto runs out of steam by Act 2, and the songs, while pleasant, hover uneasily between send-up and authentic. Skewering "King Lear" as a five-minute Groundlings sketch is one thing, but "deLEARious" clearly aims beyond the sum of its overloaded parts and, however amusing, its rampant self-regard requires rewrites to go from showcase to show.
--
David C. Nichols
"deLEARious," Open Fist Theatre Company, 6209 Santa Monica Blvd., 8 p.m. In repertory with "The Comedy of Errors"; call for schedule. $20. (323) 882-6912. Running time: 2 hours, 15 minutes.
'Baby's' a bundle of musical charm
A bouncy melodic pulse underpins "Baby" at Clyde Porter's West Valley Playhouse. The charm of Richard Maltby Jr.'s and David Shire's score carries this sweet-spirited take on the 1983 musical about expectant parents to term.
Set in an East Coast university town, "Baby" follows three couples through the trials of procreation. Unmarried students Lizzie (Nicole Ligerman) and Danny (Patrick Robert Kelly) weigh whether impending parenthood means automatic conformity. Thirty-something athletic coaches Nick (Richard Knolla) and Pam (Alissa-Nicole Koblentz) grow frustrated in their efforts to conceive. Middle-age Arlene (Marjorie Vander Hoff) and Alan (Timothy Bergen) face empty-nest syndrome until an anniversary tryst returns them to square one.
Even though topically updated, Sybille Pearson's quip-heavy book remains affably functional at best. What sets "Baby" aglow are its numbers, which rival anything in the Maltby/Shire canon, from post-feminist "I Want It All" to funky "Fatherhood Blues."
The appealing Ligerman lands her standout anthem "The Story Goes On" with soaring clarity, well attuned to Kelly, whose exuberance goes touchingly soft-grained in "I Know I Chose Right." Though rapid vibratos sometimes blur intonation, Knolla and Koblentz bring comic heft to "Romance" and emotional fiber to "With You." As the autumnal pair, Vander Hoff and Bergen are unforced and credible.
Considering how deftly musical director Patricia Hannifan modulates her piano accompaniment, head mikes feel superfluous, and the four-woman, one-man supporting ensemble reads slightly odd. Director-choreographer Noel Britton helmed this outing, assisted by Jon Berry (while awaiting her own child).
If "Baby's" eager players and stripped-back production are at times more fervent than polished, that won't keep patrons from enjoying such an evident labor of love.
--
D.C.N.
"Baby," Clyde Porter's West Valley Playhouse, 7242 Owensmouth Ave., Canoga Park. 8 p.m. Fridays and Saturdays, 2:30 p.m. Sundays. Ends Sept. 7. $24. (818) 884-1907. Running time: 2 hours, 30 minutes.
---
Your essential guide to the arts in L.A.
Get Carolina A. Miranda's weekly newsletter for what's happening, plus openings, critics' picks and more.
You may occasionally receive promotional content from the Los Angeles Times.