Arthur Erickson dies at 84; architect of California Plaza towers in L.A.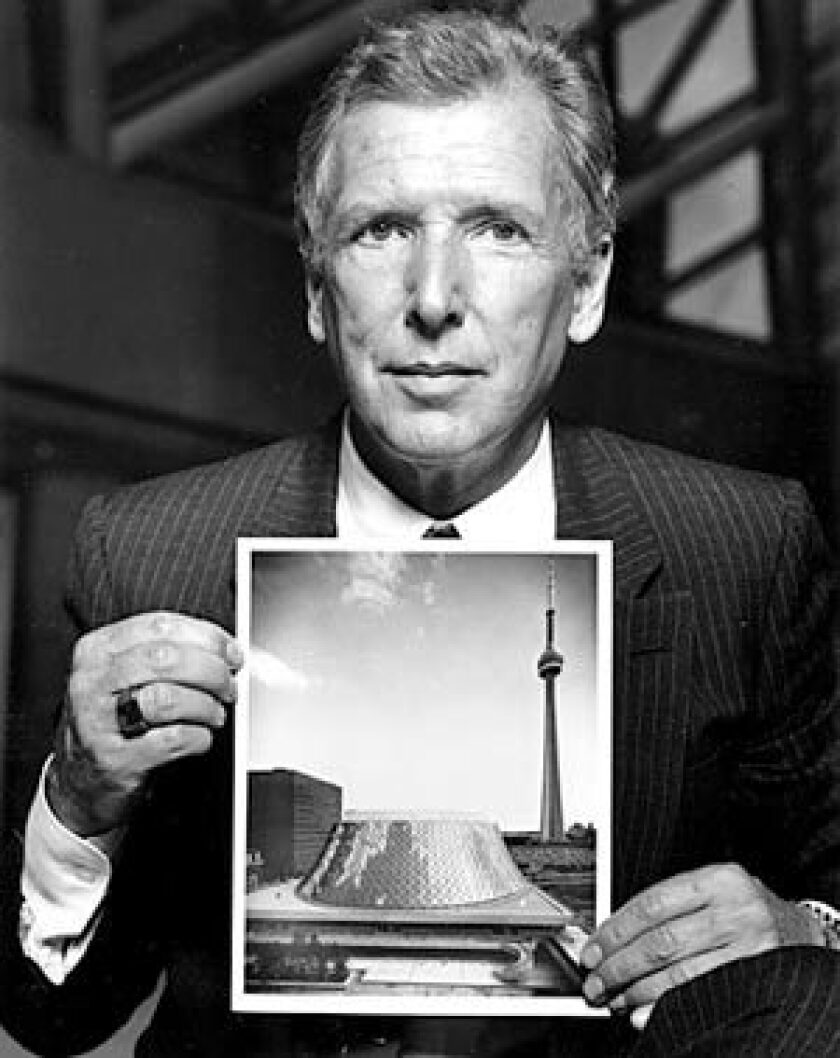 Arthur Erickson, the prominent Canadian architect who designed the campus of Simon Fraser University, Robson Square in Vancouver and the Canadian Embassy in Washington, and whose work on the California Plaza towers in downtown Los Angeles nearly proved his financial and professional undoing, has died. He was 84.
Erickson died Wednesday in Vancouver, according to a statement released by his family. The cause was not given.
His career, which spanned more than five decades, was shot through with contradiction. He was a dedicated, widely traveled scholar of architectural history who found himself strangely out of step with the post-modern movement of the 1970s and '80s, which sought to reassert the value of historic styles. He was a fierce critic of the dehumanizing effects of what we now call globalization whose biggest projects -- the sleek, mirrored-glass California Plaza certainly among them -- can be faceless and alienating.
Most puzzling of all, he was a Vancouver architect whose buildings tend to look terrible in the rain.
Nonetheless, Erickson always deserved to be better known than he was, particularly outside Canada. His highly inventive, often fearless work from the 1960s and '70s, in fact, which young designers have begun to rediscover in the last few years, offers clues about how to solve some of contemporary architecture's most pressing challenges. In particular, it tackled head-on the question of how to design in a way that is sensitive to climate, region, precedent and the environment without bending to sentimentality -- or giving up on dense cities, a muscular material palette or monumental scale.
Erickson's track record -- and his somewhat surprising lack of international fame -- is perhaps best explained by his deep curiosity about architecture and the world. That curiosity gave him an incurable wanderlust, not only keeping him on the road for most of his adult life but also leading him to take on new architectural approaches, strategies and vocabularies from project to project. If some of his buildings are hard-edged and brutalist, others are smoothly generic. As a result, he never developed the kind of signature style that makes for easy categorization by critics and the public.
"I am not involved in the aesthetics of architecture or interested in design as such," Erickson told Edith Iglauer, his biographer, in the late 1970s. "I'm interested in what buildings can do beyond what they look like, and how they can affect whole areas and people's lives. I have never done a building where I didn't at least attempt to see it in a new philosophical or social way."
Born in Vancouver in 1924, Erickson won recognition as a painter before he was out of high school. When he was 16, two of his artworks were included in an exhibition at the Vancouver Art Gallery, where they caught the attention of Lawren Harris, a Canadian artist and member of the Group of Seven. Harris and his wife became friends and mentors.
"Every Saturday night, the Harrises opened their house and the literati of Vancouver arrived at 8 sharp," Erickson told Iglauer. "You sat for three hours in the dark listening to an extraordinary collection of records . . . with very interesting people. I was 16, and terribly flattered to be included. A whole different world opened to me."
After studying architecture at the University of British Columbia and McGill University in Montreal, with a stint in the army during World War II in between, Erickson began work for a succession of large firms in Vancouver. He moonlighted with his friend Geoffrey Massey, designing houses that often paired concrete -- a material Erickson loved, calling it "the marble of our time" -- with wood and large expanses of glass.
In 1963, Erickson and Massey were the surprise winners of a design competition for the campus of the new Simon Fraser University, east of Vancouver. That victory led to increasingly large commissions for Erickson in Canada and around the world, including the widely admired Museum of Anthropology at the University of British Columbia. Finished in 1978, the museum features an imposing, primitive-looking row of concrete post and lintel gates that both hold galleries and frame dramatic views.
By the summer of 1980, Erickson's office was large and established enough to find itself as one of two firms being considered for a major redevelopment project atop Bunker Hill in downtown Los Angeles. His opponent was a large and diverse consortium of architects and designers, dubbed the All-Stars, that included Frank Gehry, Barton Myers, Charles Moore, Cesar Pelli, Lawrence Halprin and others.
Erickson prevailed with a scheme calling for three towers connected at ground level by a veritable hidden city of courtyards, staircases and escalators almost entirely sealed off from the streets around them. He opened an office on Los Angeles' Westside in 1982, joining ones in Vancouver and Toronto, to oversee work on the project.
But the developer, Bunker Hill Associates, called for significant changes to his original design, and Erickson, never known for his skills as a diplomat, proved ill-equipped for the sort of political wrangling and gamesmanship that often accompany large-scale urban projects in this country. By 1990, the faltering economy in the United States had not only put the third California Plaza tower on indefinite hold -- it would never be built -- but had also pushed Erickson to the brink of insolvency.
His three offices would be shut down in succession, none as dramatically as the one in Los Angeles. In 1991, he was evicted and quickly and quietly left California, leaving a number of angry creditors behind.
A reporter from the Los Angeles Business Journal, sent to investigate rumors that Erickson had closed his office without warning, found that a dumpster in an alley behind his building was stuffed "with blueprints, renderings, sketches and various architectural documents," including plans for California Plaza.
"Mr. Erickson is an excellent architect, but he's a lousy businessman," Earl Walls, a laboratory design consultant who alleged that Erickson owed him money, told the paper.
Late in his life, Erickson enjoyed something of a revival. He went back to designing dramatic private residences.
In 2006, the Vancouver Art Gallery mounted a major retrospective of his work. And in recent years he collaborated with the firm Stantec Architecture on an expansion of his Museum of Anthropology at the University of British Columbia.
It is scheduled to be unveiled early next year.
Information on survivors was incomplete Thursday.
Hawthorne is the Times architecture critic.
---
The complete guide to home viewing
Get Screen Gab for weekly recommendations, analysis, interviews and irreverent discussion of the TV and streaming movies everyone's talking about.
You may occasionally receive promotional content from the Los Angeles Times.