Robert Colescott dies at 83; African American artist skewered stereotypes with wit and explosive style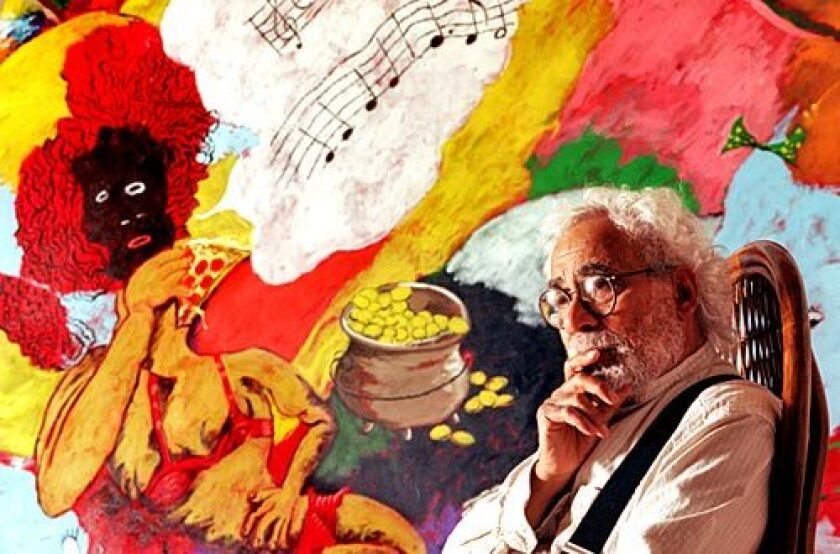 Robert Colescott, a wildly expressive and fearlessly opinionated painter who skewered racial and sexual stereotypes with hilarious force, has died. He was 83.
Colescott, who had suffered from Parkinsonian syndrome, died June 4 at his home in Tucson, said Marc Wehby, co-director of Kravets/Wehby Gallery in New York, where the artist had shown his work in recent years.
The first African American artist to represent the United States at the Venice Biennale, in 1997, Colescott is best known for reworking masterpieces of European and American art history, swapping the white casts of characters for blacks. In "George Washington Carver Crossing the Delaware: Page From an American History Textbook," he re-imagined Emmanuel Leutze's 1851 painting of the Revolutionary War hero, putting Carver, a pioneering African American agricultural chemist, at the helm of a boat loaded with black cooks, maids, fishermen and minstrels.
With equally transgressive humor and an explosive style, he also created his own versions of Vincent van Gogh's "Potato Eaters," Jan van Eyck's "Arnolfini Marriage" and Edouard Manet's "Déjeuner sur l'Herbe."
"It's a subject that's at risk," Colescott said in a Times interview in 1986, when a show of his work was at the Koplin Gallery in West Hollywood, now the Koplin del Rio Gallery in Culver City. "Unless you are gushingly positive or make them heroic, images of black people in paintings may be suspect. But I'm very proud of the fact that more people get what I'm after than I expect. Oddly enough, more white people than black people accuse me of being a racist."
He mined art history throughout his career but also explored many other themes, sometimes depicting women as fleshy monsters and mixing races in single figures. In "Ode to Joy (European Anthem)," a monumental painting made in 1997, the central character is a woman with a black face, yellow body and red hair. Having emerged from a genie's lamp in skimpy red underwear, she is enjoying a pizza and looking forward to consuming mountains of hamburgers nearby. A cartoon-like speech balloon of Beethoven's music, a painter's palette, a pot of gold, a couple of skeletons and a cupid-like archer complete the bizarre scene.
"What's going on here?" critic Peter Schjeldahl asked in a 1998 review in the Village Voice. "Sonorous, tumbling, shady joy. Sex, love, money, music, art, memory and comfort food do it for Colescott. What rows your boat? Paint, perhaps. In the Colescott way, this work illustrates a heady allegory of high-spirited emotion, then delivers the emotion by hand: stroke after stroke, color after color, with textures good enough to eat."
Calling Colescott a social comedian rather than a social critic, Schjeldahl wrote that "his aim is not evil's demise but an increase of life force, a bonus vitality of glee."
The son of musicians, Colescott was born in 1925 and raised in Oakland. He began drawing in his childhood and had an important role model in sculptor Sargent Johnson, a family friend. Like Colescott's father, Johnson made ends meet by working on the railroad.
The budding artist was drafted into the U.S. Army in 1942 and served in Europe until the end of World War II. His tour of duty took him to Paris, then the capital of the art world and a city that was hospitable to African American artists. Back home, he enrolled at UC Berkeley, which granted him a bachelor's degree in drawing and painting in 1949. He spent the following year in Paris, studying with French artist Fernand Leger, then returned to UC Berkeley, earning a master's degree in 1952.
Colescott moved to the Northwest after graduation and began teaching at Portland State University. He was on staff there from 1957 to 1966. But he had a life-changing experience in 1964 when he took a sabbatical with a study grant from the American Research Center in Cairo.
"I had put black people in my paintings, the same way I'd put in a guitar or a bottle, but they had no real significance until I went to Egypt," Colescott told The Times. The trip freed him from "the limitations of European art and allowed me to draw on other sources," he said. "Race became part of my subject matter. It was the most crucial year of my life."
He returned to Portland for a year but went back to Egypt as a visiting professor at the American University of Cairo from 1966 to 1967. When war broke out, he and his family moved to Paris for three years. They returned to California in 1970 and he spent the next 15 years painting and teaching art at Cal State Stanislaus, UC Berkeley and the San Francisco Art Institute.
Colescott accepted a position as a visiting professor at the University of Arizona in Tucson in 1983 and joined the staff in 1985, moving up the academic ladder until 1998, when he became a professor emeritus.
He told a Times interviewer that he initially disliked Tucson but grew to love it. "It's a backwater where nobody knows me and I don't have to talk to anybody about art."
But representing his country at the Venice Biennale in 1997 thrust him onto an international stage at 71, creating a flurry of attention in the press and prompting curators to reconsider his work.
A retrospective exhibition of his paintings, organized by the San Jose Museum of Art, traveled across the country from 1998 to 2000.
Colescott's work is in many public collections including the Metropolitan Museum of Art, Whitney Museum of American Art and Museum of Modern Art in New York; the San Francisco Museum of Modern Art; the Los Angeles County Museum of Art; and L.A.'s Museum of Contemporary Art.
The artist's first four marriages ended in divorce. He is survived by his fifth wife, Jandava Cattron; brother Warrington Colescott Jr. of Hollandale, Wis.; five sons; and one grandson.
suzanne.muchnic
@latimes.com
---
Your essential guide to the arts in L.A.
Get Carolina A. Miranda's weekly newsletter for what's happening, plus openings, critics' picks and more.
You may occasionally receive promotional content from the Los Angeles Times.