Robert Therrien, sculptor who made the ordinary extraordinary, dies at 71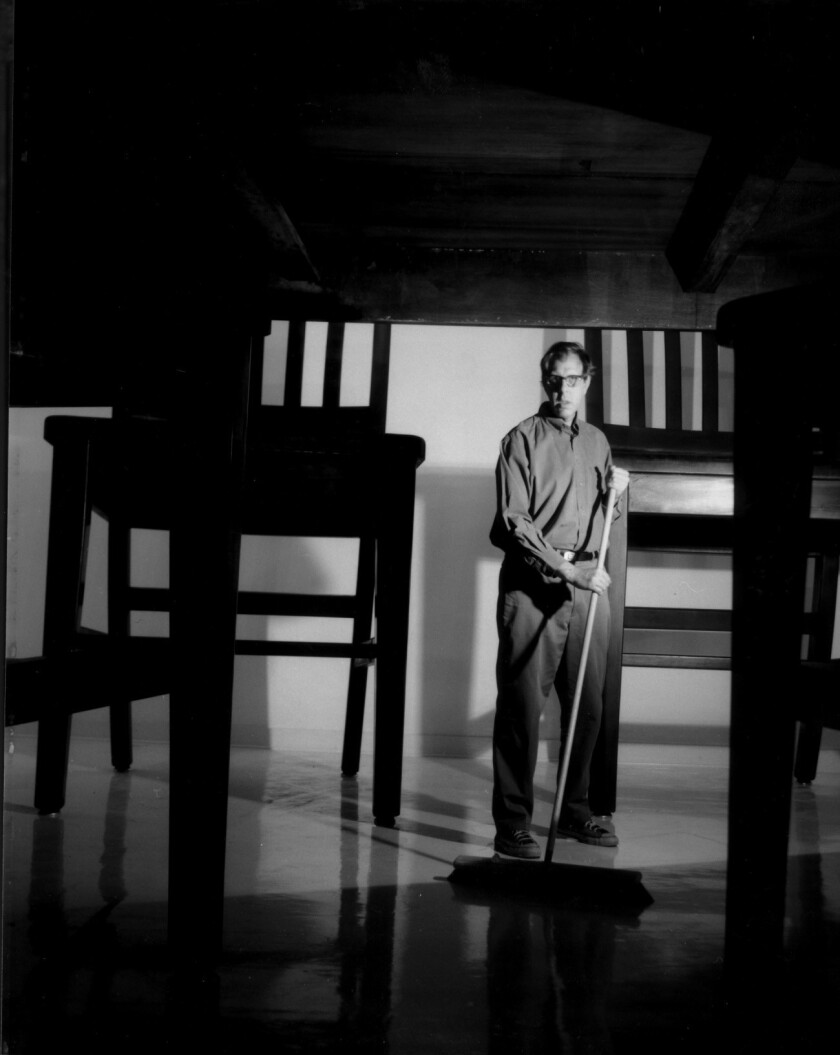 Robert Therrien, the Los Angeles sculptor whose monumental sculptures of everyday objects revealed hidden truths about the nature of memory, has died. He was 71.
Therrien died Monday at home of complications from cancer, said a representative from his gallery, Gagosian.
"Time and again, Robert altered our sense of reality by reimagining and reinventing the most commonplace objects in two and three dimensions with an uncanny accuracy," Gagosian wrote in a statement about Therrien's work, which played on adult remembrances of what it meant to be small and vulnerable.
Therrien began making his name in the 1970s and '80s with wall reliefs and modestly sized sculptures of keyholes and other recognizable motifs, and his career took off in 1985 when he was in the Whitney Biennial and picked up by the prominent New York-based art dealer Leo Castelli.
His work is personal but powerful, evoking the hold objects have on our imaginations.
Joanne Heyler, founding director of the Broad
Another big break came the following year when the newly built Museum of Contemporary Art in Los Angeles featured six true-to-life re-creations of his studio on Pico Boulevard as part of its opening exhibition.
Therrien's stature in Los Angeles and beyond continued to grow, culminating in 2000 when the Los Angeles County Museum of Art staged an eponymous exhibition of his work spanning the previous decade. This exhibit showed that Therrien's sculpture had "taken a remarkable turn in the 1990s," Times art critic Christopher Knight wrote in an admiring review.
The exhibit featured a number of Therrien's monumental objects, including a stack of 20 massive blue plastic bowls and dishes, three 15-foot-tall beards and a giant wooden table and chairs titled "Under the Table," now a fixture in the Broad museum's permanent collection (and one of its most Instagrammable works of art).
"Therrien's recent work is at once playful and dark. It gives startlingly original form to the murky labyrinth of childhood experience, which is so often viewed from behind the rose-colored adult glasses that compensate for unspeakable anguish," Knight wrote. "Through a masterful orchestration of scale and memory, space becomes psychically charged. The destructive myth of innocent childhood is exploded here, as terror, joy, sorrow, amusement, cruelty, loneliness — a full range of human feeling — are given tangible poetic voice."
Therrien was born in Chicago and moved with his family to Palo Alto when he was 9. He fell in love with art as a teenager and attended California College of Arts and Crafts in Oakland in the late 1960s before transferring to the Brooks Institute in Santa Barbara to study photography. He got his master's degree at USC in 1974 and leased a studio for $150 a month on Pico Boulevard, where he began practicing sculpture in earnest.
"Mostly I stayed in my studio and had a completely normal, quiet work schedule and occasionally sold something to some curious person, enough to keep me going," Therrien told The Times in a 2000 interview. "I was sort of undisturbed during those 10 years. I think it formed a strong work pattern that I still have: always working at least eight hours, mostly at night."
Therrien was one of the first Los Angeles artists collected by Eli and Edythe Broad going back almost 40 years, and the Broad museum has 18 works by Therrien in its collection.
"His work is personal but powerful, evoking the hold objects have on our imaginations," the Broad's founding director, Joanne Heyler, wrote in an email, adding that Therrien's legacy is forever entwined with that of the Broad.
Heyler also wrote fondly of Therrien's studio, calling it one of the most fascinating and engaging artist spaces she had ever visited.
The ground floor, she wrote, was "the ultimate tinkerer's den, with endless tools, parts and found objects awaiting their role in his work, while upstairs were these perfectly composed galleries, every surface painted a warm, creamy white, including the floor, which charged the sculptures, paintings and drawings he'd install there with a dreamy, floating, hallucinogenic effect. That studio was his dreamland."
Therrien's work is in collections worldwide, including LACMA, the San Francisco Museum of Modern Art, the Museum of Modern Art and the Whitney Museum of American Art in New York, Tate Modern in London, Kunstmuseum Basel in Switzerland and Centre Pompidou in Paris.
---
Inside the business of entertainment
The Wide Shot brings you news, analysis and insights on everything from streaming wars to production — and what it all means for the future.
You may occasionally receive promotional content from the Los Angeles Times.