California-Pacific Triennial finds that Pacific Rim can be fluid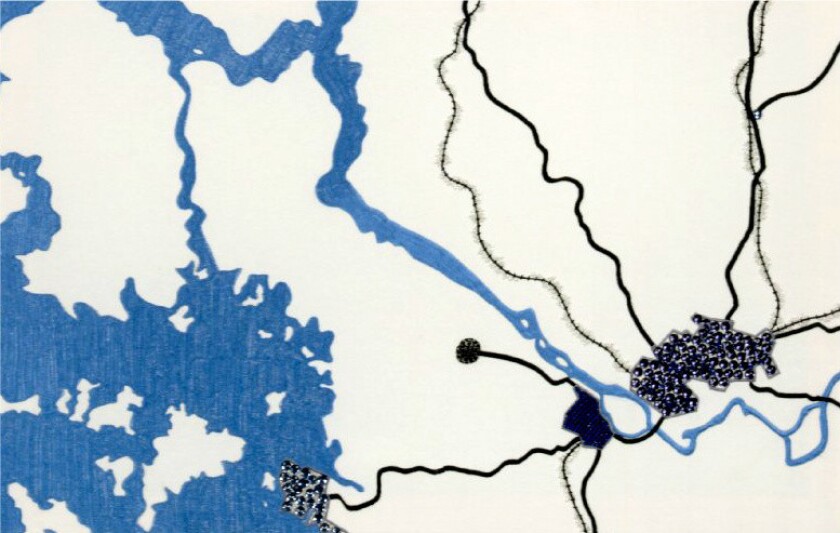 When the Orange County Museum of Art decided to change its biennial survey of California art to a triennial survey of art made around the Pacific Rim -- including California – it took on a huge task. The Pacific Ocean is vast, lapping the shore in parts of Asia, Australia, South and Central America and more.
The change also raised a question: For art, is there really such a meaningful entity as "the Pacific Rim"?
As I noted in my review of the debut 2013 California-Pacific Triennial, the answer is pretty much no. The majority of the 32 artists in the OCMA show have gone to art school or lived in the U.S. and Europe, so artistically they speak an intelligible common language.
PHOTOS: Arts and culture in pictures by The Times
Nomadism is today a norm, for artists as for many others. And geographically, Los Angeles is closer to Berlin than to Buenos Aires, nearer to New York than to Tokyo and in as much proximity to London as to Seoul. From LAX, Sydney, Australia is about the same distance as Cairo.
What makes OCMA's new triennial format distinctive is not so much that it looks at art made around the Pacific Rim; instead, it's that it looks at international art from a position located there. "California-Pacific" emphasizes the vantage point or perspective.
Curiosity about Pacific Rim culture came into vogue 25 years ago, with the rise of Los Angeles as a major art production center. The return to international prominence of new European art and the accompanying loss of New York's singular dominance, which had been firmly in place for a generation following World War II, helped catapult global art.
Eventually the focus on a possible Pacific Rim culture petered out. But its nominal comeback now in the California-Pacific Triennial is different. This time, to know where you're going, it's helpful to know where you're coming from.
ALSO:
National Medal of Arts going to Ellsworth Kelly
Charles Saatchi, art-world giant, in a tabloid maelstrom
Playboy installation by Richard Phillips -- art or advertising?
MORE
PHOTOS: Hollywood stars on stage

CHEAT SHEET: Spring Arts Preview

PHOTOS: Arts and culture in pictures
---
Your essential guide to the arts in L.A.
Get Carolina A. Miranda's weekly newsletter for what's happening, plus openings, critics' picks and more.
You may occasionally receive promotional content from the Los Angeles Times.