Rough, yet poetic: Chilean architecture has its moment
Reporting From Santiago, Chile —
Ask a design expert for global architectural destinations and chances are she'll tell you to head to Germany, home of Walter Gropius and the Bauhaus architects, or Brazil, land of Oscar Niemeyer's flamboyant Modernism. Southern California would come up for treasures such as the Case Study houses and Louis Kahn's sculptural Salk Institute in La Jolla. But a small country such as Chile? It probably wouldn't even be mentioned.
That could soon change.
Chilean architects have begun to exert an influence well beyond the size and scale of their string-bean nation.
Since 2009, Chile's Alejandro Aravena, founding partner of Elemental, a design firm specializing in public-interest projects, has occupied a highly influential post on the jury for the Pritzker Prize, architecture's most prestigious award. The mediagenic architect — who sports a spiky crown of salt-and-pepper hair — has taught at the Harvard Graduate School of Design, delivered a TED talk and been an innovator in the design of affordable housing and constructed buildings in Chile, Mexico and the U.S. He is now at work on his first project in China: a campus for the pharmaceutical giant Novartis.
Other Chilean architects are garnering recognition. At the 14th Venice Architecture Biennale, Pedro Alonso and Hugo Palmarola won the Silver Lion award. It was the second Chilean win in three biennials. And in 2014, Smiljan Radic built the annual pavilion at London's Serpentine Gallery, an honor that previously went to Zaha Hadid and Frank Gehry. The London Evening Standard described Radic's craggy-yet-luminous doughnut structure, supported by boulders, as "an idea that looks forward as well as back."
All this hails from a small South American nation of just 17.4 million people — a million fewer than Greater Los Angeles.
"There are enough people working here in a way that shifts the art," explains Aravena, sitting in the middle of his firm's buzzing Santiago offices. "There is healthy competition and there is critical mass. When you have a critical mass, you are not alone in trying to push boundaries."
The result: remarkable buildings all over Chile.
Radic's winery for Vik Vineyards near Rancagua features a large water plaza studded with boulders. Underneath the plaza is a warehouse where the wine is aged. The water helps keep the room cool.
(Carolina A. Miranda / Los Angeles Times)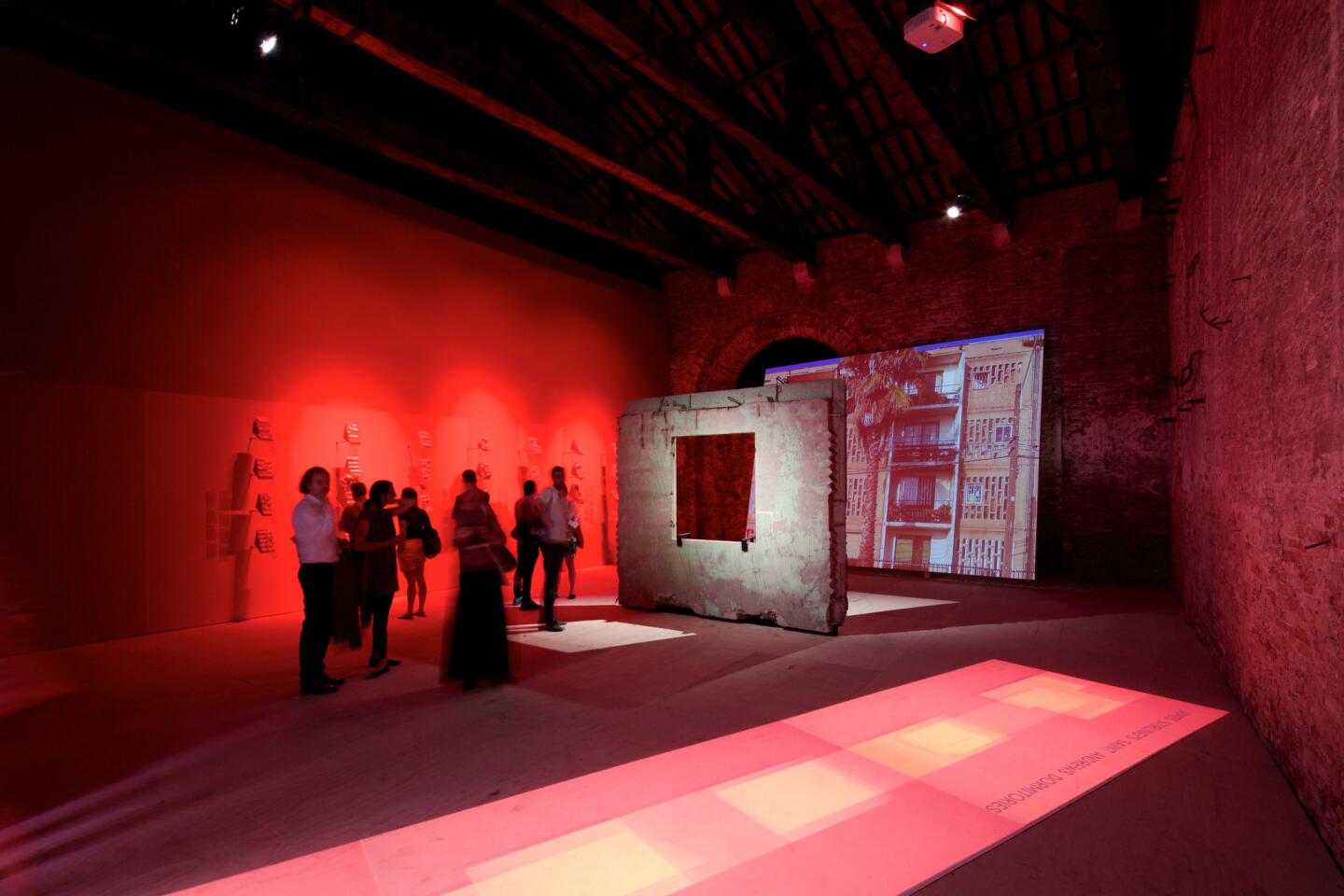 An installation view of Pedro Alonso and Hugo Palmarola's project, 'Monolith Controversies,' at the Venice Architecture Biennale in 2014. In the early '70s, the Soviet Union donated a pre-fab panel factory to Chile. Alonso and Palmarola located one of the first panels ever made and put it on display. It was signed by Chilean president Salvador Allende.
(Nico Saieh / Plataforma Arquitectura)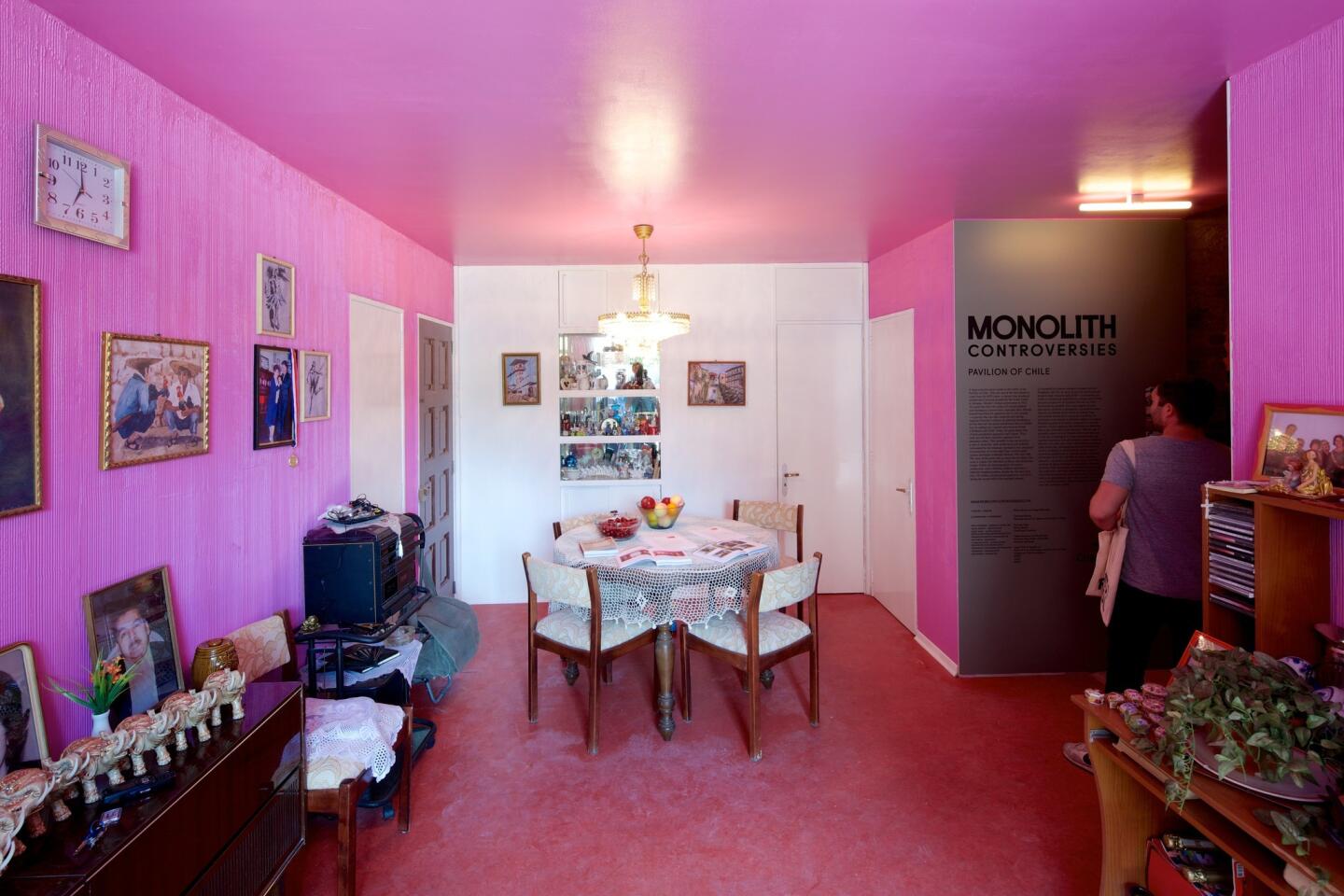 For their award-winning Biennale installation, Alonso and Palmarola recreated — object for object — a home from the pre-fab apartment units they studied. The installation was a way of showing the ways in which people live in Modern, industrial surroundings.
(Nico Saieh / Plataforma Arquitectura)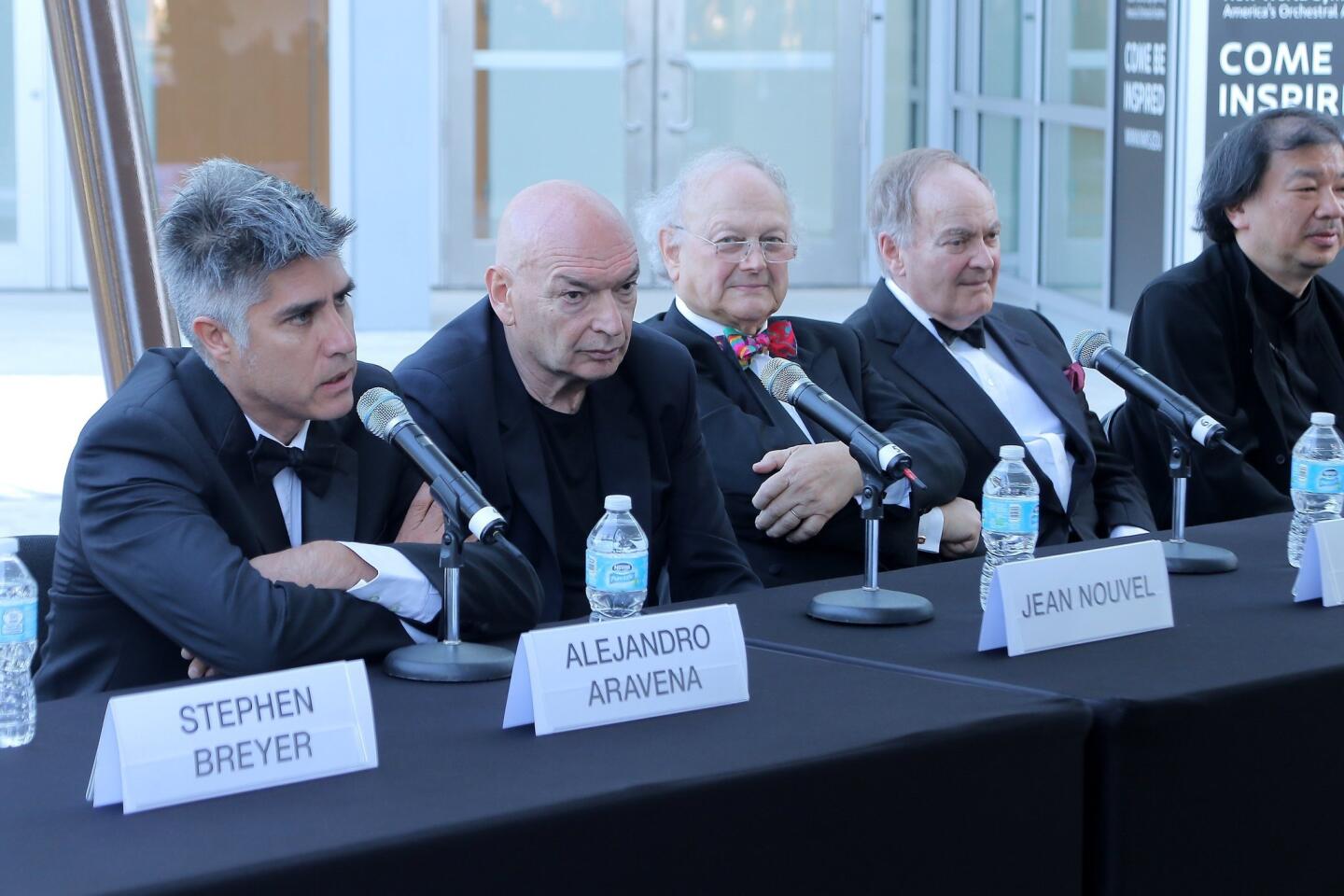 Chilean architect Alejandro Aravena at the Pritzker Prize ceremony in Miami Beach, with (left to right) a very high-profile panel consisting of Jean Nouvel, Glenn Murcutt, Lord Peter Palumbo and Shigeru Ban.
(John Parra / Getty Images for Pritzker Archit)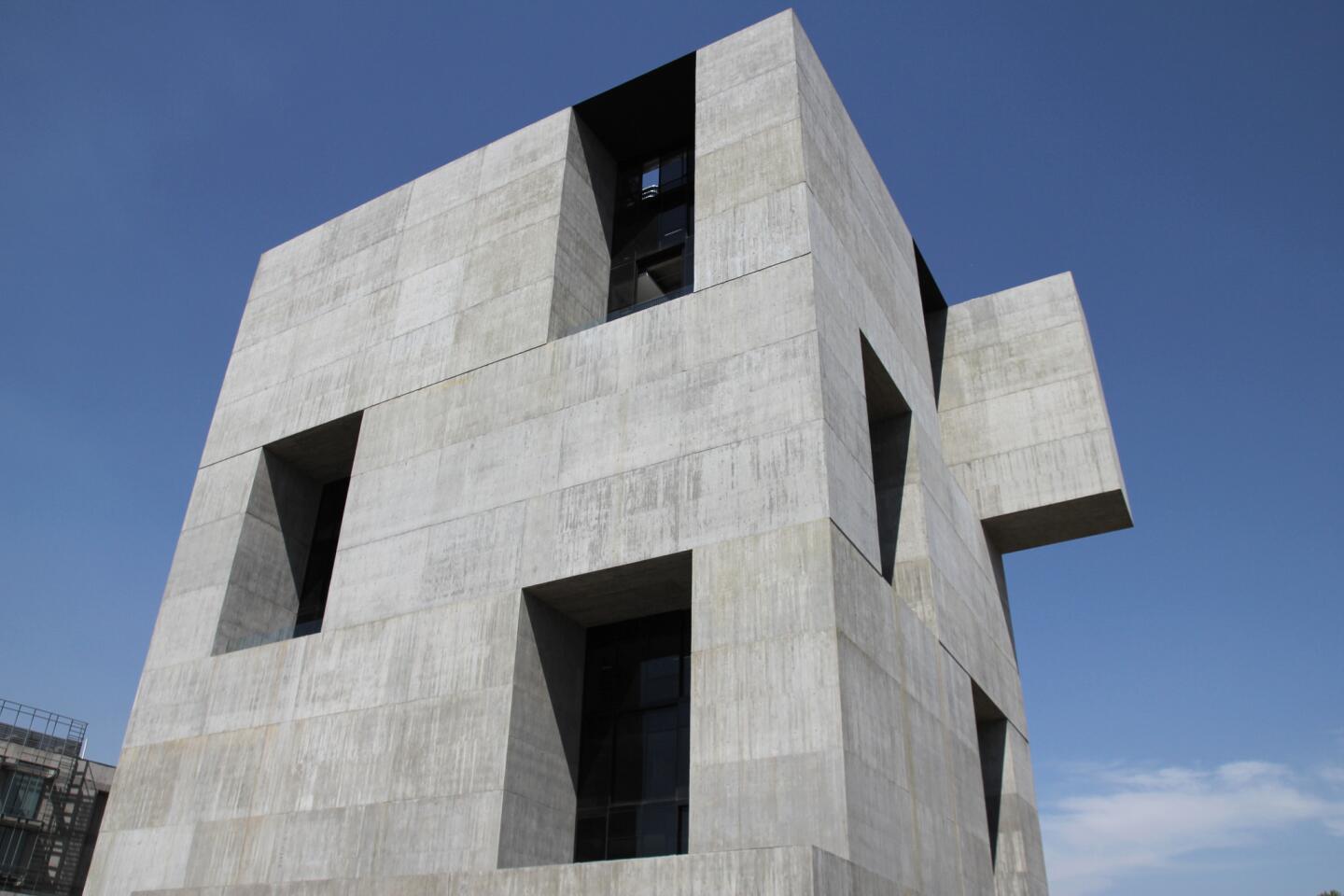 Aravena's Centro de Innovación Anacleto Angelini (Anacleto Angelini Innovation Center) at the Catholic University in Santiago, completed in 2014. It's dense concrete exterior helps maintain climate control in the building's interior.
(Carolina A. Miranda / Los Angeles Times)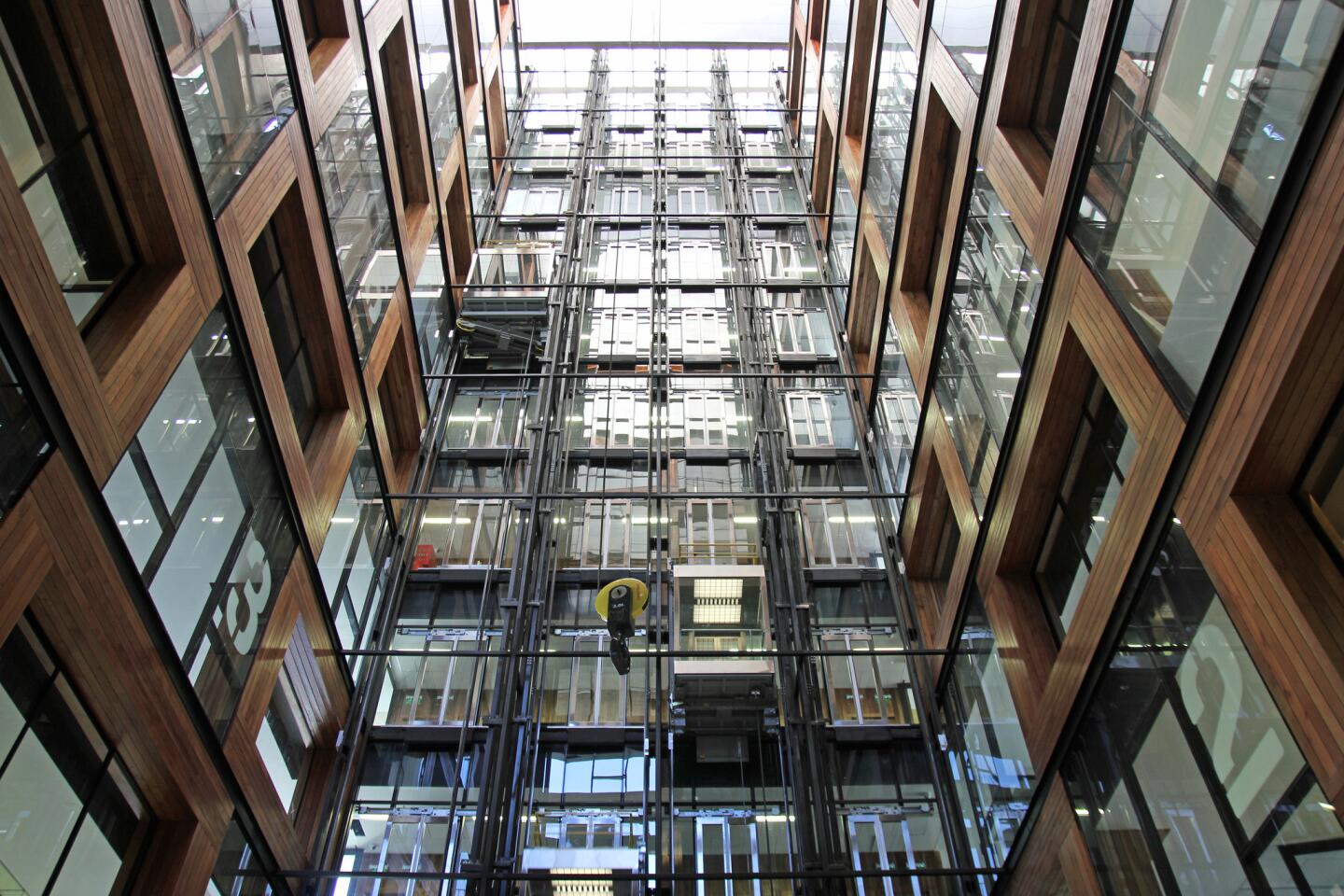 The interior atrium of Aravena's Angelini center is lined with oak and steel. Its forceful presence avoids the kindergarten color-palette tropes of innovation hubs in the U.S.
(Carolina A. Miranda / Los Angeles Times)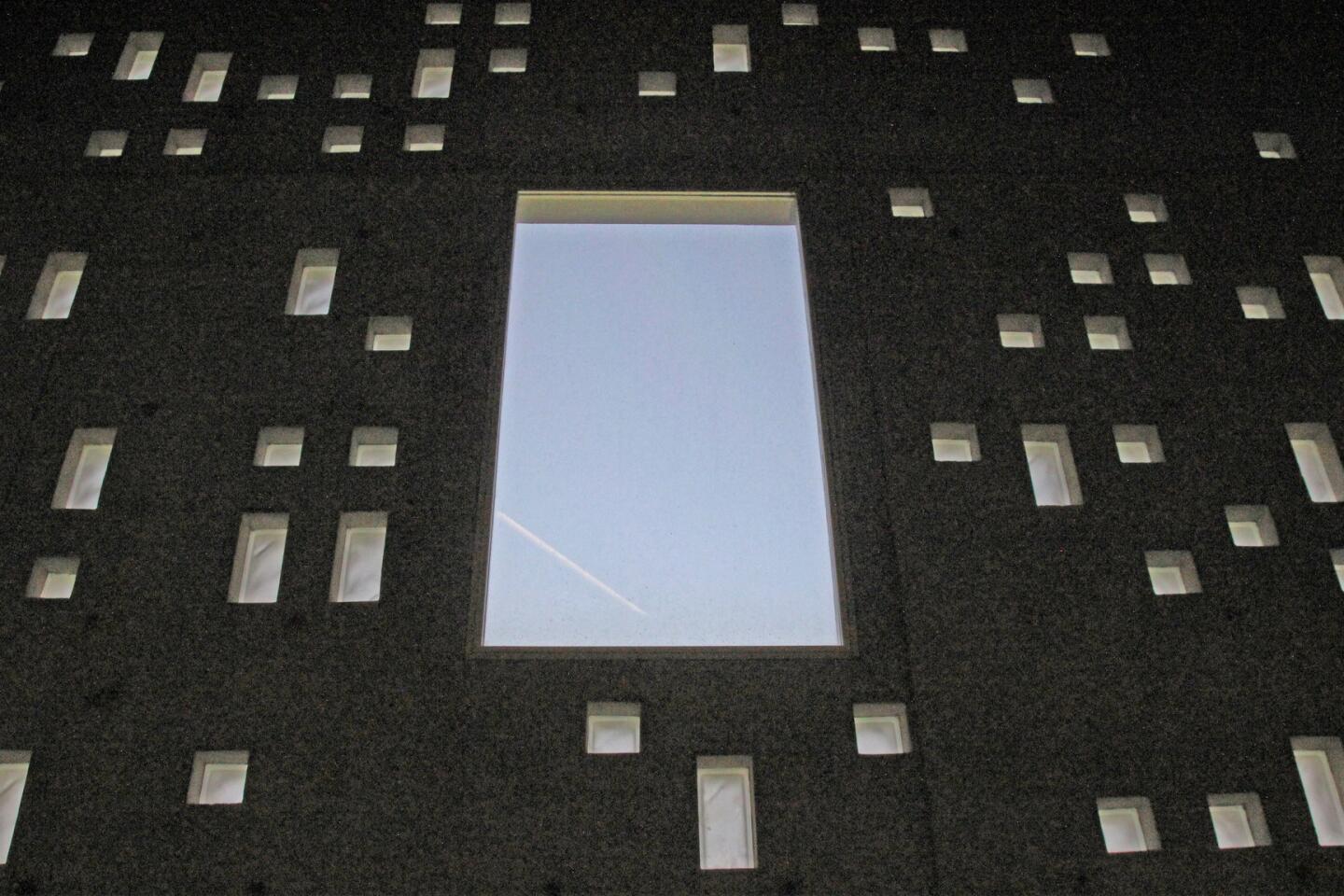 Cristián Undurraga is known for his meditative spaces — such as the Santiago museum for San Alberto Hurtado, the Chilean saint. A wall of Beton brut concrete admits light through a window and glass blocks.
(Carolina A. Miranda / Los Angeles Times)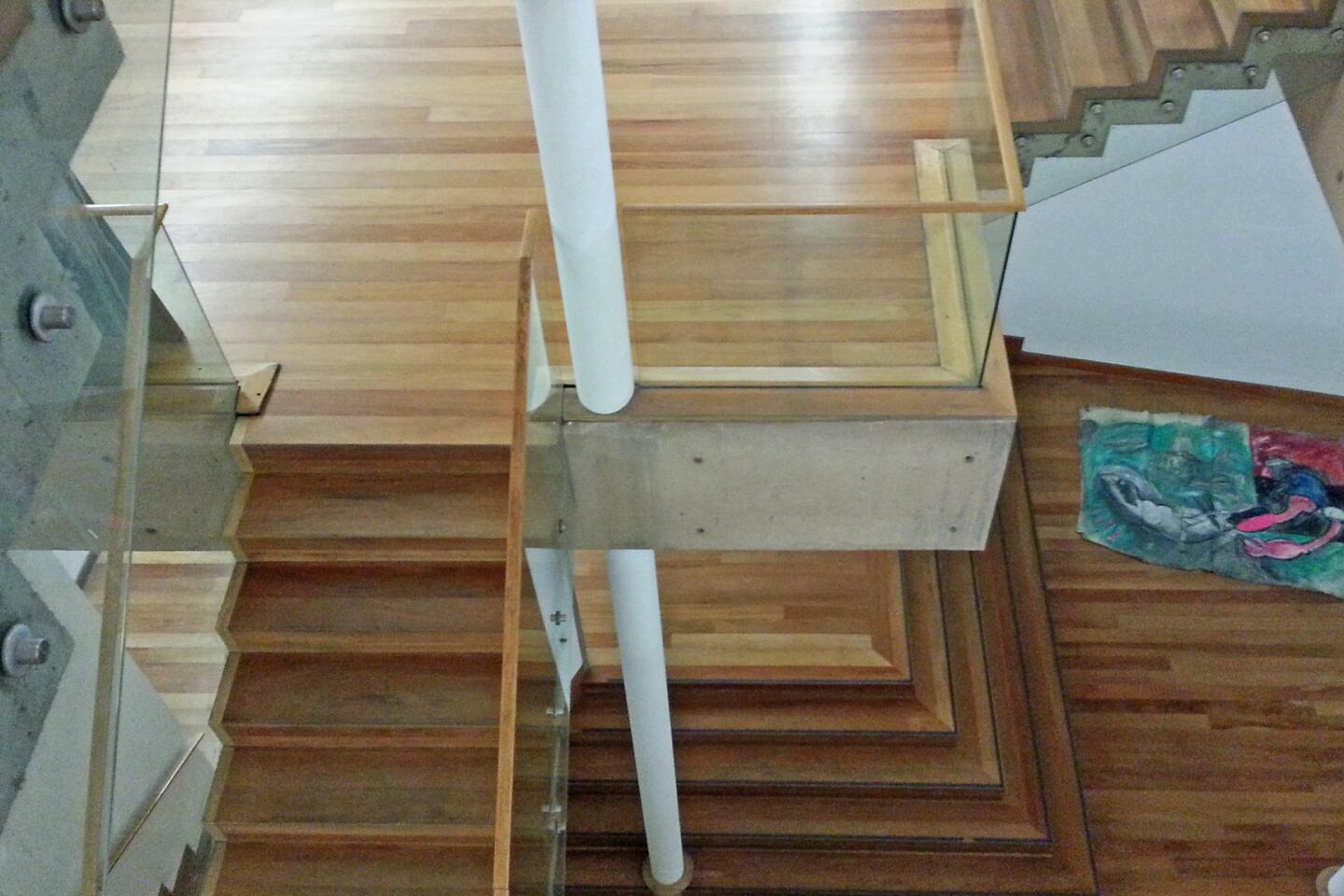 At Undurraga's Museum of Visual Arts (MAVI) in Santiago, a group of floating staircases hover one above the other.
(Carolina A. Miranda / Los Angeles Times)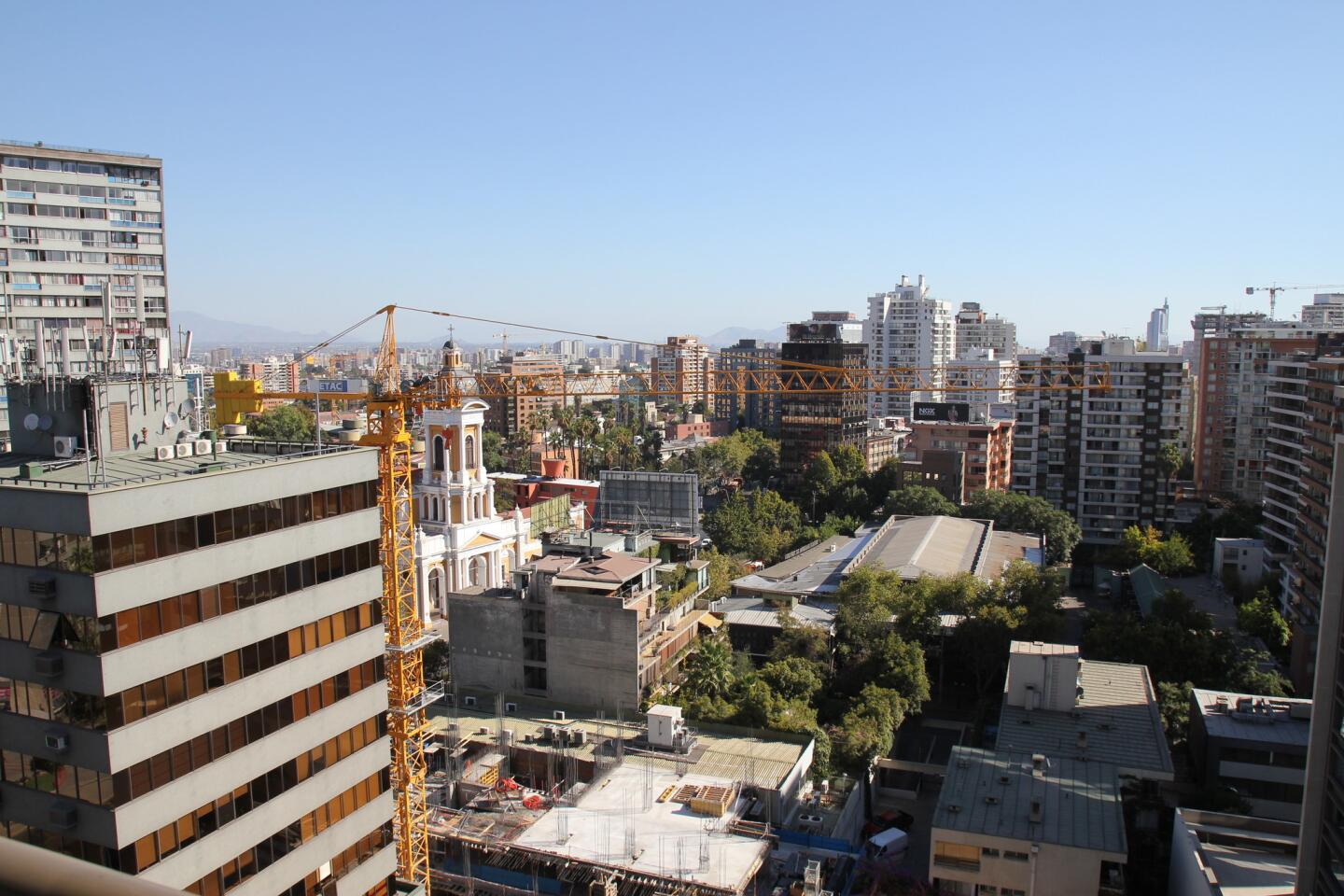 The Chilean capital's skyline is riddled with cranes. For architect, the country is a great place to build.
(Carolina A. Miranda / Los Angeles Times)
A sprawling campus belonging to Catholic University, home of Chile's most influential architecture school, boasts Aravena buildings, including the year-old Anacleto Angelini Innovation Center, whose audacious concrete geometries fly in the face of convention: It's all about brutal solidity at a time when designers are obsessed with making structures that appear to float.
Elsewhere, you'll find the boxy forms of architect Mathias Klotz, who turns simple materials such as unfinished wood and concrete into geometric arrangements that feel almost digital, as well as the crisp, punch-card facades of the firm Duque Motta & Arquitectos Asociados.
And, of course, there are Radic's eruptive designs, with their plays on light and material: a gently sloping house wrapped in copper, a renovated pre-Columbian art museum in Santiago that builds drama out of penumbrae, and a winery for Vik Vineyard, in Chile's Central Valley, which creates a sci-fi Stone Age landscape out of water and boulders.
"In Chile, to be an architect means being involved in construction, in finding the material, of being on-site," Radic says. "When I did the Serpentine, I worked in the same way. I went to the quarry to look for stones."
The designs are as singular as the architects — each speaking to different questions of history and form, and each bearing different influences, from Kahn to Le Corbusier to the Portuguese Modernist Alvaro Siza.
Cristián Undurraga, of Undurraga Devés, is known for constructing meditative spaces such as museums and chapels.
"Everyone works in very different ways, obviously," says Undurraga, who opened his firm in 1977 and has watched the Chilean architecture scene bloom. "But there's a tectonic quality to it," he says of the work that is now emerging. "It's a local interpretation of modernism. It's rougher. But it's also quite poetic."
Interestingly, Modernism remains the principal point of inspiration among Chile's design elite. Post-modernism, which introduced more flamboyant elements into building design, is often associated with the neo-liberal economic policies of Augusto Pinochet, the repressive dictator who ruled the country in the 1970s and '80s. Says Radic: "Postmodernism seemed imposed on Chile."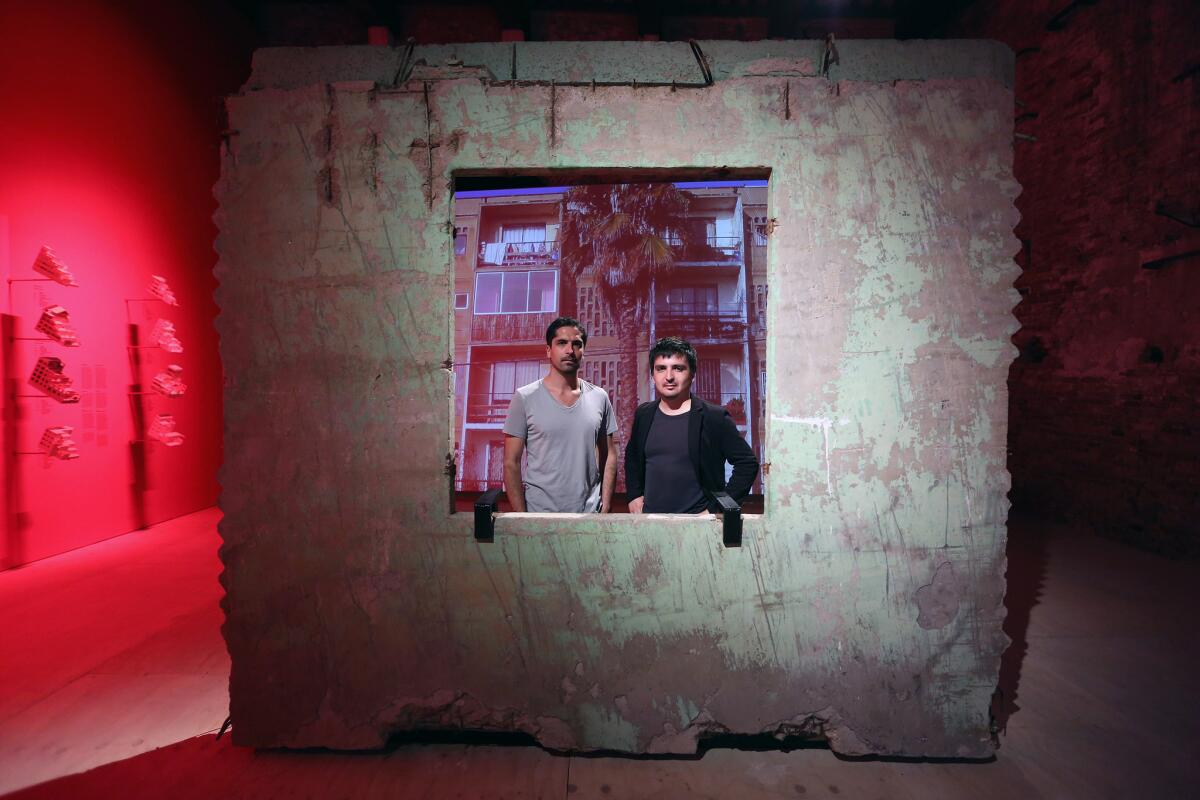 Chile's remote location has also contributed to its distinct architectural voice.
"Because Chile is so far, you don't have to be on top of the trends," Aravena says. "It means you look to what is close to you — you really pay attention to questions of landscape and materials and labor."
Chilean architects, in other words, are deeply aware of what is going on abroad, but they're not defined by it.
"If there's an aspect that you can recognize as Chilean, it's the way architects work with materials," says Undurraga. "It's very direct. It's simple. In Chile, we have made a virtue out of poverty."
If there's an aspect that you can recognize as Chilean, it's the way architects work with materials. It's very direct. It's simple. In Chile, we have made a virtue out of poverty.
— Cristián Undurraga, architect
Undurraga, slim with a gentlemanly demeanor and a head full of undulating white hair, is designing Chile's pavilion for Expo Milano this month. After the global confab ends, the structure, nesting layers of diagonal timbers, will be dismantled and the wood reused.
It is indicative of a common aspect of Chilean design: prudence.
Building maintenance budgets are modest in Chile, which means many architects turn away from cost-prohibitive materials such as synthetic panels or glass towers that require industrial amounts of energy to cool. (Santiago has a dry, Mediterranean climate very similar to Southern California — and even earthquakes to go with it.)
Unfinished Béton brut concrete is a favorite material because it can take on sculptural forms while requiring little maintenance. Wood is also frequently employed because it is abundant and economical — Chile's timber industry accounts for $6 billion in exports annually.
Aravena's Innovation Center, for example, is enveloped in a monumental concrete skin partly because it looks powerful — but also because it helps shelter the building's atrium core from the elements. This means it uses one-third of the kilowatt power for ventilation than a similarly scaled building sheathed in glass. And it accomplishes this without high-tech gadgetry. Its main ingredient is humble concrete.
"Sometimes abundance means you do things because you can," says Aravena. "At a moment in which technology makes everything possible, scarcity can often make for an abundance of sense."
Chile's rising position in the world of architecture comes as a result of a confluence of factors: a strong education system (the literacy rate is on par with the U.S., and the country has 40-plus architecture schools), the end of the Pinochet dictatorship and an ongoing economic boom, stemming from the strength of mining and agricultural exports.
"What's going on in Chile is super-important, but [it's] part of a long history," says Alonso, who was educated and now teaches at the Catholic University. He points to the long list of 20th century Chilean designers — Emilio Duhart, Mario Pérez de Arce and Sergio Larraín, among others — who helped shape the school's curriculum.
Larraín, for example, invited Bauhaus artist Josef Albers to teach an introductory course in 1953 on color, a formative happening. "It shaped the nature of the introductory courses at the art school," Palmarola says.
The Pinochet regime, though, put a chill on cultural development in Chile, as the country walled itself off from the world. But the decade that followed the dictatorship proved to be a banner period.
"With democracy, it was as if the borders had been opened," says Undurraga. "Architects began to travel; they opened themselves to the world."
That openness got city planners rethinking urban spaces.
"All of a sudden, we're talking about intervening in areas of the capital that hadn't been touched in 80 years," says Undurraga. "In the '90s, there were a lot of contests and they were very important. It had the effect of giving a lot of space to young architects."
Undurraga himself has had a hand in reshaping Santiago during this time. In fact, he redesigned the public plaza that sits before the presidential palace of La Moneda, removing a pyramidal monument built during the dictatorship and replacing it with pathways and fountains and a three-story below-ground cultural center. It is today a bustling gathering space.
"I feel proud," he says with a smile. "As if we've helped return democracy to the city."
Since then, Chile has remained a place where architects can build.
"Architects [here] start building young and often do things like build their own houses with their own hands," says Radic. "That's something you can't really do in the U.S."
Radic, a shaggy figure with a mildly acerbic sense of humor, says, "I like to say I do construction, not architecture."
Find me on Twitter @cmonstah.
Get our L.A. Goes Out newsletter, with the week's best events, to help you explore and experience our city.
You may occasionally receive promotional content from the Los Angeles Times.