Analysis:: Why the Da Vinci fire has L.A. urbanists rethinking downtown's future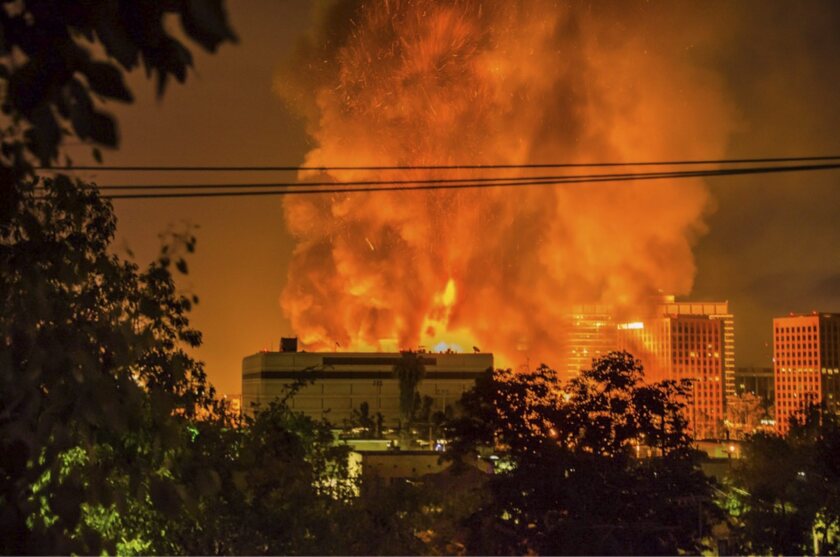 It took more than 250 firefighters to put out the massive Monday-morning blaze that consumed at least half of the 526-unit Da Vinci apartment complex in downtown Los Angeles and temporarily shut down the 110 Freeway. No injuries were reported in the fire, and for that we should be relieved.
But with investigators searching for clues about the fire's cause, Los Angeles design types are asking different questions.
Does the near-destruction of the Da Vinci complex offer an opportunity to reconsider how developments such as this fit into the fabric of our city?
Certainly the fire ignited heated feelings among Los Angeles urbanists about the future of downtown development.
For many, the Da Vinci, one of several residential developments produced by G.H. Palmer Associates, a Beverly Hills real estate company founded by Geoffrey Palmer, represents a generational throwback to the days of L.A.'s worst fortress architecture.
In contrast to the more street-friendly mixed-use complexes so many urbanists now favor, G.H. Palmer projects are known for their severe Italianate architecture, much of which maintains an awkward relationship to the city around it. Many of the projects,such as the Orsini on North Figueroa and the Visconti on West Third Street, are clustered around the downtown intersections of the 101 and the 110 freeways.
The buildings themselves have been reviled by critics for their derivative Mediterranean design. I've always thought they bear an uncanny resemblance to the Italian island prison of Santo Stefano.
"Every architectural critic could be an arson suspect," one Facebook commenter joked on my feed, echoing similar sentiments expressed on Twitter.
In a timely report in Los Angeles magazine this month, writer Marc Haefele describes what makes the G.H. Palmer buildings so grim:
Instead of historic units integrating shops, restaurants, and street life, Palmer was erecting inward-facing citadels that appeared to exist apart from the neighborhood they inhabited. Straddling thoroughfares and linked by pedestrian bridges, the structures seemed less about nurturing a locale and more about establishing turf.
In this regard, the Da Vinci had been controversial for wanting to erect another pedestrian bridge, this one over Temple Street. (The City Council, at the urging of Councilman Jose Huizar, had approved the plan.)
Still, as my colleagues David Zahniser and Roger Vincent report, Palmer has been credited as a pioneer in downtown's revival. "He's getting high-end rents in a lower-end area, which is very impressive," one real estate executive told them.
But what does a Palmer development feel like at street level? I've spent my share of time walking around a number of Palmer developments, especially the Piero, on Wilshire just west of the 110. The designs are coarse, but this isn't their worst sin. (I'm the sort of person who can get behind ugly if it serves a purpose.)
The real problem is the defensive nature of the architecture. The buildings consist of dark, slanted brick walls that for pedestrians convey a feeling of impenetrability. These provide all of the joy of walking along a blast wall.
And even when the structures contain a sidewalk-level business that is open to the public, these feel hidden and inhospitable. This may be the reason, as Haefele reports, that a lot of retail slots at Palmer's developments remain empty.
The designs harken to a time when developers were producing buildings that did little to take human-scale street life into consideration, bunker-like structures into which residents could drive in and out. Consider the Bunker Hill Towers, built in the 1960s, or the Wells Fargo Tower on Grand Avenue, which went up in the 1980s. There is nothing remotely interesting about walking around these sealed-off structures, which at most offer little more than a bland corporate plaza to the walking public.
In the last 10 years, however, Los Angeles has begun placing a greater premium on its street life. Spaces like L.A. Live downtown and the Grove in the Fairfax District — as imperfect as they are — attract Angelenos because they reveal a hunger for places where people can engage with their city at street level. "Walkability" is something that is regularly discussed at the mayoral level.
Architects and developers have turned their attention to designs that play well in this new mode of thinking: Michael Maltzan's recently unveiled Star Apartments on Skid Row, the proposed NMS@Culver City, as well the proposed mixed-use structure for Colorado Avenue in Santa Monica. All offer transparency at street level, places that are hospitable to gather and be in.
For decades, much of downtown L.A. was regarded as a no-go zone, especially at night. That has changed. The city is now filled with sidewalk cafes and dog parks and buzzy bars ... except, that is, for the streets around Palmer's carceral buildings, which occupy some of the most pedestrian-ready streets in Los Angeles: dense blocks that are the very definition of walkable.
Palmer issued a statement on Monday indicating that he intends to proceed with the Da Vinci project as planned. Yet this moment represents an opportunity to rethink that patch of Temple Street. It's a difficult patch: ringed by freeways and civic structures. But we can do better.
It'd be nice if we began with a design that didn't look and feel like an 18th-century Bourbon prison.
Find me on Twitter @cmonstah.
---
From the Oscars to the Emmys.
Get the Envelope newsletter for exclusive awards season coverage, behind-the-scenes stories from the Envelope podcast and columnist Glenn Whipp's must-read analysis.
You may occasionally receive promotional content from the Los Angeles Times.