Datebook: Surfboards and noise rock for the holiday weekend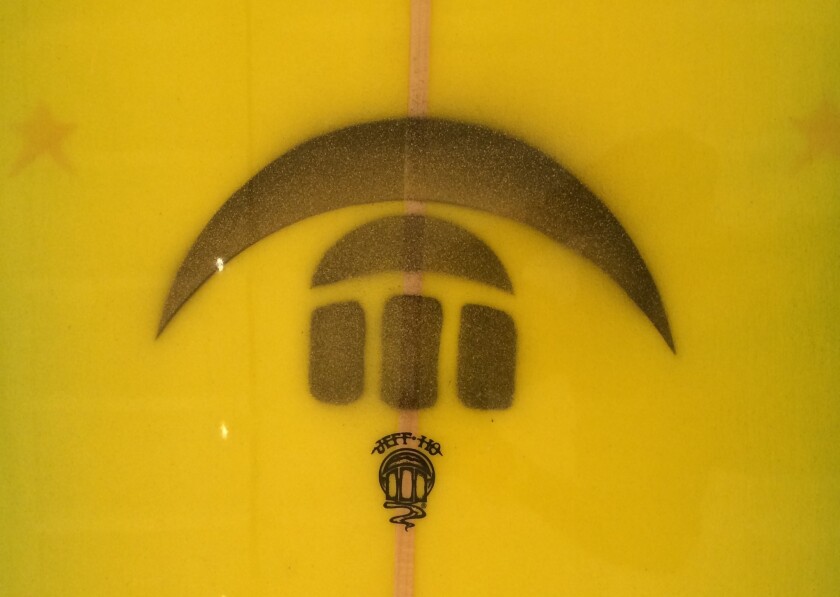 A show that's all about surf, a noise rock band downtown and an artist's view of L.A. as told by installation. The Thanksgiving holiday weekend is quiet, but there are still things to do. Here's what we have in the Datebook:
"Jeff Ho: The Board" at C. Nichols Projects. For its annual holiday surf show, this small Mar Vista exhibition space is doing a show around "The Board," a surfboard shaped by Jeff Ho (also known for abetting the art of skateboarding, as chronicled in the doc "Dogtown and Z-Boys"). In a sport in which a well-built board can take on practically mystical qualities, Ho will be showcasing half a dozen longboards taken from the template of "The Board," a now-renowned board he shaped in Hawaii in 1999 and which he used to ride the swells generated by Hurricane Marie this past summer. Opening reception, with performance by Meet Me at the Pub, Saturday at 4 p.m. Show runs through Dec. 23. 12613 1/2 Venice Blvd., Mar Vista, cnicholsprojects.com.
Faycal Baghriche, "Walk the Walk," at Human Resources L.A. (HRLA). Last year, the Algerian-born Baghriche presented an hour-long performance at Los Angeles's Machine Project that tracked his observations of the city's urban space. Now he's taking some of those ideas and transforming them into a large-scale physical installation. Opening reception Saturday at 7 p.m. Show runs through Dec. 14. 410 Cottage Home St., Chinatown, Los Angeles, humanresourcesla.com.
Xina Xurner at (the) Handbag Factory. And because the holiday weekend could always use a little noise rock: The band fronted by artist by Young Joon Kwak gets the weekend turned up with a concert and art show that also features the one-woman band Fatty Cakes, among many others. Want to know what you're in for? Catch a sample of Xina Xurner's latest here. Things get rolling Saturday at 9 p.m. 1336 S. Grand Ave., downtown Los Angeles, xinaxurner.com and facebook.com/thehandbagfactory.
ONGOING EXHIBTIONS
"Pierre Huyghe" at the L.A. County Museum of Art. This is the last stop for a traveling retrospective of work by the noted French conceptualist, who is better known for his experimentations (a site-specific sculpture made out of a beehive) than the production of serial objects. The show includes everything from a film about a monkey in Japan that serves towels while wearing the mask of a woman to a series of sculptural fish tanks (with specially designed ecosystems), one of which includes a hermit crab that uses a replica of Constantin's Brancusi's 1910 sculpture "Sleeping Muse" as a shell. Get ready for some heady art weirdness. Through Feb. 22. 5905 Wilshire Blvd., Mid-Wilshire, Los Angeles, lacma.org.
"World War I: War of Images, Images of War" at the Getty Research Institute. On the 100th anniversary of the start of a war that unleashed all manner of devastating technologies for killing, this exhibition gathers art about the experience: from government propaganda to a cow's shoulder bone painted by a German soldier on the Eastern Front. Through April 19. 1200 Getty Center Drive, Brentwood, getty.edu.
Richard Misrach at Marc Selwyn Fine Art. The influential photographer, known for his images of the Southwest, shows prints from his "Scrubs" series, in which he captures tight details of desert vegetation in ways that render the plants completely abstract. Through Jan. 17. 9953 S. Santa Monica Blvd., Beverly Hills, marcselwynfineart.com.
Ben Berlow at Farago. There is yet another gallery space opening up in Los Angeles, this one, a project space by Max Farago in a trio of storefronts at the base of the Tower Theatre. The first show will be an exhibition of paintings by the L.A.-born/New York-based Ben Berlow, a painter who often works with bits of found paper as his canvas (including brown paper bags). The show consists of 29 works, some painted on book leaves. Through Jan. 16. 224 W. 8th St., downtown Los Angeles, farago.xyz.
"Moon Beholders" at the Japanese American National Museum. The downtown L.A. museum this week unveiled a new mural by Katie Yamasaki that includes a haiku by Basho, a poet of the Edo era. The mural is now viewable by the public from the pedestrian passageway on Central Avenue. Ongoing, 100 N. Central Ave., downtown Los Angeles, janm.org.
Josef Koudelka "Nationality Doubtful" at the Getty Center. The first retrospective devoted to this important Czech-born photographer since 1988 gathers more than 180 works from throughout the artist's six-decades-long career. This includes his stark, downright cinematic images of Roma communities and his firsthand shots of the Soviet invasion of Czechoslovakia in 1968 — smuggled out of the country with the aid of a friend, who helped get them published in the international press. Through March 22, 1200 Getty Center Drive, Brentwood, getty.edu.
Jacolby Satterwhite, "How Love Is Me Being as I Am," at Ohwow Gallery. Satterwhite's hallucinatory worlds — which feel like the sort of digital weirdness you might encounter in "Second Life" — have appeared in his live-action/animated videos, prints and sculptures. They might seem inspired by sci-fi, but many of his works take as a point of inspiration the inventive drawings of his mother, afflicted with schizophrenia, who sketches thousands of fantastical inventions in the hopes of profiting from them. (There's a great interview about his process in Guernica.) I was intrigued by Satterwhite's work at the Whitney Biennial and am very much looking forward to this show. Through Dec. 20. 937 N. La Cienega, West Hollywood, oh-wow.com.
"Artificial Complexion" at Various Small Fires (VSF). A couple of weeks back, the Art Newspaper reported that Marcel Duchamp's urinal may not have been his urinal at all but was instead a piece by artist, baroness and bohemian Elsa von Freytag-Loringhoven. Now a show at VSF will consider the good baroness' legacy in a show of work by various contemporary artists inspired by her appropriationist, dadaist vein. Through Dec. 29. 812 N. Highland Ave., Hollywood, vsf.la.
Florian Maier-Aichen at Blum & Poe. Images of aerials and landscapes — the L.A. Harbor, the Alps, the Rhine River — are manipulated in myriad ways by this German-born, L.A.-based artist in ways that will leave you wondering what is fiction and what is real. Through Dec. 20. 2727 S. La Cienega Blvd., Culver City, blumandpoe.com.
Lita Albuquerque, "STELLAR Axis: Antarctica," at Kohn Gallery. For her latest project, installation and environmental artist Albuquerque (who got her start with the Light and Space artists of the 1970s) headed to Antarctica's Ross Ice Shelf to shoot a series of blue spheres in arrangements that echo the stars in the night sky. Through Dec. 20. 1227 N. Highland Ave., Hollywood, kohngallery.com.
Shizu Saldamando, "Ouroboros: (revolutionary cycles, rebirth, or dancing in a circle)" at South of Sunset. Works that document moments of movement and social interaction at various L.A. dance clubs will be the subject of this SoCal artist's large-scale photorealistic paintings on paper. The show also includes video. Through Dec. 3, 1218 W. Temple St., Echo Park, Los Angeles, southofsunset.la.
Max Maslansky, "The Edge of Night," at Five Car Garage. L.A. painter Maslansky (who was featured in the Hammer Museum's "Made in L.A." Biennial) frequently takes on the extreme postures of the porn industry in his deeply saturated canvases, some of which are painted on bed sheets. For his latest show at this popular garage space in Santa Monica, he chronicles the work of gay adult film star Dennis Posa (also known as Dennis Parker and Wade Nichols). Through Dec. 30. Call ahead at (310) 497-6895 or email info@emmagrayhq.com for Santa Monica location info. emmagrayhq.com.
Find me on Twitter @cmonstah.
---
Inside the business of entertainment
The Wide Shot brings you news, analysis and insights on everything from streaming wars to production — and what it all means for the future.
You may occasionally receive promotional content from the Los Angeles Times.