Newsletter: Essential Arts: Call it a comeback — MOCA's new shows reveal an institution ascendant
MOCA is hitting a milestone. The Long Beach Opera has turned a case of injustice into opera. And an American playwright gets his television due. I'm Carolina A. Miranda, staff writer at the Los Angeles Times, with the week's essential culture news:
MOCA on the rebound
Times art critic Christopher Knight visits three new exhibitions at the Museum of Contemporary Art Los Angeles as the museum hits the big 4-0. At Grand Avenue, he reviews a "savvy" show curated by artist Elliott Hundley, and "40 for LA," which chronicles the institution's history. Then he heads to the Geffen Contemporary to check "The Foundation of the Museum," which reveals the museum's collecting strengths — as well as its weaknesses. "Following a tumultuous decade of fiscal and operational difficulties," he writes, "MOCA may just be on a welcome — and timely — rebound."
The Times' Deborah Vankin has a sit-down with Hundley, an artist known for his elaborate assemblages, to talk about how he whittled down the museum's 7,500-object collection into a tight show of 39 works. Hint: It involved scissors.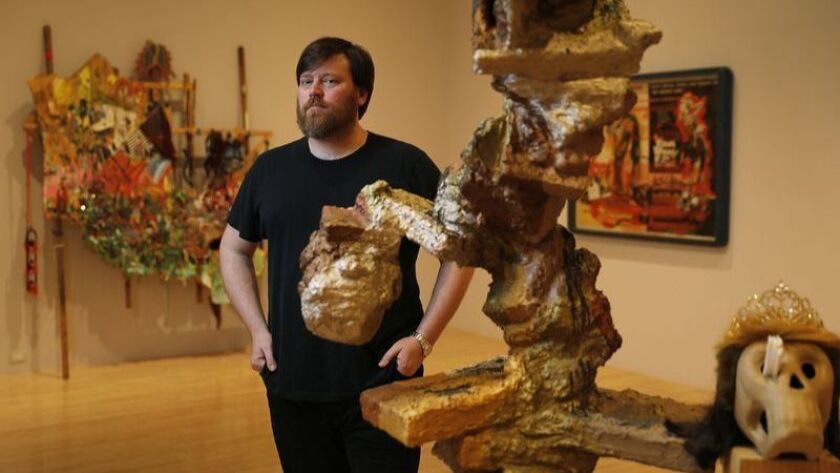 Sorta related: Gallerist Jeffrey Deitch talks with Maxwell Williams about his career, including his years as MOCA's director: "People warned me, 'You cannot go there.' " Well, he did.
Central Park Five as opera
Two weeks after Ava DuVernay's four-part series on the Central Park Five hit Netflix, Long Beach Opera is premiering an opera devoted to exploring this high-profile case of the wrongful conviction of five black teens. Times reporter Makeda Easter interviews members of the cast and composer Anthony Davis about this history-making show. "This isn't over," Davis says. "This is an ongoing struggle."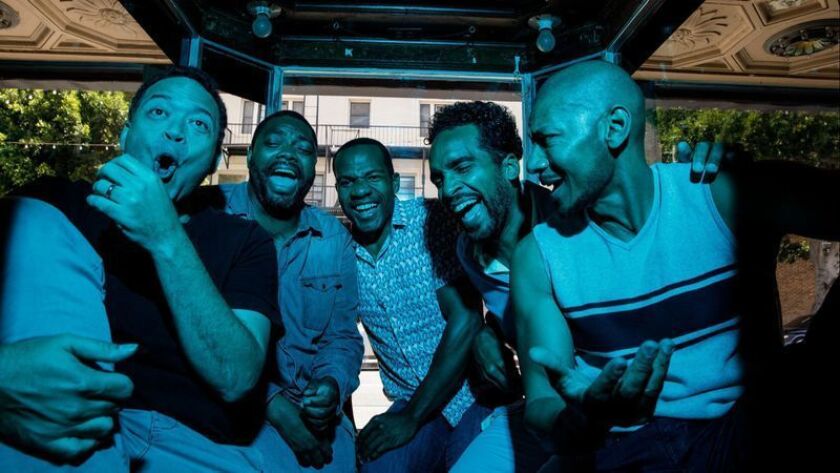 Diversity onstage
Makeda Easter also takes the pulse of culturally specific theaters in the age of "Hamilton." "If minorities are making such strides in theater, is there still a need for culturally specific theaters?" she asks. The answer: One study "found that in New York City's 2016-17 theater season, white playwrights wrote nearly 87% of all the shows that were produced, and white directors were hired for 87% of the productions."
Sort of related: Contributor Gary Goldstein check out the East West Players' production of "Mamma Mia!" with an Asian cast — a "charming, exuberant production."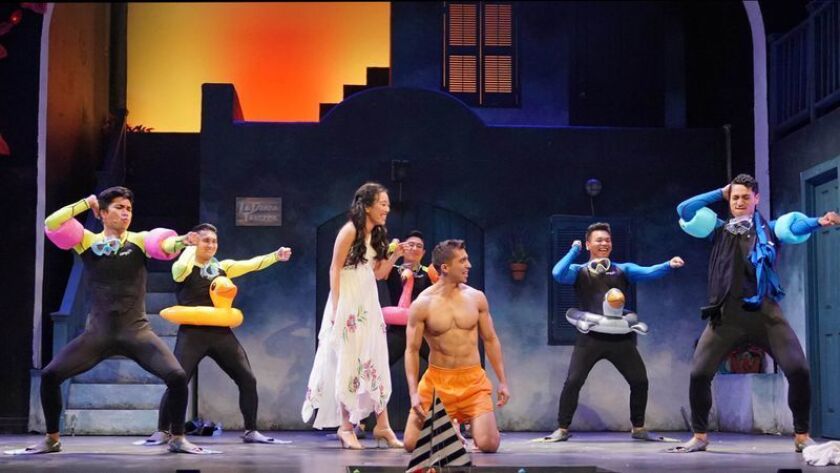 A daring play within a play
Sholem Asch's "God of Vengeance," first produced in Yiddish in 1907, told the unlikely story of a brothel keeper whose daughter falls in love with one of the prostitutes. Paula Vogel's "Indecent," now on view at the Ahmanson Theatre, tells the story of that play, which spurred controversies in both Europe and the U.S. It's a lot of territory to cover, but Times theater critic Charles McNulty reports that "Rebecca Taichman's fleet-footed production … is up to the job."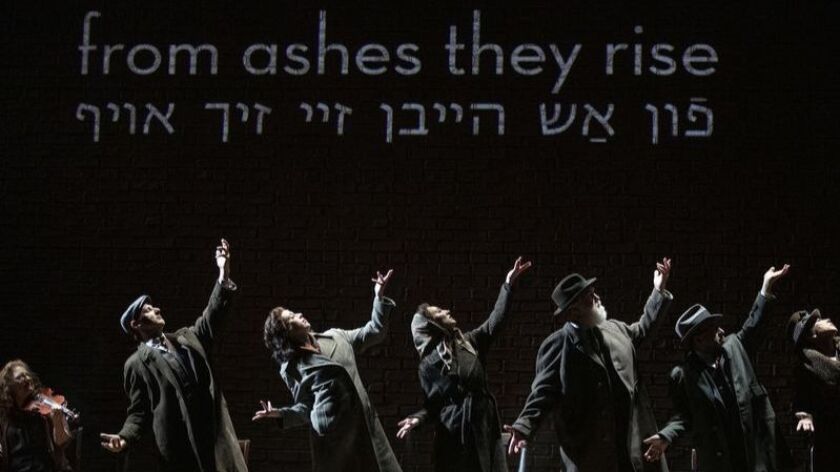 A woman's journey
Composer Meredith Monk's opera "Atlas" received a "bedazzling new production" courtesy of Yuval Sharon at Disney Hall, writes Times classical music critic Mark Swed. The 25 scenic vignettes are inspired by the story of early 20th century Tibetan adventurer Alexandra David-Néel. "Monk's elaborate narrative was initially more implied than revealed," notes Swed. "Sharon's eye-popping production, designed by Es Devlin, does just the opposite, giving it cinematic glamour."
One of the stars of "Atlas?" The 36-foot orb that serves as its primary set. The Times' Jessica Gelt reports on how Sharon quite literally pried apart Disney Hall to make it all work.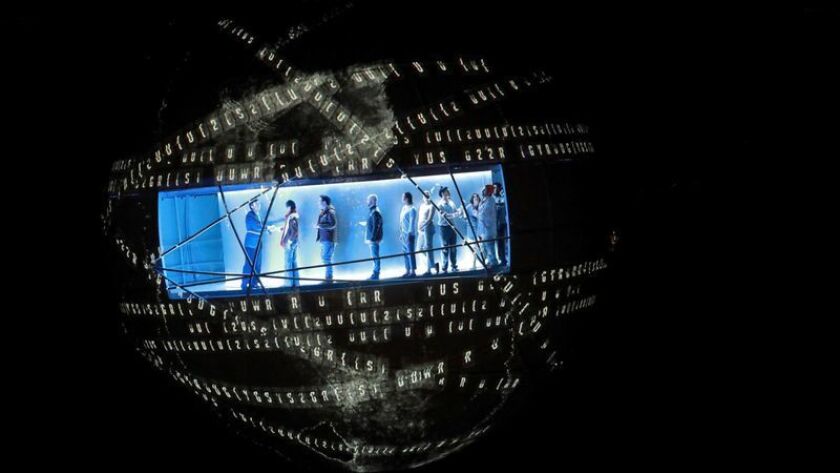 Ojai update
With Thomas Morris set to retire from his post as director of the Ojai Music Festival, Mark Swed reports on how this year's festivities went down in the hands of conductor and soprano Barbara Hannigan. "Both Hannigan and Morris seemed intent on including a kind of Ojai Festival summing-up for this, its 73rd iteration," he writes.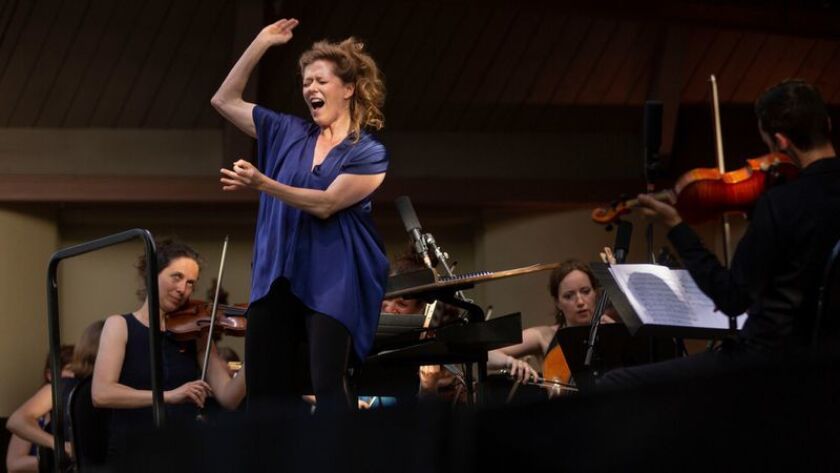 An American master
On Friday, PBS premiered a new episode of "American Masters" devoted to Terence McNally, author of works such as "Frankie and Johnny in the Clair De Lune" and "Love! Valour Compassion!" Charles McNulty pays tribute to a writer who "has allowed us to connect as an assembled family."
On the stage
At the Boston Court Pasadena, Margaret Gray reviews Kit Steinkellner's "labored" new play "Ladies," while, F. Kathleen Foley takes on Joe Orton's "Loot" at the Odyssey, a work of "much-vaunted iconoclasm [that] may strike some as tame by modern standards."
Will Geer's Theatricum Botanicum has been tackling Orson Welles' "Moby Dick-Rehearsed," which fuses a bit of King Lear with Captain Ahab, writes The Times' Daryl H. Miller.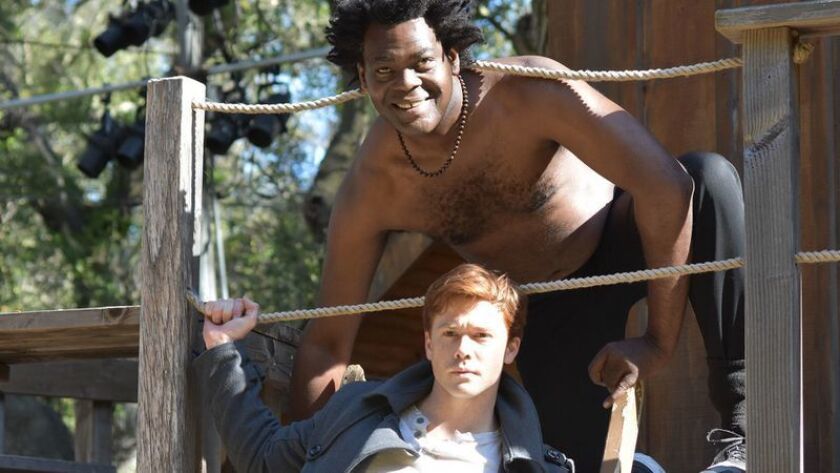 Miller also takes a gander at "Bronco Billy: The Musical" at the Skylight Theatre. "Wholly embracing its preposterousness, this sprightly, enjoyable show is a huge improvement on its source," he writes, "a humorless, casually sexist 1980 movie from Clint Eastwood's ill-considered comedy phase."
In the galleries
A show at Fahey/Klein is showing the portraiture of Arnold Newman, a photographer who frequently chronicled artists in his work — including Willem De Kooning, Igor Stravinsky and Georgia O'Keeffe.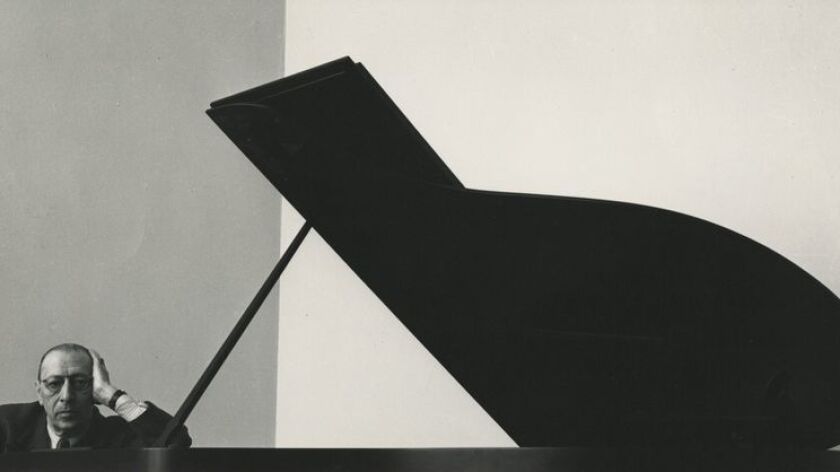 At Praz-Delavallade contributor Leah Ollman reviews a show of paintings by Augustus Thompson. The works, she writes, reveal an artist who is a "contemplative, absorbent witness, assembling an archive of sensations, impressions, memories."
Tony Awards Roundup
If you missed the Tony Awards last weekend, never fear: The Times' Ashley Lee, Jessica Gelt and Charles McNulty have all the essential updates:
— "Hadestown" racked up a total of eight awards, including best musical — the first production written and directed by women to win best musical.
— In her acceptance speech, "Hadestown" director Rachel Chavkin said the lack of diversity at the director level represents a "failure of imagination."
— Another first: Ali Stroker became the first actor in a wheelchair to take home a Tony, for her performance in "Oklahoma!" The internet couldn't have loved it more.
— André de Shields, who has worked on and off-Broadway over a 50-year acting career took home his first award for his role as Hermes in "Hadestown."
— Why the cast of "The Prom" — about a teenager who wants to take her girlfriend to the school dance — was intent on including the show's same-sex kiss in the telecast.
— And McNulty's got the analysis: "The 2018-19 Broadway season will be remembered for those gripping moments of simple honesty when an actor, burrowed deep in a role's human perplexity, revealed ourselves to ourselves."
Your support helps us deliver the news on the culture stories that matter most. Subscribe to the Los Angeles Times.
Ready for the weekend
The Hollywood Fringe Festival will stage 400-plus shows over the coming three weeks. Contributor Philip Brandes helps you sort through them.
In my weekly Datebook, I've got the latest art happenings, which includes paintings that scramble colonial histories at the Vincent Price Art Museum.
Matt Cooper has the week ahead in dance, theater, art and classical music — as well as his weekend picks, which feature a tribute to the Beatles by the Mark Morris Dance Group.
In other news…
— The National Sound Library of Mexico believes it may have found the only existing audio of Frida Kahlo.
— Following an outcry on social media, artist Andrea Bowers has altered an Art Basel installation about the #MeToo movement, which included images of a bruised young woman.
— Frances Anderton reports on the future of the Santa Monica Airport: When it ceases operations, the plan is to turn the land into a park — in the middle of a housing crunch.
— From the Department of Is This For Real: The San Francisco Museum of Modern Art is loaning sculptures by Alexander Calder and Isamu Noguchi for installation at the Chase Center, where the Golden State Warriors (too bad about Canada) play.
— Could LAX's Theme Building have new life as a hotel? Los Angeles World Airports is looking for ideas.
— Critic Justin Davidson looks at the challenge of maintaining Modern homes built with experimental materials.
— Paul Smith's pink wall on Melrose is inspired by Luis Barragán and costs $60,000 a year to maintain.
— Jazzercise is still a thing.
And last but not least…
If you are in need of hypnosis, I highly recommend Greg.org's readings of art press releases.
carolina.miranda@latimes.com | Twitter: @cmonstah
---
Your essential guide to the arts in L.A.
Get Carolina A. Miranda's weekly newsletter for what's happening, plus openings, critics' picks and more.
You may occasionally receive promotional content from the Los Angeles Times.