For race-specific theater companies, the fight for diversity onstage is far from over
In 1965, nine Asian Americans working in theater were tired of being relegated to roles like villain or cab driver and fed up with the regular indignity of white actors playing Asian roles.
They founded East West Players, now the nation's longest-running professional theater of color, which has since premiered more than 100 plays and musicals about the Asian American experience, telling stories that didn't make it to other stages or that were overlooked by Hollywood.

For the record:
10:15 a.m. June 13, 2019An earlier version of this article referred to Tarell Alvin McRaney. His last name is McCraney.
But times have changed. Playwrights such as Lauren Yee, Qui Nguyen and Julia Cho have found their way to major regional stages, and last year, Young Jean Lee became the first Asian American woman to see her play ("Straight White Men") open on Broadway.
The success of other theater artists of color — think Tarell Alvin McCraney, Lynn Nottage, Dominique Morisseau, Branden Jacobs-Jenkins, Karen Zacarias — highlights a seismic shift in the broader culture, which is embracing questions of identity and challenging longstanding power structures, in front of the audience and behind the scenes.
Movements in Hollywood — including #OscarsSoWhite, the social media campaign that began in 2015 decrying the lack of diversity among Academy Award nominees, and Frances McDormand's call for inclusion riders during her 2018 Oscars acceptance speech — became rallying cries for the inclusion of marginalized voices. Lin-Manuel Miranda's groundbreaking musical "Hamilton" showed that productions featuring diverse casts could be smashingly successful at the box office as well as with critics.
REPRESENTATION: Disabled fans react to Ali Stroker's historic Tony Awards win »
And in recent years, an exodus of artistic directors at American theaters, roles mainly held by white men, signaled another cultural shift. According to a national survey tracking these artistic director openings by Bay Area directors Rebecca Novick and Evren Odcikin, women filled about 41% of the 89 jobs open since 2015 and people of color filled 26%. One recent example is veteran stage director Nataki Garrett's recent appointment as artistic director at the Oregon Shakespeare Festival.
It all raises the question: If minorities are making such strides in theater, is there still a need for culturally specific theaters? And how do organizations such as East West Players, L.A.'s Latino Theater Company and even the venerable Apollo Theater in New York adapt their missions to the changing times?
For one answer, look no further than a study released in the spring by the Asian American Performers Action Coalition. It found that in New York City's 2016-17 theater season, white playwrights wrote nearly 87% of all the shows that were produced, and white directors were hired for 87% of the productions.
Diversity efforts at some mainstream arts organizations are surface level, said the East West's producing artistic director, Snehal Desai, and can translate to a quota of sorts — a single slot in a given season for an Asian, black or Latino work.
"It's tokenizing, it's reductive and it's limiting the stories and experiences for our communities and for our lives," Desai said.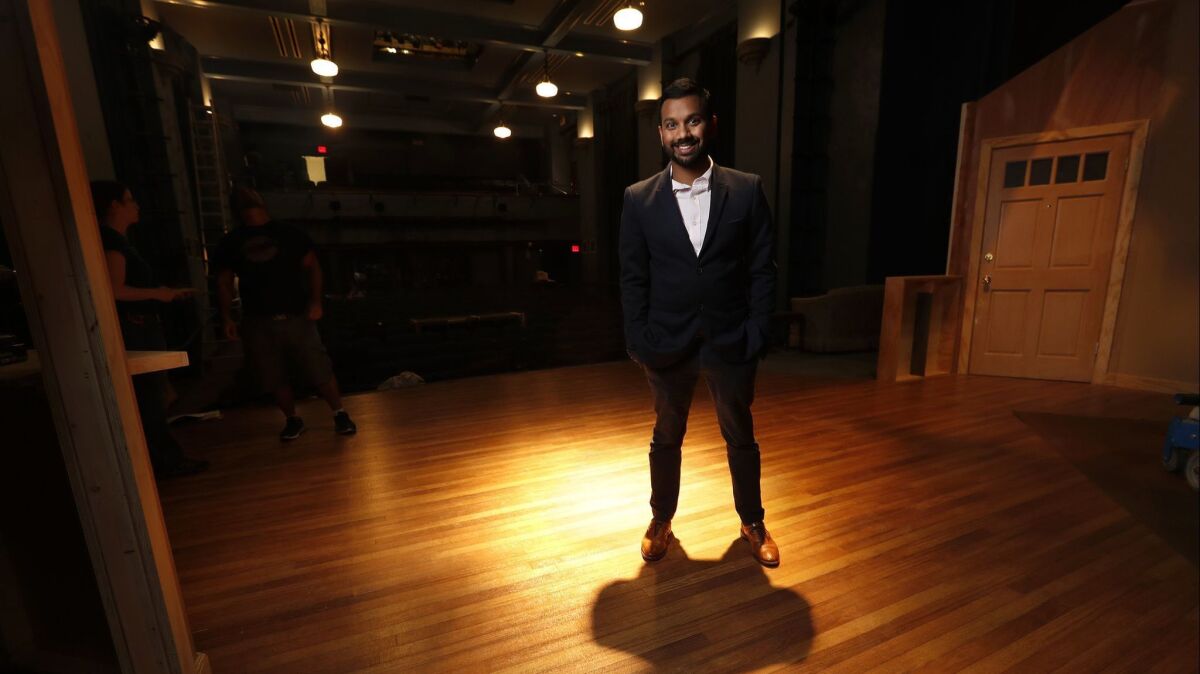 East West also gets beyond the temptation to treat all Asian communities as some homogeneous, monolithic block. The company, based in Little Tokyo, produces work representing Vietnamese, Chinese, Korean and other nationalities. The company's 2018-19 season included Nguyen's "Vietgone," about two refugees who flee the Vietnam War and make a life in Arkansas, and Anna Moench's "Man of God," a thriller about four Korean girls on a Christian mission to Thailand. The season is closing with a production of the Broadway musical "Mamma Mia!" that celebrates Filipino American culture.
"There's layers of conversation of what diversity really means in a cultural arts landscape," said Kamilah Forbes, executive producer at the Apollo. Now in its 85th anniversary season, the theater opened in 1934 to cater to the growing community of black artists in Harlem. The Apollo was historically known as a music venue, launching the careers of singers Ella Fitzgerald and others, and now it programs not only music but also theater and dance.
For Forbes, championing diversity at the Apollo looks different than diversity efforts at traditionally white arts institutions.
"We have the opportunity to go deep within multiple layers and not just check off the box that we've done a black work," she said.
The executive producer pointed to the theater's "Africa Now" music series, a program born out of the influx of African immigrants to Harlem. In May, the theater premiered "Twisted Melodies," a one-man show based on the life of the '70s singer and composer Donny Hathaway.
We have the opportunity to go deep within multiple layers and not just check off the box that we've done a black work.
— Kamilah Forbes
Even as Harlem grapples with gentrification, the heart of the Apollo's mission — to be a home for black artists — will remain the same.
"We still have to hold ourselves accountable for upholding part of that mission and vision of what that cultural legacy was in our building," Forbes said. "So anytime you step through our doors, you feel a place of home. And you feel a place of Harlem."
José Luis Valenzuela founded L.A.'s Latino Theater Company in 1985 because of the lack of Latino productions in the city. Nearly 35 years later, he said the landscape hasn't changed significantly. At regional theaters and mainstream theaters across the country, "they are producing a little more. Very little." Seasons are programmed to include at least one — but usually only one — Latino work, he said.
Latino Theater Company also operates the Los Angeles Theatre Center, an organization that presents artists reflecting the demographics of L.A. LTC and LATC's 2019 season is a multicultural mix including "Home," a one-woman show about a first generation Chinese American girl, written and performed by Nancy Ma; and "The Mother of Henry," set in 1968 about a single mother in Boyle Heights and written by Evelina Fernández.
"In these times when we are being treated like criminals and rapists and narcos, I think it's so important for us Latinos in theater to tell the story of who we really are with a certain authenticity," Valenzuela said.
LONGEVITY: André De Shields wins his first Tony at 73. Five facts on his epic career »
At a round of East West auditions, actors spoke freely about their struggles in the industry.
"Some of the actors talk about how when they go to auditions for a show or film, they feel the weight of being a voice for the entire Asian American community," Desai said.
For Asian American playwrights, there are not-so-subtle differences between producing their work at traditionally white institutions and theaters of color. "Even if it's been on Broadway … when they come see it at East West, they often end up changing the play because they're able to, for the first time, really engage a direct dialogue with their community," Desai said.
Theaters of color have long been havens not only for artists producing the work but also for audiences who traditionally have also been excluded. A 2011 study (the most recent available by the group) by L.A. Stage Alliance found that about 75% of theatergoers in the L.A. area were white. By contrast, 60% of audiences at East West are people of color; the figure is 73% at the Latino Theater Company.
For us, it's political to put a Latino body on stage to tell a Latino story, to talk about what's going on in our communities.
— José Luis Valenzuela
The mainstage theater that produces one "diversity" play isn't necessarily signaling that diverse crowds are truly welcome, Valenzuela said. Audiences need to be nurtured, he added. "You have to let them know that they're welcome in your space."
At the Apollo, access plays an important role in programming. Some events are free and subsidy plans keep a certain number of tickets at a low price.
"It's important that these are the residents that made the Apollo what it is — that they always have low cost or we lessen the cost barrier entry," Forbes said. "It ensures diversity."
Diversity also is more than having a person of color or a woman fill a leadership role, Forbes said.
"What does the rest of your organization look like? What does your programming look like, what do your audiences look like?" she asked. "Ultimately, these performing arts centers should be reflective of their communities."
As these institutions move forward, funding presents the greatest challenge to upholding their missions.
Arts funding in general is tough, but funding models can inadvertently exclude culturally specific theaters. Certain funding goes only to theaters with budgets of more than $3 million, said Desai, whose company's budget is about $1.4 million. "And then there's another level of funding or bigger opportunities for funding when you reach the $5-million threshold. But theaters of color have traditionally never had budgets above $3 million."
A 2017 study by Helicon Collaborative examining inequity in U.S. arts funding found that only 2% of cultural institutions (those with budgets more than $5 million) receive close to 60% of all contributed revenue, including foundation and individual giving. And just 4% of all foundation arts funding is allocated to organizations whose primary mission is to serve communities of color.
And then there's the potential problem of funding designated for diversity efforts. "My biggest issue is that folks fund the problem," Desai said. "The organizations getting hundreds of thousands of dollars, or millions of dollars, to diversify are folks who are not doing the work and are not committed."
Valenzuela said some California organizations are funding social justice initiatives instead of the arts, but he argued that social justice is inherent in the Latino Theater Company's mission.
"For us, it's political to put a Latino body on stage to tell a Latino story, to talk about what's going on in our communities," he said.
One 2015 study by the DeVos Institute of Arts Management painted a bleak picture of black and Latino performing arts companies, finding that organizations' biggest weakness was attracting private, wealthy individual donors.
Despite these challenges, leaders said their work is essential and will remain important to their communities, even as they see greater inclusion at conventional performing arts organizations.
Last December, the Apollo announced the first phase of a transformation project: turning the historic theater into the Apollo Performing Arts Center. The effort includes opening two theaters in the community and housing other Harlem arts organizations including the Classical Theatre of Harlem. Forbes said she's inspired by the Smithsonian's National Museum of African American History and Culture.
"This idea of a national African American performing arts center … that's the kind of trajectory where we see ourselves going," she said.
THE 99-SEAT BEAT: Our weekly column on the Southern California theater scene »
Forbes' vision is to continue signature programs such as "Amateur Night" but also support the next generation of black artists.
"It's important that we as an institution begin to be defined not just by our marquee and our history and our legacy, but by the contemporary artists that are building and creating," she said.
At East West, staying relevant means continuing to be an inclusive space, where artists can explore all aspects of their identity, especially as the country becomes more multicultural. "If we want to be around another 50 years, our mission is going to have to evolve and adapt and change," Desai said.
Last year, East West had the largest audiences in its history, he added. "Clearly, there is an audience and hunger for the stories."
Citing the growth of the Latino population in California and across the U.S., Valenzuela said theater has to reflect the changing demographics.
"If you don't diversify the programming, who's going to go to your theaters in 20 years?"
Get our L.A. Goes Out newsletter, with the week's best events, to help you explore and experience our city.
You may occasionally receive promotional content from the Los Angeles Times.