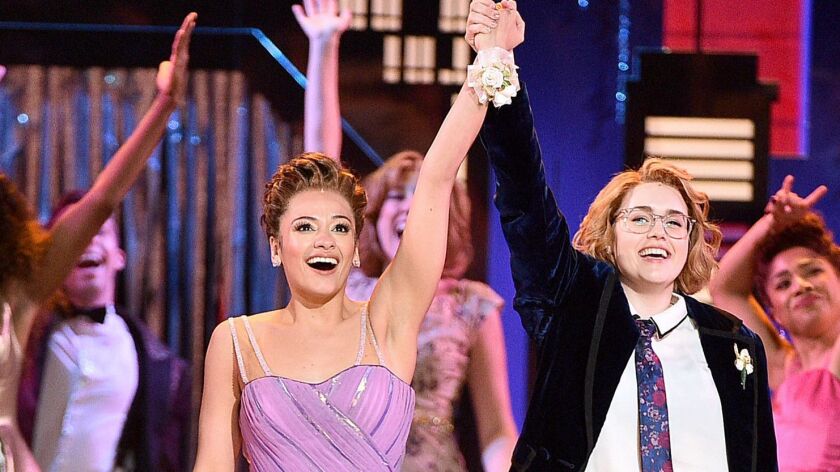 When the cast of "The Prom" performed at the Tony Awards, it drove home the show's themes of acceptance and inclusion with a same-sex kiss.
The musical, which entered the night with seven nominations, centers on a teenage girl whose request to bring her girlfriend to the high-school dance causes a commotion in her small Indiana town. Four has-been Broadway actors then attempt to rebuild their public image by helping her but end up gaining much more.
After singing and dancing to the songs "Tonight Belongs to You" and "Time to Dance," Tony nominee Caitlin Kinnunen and Isabelle McCalla — who play the production's couple — locked lips. The moment elicited loud applause during the award show's dress rehearsal and telecast.
The cast never had any hesitation about showcasing the moment at the televised awards show. "Not one person needed a pep talk," said Casey Nicholaw, who directed the dance-filled production.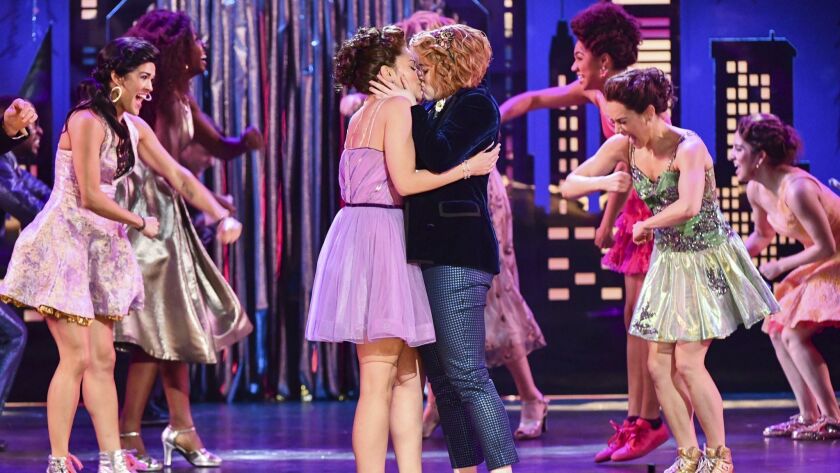 TONY WINNERS: 'Hadestown' racks up eight awards including best musical, and women make history »
"When you love someone, you kiss them — it's not a big deal," Kinnunen told The Times just before the ceremony. "Yes, there's always backlash from the people who think it's wrong and unacceptable, but there's also always 10 times the amount of people who say, 'Thank you, we feel seen and represented; this should be the norm.' It's been amazing the amount of love and support we get."
Capturing the magic of a full Broadway show within just a few minutes is never an easy task, but writers Chad Beguelin and Matthew Sklar hope the message of their original musical comes across to audiences watching at home. "This show is about listening to people and accepting everyone, and we try to share that message with a lot of humor and some great dance numbers too."
One "The Prom" star, Beth Leavel, invites naysayers to watch the musical for themselves. "See if we can crack your heart open."
THE CRITIC'S TAKE: Tony Awards: Broadway celebrates unabashed idealism »
Twitter: @cashleelee
---