Tony Awards: A critic celebrates Broadway's unabashed idealism
Theater Critic
At a time in America when lies are rampant in public life and alternative truth has been adopted as a winning political strategy, the 2018-19 Broadway season will be remembered for those gripping moments of simple honesty when an actor, burrowed deep in a role's human perplexity, revealed ourselves to ourselves.
Amid the crowds and costliness of Broadway theater, there's still thankfully room for this kind of profound communication between actors and audiences. The Tony Awards, held at Radio City Music Hall on Sunday, proudly flourished an array of progressive values. But it was in honoring the artists who brought theatergoers into their confidence that ideals were most powerfully articulated.
For her portrayal of a free-spirited grandmother who retains what is essential in her empathetic nature as dementia darkens her mind in Kenneth Lonergan's autobiographical play "The Waverly Gallery," Elaine May won for best lead actress in a play. Bryan Cranston, ferociously bringing to life anchorman-turned-rabid-prophet Howard Beale in an adaptation of "Network" that uncannily reflects our own unhinged media age, was named best lead actor in a play.
These two performances exemplify what stage acting at its best can offer: inescapable connection with a character living publicly what outside the theater would be suffered privately.
PHOTOS: The 2019 Tony Awards | Red carpet and show highlights »
The hallucinatory "Hadestown," deservedly crowned best musical, offers truth of an archetypal kind. The female-led creative team of author Anaïs Mitchell, who won for her original score, and director Rachel Chavkin, who won for her staging, spliced ancient myths into a mesmerizing collage that had the gravitational pull of ritual.
There's plenty of superlative showmanship on display at the Walter Kerr Theatre. But what sets "Hadestown" apart is the way it converts an audience of strangers into an impassioned community eager to ride the rhythmic waves of this New Orleans-style folk-jazz opera to hell and back.
André De Shields, who as Hermes invites theatergoers to journey once more through the sad tale of Orpheus and Eurydice, won for featured actor in a musical. The category, which included his sensational fellow cast member Patrick Page, was overstocked with excellence. But De Shields, a theater eminence both on and off-Broadway, incarnated in his slick style and bluesy sound the spirit of Mitchell's bewitching score.
As expected, Jez Butterworth's "The Ferryman," a British import touted on both sides of the pond, won for best play. I'm not as impressed by my colleagues who declared it an "instant classic." But hype aside, it's an often-gripping drama that, set in Northern Ireland during the Troubles, explores the cycle of political violence that, as in Aeschylean tragedy, keeps the dead from resting peacefully in their graves. All credit to Sam Mendes, who won for his direction, for so convincingly inhabiting this fictive Irish world with his impeccable ensemble.
The main lesson I hope Broadway producers take from this season's best play nominees is that strategic risk can bring surprising rewards. Heidi Schreck's "What the Constitution Means to Me," Tarell Alvin McCraney's "Choir Boy" and Taylor Mac's "Gary: A Sequel to Titus Andronicus," are not the type of works that have traditionally graced the Great White Way.
But the authors of these plays represent a more inclusive and tantalizingly unorthodox future for Broadway. And though James Graham's nominated "Ink" may not live up to its London blurbs, it's good to see there's still a place on Broadway for large-scale drama dealing with contemporary concerns — in this case the manipulative, faux populist media strategy of an insurgent Rupert Murdoch, played with amoral cunning by Bertie Carvel, who won the Tony for best featured actor in a play.
Jukebox musicals will always be with us, as the producers' bible proclaims. "The Cher Show" is hardly the most elevated example of this not-so-elevated form, but Stephanie J. Block winning for best actress in a musical is a reason to cheer. One of three Cher impersonators on display, Block stands out for the genuineness of her virtuosity. Pop stars, even the greatest, are partly manufactured, but Broadway talent of this magnitude doesn't need Auto-Tune assistance.
RACHEL CHAVKIN: The director's call for more inclusion »
Santino Fontana, who won the Tony for best lead actor in a musical for his reinvention of Dustin Hoffman's character in "Tootsie," further attests to the magnificent artistry underlying originality. How easy it would have been to settle for just another Broadway theme park facsimile. But working with Robert Horn's brilliantly witty book (which picked up a Tony) and David Yazbek's falsetto-friendly songs, Fontana made the Michael Dorsey/Dorothy Michaels switcheroo smartly contemporary and completely his own.
"To Kill a Mockingbird," the dramatic smash of the season, was shut out of the best play race and came up short in the most prominent categories. But there was karmic justice in Celia Keenan-Bolger winning for best featured actress in a play for her portrayal of Scout, as it was through this performance that Harper Lee's voice came through most clearly.
Diversity remains a stubborn problem, but let's pause a moment to consider the breathtaking breadth of the winners. May, evergreen at 87, proves it's never too late to become a legend in one of your secondary careers. De Shields' devotion to the stage, as evident when he was starring in Shakespeare at the Classical Theatre of Harlem as when he played the title role in the Broadway premiere of "The Wiz," paved the way for this belated recognition.
ANDRE DE SHIELDS: Five facts on his epic career »
Ali Stroker, who bestows on Ado Annie in Daniel Fish's Tony-winning deconstruction of "Oklahoma!" a new ribald lusciousness, made history by winning a Tony for best featured actress in a musical. She's the first acting nominee to use a wheelchair and her deserved victory is a hopeful sign that Broadway is finally widening its casting horizons.
Chavkin, the only woman nominated for a directing award, won for her staging of "Hadestown" by unifying not only her company but also her audience. It's a sad statistic that only one of the 10 nominated directors in the play and musical categories was a woman, but greatness wasn't denied.
ALI STROKER: Actress makes history with her Tony win »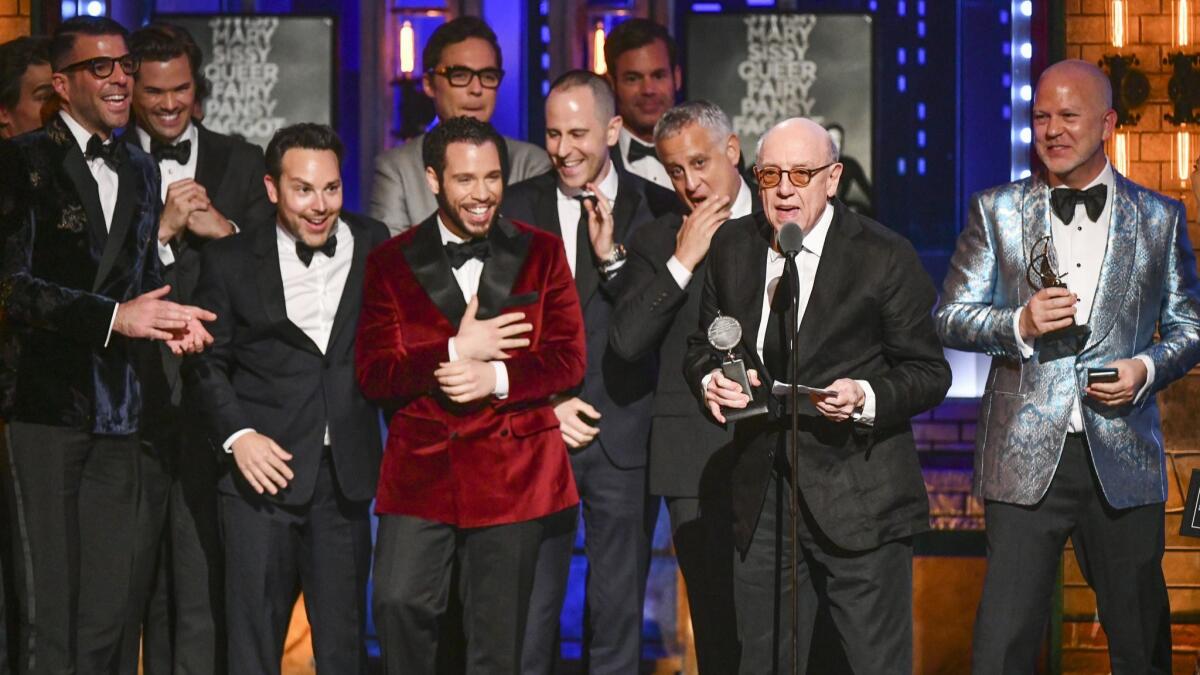 Broadway is hardly a utopia, but how moving it was to see Mart Crowley accept the Tony for best play revival for his groundbreaking gay drama "The Boys in the Band." Chavkin, in her rousing acceptance speech issued a call to Broadway conscience for equity and inclusivity. And what stirring words were spoken by McCraney to advocate for black queer boys in his introduction to "Choir Boy."
The sentiment behind these speeches informs the authenticity that is still more dazzling than any special effect in the theater. The Greek word for actor is "hypokrites," but there's nothing hypocritical about artful stage performers who dissemble through fiction to lay bare a deeper truth.
The Tonys ceremony, a local party opened to the nation by the patronage of CBS, is a more welcoming showcase for idealism than the billion-dollar business of Broadway. But in paying tribute to those artists who stopped our breath with the unimpeachable honesty of their gifts, the awards point the way forward.
Get our L.A. Goes Out newsletter, with the week's best events, to help you explore and experience our city.
You may occasionally receive promotional content from the Los Angeles Times.