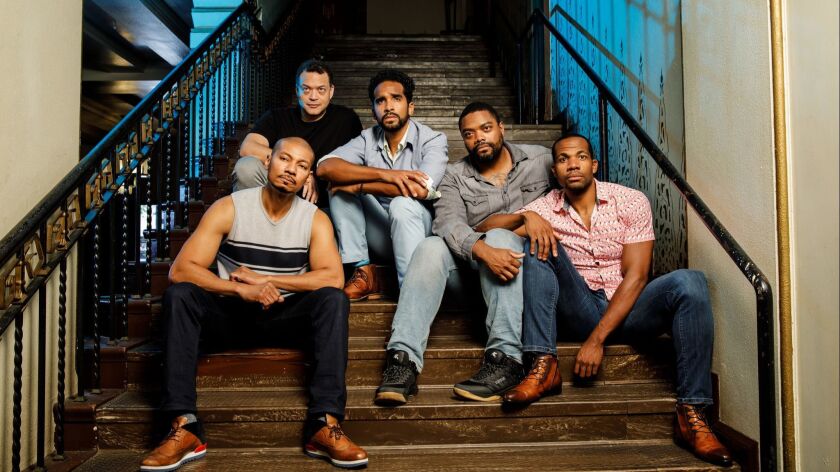 The opera opens with five white doors stretched across the stage. Projected onto each of them is a face of the Central Park Five: Antron McCray, Kevin Richardson, Yusef Salaam, Raymond Santana and Korey Wise.
Composer Anthony Davis and librettist Richard Wesley explore the 1989 arrest and wrongful conviction of five black and Latino teenagers in New York City for the rape and beating of Trisha Meili, a white jogger in Central Park. Labeled a "wolf pack" by the media and coerced into false confessions that were quickly recanted, the teens — none older than 16 at the time — went on to serve six to 13 years before being exonerated in 2002 after Matias Reyes confessed to the crime.
The mobile doors in Davis' opera are crucial props throughout the production. They establish a sense of home for the performers playing the Five, before quickly becoming interrogation rooms and walls between prison cells where they wait out their sentences.
Commissioned by Long Beach Opera, "The Central Park Five" makes its world premiere Saturday in San Pedro.
It comes two weeks after the release of Netflix's "When They See Us," a four-part series delving into the attack, trial, imprisonment and exoneration of the Central Park Five by Ava DuVernay. The filmmaker's retelling reignited public conversation about the events and condemnation over the failure of the criminal justice system.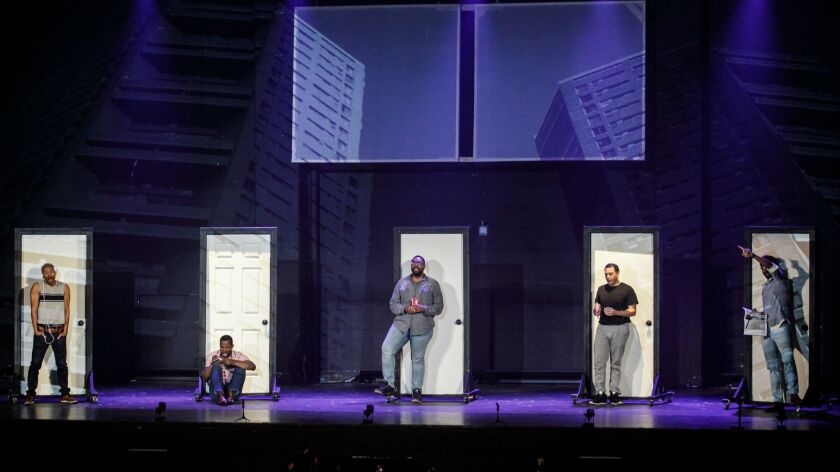 Although Davis hasn't had time to watch the series yet, he hopes his opera will add yet another layer of emotional connection to the story.
The work is both exhilarating and crushingly tragic, Davis said. "Those are all the ingredients that you want in an opera. It's not like a movie or a documentary that can get you to all the facts and different sides. It's more about your identification with people onstage and how they represent those people in those lives."
REVIEW: Ava DuVernay's 'When They See Us' gets to the human heart of the Central Park Five »
Davis lived in New York during the Central Park jogger case and recalled Donald Trump's full-page ads calling for the reinstatement of the death penalty in New York. "I hated what Trump did, the way the press was handling it, and how they were demonizing these kids," he said.
Nearly 30 years later, Davis began working on "The Central Park Five" after reading Wesley's libretto around 2014. In 2016, the composer staged what he called a "rough pass" at the opera in New Jersey called "Five." Since then, he's made major revisions including adding Trump to the libretto. He sings about bringing back the death penalty.
Davis took inspiration from the music of the era, R&B boy groups including Take 6 and Boyz II Men who emphasized harmony in their songs, as well as hip-hop group Public Enemy. The composer wanted to capture the essence of the time and the emotional intensity the young teens faced.
"I tried to musically express what I thought they would be feeling: despair and fear and also the sense of they've lost their innocence and youth," David said.
Stepping into the role of Santana is an experience that Orson Van Gay II said he's still processing. As a black man in the U.S., "you carry your own journey," Van Gay said. "So when you have to put on somebody else's experiences, that just opens up a whole other world for you."
Tenor Nathan Granner plays Wise. While practicing his part late one night, he began sobbing. "I'm the same age as Korey," Granner said. "So when he was being incarcerated, I was enjoying my life in a suburb of Kansas City."
For Bernard Holcomb, who sings the part of Richardson, the gravity of the role didn't fully click until watching the Netflix series.
"I became much more angry," Holcomb said. "I have so much anger and sadness, and all these emotions that I'm now able to bring to the stage."
As an art form that takes on history and tragedy, opera is a fitting avenue for the Central Park Five story, the performers said.
Derrell Acon, the bass-baritone who plays McCray, noticed peers expressing on social media that the Netflix series was too difficult and painful to watch. Opera, however, creates a sense of community, he said. "The difficulties of the emotion, I think people are far more readily able to handle when they have an entire audience and the artists onstage behind them," Acon said.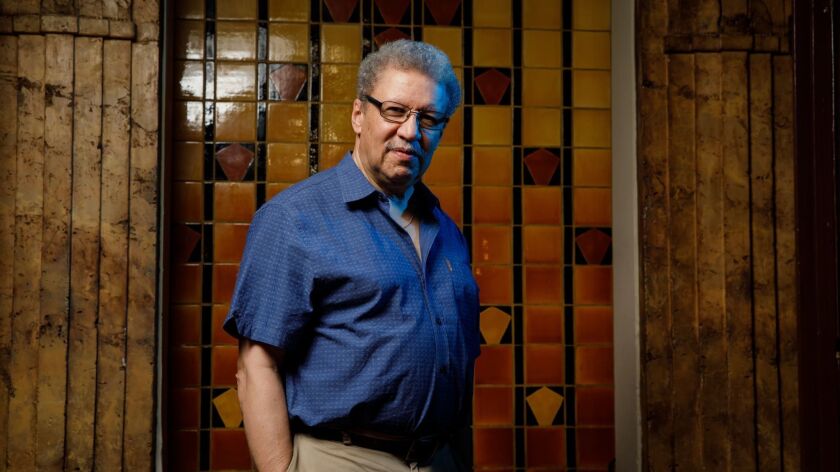 For Davis, it's especially important to tell black history through opera.
He's done it before. Davis' first opera, "X: The Life and Times of Malcolm X," opened in 1986, and in 1997 he premiered "Amistad," based on the rebellion of Mende captives on a Spanish slave ship. (Davis noted that both operas premiered before films by directors Spike Lee and Steven Spielberg).
"Opera is sometimes off-putting for our community," said Davis, who is black. "We can make it ours, make it serve our purposes and serve the purpose of telling our stories."
"The Central Park Five" ends with another story, of an unarmed black man shot by Milwaukee police while holding a phone. Davis hopes the audience realizes "this isn't over and this is an ongoing struggle."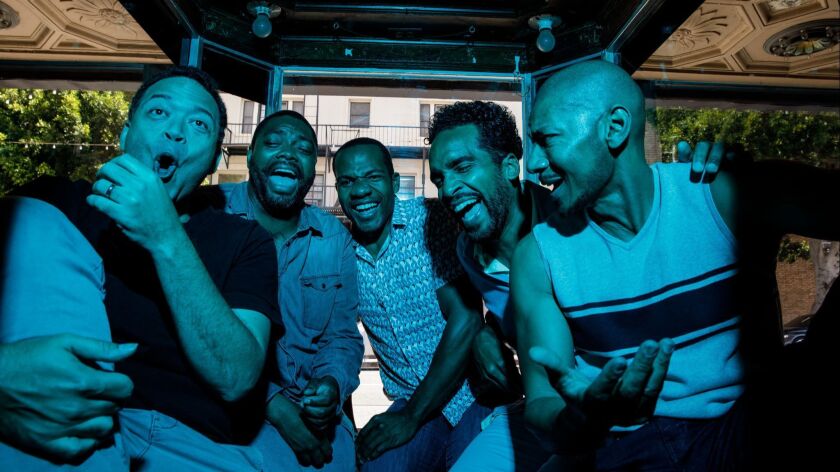 =====
Long Beach Opera's 'The Central Park Five'
Where: Warner Grand Theatre, 478 W. 6th St., San Pedro
When: 7:30 p.m. Saturday and June 22, 2:30 p.m. June 23.
Tickets: $49-$150
Info: longbeachopera.org
---