Photo: How graffiti artist Droyce's trickster take on the Hollywood sign rethinks dead public space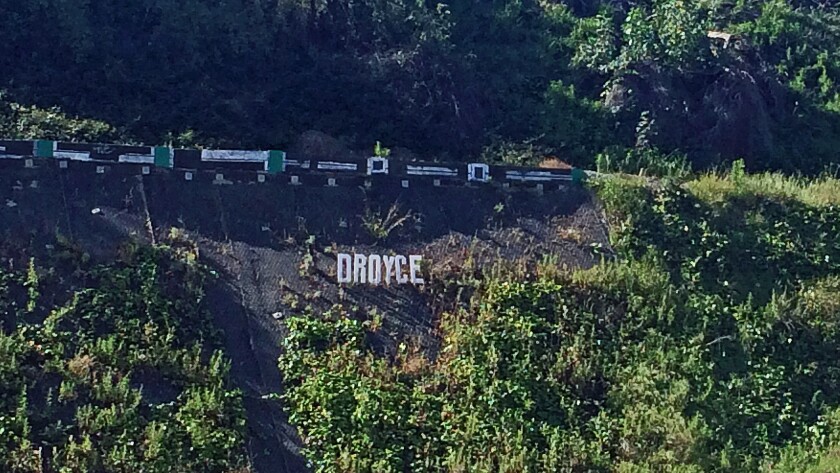 From slivers of gray rooflines in Los Angeles' industrial zones, to tucked-away corners under freeway stacks, graffiti has a way of occupying and transforming unused urban spaces.
In his 1974 book, "The Faith of Graffiti," Norman Mailer wrote of the phenomenon:
"... those wavelets of ego forever reverberating upon one another, could have risen like a flood to cover the monstrosities of abstract empty techno-architectural twentieth century walls where no design ever predominated over the most profitable (and ergo most monotonous) construction ..."
Like a lot of Mailer, it's pretty melodramatic. But he touches on something I'm quite intrigued by: the ways in which a simple spray-can tag can draw your eyes to a space that was designed to be ignored.
Such is the case of the sculptural installation by the L.A. artist who goes by the name Droyce — a piece that is tucked above a stretch of the northbound 101 Freeway in Boyle Heights. It consists of a series of three-dimensional letters, in a font similar to the Hollywood sign, that spell out the artist's name on a steep hillside above the freeway.
The artist, who has been known to get around town with a spray can, frequently collaborates with a number of other artists under the moniker Culture Crew.
But his sculptural intervention on the 101 is the one that I find most compelling and humorous — an artist who has rebuilt an icon in his own name in a space where barely anyone looks. Every time I drive by, I'm filled with the urge to salute.
Our freeways are lined with so many visually dead spaces. This nicely conceived work is a reminder that they're also filled with possibility.
Find me on Twitter @cmonstah.
---
Your essential guide to the arts in L.A.
Get Carolina A. Miranda's weekly newsletter for what's happening, plus openings, critics' picks and more.
You may occasionally receive promotional content from the Los Angeles Times.