Photos:: Lacy cuffs, Hawaiian shirts and Nehru jackets: An advance look at LACMA's 'Reigning Men' style exhibition
Slim culottes paired with powdered wigs. Dandyish suits in shades of candy pink. Leathers custom-designed for motorcycle rides. The upcoming fashion design exhibition at the Los Angeles County Museum of Art has these -- and many other styles -- covered.
"Reigning Men: Fashion in Menswear, 1715-2015" is a tour through three centuries of Western men's fashions, drawn primarily from LACMA's holdings. (The museum acquired an important collection of European clothing in 2009 that provided a number of the ensembles on view.)
Rather than a chronological tour, the show skips back and forth through time, clustering fashions by theme — be it military influence or the ways in which Eastern design has influenced the dress of the West. (Hint: The humble Hawaiian shirt has Japanese roots.)
Getting pride of place right at the entrance to the exhibition is the museum's newly acquired zoot suit — which the museum won at auction after more than a decade of searching. (Though the suit hails from New Jersey, it is a style that resonates in L.A., where the Zoot Suit Riots of the 1940s put the garment in the news.)
From here, the exhibition travels through several centuries of men's fashion — through styles favored by dandies, punks, the landed gentry, revolutionaries, athletes, military men and everyday Dapper Dans. There's naughty stuff too — like a barely there 1997 Gucci thong swimsuit, as well as an explanatory video that gets into codpieces and "lift" technology.
Although the exhibition is compelling, there are clearly still gaps in the collection. In its final gallery, devoted to glitzier examples of men's fashion, LACMA could have used a traje de charro — the glittering Mexican cowboy ensembles often identified with mariachi music in the U.S. The outfits, which at their most refined feature silver embroidery and silver buttons along the pant seam, are a ubiquitous part of the culture. (They are also unbearably sexy on the right dude.)
Two years ago, Mexico's Olympic skier had a skiing suit made to resemble a traje de charro. And high-design stalwarts such as Saint Laurent have nodded to the design in recent years, with a pair of buckle-studded jeans that evoke the charro pant.
But that could be its own show — one that also features that other great Mexican contribution to international fashion: the pointy tribalera boot.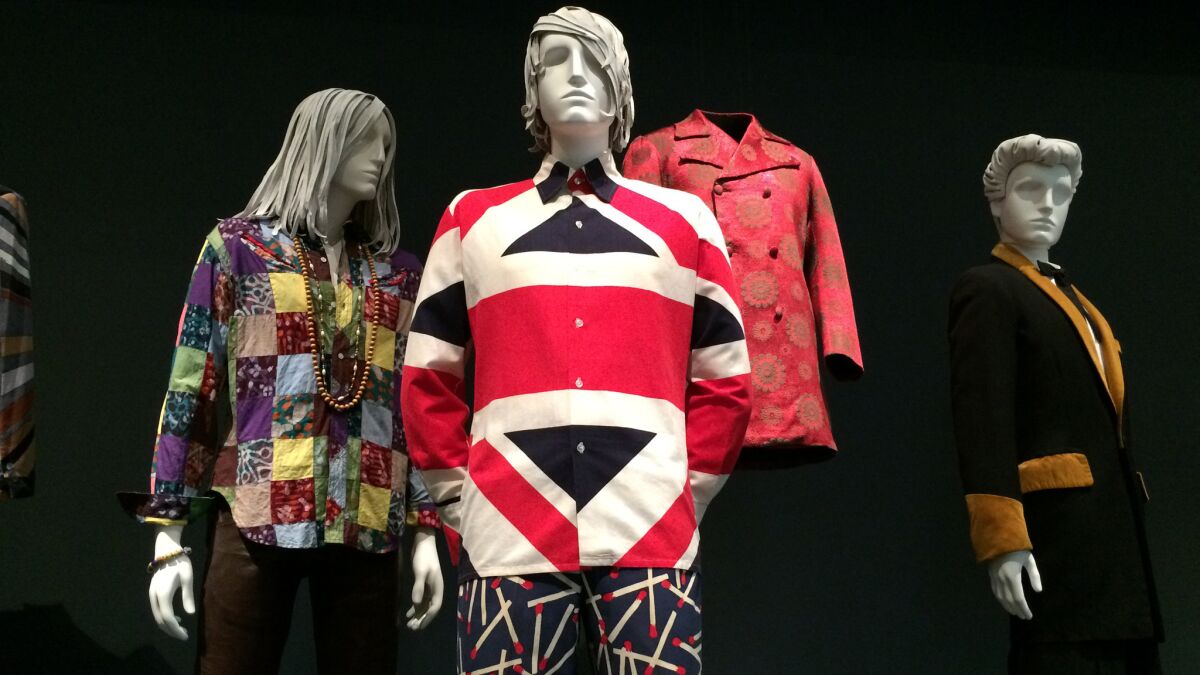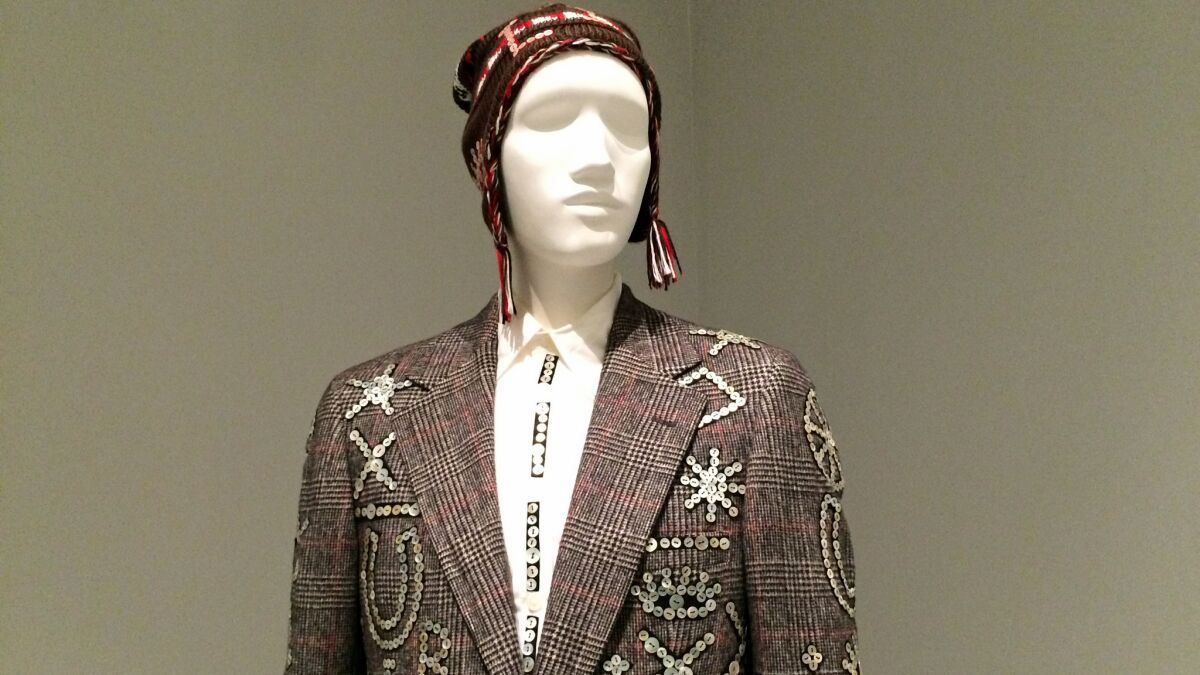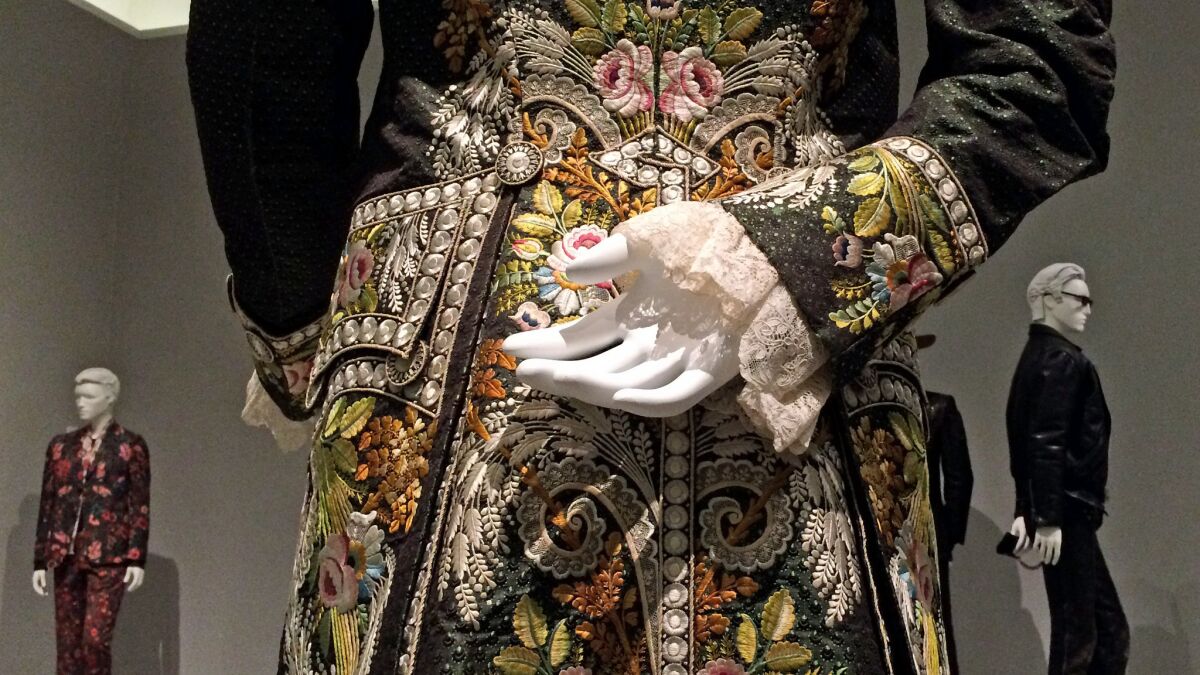 "Reigning Men: Fashion in Menswear, 1715-2015" opens Sunday and runs through Aug. 25 at the L.A. County Museum of Art, 5905 Wilshire Blvd., Los Angeles, lacma.org.
Find me on Twitter @cmonstah.
Get our L.A. Goes Out newsletter, with the week's best events, to help you explore and experience our city.
You may occasionally receive promotional content from the Los Angeles Times.