Object Lesson: A lowrider piñata inspired by a famous car bounces into the Petersen Automotive Museum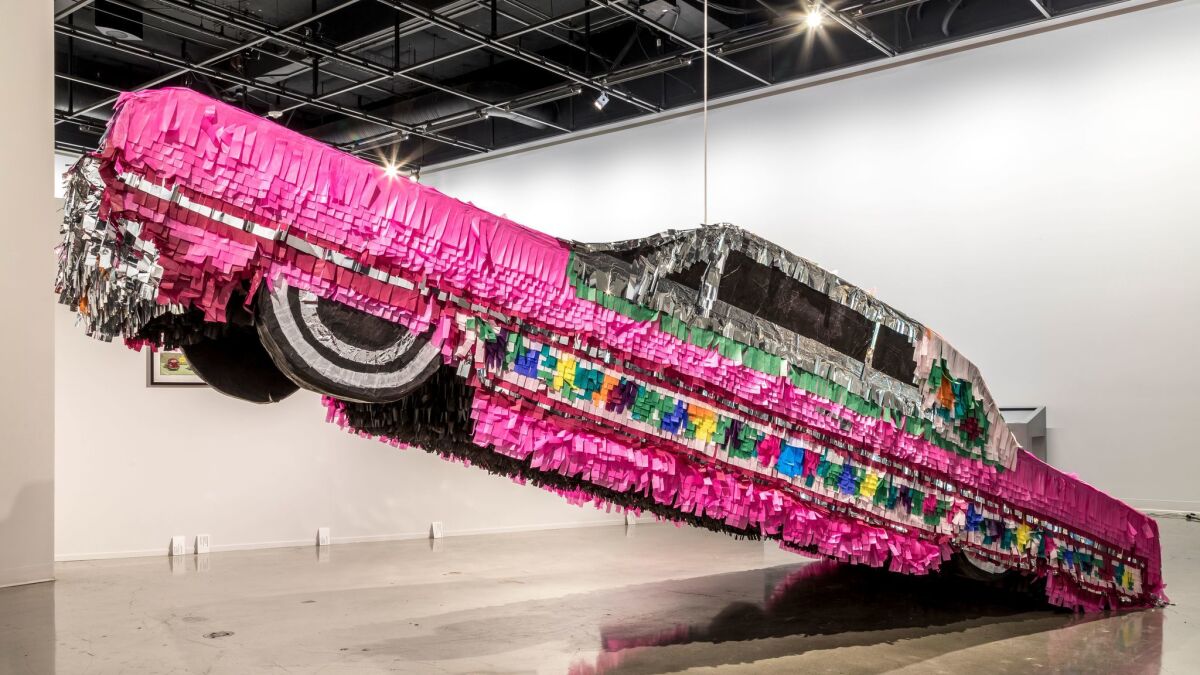 Enter the first-floor galleries of the Petersen Automotive Museum in Los Angeles and you will be greeted by the sight of a bouncing pink lowrider. Its flanks bear a floral design. The tires, in true form, are whitewalls. And the bumper is the color of bright shining chrome. Except it could never win any car show.
That's because this lowrider isn't a car. It's a massive piñata built to lowrider scale by the Las Vegas artist Justin Favela.
For the record:
7:50 p.m. Dec. 9, 2022This story describes a group show at the Denver Art Museum as being titled "Mi Tierra: Contemporary Artists Explore Space." The correct title is "Mi Tierra: Contemporary Artists Explore Place."
"Gypsy Rose Piñata," as the work is titled, is on view at the Petersen as part of the new group exhibition "The High Art of Riding Low: Ranflas, Corazón e Inspiración," a survey of lowrider culture and the art it inspires. Organized by independent curator and cultural historian Denise Sandoval, the show brings together a mix of real-deal lowriders with works of photography, painting and sculpture inspired by Chicano car culture.
This includes the painted 1950 Chevrolet sedan that once belonged to painter Gilbert "Magú" Luján, photography by Estevan Oriol, a sculptural piece by former Los Four member Frank Romero and a Day of the Dead-inspired Chevy decorated by Artemio Rodriguez and John Jota Leaños. Then there's Favela's resplendent piñata.
"A lot of people don't take piñatas seriously," says Favela by telephone from Miami, where he is in the midst of an artist residency. "People see piñatas as craft or artisanal work. But I like the idea of elevating that material, of skewing the perception."
Favela has used the materials of piñata-making in many forms. He has created wall pieces inspired by the iconic landscapes of 19th century Mexican painter José María Velasco and he once covered a motel in Las Vegas from top to bottom in bright tissue paper.
Currently, he has a piñata-inspired installation on view at the Denver Art Museum, in the group exhibition "Mi Tierra: Contemporary Artists Explore Space," which explores the ways in which Velasco, along with painter Frida Kahlo, have helped cement notions of Mexican identity.
Favela, who is half Mexican and half Guatemalan, says he is intrigued by the symbols of Mexican and Latino identity. (A topic he also covers as a host of the podcast "Latinos Who Lunch.")
"The piñata is a symbol of mexicanidad," explains the artist, "but it's been co-opted so much and appropriated. It's an American thing too."
"Gypsy Rose Piñata" was inspired by another work on view at the Petersen: the Gypsy Rose, a tricked-out 1964 Chevy Impala that features an ornate floral motif and velvety pink interior decorated with sconces.
Crafted by the late Jesse Valadez, who once served as president of the Imperials Car Club, the Gypsy Rose is a legend. It appeared in the opening credits of the 1970s TV show "Chico and the Man" and in the 1979 drama "Boulevard Nights." The pioneering lowrider has even been displayed on the National Mall in Washington, D.C.
It's not the first time that Favela has made a scale lowrider out of piñata materials. (That'd be the lime green lowrider he created as part of an installation at the Crystal Bridges Museum of American Art in Arkansas in 2014.) But it's the first time he has re-created an iconic vehicle like the Gypsy Rose.
"I like the idea of the lowrider as a symbol," Favela says. "The car is such an important part of history here in the United States. It's a symbol of American progress. And the lowrider is a way that our community was able to take something so American and make it our own."
Plus, he likes the idea of rendering powerful objects in cheap tissue paper.
"The lowrider, it's always perceived as this very masculine thing and I like to play with that," says Favela. "It is hyper masculine. But in this case, it's also feminine, because of paper and craft."
But, he adds, "it's also about visibility and inclusion."
"I live for those moments when a little brown kid walks into a museum and recognizes it as their own," he says. "In order to be something, you have to be able to see it."
There is, of course, one big difference between Favela's works and party piñatas. Favela's aren't meant to be smashed. But he wouldn't mind selling "Gypsy Rose Piñata," he says: "So I can make more lowriders."
---
"The High Art of Riding Low: Ranflas, Corazón e Inspiración"
Where: Petersen Automotive Museum, 6060 Wilshire Blvd., Mid-Wilshire, Los Angeles
When: Through June 3, 2018
Info: petersen.org
Sign up for our weekly Essential Arts & Culture newsletter »
ALSO:
With 'Lowriders,' peek into East L.A.'s custom-car culture
While no one was looking, East L.A. got transplanted to Brazil — lowriders, taco trucks and all
Look what happens when you interview artist and Instagram sensation Guadalupe Rosales via text image
Inside Alejandro Iñárritu's VR border drama at LACMA: What you will see and why you might cry
---
Get our L.A. Goes Out newsletter, with the week's best events, to help you explore and experience our city.
You may occasionally receive promotional content from the Los Angeles Times.