We found the guerrilla artists who snuck a mermaid on the westbound 10 Freeway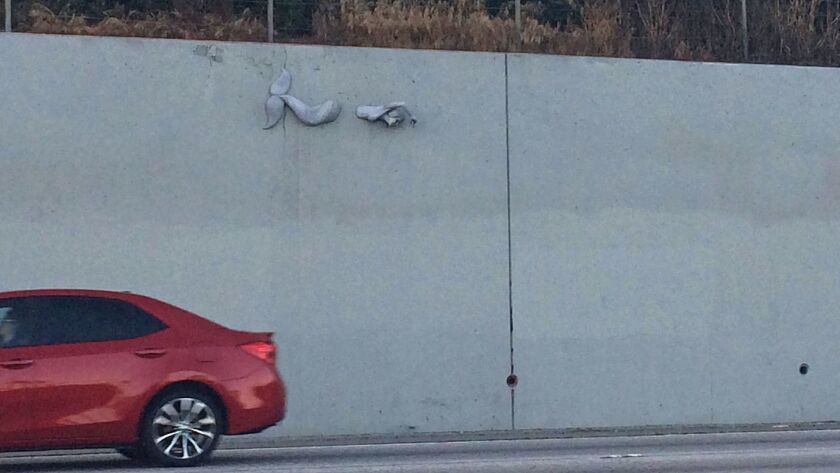 The first time I saw her, I wasn't sure if it was a figment of my imagination: a lone mermaid, casually swimming along a retaining wall on the 10 Freeway. But over the last several months, I have come to expect the sight of her on the Westbound 10 in the vicinity of Cheviot Hills — a surreptitiously installed sculpture of a half-human siren beckoning us out of our cars and into cool water.
The mermaid (she has no official title) turns out to be the work of a street art collective known as Bohemia Incorporated. For a couple of years, the group has been illicitly installing three-dimensional sculptures around Los Angeles — in the dead public spaces at freeway intersections and on freeway retaining walls.
Some last for hours (such as one that featured a paint brush and the phrase "Don't worry I pay taxes"), others run for months (such as the sculpture of a woman taking a selfie on the 5 Freeway in Silver Lake). But the mermaid has been in place for more than two years.
"CalTrans seems to like it," says one of the members of the two-man team, who asked to remain anonymous because adhering sculptures to freeway walls could be considered vandalism. "They buff that wall regularly and the mermaid is always left untouched. We are grateful to them for that."
It's not the only piece of three-dimensional sculpture that has surreptitiously popped up along a Los Angeles freeway. Last year, I wrote about artist Droyce, who installed his name in the style of the Hollywood sign on the 101 Freeway in Boyle Heights. It ran for months, until winter storms knocked the letters down.
One of the artists for Bohemia Incorporated, also known as #binc, says the group's sculptures are generally made from Styrofoam, then painted to resemble concrete. And while the collective's members will sometimes spend days planning out a design, the artist says the whole concept of a mermaid was a bit of a happy accident.
"There's no good answer for why we did a mermaid," he says. "We used a lot of scraps for that one and sometimes you look at a scrap and that inspires the image."
But of the work the duo has done, it's been the mermaid, placidly swimming, that has most resonated with rush-hour drivers.
"We've gotten so much positive input on that one," he says. "We even had someone send us a picture of it from the back of a motorcycle. That was the best."
View more works by Bohemia Incorporated on its Instagram, @bohemiaincorporated.
Sign up for our weekly Essential Arts & Culture newsletter »
ALSO
How graffiti artist Droyce's trickster take on the Hollywood sign rethinks dead public space
See how graffiti artist Shamsia Hassani is giving Afghan women a voice despite the danger
Argentine slums and a Unabomber cabin: How 'Home' at LACMA rethinks ideas about Latin American art
---
Your essential guide to the arts in L.A.
Get Carolina A. Miranda's weekly newsletter for what's happening, plus openings, critics' picks and more.
You may occasionally receive promotional content from the Los Angeles Times.