After months of turmoil, Museum of Contemporary Art gets a new director with ties to New York's famed MoMA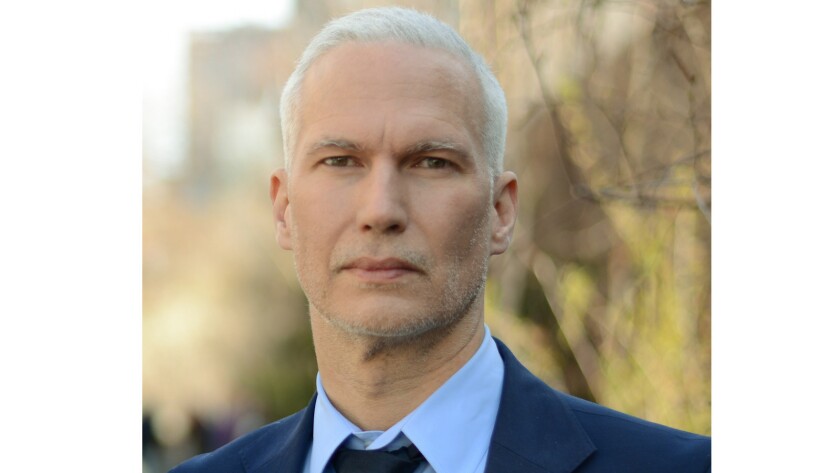 After months of turmoil, including the firing of its chief curator and the announced departure of its current director, the Museum of Contemporary Art in Los Angeles has chosen its next director: Klaus Biesenbach, chief curator at large at New York's Museum of Modern Art and director of its experimental satellite space, MoMA PS1.
"He's a total visionary," MOCA board president Maria Seferian said. "He's an incredible museum executive. He's innovative. He's done it all."
Some MOCA critics had hoped the museum would choose a director who reflected the racial diversity of the city or who addressed the under-representation of women in museum leadership nationwide. But the appointment of Biesenbach won praise from other quarters, including photographer Catherine Opie, who serves as one of MOCA's artist board members and was involved in the search and said she was "kicking my heels.
"He is really known for championing emerging artists and MOCA holds dearly to that as the artists' museum," Opie said. "That is something Klaus feels very strongly about as well."
The board reviewed nearly 40 candidates from an international pool before offering the job to Biesenbach. He won unanimous board approval Tuesday morning.
"I'm very excited," Biesenbach said by phone from New York. "I feel very honored and grateful."
In turning to an established figure in the New York and European art scene, the museum seems intent on sending the message that its recent period of internal disarray is now in the past.
Biesenbach brings an extensive resume as a curator. He is perhaps best known for curating a survey of Marina Abramovic's performance work at MoMA in 2010. He has also served as administrator in his role as chief of MoMA PS1, which though affiliated with MoMA functions as a separate entity with its own budget, its own development team and its own board (led by philanthropist Agnes Gund).
As director he helped to triple that institution's annual budget to $12 million, and two years ago he helped to launch fundraising for an endowment, which stands at $14 million. (MOCA's annual budget it $19 million, and its endowment stands at more than $130 million.)
"He will bring stability and a new vision," MOCA board co-chair Maurice Marciano said, "revamping programs, building the attendance, making it much stronger."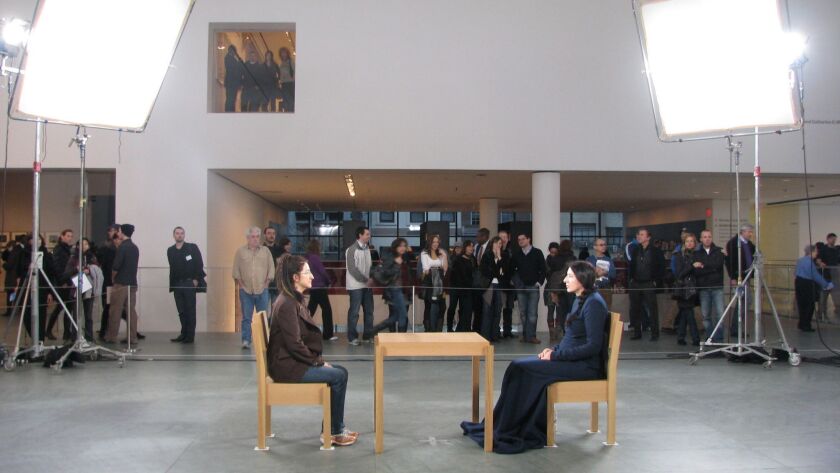 The announcement follows a season of tumult at the museum, including a canceled fundraising gala, the firing of chief curator Helen Molesworth and the abrupt announcement that director Philippe Vergne would not be renewing his contract.
In February, Los Angeles painter Lari Pittman announced his resignation from MOCA's board and described a fractious environment at the museum.
"What my resignation implies is an individual and personal vote of no confidence in the relationship between the board and the director and the director and the board, between the board and the curatorial team and between the directorship and the curatorial [team] — in other words, it's in every direction," Pittman told The Times. "It's a vision problem in what the board wants, what the director wants and what the curatorial team wants. Their visions are very different. I'm leaving because I don't see any current resolution given all the players."
Biesenbach said this was something he took under careful consideration.
"The first call came from Cathy Opie," he said. "I said, 'Perhaps it's not for me.' But I can be good in a situation where you create a conversation. So I came to L.A. with the wish to meet every single board member. They said, 'Nobody has ever done that.' But Cathy and Maria, they contacted everybody — so I met 37 of the board members.
"I said I would give them really honest feedback — that they may not want to talk to me anymore."
As he met with the team at MOCA, he grew increasingly invested in the process and the post.
"I felt like this was quite a unique opportunity," he said, adding that his training at MoMA PS1 had prepared him for what lies ahead.
"I owe a lot to [MoMA director] Glenn Lowry and Aggie Gund. They helped me and taught me how to build up."
In a short statement emailed to The Times, Lowry said that Biesenbach's "legacy of daring exhibitions, his commitment to artists, and his dedication to civic engagement, leaves an enduring mark not only at MoMA PS1 and the Museum of Modern Art, but in the cultural life of New York City and beyond."
Biesenbach, 52, was born in West Germany and raised near Cologne. He got his start in the arts as the founder of Berlin's Kunst-Werke Institute for Contemporary Art, a contemporary exhibition space that occupied an abandoned margarine factory. He drew attention for experimental shows that featured an array of international artists such as Félix González-Torres and Yoko Ono displayed in unusual locations, such as an attic and an outdoor toilet.
He freely mixed art forms: In addition to hosting visual and performance artists, KW also featured figures such as essayist Susan Sontag and fashion designer Hedi Slimane as residents.
Biesenbach said some of his earliest duties were purely administrative, such as having "70 tons of coal delivered to the building" so that they could heat it in winter.
In 1995, he landed at PS1 (prior to its affiliation with MoMA), where he worked as a curator part-time, dividing his focus between Berlin and New York. A little more than a decade later, he joined MoMA in a combined role at the flagship museum and MoMA PS1.
He expanded MoMA PS1's board of trustees to 30 members from 11. At the Queens space, he organized exhibitions by experimental figures such as filmmaker Kenneth Anger and new media artist Ryan Trecartin, as well the regular surveys, titled "Greater New York," that were devoted to showcasing emerging artists from across the city.
And at MoMA, he served as the founding curator of the museum's department of media, established in 2006 and focused on cross-disciplinary works and performance — at the time, the first new curatorial department at the museum since 1940.
He organized an installation of work by Swiss-born video artist Pipilotti Rist in 2008 titled "Pour Your Body Out (7354 Cubic Meters)," which transformed the museum's austere white atrium into an environment that channeled scenes of feminine fecundity. (New York Times art critic Karen Rosenberg described the installation as transforming the atrium into "an enchanted space.")
Critical reception for his work has been uneven. Biesenbach has certainly had hits, such as the Rist and Trecartin exhibitions at MoMA PS1. New York Times co-chief critic Roberta Smith described the latter as "game-changing," an exhibition that "reveals an immense but not fully developed talent that seems bound for greatness."
But Biesenbach has also had misses — at times critiqued for being overly reliant on spectacle. Smith has described the Abramovic retrospective as "cheesy" and "sideshowlike."
A 2015 survey of the work of singer and composer Björk that he organized for MoMA was widely drubbed by the critical press. The Atlantic described it as "slight on substance" and a critic at Artnet likened it to "a cross between a fashion show and a theme-park ride." In her review, Smith wrote that the exhibition "reeked of ambivalence."
But Seferian says that it was ultimately his qualifications as an administrator that made him an appealing choice for MOCA.
"He is coming to us as a very seasoned museum executive who has been a director for nearly 10 years and has a curatorial team that he relies on."
Gund highlighted Biesenbach's skills as an executive in her statement: "As a leader, he raised the level of institutional stability and collegiality, served as a catalyst for projects that embraced our diverse community and artists at all stages of their careers and created a vision for MoMA PS1 that will ensure future success."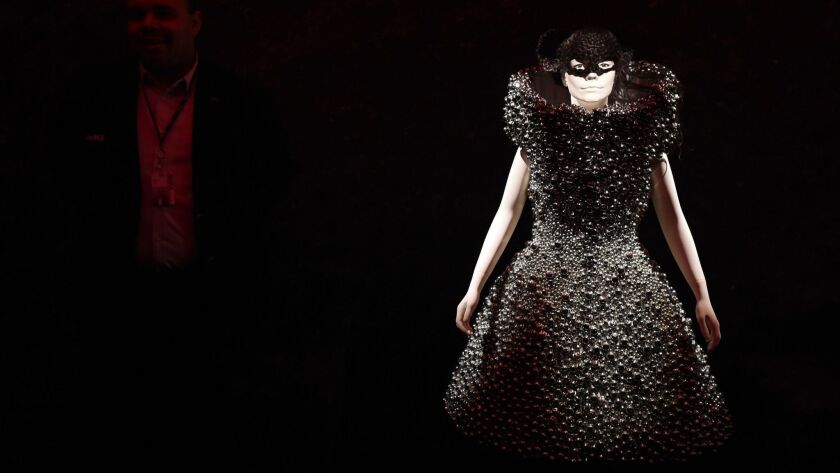 Biesenbach assumes the reins at MOCA at a critical moment.
In February, painter Mark Grotjahn, who sits on the MOCA board, declined to be honored at the museum's annual gala citing a historical lack of diversity among the gala's honorees. (Past recipients have included Ed Ruscha, John Baldessari and Jeff Koons.) "Since the day you extended your invitation to me, our country and the world have changed in ways that were difficult to anticipate," Grotjahn said in a note to the board of trustees. "There is a new urgency to change the power dynamic and we have an opportunity to do so."
The gala was subsequently canceled.
Just one month later, the museum fired chief curator Helen Molesworth, who had overseen two of the institution's most critically admired shows: retrospectives devoted to U.S. painter Kerry James Marshall and Brazilian conceptualist Anna Maria Maiolino. The move outraged many. Opie described it as "a terrible mistake."
This was followed, in May, by the announcement that the board would not be renewing director Vergne's five-year contract — after The Times reported that Vergne has put his L.A. house on sale.
All of this follows a decade of financial and leadership tumult at the museum.
For an institution that has been challenged over representation and diversity, the naming of yet another white male as leader is already raising eyebrows.
New York magazine critic Jerry Saltz noted on Twitter in the wake of the announcement: "One white European male leaves. Another enters."
Likewise, Sarah Douglas, editor in chief of ARTnews magazine, pointed out MOCA's track record: "directors of MOCA Los Angeles: Pontus Hultén: 2 years (founding director); Richard Koshalek: 19 years; Jeremy Strick: 9 years; Jeffrey Deitch: 3 years; Philippe Vergne: 4.5 years, Klaus Biesenbach just hired… All white men… Everyone will be watching…"
Seferian defended the selection. "Diversity is important to us," she said. "We had a diverse group of candidates. We care about it. But Klaus emerged as the top candidate, all things considered."
Biesenbach said he has been sensitive to the artists and regions that matter to Los Angeles, having curated a traveling exhibition of important Mexico City artists and having traveled to Korea, Japan and China to advise experimental art schools and art spaces.
"That was one of the points brought up in my board meeting," he said. "I was like, you live on the many cutting edges that are the most important points of discussion. One is climate change, because you have all these things happening. But you are on the Pacific Rim, and you have Asia and you have this incredible privilege of being so close to Mexico."
A formal start date for Biesenbach has not yet been set. Marciano said the museum is working to make it happen "as soon as possible."
"After his 23 years at MoMA, there is a lot to take care of," he said.
Vergne will remain at MOCA until Biesenbach lands in Los Angeles.
Said Opie: "Philippe is obviously going to be very available in terms of this transition."
ALSO
Mark Grotjahn declines a MOCA honor, and an art gala turns into a deeper discussion about inclusivity
MOCA director Philippe Vergne to depart
MOCA has lacked an effective director for nearly 20 years. It's time for change
carolina.miranda@latimes.com | Twitter: @cmonstah
---
UPDATES:
2:45 p.m. This article was updated to add details and to tighten language.
---
Your essential guide to the arts in L.A.
Get Carolina A. Miranda's weekly newsletter for what's happening, plus openings, critics' picks and more.
You may occasionally receive promotional content from the Los Angeles Times.