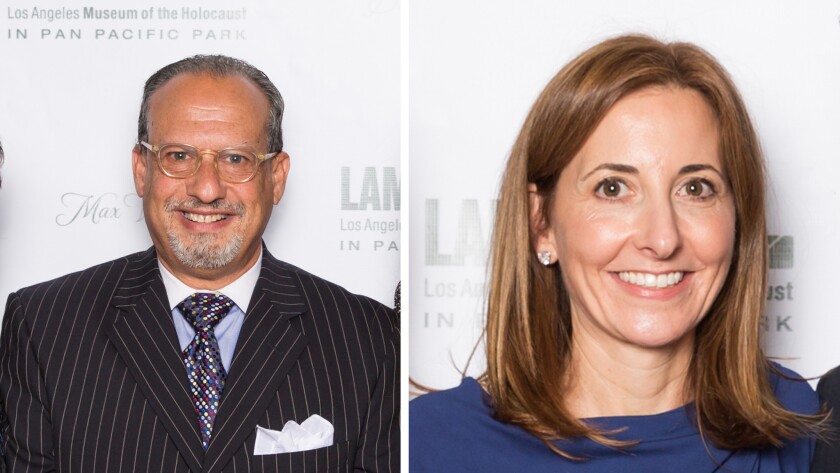 The Los Angeles Museum of the Holocaust announced a new executive team with interim director Beth Kean promoted to executive director, and board member Paul Nussbaum bumped up to board president and CEO. Both are descendants of Holocaust survivors.
Nussbaum says the team's first order of business will be to launch a strategic planning process to give the museum, which is at Pan Pacific Park in the Fairfax District, a broader national and international profile.
"We have to create a strategic plan that involves a national agenda and international joint ventures and partnerships," Nussbaum says. "Our plan can't just be about Los Angeles."
Nussbaum adds that the museum's mission — which includes educating the public about the history of the Holocaust through exhibitions and extensive public programming — has become more relevant than ever in the current political climate. Since the beginning of the year, incidents of anti-Semitism have been reported throughout the country, with dozens of Jewish community centers enduring bomb threats and vandals attacking Jewish cemeteries in St. Louis and Philadelphia.
"What we do, it's about promoting empathy and fighting intolerance," he says. "It's needed now more than ever."
Nussbaum, a banking executive, has been a member of the board since the fall of 2015. In the past, he has served in various leadership roles for other nonprofit organizations, including the Jewish Federation of Orange County, the Simon Wiesenthal Center, and the Museum of Tolerance.
Kean, whose background is also in finance, served as board treasurer for LAMOTH, as the museum is known, for a decade before taking on the role of interim executive director last fall.
The museum was founded in 1961 by a group of Holocaust survivors who pooled the objects they had — photographs, concentration camp uniforms and other objects — to memorialize their experiences during World War II.
LAMOTH already works with the National Holocaust Museum in Washington, D.C., and is currently in talks with Mémorial de la Shoah, the French Holocaust remembrance museum, to collaborate on exhibition programming. Nussbaum hopes to develop other ventures as well that will expand the museum's reach.
It's a mission he takes to heart.
"I am the son of two stateless, penniless refugees," he explains. "I have lived the American dream. My sons have lived the American dream. I benefited from the acceptance and tolerance of the American melting pot. I want others to benefit from it, too."
Sign up for our weekly Essential Arts & Culture newsletter »
---