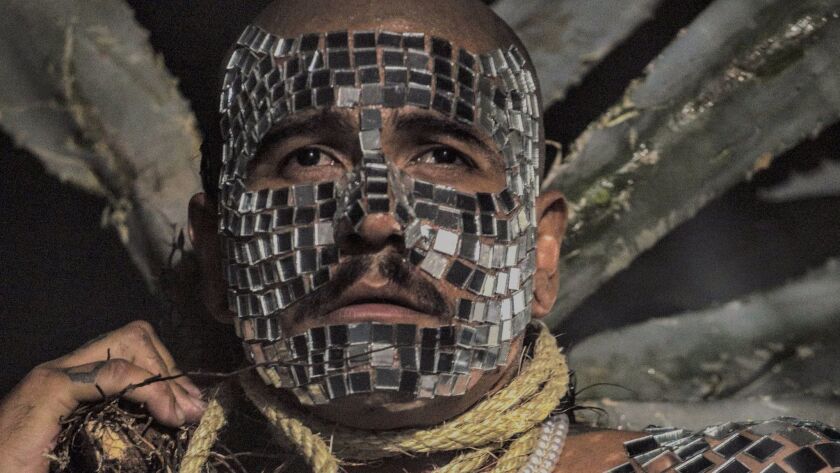 If 2017 has been the year for Latin American and U.S. Latino visual art in Los Angeles — courtesy of the exhibition series Pacific Standard Time: LA/LA — then 2018 should be the year of performance.
In January, more than 200 Latino and Latin American artists will stage more than 75 performance works around Los Angeles as part of the Pacific Standard Time Festival: Live Art LA/LA — organized by REDCAT, in collaboration with arts institutions around the city.
This will include a motorcycle performance on an artist-designed obstacle course created by L.A.-based artist Carmen Argote, a performance by the Mexico City collective Teatro Línea de Sombra that will connect the dots between protest actions of the 1960s and those taking place today, and the re-staging of 1970s happenings by Chilean artist Sylvia Palacios Whitman (whose work is featured in the Hammer Museum's PST: LA/LA show "Radical Women: Latin American Art, 1960-85").
"These are projects that cross boundaries between art forms: performance, dance, theater," says REDCAT Executive Director Mark Murphy. "Many of the Los Angeles artists are doing projects that take them in a new direction. And some of the international artists are either coming with their work to L.A. for the first time or are bringing work that is in a very different realm than what they've done previously."
The 11-day festival will not be the only Latino performance art in Los Angeles next year. In conjunction with PST: LA/LA, the Broad museum is launching a Latino feminist performance series, organized by artists Nao Bustamante and Xandra Ibarra, that will take place throughout 2018.
The series, titled "En Cuatro Patas (On All Fours)," will feature myriad works by artists based in Los Angeles and beyond. Among them is L.A.-based experimental vocalist Carmina Escobar, performing compositions that will play with the Broad's architectural design, as well as Uruguayan-born choreographer luciana achugar, whose work will explore pleasure and the feminine body.
Murphy says the festival will also challenge notions of what constitutes performance.
"There is this sense that it is for a small artsy crowd," he says. "But some of the artists involved in the project are doing work that involves community and encourages participation."
Among these will be two actions staged by Raul Baltazar titled "My Sereno," in which the artist will invite participants to join him in a procession through Ascot Hills Park, followed by a communal picnic.
Overall, the series provides an opportunity to become acquainted with artists both renowned and emerging.
Legendary Mexican performance artist Astrid Hadad will take to the stage at the Mayan theater for one of her outrageous, cabaret-style pieces, while rising Los Angeles artist Rafa Esparza (in collaboration with Sebastian Hernandez) will stage a three-part performance that will focus on bodies of water as areas of connection and healing. (The latter is being done under the auspices of the Museum of Contemporary Art Los Angeles.)
"It is a wide range of work beyond the norm for performance art," says Murphy. "And it will be held in a variety of neighborhoods. There is a piece in Griffith Park, there is one in El Pueblo de Los Angeles, there are downtown locations, as well as institutions like the Skirball Cultural Center and [the Los Angeles County Museum of Art.]"
When: Jan. 11-21, 2018
Where: REDCAT, 631 W. 2nd St., Los Angeles
Info: pacificstandardtime.org or redcat.org
When: Jan. 20, May 24, Oct. 11, Nov. 15, 2018
Where: The Broad, 221 S. Grand Ave., Los Angeles and other locations
Info: thebroad.org
Sign up for our weekly Essential Arts & Culture newsletter »
ALSO
How Mexico's súper rudas 'Radical Women' are rewriting the history of Latin American art
Hammer Museum's 'Radical Women' showcases Latina artists on the politics of the female body
Firecrackers, a striptease scandal and more moments of change from the Hammer's 'Radical Women'
In a heated political moment, the ambitious Latino art series Pacific Standard Time: LA/LA opens
---