Sculpture of a gallows by L.A. artist in Minneapolis may be removed after Native American outcry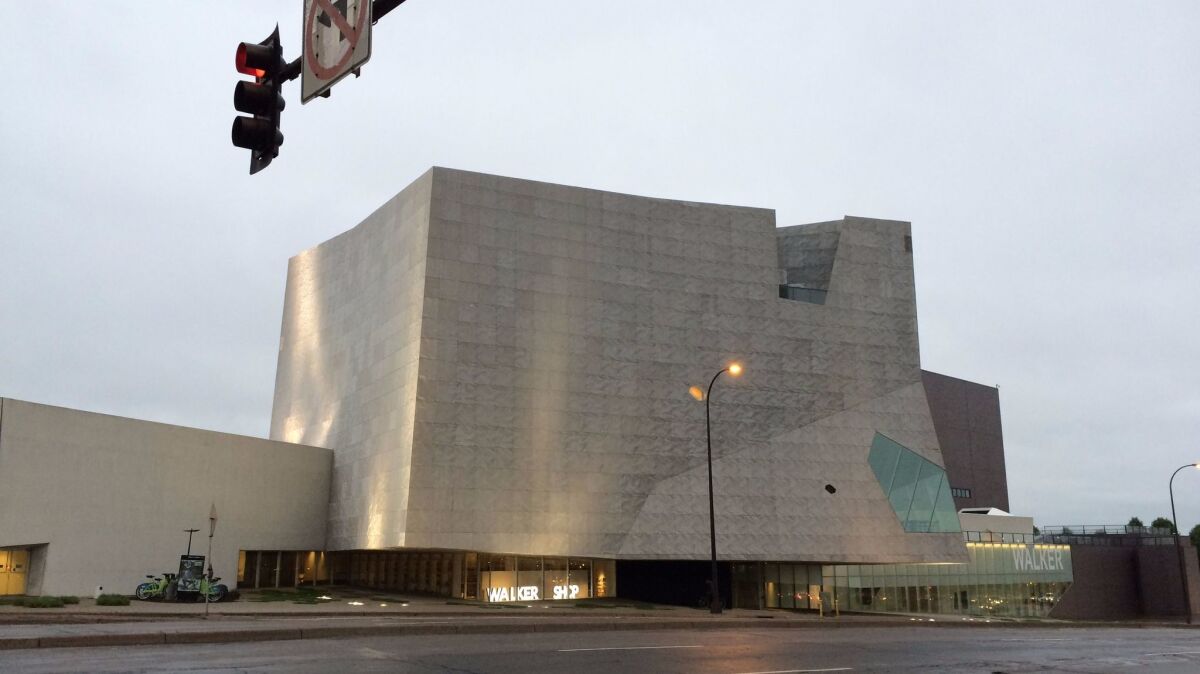 A sculpture of a gallows by Los Angeles artist Sam Durant will likely be removed from the sculpture garden at the Walker Art Center in Minneapolis after generating protests among local Native American communities.
The piece, titled "Scaffold" — previously erected in 2012 at Kassel, Germany's dOCUMENTA exhibition held every five years and in 2014 at Scotland's Jupiter Artland — was set to debut in the Walker's sculpture garden next week. The two-story high structure is a composite of various gallows used in prominent government executions, including that of 38 Dakota Indians in Mankato, Minn., during the U.S.-Dakota War of 1862. It was the largest mass execution in U.S. history.
On Saturday, Walker Art Center Executive Director Olga Viso posted a statement to social media that said, "The best way to move forward is to have 'Scaffold' dismantled in some manner and to listen and learn from the Elders."
"Prompted by the outpouring of community feedback, the artist Sam Durant is open to many outcomes including the removal of the sculpture," she wrote. "He has told me, 'It's just wood and metal — nothing compared to the lives and histories of the Dakota people.' "
She also announced a meeting with Dakota elders, to be held on Wednesday, in which it will be determined how exactly to proceed.
Protesters said the sculpture trivialized the deaths of their ancestors.
"We have to realize that 1862 was not that long ago," Sasha Houston Brown, who is Dakota, told Alicia Eler of the Minneapolis Star Tribune at a protest on Friday. "I think it should publicly be taken down so we can see it come down. It's really traumatizing for our people to look at that and have it just appear without any warning or idea that they were doing this. And it's not art to us."
When the museum's statement about dismantling the piece was announced Saturday, the news was welcomed by protesters.
Graci Horne is an artist who is Sisseton Wahpeton Dakota and Hunkpapa Dakota whose ancestor was killed in 1862. "It's a small victory," she told the Star Tribune. "It happened so fast. We were prepared to be in a marathon with this."
Durant could not be reached for comment, but in a lengthy written statement released Monday, he noted that the intent of his sculpture, which combines scaffolds used in the executions of the 38 Dakota, as well as figures such as abolitionist John Brown and former Iraqi leader Saddam Hussein, was to examine "the racial dimension of the criminal justice system in the United States, ranging from lynchings to mass incarceration to capital punishment."
"In bringing these troubled and complex histories of national importance to the fore, it was my intention not to cause pain or suffering, but to speak against the continued marginalization of these stories and peoples, and to build awareness around their significance."
"Scaffold" is not the first time Durant has engaged aspects of struggle and violence in U.S. history in his work.
Three years ago, his large-scale installation "Proposal for White and Indian Dead Monument Transpositions, Washington, D.C.," from 2005, was shown at the Los Angeles County Museum of Art. The piece examined the ways in which the dead of the so-called Indian wars — both Native Americans and white settlers — have been memorialized.
A recent exhibition at Blum & Poe, the gallery that represents Durant in Culver City, was partly inspired by the history of slavery in the pre-Revolution U.S. The artist's wall piece "End White Supremacy," from 2008, is currently on view in the courtyard of the Hammer Museum in Westwood.
In his statement regarding "Scaffold," Durant notes, "I made 'Scaffold' as a learning space for people like me, white people who have not suffered the effects of a white supremacist society and who may not consciously know that it exists … However, your protests have shown me that I made a grave miscalculation in how my work can be received by those in a particular community."
In the meantime, the reopening of the museum's sculpture garden, which had been scheduled for Saturday, has now been delayed until June 10.
Sign up for our weekly Essential Arts & Culture newsletter »
ALSO:
Jimmie Durham's art throws some well-aimed stones
How Kulapat Yantrasast, the architect behind the Marciano Art Foundation, is bringing a bold openness to museum design
Meet Robin Bell, the artist who projected protest messages onto Trump's D.C. hotel
Aliens, abstraction and Thomas Kinkade: An L.A. exhibition summons the spiritual and the fantastical
---
UPDATES:
May 30, 10 a.m.: This post has been updated with additional information about community meetings and a statement from the artist.
This post was first published on May 27 at 6:50 p.m.
---
Get our L.A. Goes Out newsletter, with the week's best events, to help you explore and experience our city.
You may occasionally receive promotional content from the Los Angeles Times.