'Roma's' Yalitza Aparicio on her historic Oscar nod: 'He reflected us, indigenous people'
Before the nominations for the 2019 Academy Awards were announced early Tuesday morning, Yalitza Aparicio says she'd been hopeful that "Roma" might be able to secure a nod or two. Though her portrayal of a Mexico City domestic worker in Alfonso Cuarón's family drama has earned her wide critical acclaim — The Times' Kenneth Turan described her performance as "luminous" — she had been passed over by the Golden Globes when those nominations were announced in December.
So she was quite surprised to log on to the internet on Tuesday morning to discover that she'd scored a nomination for actress in a leading role.

For the record:
3:30 p.m. Jan. 22, 2019An earlier version of this story reported that Aparicio received news of her nomination via telephone. She watched it online as it happened.
"I was just hoping that we would get nominated for best picture," she tells The Times via telephone from Mexico. "I didn't expect it. It was such a surprise."
Aparicio sounds a little shell-shocked, with an inflection of is-this-really-happening in her voice.
"I wasn't expecting this. I just didn't see it coming."
A video posted afterwards to her Instagram account shows her with friends in a hotel room, getting teary in response to the news.
Oscar Nominations 2019: See the full list of Academy Award nominees
"He reflected us, indigenous people ... It shows the rest of the world that there is great diversity in Mexico.
— Yalitza Aparicio
The nomination represents several milestones. It has not only given streaming giant Netflix its first best picture nomination, Aparicio is only the second Mexican actress and the first indigenous woman to be nominated in the lead actress category.
The film has also unleashed difficult debates about issues of race and class throughout Mexico — debates that will likely pick up steam as a result of Aparicio's nomination.
The story of "Roma" centers on Cleo, a young Mixtec woman who serves a white, middle-class family in Mexico City, and has to quietly contend with profound personal pain as that family splinters around her. In other words: it's the exact opposite of that other high-profile Mexican Netflix offering, "Made in Mexico," about a crew of spoiled, young, fair-skinned fresas — rich kids — gallivanting around Mexico City.
Aparicio's role has catapulted her onto red carpets and glitzy screenings, landing an indigenous face on style blogs and the cover of prominent magazines such as Vogue Mexico — all this in a country where the standard of beauty still leans inexorably to the European.
"He reflected us, indigenous people," Aparicio says of Cuaron's film. "This has allowed people to reflect on what exists in our environment and it shows other faces in film. It shows the rest of the world that there is great diversity in Mexico."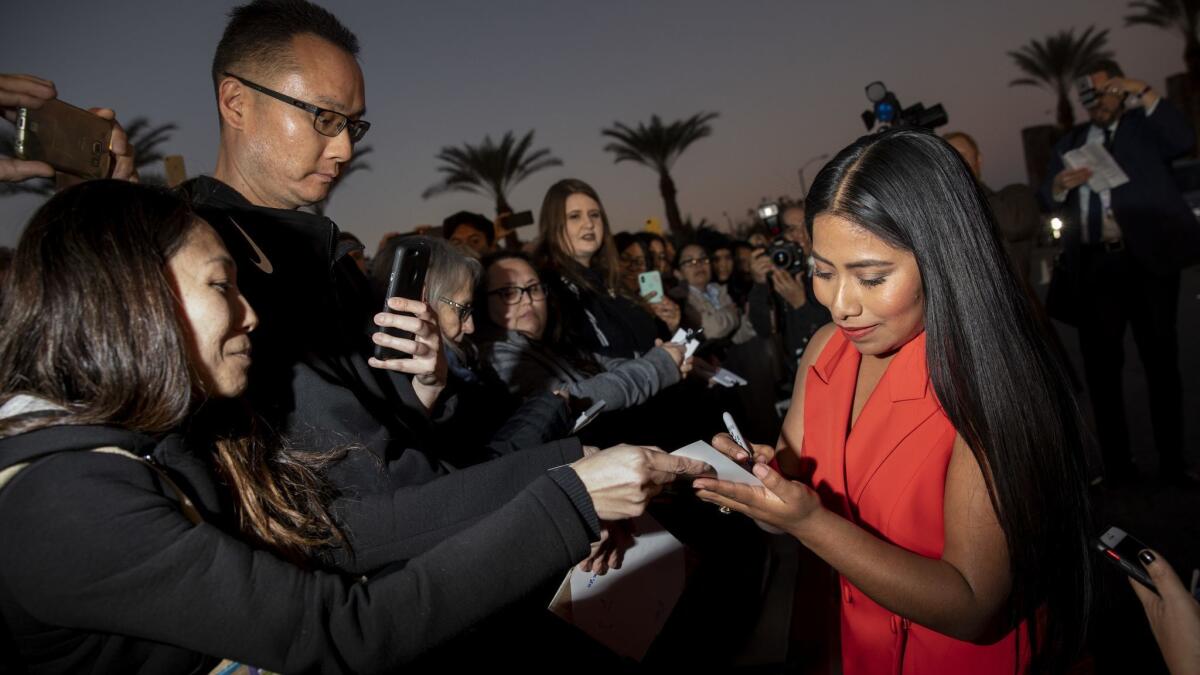 RELATED: Yalitza Aparicio becomes first Indigenous best actress Oscar nominee
The film has also changed her life. Aparicio had just received her teaching credential when, on a lark, she decided to attend a casting call in her home town of Tlaxiaco. The ensuing journey — to actress, to star, to Oscar nominee — is still sinking in.
"In this process, I have tried to live it as I am — I have stayed the same," she says. "I've never forgotten where I am from because it's that that has brought me to where I am."
That doesn't mean she doesn't appreciate the encouragement. After receiving news of the nomination, she called her mother, who had once worked as a domestic worker.
"She said she was so happy. She was congratulating me," says Aparicio. "She was telling me, 'Hay que echarle ganas para lo que venga.' "
Give it your all, her mom told her. And see what comes.
ALSO
'Roma's' Alfonso Cuarón shows us the Mexico City streets that shaped his Oscar-nominated film
Alfonso Cuarón delves into his childhood for 'Roma' and already talk turns to Oscars
The film 'Roma' stirs audience in director's hometown, Mexico City
Let 'Roma' start a conversation about the household workers we employ
Sign up for our weekly Essential Arts & Culture newsletter »
carolina.miranda@latimes.com | Twitter: @cmonstah
Get our L.A. Goes Out newsletter, with the week's best events, to help you explore and experience our city.
You may occasionally receive promotional content from the Los Angeles Times.