The film 'Roma' stirs audience in director's hometown, Mexico City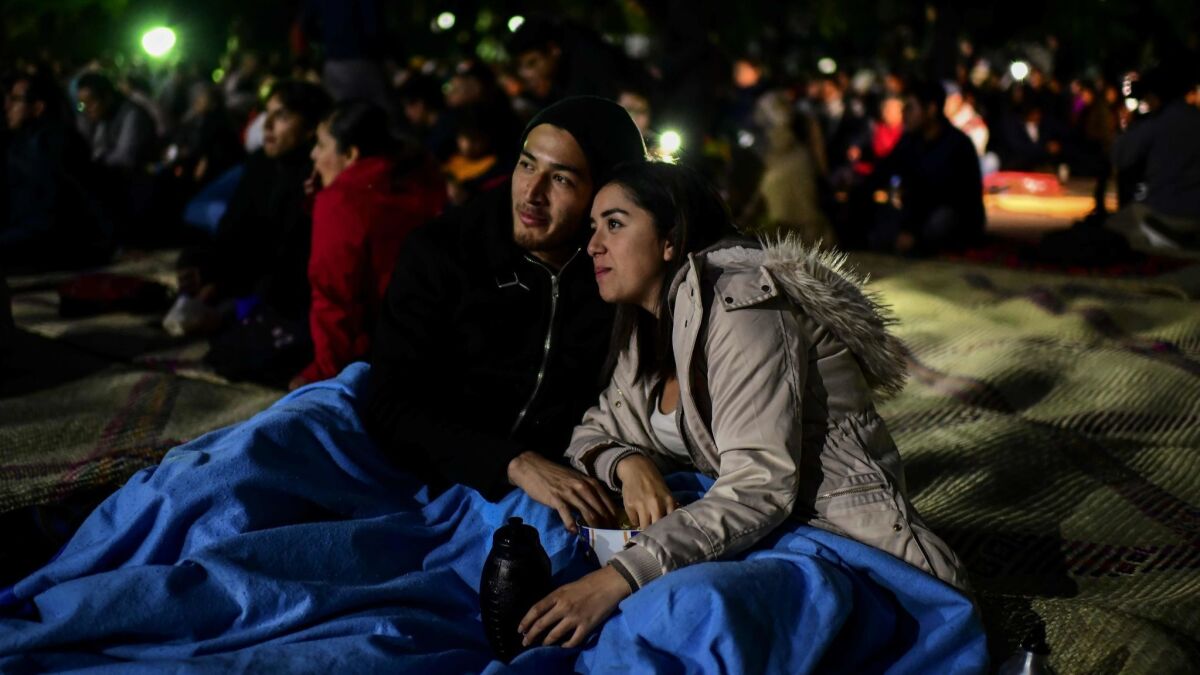 Reporting from Mexico City —
They lined up for hours in the woody grounds of the former presidential compound to see a movie — not just any film — but "Roma," Alfonso Cuaron's autobiographical reverie, named after the shabby-chic Mexico City neighborhood where the director was reared.
With some breathless reviewers already declaring it a "masterpiece," the cache of prizes expanding and the inevitable Oscar chatter growing, "Roma" has become a kind of cultural touchstone here even before most people had the chance to view Cuaron's meditation on 1970s Mexico City.
A dispute between big Mexican theater distributors and the Netflix streaming service limited release in Mexico, though the movie finally debuted Friday on Netflix.
A free showing on a big screen in Los Pinos, the former presidential residence, attracted a large and diverse crowd — from backpack-toting film aficionados to curious families and elderly couples.
"I haven't been able to see Cuaron's picture; it has been very frustrating," said Laura Quiroz, 21, a film student who was near the front of a line that snaked for the equivalent of about six blocks through the winding woodlands of Los Pinos. "That's why I came early, to be among the first and be sure to have a place."
Some 3,500 viewers sat contentedly on straw mats on a lawn that was formerly a presidential heliport, eating complimentary popcorn and sipping non-alcoholic punch, also provided gratis.
The film and its underlying themes of class and race, political and familial upheaval — dramatized though episodes in the life of a middle-class Mexico City family and their housekeeper — come as Mexico may be undergoing a hinge moment.
Newly elected President Andres Manuel Lopez Obrador, the country's first avowed leftist chief executive since the tumultuous 1970s, has greatly raised expectations with his vows of "transformation" and "regime change" after decades of desultory leadership.
The venue of the showing Thursday evening, Los Pinos, was charged with symbolism. The new president has eschewed the lush compound as too opulent and "haunted," turning it into a cultural center — a breakaway success, attracting tens of thousands of visitors to the long inaccessible estate.
"I came early with my two daughters after they finished school to have a look at Los Pinos, and we decided to stay for the film," said Maria de la Rosa Aguirre, 56, a housewife. "What luxury there is here," she added, echoing the sentiments of many viewing for the first time the long-shuttered grounds.
While he resides in London, Cuaron — the first Mexican movie-maker to win a best director Oscar, in 2014, for "Gravity" — counts among a Mexican film elite with Hollywood cache whose members have been critics of past Mexican governments.
"Finally, Mexico is liberated," Cuaron wrote in a Twitter message Dec. 1, the day of Lopez Obrador's inauguration. "Mexico has suffered from corrupt, repressive and cowardly presidents."
Ironically, his nostalgia-infused contemplation of his hometown was screened in the very palatial grounds that Mexican presidents have called home for eight decades.
"It was a great experience to see the film here, in Los Pinos, in the open air," said Matias Robledo, a teacher. "The movie is a reflection of how we live in this country — the injustices, the abuses of power, the poverty."
Though "Roma" may be as melancholy and sentimental as an Irish pub ballad, and its glacial early pace frustrated some viewers, the black-and-white film has a transcendent visual beauty, and its many fine-grained moments of authenticity brought smiles of recognition. A man is shot from a cannon at a neighborhood carnival on muddy street; kids gather up ice during one of the capital's periodic hail storms; brass bands march down streets where clunky American sedans and Volkswagen Beetles are parked.
The politics are subtle. Cuaron strives to avoid lefty preachiness — even when depicting a notorious instance of Mexican government repression of student protesters in June 1971, an episode known as El Halconazo, after a feared paramilitary squad, los halcones, or the hawks.
"I witnessed myself in my youth how the government attacked the students," said Rogelio Ortega, 60, a retiree who lived many years in Colonia Roma during the era depicted in the film and was in Los Pinos. "It brought it all back for me."
A dramatized moment of a brief earthquake at a hospital — debris cascades down on an infants' ward — brought collective shudders to an audience all too familiar with that singular sense of terror.
The movie revolves around a central protagonist: Cleo, the family's live-in maid, nanny, chief hugger and nurturer, said to be modeled on a housekeeper in the young Cuaron's family.
Cleo is an ethnic Mixtec woman from southern Oaxaca state working for a white family whose members clearly cherish her deeply, despite the social chasm inherent in the relationship. The film was set a generation ago, but the Mexican version of the Upstairs Downstairs-style class conflict remains very contemporary here.
"It shows the inequalities here in Mexico, the poverty that forces people to leave their towns, come to the cities and suffer discrimination," said Fatima Rodriguez, 36, a lawyer who saw the film at Los Pinos. "Hopefully this will bring new sensitivity to the way people treat their [domestic] workers."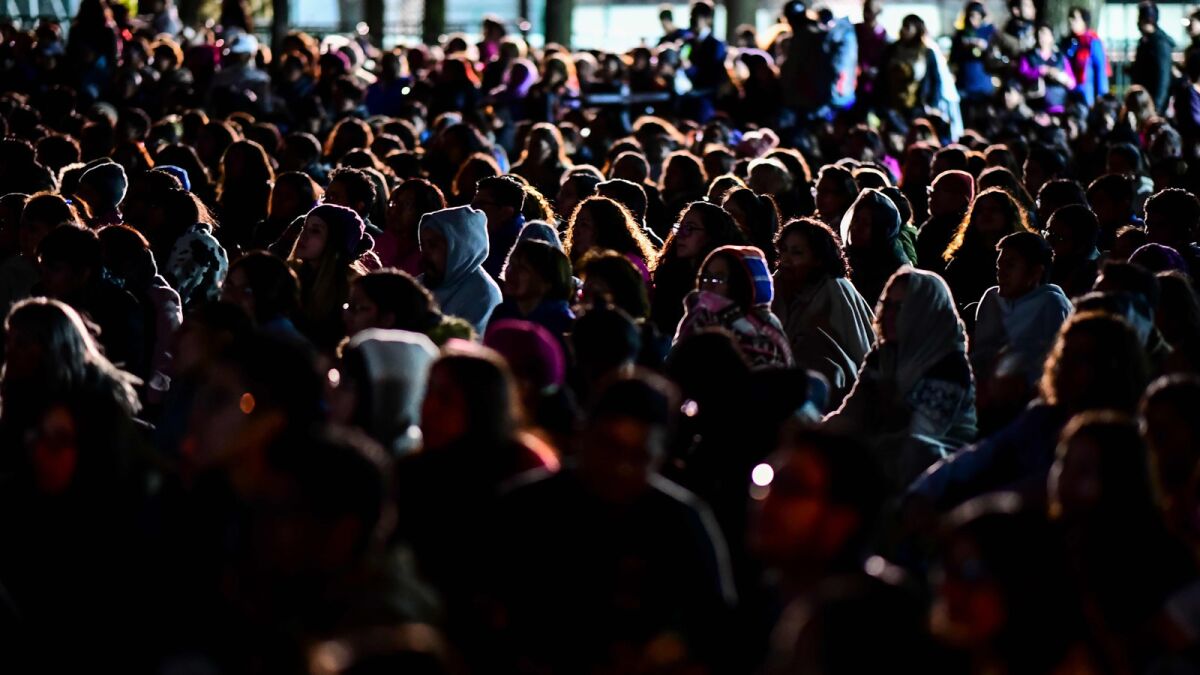 Yalitza Aparicio, the breakout novice actress who played Cleo as part of an ensemble cast, has been vaunted improbably into the dizzying part of A-list celebrity — "perhaps the screen discovery of 2018," according to the New York Times. Her looks and slight stature may be a radical departure from starlet central casting, but the former pre-school teacher trainee from Oaxaca with no previous acting experience recently posed in designer garb for Vanity Fair — a display that drew both blatantly racist put-downs on Mexican social media and declarations of support.
Aparicio, fresh from spending her 25th birthday at Disneyland, showed up at the Los Pinos screening, later urging compatriots to share "Roma" in homes and theaters as part of a Cuaron-backed social media campaign, #Romaton.
"How incredible to see so many people united to share this with us!" the actress gushed on Instagram.
The male characters in "Roma" are mostly problematic, one-dimensional cutouts. A father walks out on his family. A boyfriend is a thuggish hothead who angrily denies paternity of a woman's child. Those portrayals too resonated with many.
"The movie made me very sad because I am a single mother and the father of my children never did anything for me and my children," said Maria de los Angeles Cruz, 42, a restaurant worker among the multitudes at Los Pinos. "It showed how we women always suffer."
But the general consensus seemed to be more on the upbeat side.
"I want my mom to see the movie," said Rosalinda Ramirez, 24, a student and waitress whose own mother was a domestic worker for years. "I'm sure this will touch her very deeply."
McDonnell is the Times' Mexico City bureau chief and Sanchez, a special correspondent in the bureau.
Twitter: @PmcdonnellLAT
Twitter: @PmcdonnellLAT
Must-read stories from the L.A. Times
Get the day's top news with our Today's Headlines newsletter, sent every weekday morning.
You may occasionally receive promotional content from the Los Angeles Times.