Yalitza Aparicio becomes first indigenous Mexican best actress Oscar nominee
Nancy Garcia, Marina de Tavira and Yalitza Aparicio discuss working with Alfonso Cuarón on Netflix's "Roma," which won the top prize at the 2018 Venice Film Festival and is generating major awards season buzz.
Newcomer Yalitza Aparicio was nominated for her first Oscar on Tuesday morning for her performance as a domestic worker in Alfonso Cuarón's "Roma." The 25-year-old aspiring preschool teacher was also nominated for a Critics Choice award for the role but had been overlooked by key Oscar precursors the Golden Globes, SAG Awards and BAFTAs.
"Roma," produced by Participant Films and released by Netflix, has won more major awards this season than any other movie. It was nominated for 10 Academy Awards on Tuesday morning: best picture, foreign language film, director, lead actress and supporting actress, original screenplay, sound mixing, sound editing, production design and cinematography.
With her nomination, Aparicio becomes the first indigenous woman from the Americas to be nominated for lead actress, and just the second Mexican actress to be recognized in that category. . Salma Hayek was the first for her role as the titular painter in 2002's "Frida." Keisha Castle-Hughes, who is of Maori descent, is the first indigenous woman to be nominated for best actress, for 2004's "Whale Rider."
The 25-year-old becomes the first actress since Quvenzhané Wallis in 2013 to be nominated in this category for her film debut. Yalitza Aparicio is also only the second Mexican actress to earn a nomination in this category, following Salma Hayek.
(Richard Shotwell / Invision / AP Photo)
Claiming her seventh Oscar nomination, and fourth in this category, Glenn Close has yet to take home the award. She already won a Golden Globe, her first for a movie performance, and is also nominated by SAG and BAFTA for her work, which initially premiered at the 2017 Toronto International Film Festival.
(Michael Nagle / For The Times)
A Golden Globe winner this year, British actress Olivia Colman collects her first Oscar nomination as Britain's Queen Anne. Also nominated by SAG and BAFTA, Colman is currently working on another regal project, assuming the leading role in the next season of Netflix's "The Crown."
(Frazer Harrison / Getty Images)
Previously nominated for an Oscar in the original song category in 2016 for "Til It Happens to You" from the documentary "The Hunting Ground," superstar singer Lady Gaga earns her first acting nomination thanks to the blockbuster drama "A Star Is Born."
(Jay L. Clendenin / Los Angeles Times)
Earning her second nomination and first in this category, Melissa McCarthy was previously nominated for the comedy hit "Bridesmaids" in 2012. Her current dramatic turn also picked up nominations for a Golden Globe, BAFTA and SAG award.
(Kirk McKoy / Los Angeles Times)
With three previous nominations (and one win, for 2010's "The Fighter" in the supporting category), Christian Bale has been invited back to the Oscars for his transformative turn as former Vice President Dick Cheney. He won a Golden Globe for the part, and he's also been nominated by SAG and BAFTA.
(Jay L. Clendenin / Los Angeles Times)
This is Bradley Cooper's fourth acting nomination, and third in this category. His performance also earned nominations for a Golden Globe, BAFTA and SAG award.
(Carolyn Cole / Los Angeles Times)
This is Willem Dafoe's fourth Oscar nomination but his first in the leading actor category. He was last nominated for supporting actor for the 2017 film "The Florida Project."
(Kirk McKoy / Los Angeles Times)
It's the first nomination for Rami Malek, who already claimed a Golden Globe for portraying iconic singer Freddie Mercury. He's nominated by BAFTA and SAG as well, and already has an Emmy for the ongoing drama series "Mr. Robot."
(Marcus Yam / Los Angeles Times)
Viggo Mortensen has two previous nominations in this category, most recently two years ago for "Captain Fantastic." His role as bouncer-turned-chauffeur Tony Lip has already earned him Golden Globe, BAFTA and SAG award nominations.
(Kirk McKoy / Los Angeles Times)
With five previous nominations, four of which came in this category, Amy Adams is still seeking her first win. Her role as Lynne Cheney also brought her BAFTA, Golden Globe and SAG award nominations, and she was doubly nominated for the latter two awards thanks to her work on the HBO limited series "Sharp Objects."
(Kirk McKoy / Los Angeles Times)
Known primarily for television work in her native Mexico, this is Marina de Tavira's first Academy Award nomination.
(Richard Shotwell / Invision / Associated Press)
Three-time Emmy winner Regina King earns her first Oscar nomination with her role in Barry Jenkins' adaptation of James Baldwin's novel. The Golden Globe winner has collected multiple critics prizes but was inexplicably excluded by BAFTA and SAG.
(Kirk McKoy / Los Angeles Times)
After earning her first nomination in this category in 2015, Emma Stone won best actress in 2017 for "La La Land" (and it was her name in an alternate envelope that led to the film's short-lived status as a best picture winner). "The Favourite" has also snagged her SAG, BAFTA and Golden Globe nominations, all opposite costar Rachel Weisz.
(Michael Nagle / For The Times)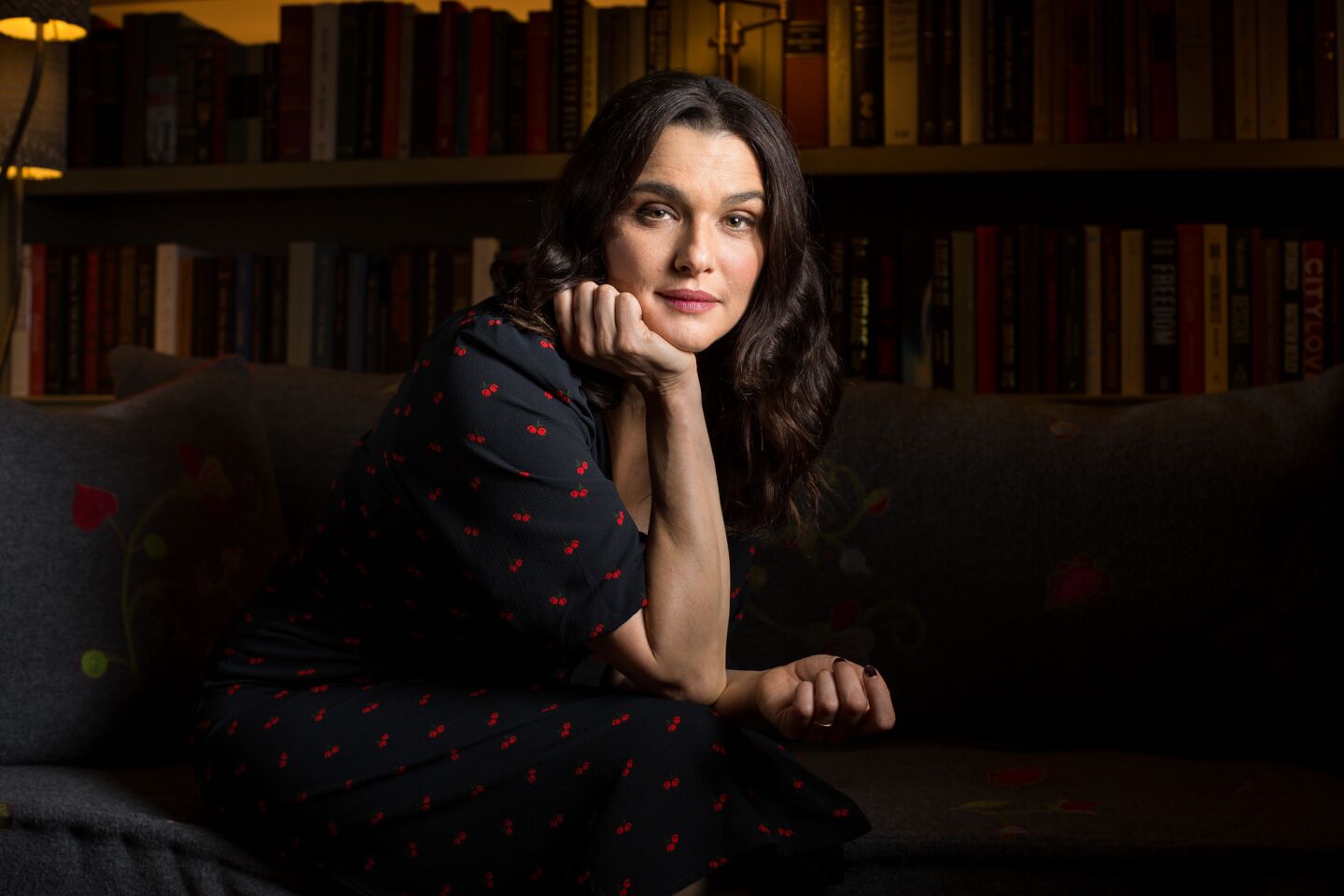 Rachel Weisz is currently undefeated in this category, having won the award on her sole previous nomination, for "The Constant Gardener" in 2006. Like costar Emma Stone, she also has received SAG, BAFTA and Golden Globe nominations. They are the first duo from the same film nominated in this category since Jessica Chastain and Octavia Spencer of "The Help" in 2011.
(Michael Nagle / For The Times)
Mahershala Ali was up for his first Oscar, and won, in this category just two years ago for "Moonlight." He returns with a Golden Globe victory already under his belt in addition to SAG and BAFTA nominations.
(Jay L. Clendenin / Los Angeles Times)
A three-time Emmy nominee whose résumé includes indie films as well as the "Star Wars" saga, Adam Driver collects his first Oscar nomination thanks to Spike Lee's politically charged dramedy. Driver also earned his first SAG, BAFTA and Golden Globe nominations for the performance.
(Al Seib / Los Angeles Times)
A steadily employed actor since the late 1960s, Sam Elliott collects his first Oscar nomination as Bradley Cooper's brother in the actor-director's breakout hit. Elliott also earned a SAG nomination for the performance.
(Katie Falkenberg / Los Angeles Times)
A veteran character actor, Richard E. Grant broke onto the scene in 1987's cult favorite "Withnail and I." He's enjoyed the most sustained awards buzz of his career with his first Oscar nomination following recognition from SAG, BAFTA and the Golden Globes. He previously won a SAG Award as part of the ensemble cast of "Gosford Park."
(Will Oliver / EPA-EFE / REX)
Last year's winner in this category, for "Three Billboards Outside Ebbing Missouri," Sam Rockwell earns the second nomination of his career for playing President George W. Bush in Adam McKay's political satire. He also earned nominations from BAFTA and the Golden Globes.
(Kirk McKoy / Los Angeles Times)
Cuarón won this award in 2014 for his previous film "Gravity." That picture also brought him an Oscar for editing. Prior to the three nominations he earned for "Roma," he has four additional nods to his credit. This year, he won the Golden Globe for directing and has been nominated by DGA and BAFTA.
(Kirk McKoy / Los Angeles Times)
A true legend of the indie film scene, Lee earns his first directing Oscar nomination for the period dramedy. His two previous Oscar nominations were in the categories of original screenplay ("Do the Right Thing") and documentary film ("Four Little Girls"). He received an honorary Oscar in 2016 and this year has been nominated for BAFTA, DGA and Golden Globe awards.
(Michael Nagle / For The Times)
Nominated in this category three years ago for "The Big Short," McKay also collected an adapted screenplay Oscar for that film. He returns this year with a pair of nominations and additional directing recognition from the Golden Globes and DGA.
(Wally Skalij / Los Angeles Times)
This is Pawlikowski's first Oscar nomination in the directing category, although his film "Ida" won the foreign-language film Oscar in 2016. "Cold War" earned him the director prize at the 2018 Cannes Film Festival.
(Stephanie Cornfield / For The Times)
An Oscar nominee in 2017 for his original screenplay "The Lobster," Lanthimos earns his first directing nomination for the ribald period romp, which also earned him a directing nod from BAFTA.
(Michael Nagle / For The Times)
'Roma's' Yalitza Aparicio on her historic Oscar nod: 'He reflected us, indigenous people' »
Aparicio, who had to deliver some of her dialogue in Mixtec — a language she does not speak — is just the sixth Mexican to receive an acting nomination from the academy. Other Mexican actors to receive the distinction include Adriana Barraza ("Babel"), Anthony Quinn (who received four nominations over his career), Katy Jurado ("Broken Lance") and Demián Bichir ("A Better Life"). Quinn is the only Mexican actor to take home the statuette. He won for 1952's "Viva Zapata!" and again for 1956's "Lust for Life," both in the supporting actor category.
Actress Lupita Nyong'o, who is of Kenyan descent but was born in Mexico City and identifies as Kenyan Mexican, won supporting actress for her film debut in 2013's "12 Years a Slave." She recently co-starred in "Black Panther," which competes with "Roma" for this year's best picture.
This year's Oscars will broadcast live from Hollywood's Dolby Theatre on Feb. 24.
FULL COVERAGE: Oscar nominations 2019 »
follow me on twitter @sonaiyak
Get our L.A. Goes Out newsletter, with the week's best events, to help you explore and experience our city.
You may occasionally receive promotional content from the Los Angeles Times.