The week ahead at SoCal museums and galleries, Oct. 21-28: 'Rauschenberg: The 1/4 Mile' and more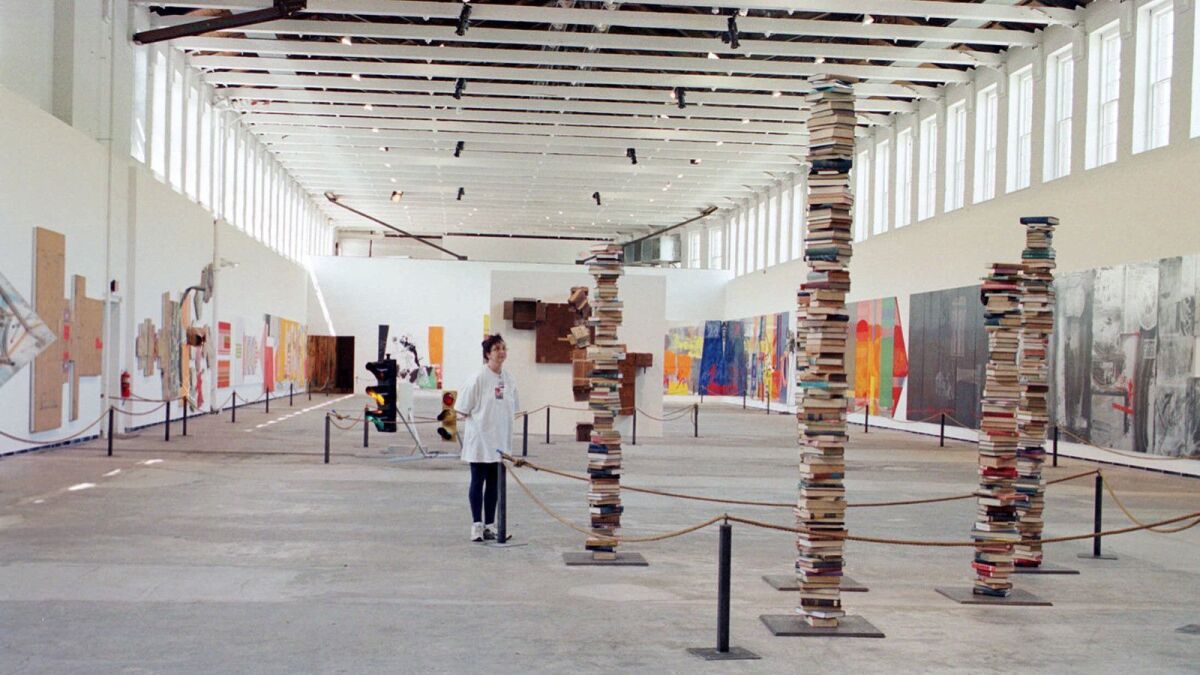 Listings Coordinator
Reviews by Leah Ollman (L.O.).
Museum Openings
Beyond the Earth and the Sky: Dia de Los Muertos Juried display of art and altars by local artists. Museum of Latin American Art, 628 Alamitos Ave., Long Beach. Now open; ends Nov. 11. Closed Mon.-Tue. $7, $10; under 12, free. (562) 437-1689.
Untitled (Question) Reinstallation of L.A.-based artist Barbara Kruger's politically-charged 1990 outdoor mural. The Geffen Contemporary at MOCA, 152 N. Central Ave., Little Tokyo, downtown L.A. Now through Nov. 2020. (213) 626-6222. www.moca.org
The National Geographic Photo Ark Images of animal species living in zoos and wildlife sanctuaries around the world. Annenberg Space for Photography, 2000 Avenue of the Stars, Century City. Now open-ends Jan. 13. Closed Mon.-Tue. Free. (213) 403-3000. www.annenbergphotospace.org.
OCMAExpand Orange County Museum of Art's new temporary space exhibits works by artists including Kathryn Garcia, Valentina Jager and Alan Nakagawa, plus "Forsaken Utopias" featuring photographs from the museum's permanent collection. OCMAExpand-Santa Ana, South Coast Plaza Village, 1661 W Sunflower Ave., Santa Ana. Now open; ends March 17. Closed Mon.-Wed. Free. (714) 780-2130.
World on the Horizon: Swahili Arts Across the Indian Ocean More than 150 artworks from Kenya, Mozambique, Tanzania, Oman and India. Fowler Museum, UCLA, 308 Charles E. Young Drive North, Westwood. Opens Sun.; ends Feb. 10. Closed Mon.-Tue. Free. (310) 825-4361.
Rauschenberg: The 1/4 Mile Exhibition of the pioneering artist's quarter-mile-long assemblage of 190 panels incorporating photographs, textiles, etc., plus everyday objects (opens next Sun.; ends June 9). Also on display: "Merce Cunningham, Clouds and Screens," a salute to the acclaimed choreographer that includes immersive video installations created by Charles Atlas and Andy Warhol (opens next Sun.; ends March 31). Los Angeles County Museum of Art, 5905 Wilshire Blvd., L.A. Closed Wed. $10-$25; members and children 17 and under, free. (323) 857-6010.
Also recommended
The Incongruous Body Humor and the human body serve as brackets loosely containing the sculptural work in this 14-person show. Not all here is comic, and not everything manages to muster heat from the rub of expectation against direct experience — curator Tim Berg's organizing principle — but the show has enough radiant moments to redeem the whole. Standouts include works by Kim Tucker, Kristen Morgin, Jeremy Brooks, Elana Mann and Robert Arneson. (L.O.) AMOCA, 399 N. Garey Ave., Pomona. Open Wed.-Sat. Ends Jan. 20. $5, $7; 12 and under, free. (909) 865-3146.
GALLERIES
Reviews by Sharon Mizota (S.M.), David Pagel (D.P.) and Leah Ollman (L.O.). Compiled by Matt Cooper.
Critics' Choices
Living With Clay: California Ceramics Collections Six collections are represented in this terrifically engaging show, each decades in the making and thousands of works deep. The samplings from each are largely stellar, and the installation is fresh and inventive. Huge photo-murals illustrate the home environments of the collectors and some of the furnishings and sculptures from those rooms appear in the gallery, making for an experiential lesson in living with art. (L.O.) Nicholas and Lee Begovich Gallery, Cal State Fullerton, 800 N. State College Blvd., Fullerton. Ends Nov. 17. Open Mon.-Thu., Sat. (657) 278-2011.
Ron Jude: 12 Hz How cheapened the term "awesome" has become, punctuating every mundane exchange. A visit to Jude's ravishing show presses the reset button and restores to awe its rightful measure of stunned respect. There are six large photographs here, each a view of pristine, unpeopled landscape. Acts of homage and acts of witness, the prints have a lush, velvety surface and an extraordinary range of tones. (L.O.) Gallery Luisotti, Bergamot Station, 2525 Michigan Ave., Santa Monica. Ends Nov. 17. Open Tue.-Sat. (310) 453-0043.
Also recommended
Hung Liu: Unthinkable Tenderness Liu's gratifying but also problematic show features her earliest series of work and her most recent. The intimate plein air sketches made surreptitiously in the early '70s when Liu was a student in her native China are lovely, earnest, and quiet acts of rebellion against the aesthetic dictates of the state. The newest works, large, vibrant portraits based on Dorothea Lange photographs, are dazzling but disturbing, in the way of colorized classic films. (L.O.) Walter Maciel Gallery, 2642 S. La Cienega Blvd., L.A. Ends Sat. Open Tue.-Sat. (310) 839-1840.
Get our L.A. Goes Out newsletter, with the week's best events, to help you explore and experience our city.
You may occasionally receive promotional content from the Los Angeles Times.