Listings Coordinator
How about a fun holiday farce about an out-of-control office party, or a music- and dance-filled celebration of Christmas Eve, Mexican style? If you're looking for things to do this weekend, picks also include the venerable Kronos Quartet, a hip spin on a classic Puccini opera and the Latino Theater Company's community-centered Christmas pageant.
Yule be glad you came
They're getting into the spirit — and the spirits — at "Bob's Holiday Office Party." Created by and costarring Joe Keyes and Rob Elk, this raucous romp set in an Iowa insurance agency returns for the 23rd year. Ages 16 and up. Atwater Village Theatre, 3269 Casitas Ave., L.A. 8 p.m. Thursday-Saturday; 7 p.m. Sunday; other dates through Dec. 20. $25, $35. bobsofficeparty.com
They keep stringing you along
Kronos Quartet joins forces with filmmakers Sam Green and Joe Bini for "A Thousand Thoughts: A Live Documentary." The story of the ever adventurous musical ensemble is told in this multimedia-enhanced performance piece that includes archival footage and interviews. CAP UCLA at the Theatre at Ace Hotel, 929 S. Broadway, L.A. 8 p.m. Friday. $29-$59. cap.ucla.edu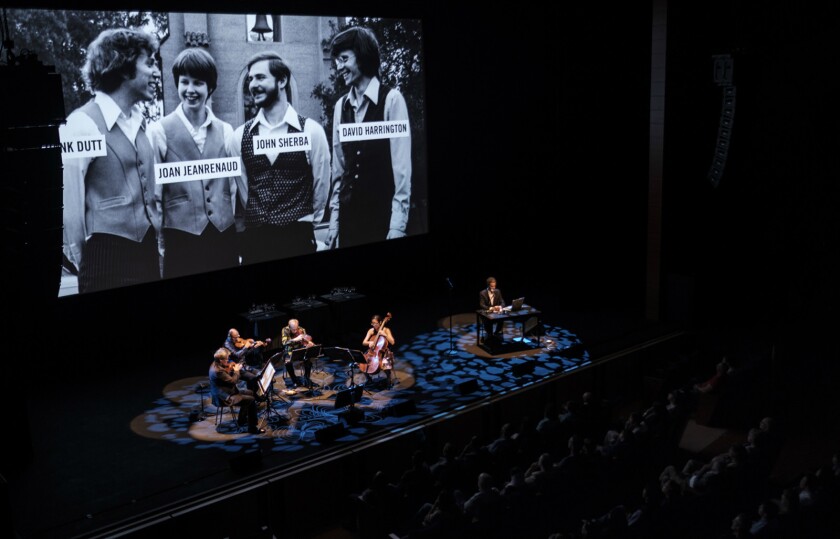 Waiting for the miracle
The Latino Theater Company brings back "La Virgen De Guadalupe, Dios Inantzin," the company's annual site-specific reenactment of the Virgin Mary's visitations with peasant Juan Diego in 16th century Mexico. In Spanish with English supertitles. Cathedral of Our Lady of the Angels, 555 W. Temple St., L.A. 7:30 p.m. Friday and Saturday. Free; reserved seating, $40. thelatc.org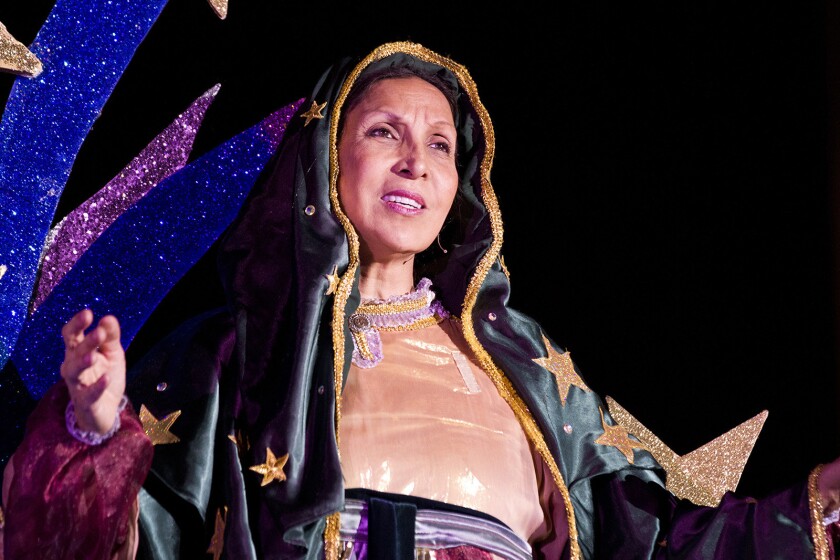 Too cool for school
Pacific Opera Project is back with "La Bohème: aka the Hipsters," the company's update of Puccini's tragic tale that sets the action in a downtown L.A. loft. In Italian with English supertitles. Ebell Club of Highland Park, 131 S. Avenue 57, L.A. 8 p.m. Friday and Saturday; other dates through Dec. 22. $15-$25; tables, $60-$160. pacificoperaproject.com
A not-so-silent night
Ballet Folklórico de Los Ángeles, Mariachi Garibaldi de Jaime Cuéllar and Ángela Aguilar, the daughter of famed Mexican American singer Pepe Aguilar, share the stage for the lively holiday spectacular "Nochebuena (Christmas Eve in Mexico)." Younes and Soraya Nazarian Center for the Performing Arts, 18111 Nordhoff St., Northridge. 3 and 8 p.m. Saturday. $34-$79. TheSoraya.org
---
UPDATES:
An earlier version of this post misspelled the last name of "Bob's Holiday Office Party" co-creator Joe Keyes.
---