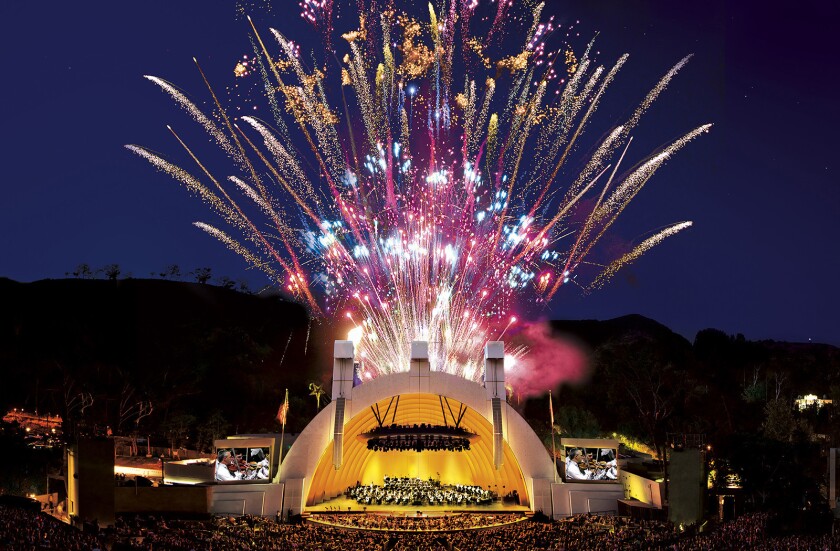 Looking for a cultured way to celebrate this long Fourth of July weekend? We've got 10 outings for you, starting with the Los Angeles Philharmonic with Nile Rodgers & Chic at the Hollywood Bowl, the Pacific Symphony celebrating in the O.C. and the annual Independence Day block party in DTLA. The Royal Ballet of London is back in L.A. with the dance-drama "Mayerling," the Griffith Park Free Shakespeare Festival returns with "Twelfth Night" and Grand Performances presents a music festival that's free. For more details and additional ideas, keep reading.
Party at the Bowl
For this year's edition of the Hollywood Bowl's "July 4th Fireworks Spectacular," the L.A. Phil under guest conductor Thomas Wilkins is joined by R&B greats Nile Rodgers & Chic for an evening that mixes dance-floor hits with patriotic favorites. DrumLine Live, a theatrical celebration of black marching bands, also performs. Hollywood Bowl, 2301 N. Highland Ave., L.A. 7:30 p.m. Wednesday-Thursday. $7-$288. (323) 850-2000. hollywoodbowl.com
A Royal return to L.A.
Britain's Royal Ballet returns to Southern California after a decades-long absence with "Mayerling." A reckless prince and his teenage mistress embark on an impetuous and ill-fated romance in this three-act dance drama set in 19th century Austria. Dorothy Chandler Pavilion, 135 N. Grand Ave., L.A. 7:30 p.m. Friday-Saturday, 2 p.m. Sunday. $34 and up. (213) 972-0711. musiccenter.org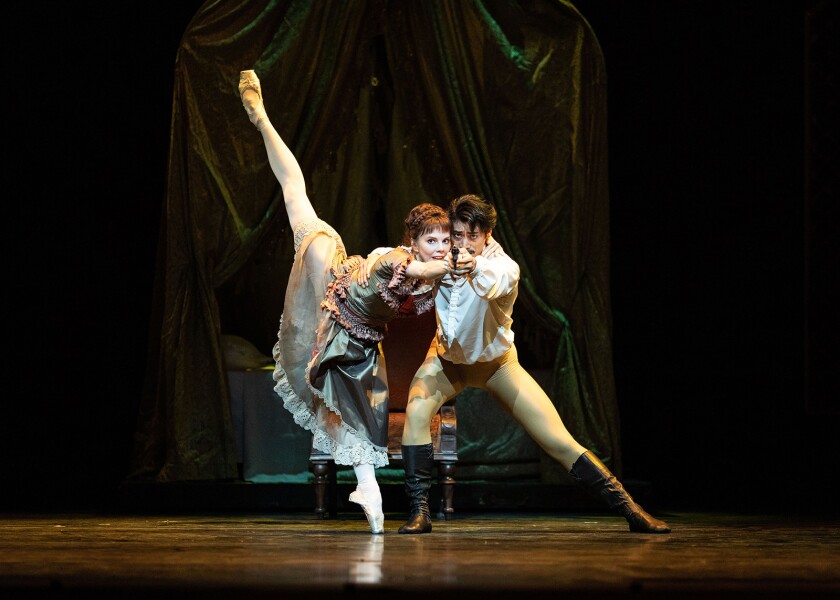 If music be the food of love ...
Independent Shakespeare Co. kicks off another summer of its annual Griffith Park Free Shakespeare Festival with "Twelfth Night," the Bard's cross-dressing romantic comedy about twins separated in a shipwreck. The Old Zoo at Griffith Park, 4730 Crystal Springs Drive, L.A. 7 p.m. Saturday-Sunday; other dates through Sept. 1. Free. (818) 710-6306. iscla.org
Brush up your Brahms
Over eight consecutive nights, the New Hollywood String Quartet and special guests will perform the 19th century German composer's complete catalog of chamber music works in a "Summer of Brahms Chamber Music Festival." The stellar lineup — Andrew Shulman on cello, Robert Brophy on viola and Tereza Stanislav and Rafael Rishik on violin — takes an unexpected stage: South Pasadena Public Library's Community Room, 1115 El Centro St. 7:30 p.m. Sunday through next Sunday. $40; students, $15; festival passes, $240. (626) 799-6333. summerofbrahms.com
The Eagles soar
For its "July 4 Spectacular," Pacific Symphony performs patriotic favorites with a twist: It's joined by the tribute band Hotel California for a salute to classic-rock mainstays the Eagles. Pacific Amphitheatre, OC Fair & Event Center, 100 Fair Drive, Costa Mesa. 8 p.m. Thursday. $25 and up; half-price tickets for children younger than 14. (714) 755-5799. PacificSymphony.org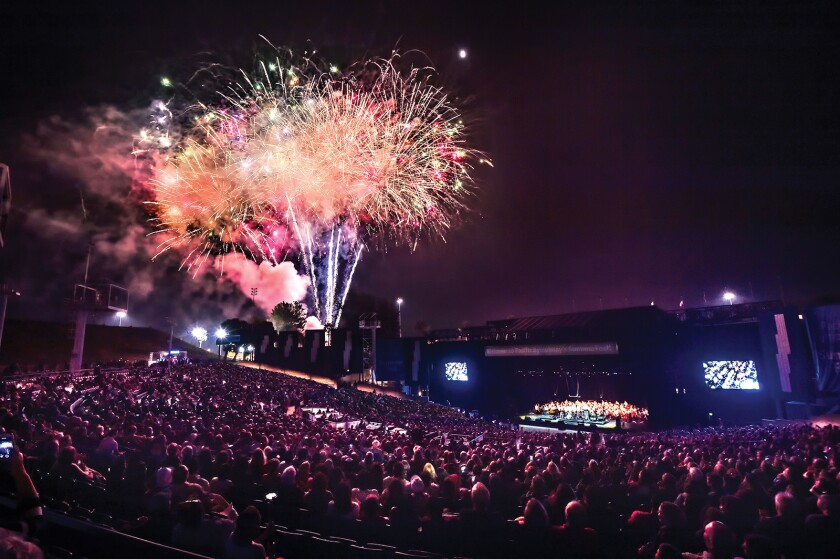 Mysteries of Mesoamerica
Los Angeles-based Grandeza Mexicana Folk Ballet Company looks back through time in modern-dance pieces inspired by the fall of the Mayan empire in the new stage show "Magia del Sureste." Ford Theatres, 2580 Cahuenga Blvd. East, Hollywood. 8:30 p.m. Saturday. $35-$55. (323) 461-3673. FordTheatres.org
Taking it to the streets
The Grand Performances series is taking most of this summer off, but that's not stopping its free street festival, Audacity of Sound: Joy.Art.Music. Slated performers include singer-songwriter Gaby Moreno with La Santa Cecilia's La Marisoul, plus Cimafunk, David Garza, DjuehDjoah & Lieutenant Nicholson, Jeremy Dutcher, Masoud Rezai, Sara Naeni and others. 300 S. Grand Ave., L.A. 3 to 10 p.m. Saturday. Free. grandperformances.org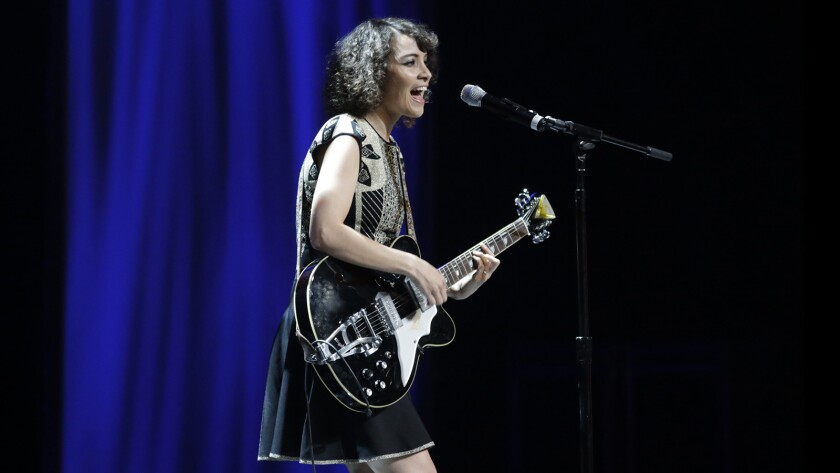 Your friendly neighborhood bash
Grand Park and the Music Center go big for their seventh annual Fourth of July Block Party. Expanded to six blocks, this year's edition of the family-friendly event includes a 75-foot-high Ferris wheel plus live music, deejays, dancing, picnicking and, of course, fireworks. Grand Park and the Music Center, 200 N. Grand Ave., downtown Los Angeles. 3 to 9:30 p.m. Thursday. Free. july4.grandparkla.org
Dance with a purpose
Choreographer Deborah Brockus and her company BrockusRed spotlight the environmental harm caused by our over-reliance on plastic and its polluting effects in our oceans in the new multimedia work "Dust: Permutations on the Unknown." Ivy Substation, 9070 Venice Blvd., Culver City. 8 p.m. Friday-Saturday, 2 p.m. Sunday. $25. (800) 838-3006. brownpapertickets.com/event/4268539
Calling all kids
The Skirball Cultural Center kicks off its "Free to Be" series of family-friendly interactive performances this weekend. The local dance companies BodyTraffic (noon and 2 p.m. Saturday) and Contra-Tiempo (noon and 2 p.m. Sunday) perform programs designed for all ages as part of a lineup that includes Story Pirates and Syncopated Ladies later this summer. Skirball Cultural Center, Family Amphitheater, 2701 N. Sepulveda Blvd., L.A. Included with museum admission ($7-$12). (310) 440-4500. skirball.org
---