'It's very relatable': Cast of 'Long Day's Journey Into Night' finds new relevance with L.A. run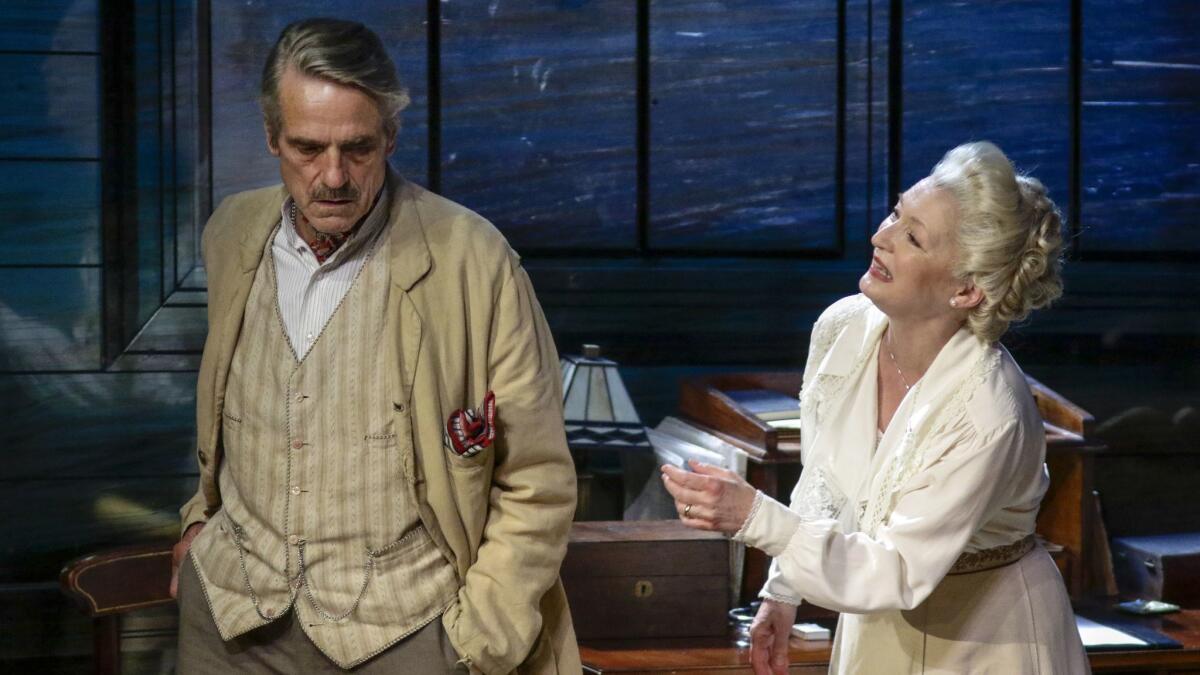 It's been a long and winding road working on "Long Day's Journey Into Night" for stars Jeremy Irons, Lesley Manville and Jessica Regan.
The three have been starring in the production, which follows a family over the course of one day as repressed pain, drug addiction and disappointment unravels, on and off for the past two years. First, there was a run in 2016 at Bristol Old Vic, and 18 months later, they revived the show on a tour through London, New York and now Los Angeles, where it runs at the Wallis Annenberg Center for the Performing Arts through July 1.
Speaking with the cast backstage before a recent performance, Regan tells The Times that it still feels like a "totally different production" from city to city — particularly because of the play's current relevance stateside.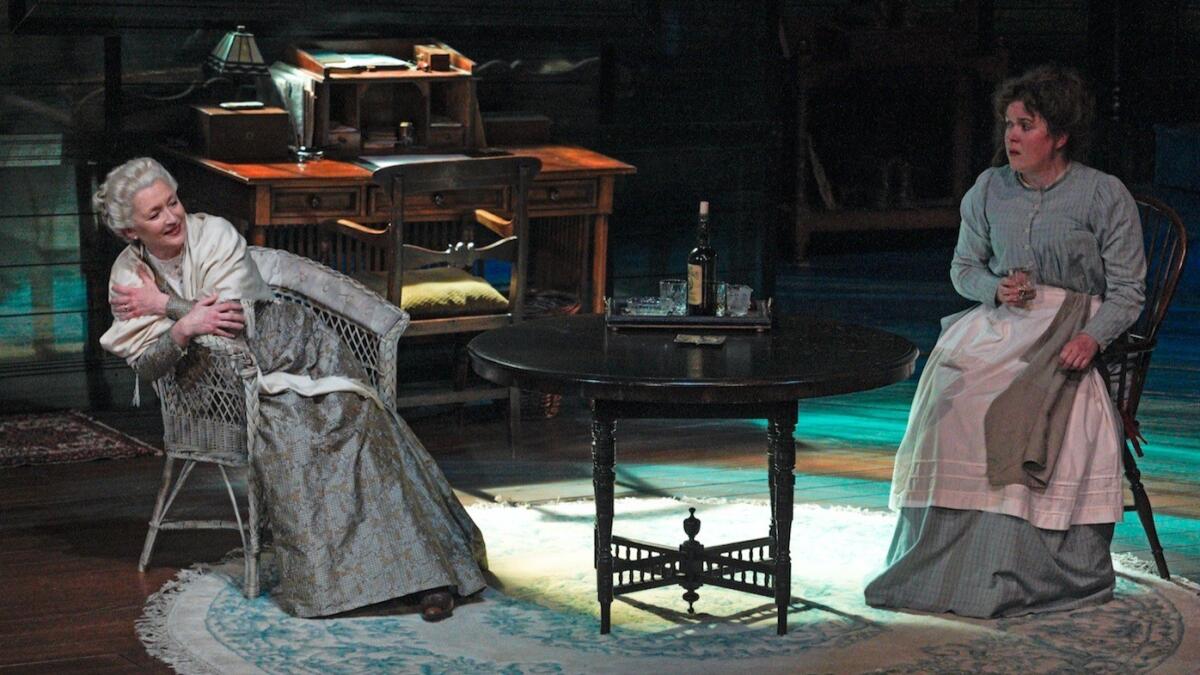 REVIEW: 'Long Day's Journey Into Night' »
As she sits on the stage before an L.A. audience fills the seats, Regan contemplates the play's "bizarre echoes" with the opioid crisis affecting families across the U.S.
"This is a very extreme family with tense dysfunction, but it's still very relatable," she says. "On the one hand, it can make you feel better as your family probably isn't as bad as this. On the other hand, I think it's tremendously insightful."
The cast has found other ways to find fresh takes on Eugene O'Neill's acclaimed 1956 play. Matthew Beard, one of two new additions to the L.A. production as Irons' son, says Irons keeps him on his toes by changing his delivery with every take, never quite knowing which way it's going to go.
"It's the danger of it that's quite attractive," Beard says of the magnitude of the play, which runs more than three hours.
A lot of what is offered to us is fairly easy to digest ... because that apparently sells better. Sort of like snacking. I think this is a really good meal.
— Jeremy Irons
Irons agrees. As he previously told The Times, he would be content to step away from acting after the sun sets on "Long Day's Journey."
"It's a great role, great company and production. I think we've done something remarkable," he explains. "There are not that many great roles when you get to my age, so we'll see [if I act more]. Maybe another will raise its head."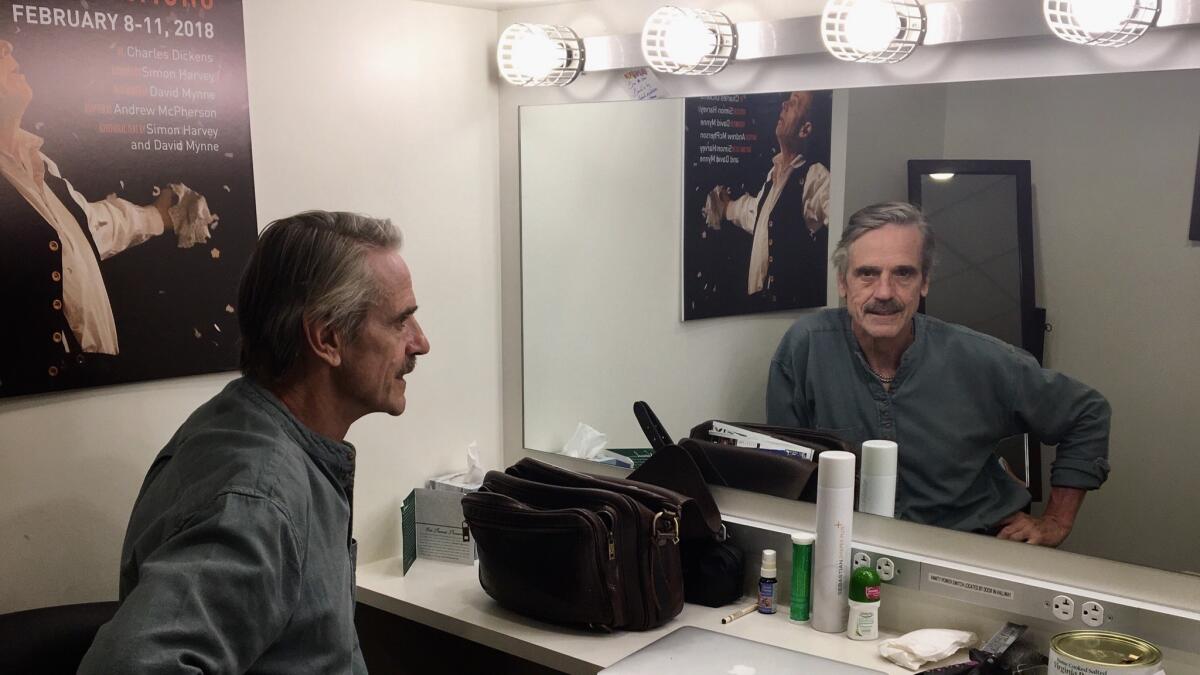 READ MORE: Jeremy Irons would be 'very happy' if 'Long Day's Journey' was his swan song »
The Oscar winner recently was seen on the big screen in 2017's "Justice League" and 2018's "Red Sparrow." But in his eyes, those big-budget gigs don't compare to this play. "[James] is a very complex character," he says. "I felt I was working, you know? Where sometimes when you're filming, you don't really.
"These days, because so much of the arts are purely commercial, a lot of what is offered to us is sort of fairly easy to digest, doesn't need a lot of thought because that apparently sells better," he shares. "Sort of like snacking. And I think this is a really good meal. That's the difference."
Manville, who plays the morphine-addicted wife of Irons' character, echoes his sentiments as her wig was fluffed and pampered. "It's just one of the greatest roles for a woman of my age ever written, really. It's epic. It's huge. It's challenging. It's emotional. It's the real deal. It's the full monty."
Acting alongside two veterans like Irons and Manville has been a similarly formidable experience for Regan. With a chuckle, the actress admits to being a little nervous when she first performed alongside Irons and Manville. But a lot can change in two years. "In Bristol, I was a bit like, 'Oh, sharing the stage with these people is a lot!' But now it's like, 'Yeah, it's Jeremy and Lesley. It's fine.'
"Everybody gets on. It's been a really good journey," Regan adds.
Get our L.A. Goes Out newsletter, with the week's best events, to help you explore and experience our city.
You may occasionally receive promotional content from the Los Angeles Times.