The week ahead in L.A. theater, March 4-11: Pat Kinevane, 'Cambodian Rock Band' and more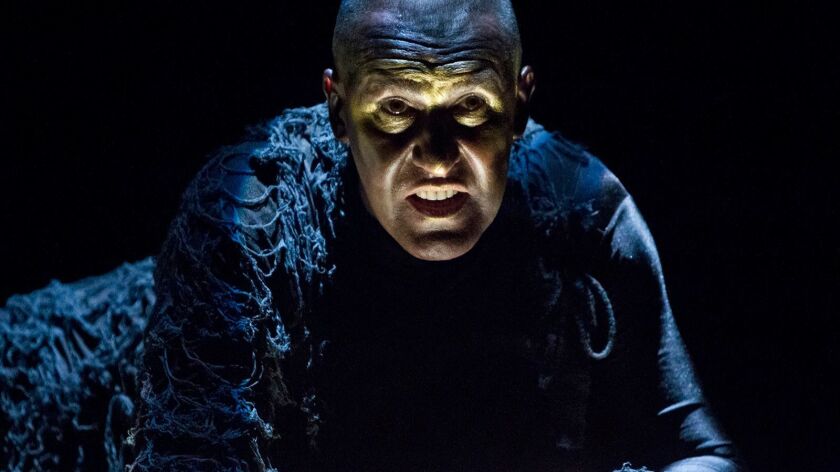 Capsule reviews are by Philip Brandes (P.B.), F. Kathleen Foley (F.K.F.), Margaret Gray (M.G.), Charles McNulty (C.M.) and Daryl H. Miller (D.H.M.).
Openings
The Graduate Melanie Griffith portrays Mrs. Robinson in this stage adaptation of Mike Nichols' 1967 comedy about a recent college grad who's having an affair with an older woman. Laguna Playhouse, 606 Laguna Canyon Road, Laguna Beach. Sun., 5:30 p.m.; Tue.-Wed., 7:30 p.m.; Thu., 2 and 7:30 p.m.; Fri., 7:30 p.m.; Sat., 2 and 7:30 p.m.; next Sun., 1 and 5:30 p.m.; ends March 25. $86-$101. (949) 497-2787.
King John Long Beach Shakespeare Company stages the Bard's historical drama. Richard Goad Theatre, 4250 Atlantic Ave., Long Beach. Sun., next Sun., 2 p.m.; Fri.-Sat., 8 p.m.; ends March 17. $12.50, $22.50. (562) 997-1494.
The Gale Improv show celebrates the LGBTQ journey. Groundlings Theatre, 7307 Melrose Ave., West Hollywood. Mon., 8 p.m. $16. (323) 934-4747.
Jukebox Life Broadway veteran Jarrod Spector ("Jersey Boys") performs in this autobiographical solo show. Smothers Theatre, Pepperdine University, 24255 Pacific Coast Highway, Malibu. Wed., 8 p.m. $25 and up. (310) 506-4522.
Sell/Buy/Date Writer-performer Sarah Jones portrays multiple characters in this solo show exploring the sex industry. Geffen Playhouse, Audrey Skirball Kenis Theater, 10886 Le Conte Ave., Westwood. Wed.-Fri., 8 p.m.; Sat., 3 and 8 p.m.; next Sun., 2 and 7 p.m.; ends April 15. $25-$80. (310) 208-5454.
The Tragedy: A Comedy Ammunition Theatre's immersive staging of D.G. Watson's comedy about three literary-talent managers on a psychedelic trip. The Pico, 10508 W. Pico Blvd., L.A. Thu., 8 p.m.; ends June 14. $25. www.ammotheatre.com
Acting Out INK Fest! 5th-annual showcase features over 20 plays by female playwrights; schedules at www.2centstheatre.com. Fri.-next Sun., various times; ends March 11. $10 per show; passes, $34-$95. (323) 965-9996.
Bingo Hall Native Voices at the Autry presents Dillon Chitto's new family-friendly comedy-drama about a young Native American considering leaving his pueblo for college. Autry Museum of the American West, Griffith Park, 4700 Western Heritage Way, L.A. Fri., 8 p.m.; Sat., 2 and 8 p.m.; next Sun., 2 p.m.; ends March 25. $8-$25; limited seating, reservations recommended. (323) 667-2000.
In the Heights Lin-Manuel Miranda's hit musical about life in a Hispanic American neighborhood in N.Y.C. Lewis Family Playhouse, 12505 Cultural Center Drive, Rancho Cucamonga. Fri.-Sat., 7:30 p.m.; next Sun., 2 p.m.; ends March 18. $28-$35. (909) 477-2752.
Le Petit Chaperon rouge (Little Red Riding Hood) Reimagining of the classic fairytale; in French with projected English subtitles; for ages 8 and up. Théâtre Raymond Kabbaz, Le Lycée Français de Los Angeles, 10361 W. Pico Blvd., L.A. Fri.-Sat., 7:30 p.m. $15, $30. (310) 286-0553.
Miwa Matreyek The multimedia artist reprises her animation-enhanced shadow plays "Myth & Infrastructure" and "This World Made Itself." Caltech, Beckman Auditorium, 332 S. Michigan Ave., Pasadena. Fri., 8 p.m. $10, $30. (626) 395-4652.
Quartet An aging diva stirs things up at a home for retired opera singers in Ronald Harwood's comedy. Little Fish Theatre, 777 Centre St., San Pedro. Fri.-Sat., 8 p.m.; ends April 8. $23-$27. (310) 512-6030.
Trojan Women: A Love Story Alchemy Theatre Company updates Euripides' Greek tragedy. The Studio at Long Beach Playhouse, 5021 E. Anaheim St., Long Beach. Fri.-Sat., 8 p.m.; next Sun., 2 p.m.; ends March 18. $20. (562) 494-1014.
Unemployed Elephants — A Love Story A chance encounter at an airport leads to an adventure in Burma in Wendy Graf's new romantic comedy. The Little Victory Theatre, 3326 W. Victory Blvd., Burbank. Fri.-Sat., 8 p.m.; next Sun. 4 p.m.; ends April 15. $24, $34. (818) 841-5422.
Cambodian Rock Band The unsung story of surf-rock music in 1970s Cambodia is told in the world premiere of Lauren Yee's drama featuring songs by local group Dengue Fever. South Coast Repertory, Julianne Argyros Stage, 655 Town Center Drive, Costa Mesa. Sat.-next Sun., 2 and 7:45 p.m.; ends March 25. $23 and up. (714) 708-5555.
Home of the Brave Scenes and stories based on the lives of children in military families. La Jolla Playhouse, 2910 La Jolla Village Drive, La Jolla. Sat., next Sun., 1 and 3 p.m.; ends March 11. $9, $12. (858) 550-1010.
lost tribes theatre dybbuk uses the legend of the lost tribes of Israel to examine issues of assimilation, cultural appropriation, etc., in this site-specific, multidisciplinary work touring area venues through April. The Dortort Center for Creativity in the Arts, UCLA Hillel, 574 Hilgard Ave., Westwood. Sat., 8 p.m. Free; reservations required. www.theatredybbuk.org
The Madres Stephanie Alison Walker's new fact-based drama about women in Argentina who protested against the ruling military junta's infamous "Dirty War" against civilians during the 1970-80s. Skylight Theatre, 1816 N. Vermont. Ave. Los Feliz. Sat., 8:30 p.m.; next Sun., 2 p.m.; ends April 29. $15-$41. (866) 811-4111.
Of Government West Coast premiere of Alexander Borinsky's play with music celebrating women who help hold communities together. Son of Semele Theater, 3301 Beverly Blvd., L.A. Sat., 8 p.m.; next Sun., 5 p.m.; ends April 1. $20, $25; some pay-what-you-can tickets available. (213) 351-3507.
Pirates of Penzance New York Gilbert & Sullivan Players stage the duo's classic musical comedy. Carpenter Performing Arts Center, 6200 Atherton St., Long Beach. Sat., 8 p.m. $50 and up. (562) 985-7000.
Proof Revenant Stage Club (formerly the Elephant Theatre) presents David Auburn's Pulitzer- and Tony-winning drama about mathematics, mental illness and the father-daughter bond. The New American Theatre, 1312 N. Wilton Place, Hollywood. Sat., 8 p.m.; next Sun., 5 p.m.; ends April 1. $25; discounts available. (323) 965-9996.
The Seven Deadly Plays Three-week series of readings of six plays by Leslye Headland, ahead of a full production next May of her latest work. IAMA Theatre Company, Atwater Village Theatre, 3269 Casitas Ave., L.A. Sat., 8 p.m.; next Sun., 7 p.m.; ends March 25. $10. (323) 380-8843.
Exposed Emmy winner Leslie Jordan ("Will & Grace") shares stories from his life and career. Catalina Bar & Grill, 6725 W. Sunset Blvd., Hollywood. Next Sun., 7:30 p.m. $25-$40; food and drink minimums apply. (866) 468-3399.
A Few of My Favorite Things Drag artist Anita Tony performs in this cabaret show. Rockwell Table & Stage, 1714 N. Vermont Ave., Los Feliz. Next Sun., 7 p.m. $29-$49; food and drink minimums apply. (323) 669-1550.
You Don't Know My Life! "The MisMatch Game's" Dennis Hensley returns with this new LGTBQ-themed comedy game show. L.A. Gay & Lesbian Center's Renberg Theatre, 1125 N. McCadden Place, Hollywood. March 11. Next Sun., 7 p.m. $10. (323) 860-7300.
Critics' Choices
Alright Then Orson Bean and Alley Mills, one of L.A. theater's most visible couples, thank the heavens for their later-life marriage in a feel-good show about love and gratitude. They share stories from their at-times rocky upbringings to set the scene for the miracle of their meeting, making each other laugh and shedding grateful tears. (D.H.M.) Pacific Resident Theatre, 703 Venice Blvd., Venice. Sun., next Sun., 3 p.m.; Thu.-Sat., 8 p.m.; ends March 25. $25-$34. (310) 822-8392.
The Chosen Learning to see past differences and getting to know the person underneath is a lesson for all time in Chaim Potok's 1940s-set novel, adapted by Potok and Aaron Posner. The tale of an unexpected friendship between Brooklyn teens from different strains of Judaism is given a poignant staging, with particularly fine performances by Sam Mandel as the youthful narrator and, unforgettably, Alan Blumenfeld as a charismatic rabbi. (D.H.M.) The Fountain Theatre, 5060 Fountain Ave., L.A. Sun., next Sun., 2 p.m.; Mon., Fri., Sat., 8 p.m.; ends May 7. $20-$40. (323) 663-1525.
A Delicate Ship Anna Ziegler peels away the layers of her characters to their pulsing human core in this practically perfect memory play, a fateful romantic triangle that commences in the simplest situation and escalates to the dire. Under Andre Barron's appropriately delicate direction, the cast, which includes Paris Perrault and Philip Orazio, is superb, but it is Josh Zuckerman who dazzles in a tour-de-force turn as a wayward yearner whose cheekiness covers hidden depths of anguish. (F.K.F.) The Road on Magnolia, 10747 Magnolia Blvd., North Hollywood. Sun., next Sun., 2 p.m.; Fri.-Sat., 8 p.m.; ends March 24. $17.50, $34. (818) 761-8838.
El Niño After two decades of writing a play a year, Justin Tanner dropped from sight six years ago. He's returned, thank goodness, with another laugh-out-loud tale of dysfunction. This one, presented by Rogue Machine, involves the sniping reception that a down-on-her-luck writer receives when she tries to set up camp on her parents' couch. Director Lisa James and a cast of Tanner regulars know precisely how to mine the humor. (D.H.M.) Rogue Machine, the MET Theatre, 1089 N. Oxford Ave., L.A. Sun., next Sun., 3 p.m.; Mon., Sat., 8:30 p.m.; ends April 2. $40; pay what you can, Mon., March 5 only. (855) 585-5185.
Henry V Co-directors Julia Rodriguez-Elliot and Geoff Elliott play fast and loose with the Bard in their breathlessly truncated production, which features an authoritative Rafael Goldstein in the title role. Intrepid vandals in the high church of Shakespeare, they may spray paint out a passage or two but keep the meaning intact in a richly articulate staging that never flags in energy and style. (F.K.F.) A Noise Within, 3352 E. Foothill Blvd., Pasadena. Fri., 8 p.m.; Sat., 2 and 8 p.m.; ends April 6. $25 and up; student rush, $20. (626) 356-3100.
I Am Not a Comedian … I'm Lenny Bruce In this meticulously researched solo biography tracing the life and prosecution of the groundbreaking early 1960s comic provocateur, actor Ronnie Marmo and director Joe Mantegna offer subsequent generations not only a sense of who Bruce was, but, more important, why he mattered. (P.B.) Theatre 68, 5112 Lankershim Blvd., North Hollywood. Sun., next Sun., 3 p.m.; Wed., 8 p.m.; ends March 28. $35. (323) 960-5068.
Ironbound Pallid and careworn, Darja, an immigrant from Poland who calls the industrial wastelands of New Jersey home, is easy to overlook But as played by Marin Ireland, the protagonist of Martyna Majok's bleak yet necessary drama won't soon be forgotten. Reprising her touted off-Broadway performance in a play that records the story of one casualty of the American dream, Ireland creates a scrupulously honest portrait in a palette of grays. (C.M.) Geffen Playhouse, Gil Cates Theater, 10886 Le Conte Ave., Westwood. Ends Sun., 2 p.m. $32-$90; rush tickets, $10, $35. (310) 208-5454.
The King and I This tour of the Tony-winning revival of Rodgers and Hammerstein's classic musical, which recapitulates Bartlett Sher's stunning original staging, features Laura Michelle Kelly as the elegant but scrappy Anna, Jose Llana as the comically poignant king of Siam, and a mother lode of classic tunes, rendered with brio by an exceptional cast. If you're at all a fan of classic American musicals, this particular production is a joy — a real gift that proves a bracing pick-me-up in troubled times. (F.K.F) Segerstrom Hall, Segerstrom Center for the Arts, 600 Town Center Drive, Costa Mesa. Sun., next Sun., 1 and 6:30 p.m.; Tue.-Fri., 7:30 p.m.; Sat., 2 and 7:30 p.m.; ends March 11. $29 and up. (714) 556-2787.
Priscilla Queen of the Desert Somewhere in Hollywood a Jo-Ann fabrics and a 99 Cents Only store must be seriously depleted. Their stock seemingly can be found in a spectacularly dressed Celebration company production of a beloved tale about Australian drag queens on a road trip across the outback, adapted from the 1994 movie. Director Jessica Hanna, set designer Pete Hickok and costume designer Allison Dillard somehow fit this big musical onto a postage stamp of a stage. "Glittery" doesn't begin to describe the results. (D.H.M.) Celebration Theatre, 6760 Lexington Ave., L.A. Thu.-Sat., 8 p.m.; next Sun., 2 p.m.; ends May 6. $35-$70. (323) 957-1884.
A Streetcar Named Desire Michael Michetti's revitalizing production shakes out the cobwebs of this Tennessee Williams classic. Before the play even begins it's clear that this is not the New Orleans of yore but an updated version that's more diverse and technologically with it. The drama, of course, lives or dies by the quality of the acting, and Jaimi Paige's Blanche, Maya Lynne Robinson's Stella and Desean Kevin Terry's Stanley are all extraordinary. (C.M.) Boston Court, 70 N. Mentor Ave., Pasadena. Sun., next Sun., 2 p.m.; Thu.-Sat., 8 p.m.; ends March 25. $39. (626) 683-6801.
Underneath Through the persona of a deceased disfigured woman, Pat Kinevane's riveting solo performance employs the Irish gifts of gab and storytelling to explore norms and realities surrounding beauty, exclusion, and mortality that lie below surface appearances. (P.B.) Odyssey Theatre, 2055 S. Sepulveda Blvd., West L.A. Thu.-Sat., 8 p.m.; next Sun., 2 p.m.; ends March 30; in repertory with Kinevane's "Silent" (opens March 15) and "Forgotten" (opens March 22). $30; all three plays, $75. (310) 477-2055.
Violet Miracles abound in this musical, an underappreciated 1997 charmer that is notable for containing the first score by Jeanine Tesori ("Caroline, or Change," "Fun Home"). The story follows a disfigured young North Carolina woman on a 900-mile journey to seek out a televangelist she hopes can mend her. It's given a spirited staging by director Kari Hayter and much of the rest of the team behind the Chance's towering production of "Parade" last year. (D.H.M.) Chance Theater, 5522 E. La Palma Ave., Anaheim. Ends Sun., 3 p.m. $31-$45; discounts available. (888) 455-4212.
---
The complete guide to home viewing
Get Screen Gab for weekly recommendations, analysis, interviews and irreverent discussion of the TV and streaming movies everyone's talking about.
You may occasionally receive promotional content from the Los Angeles Times.