Review: 'Come From Away' national tour keeps singing its ode to the better side of human nature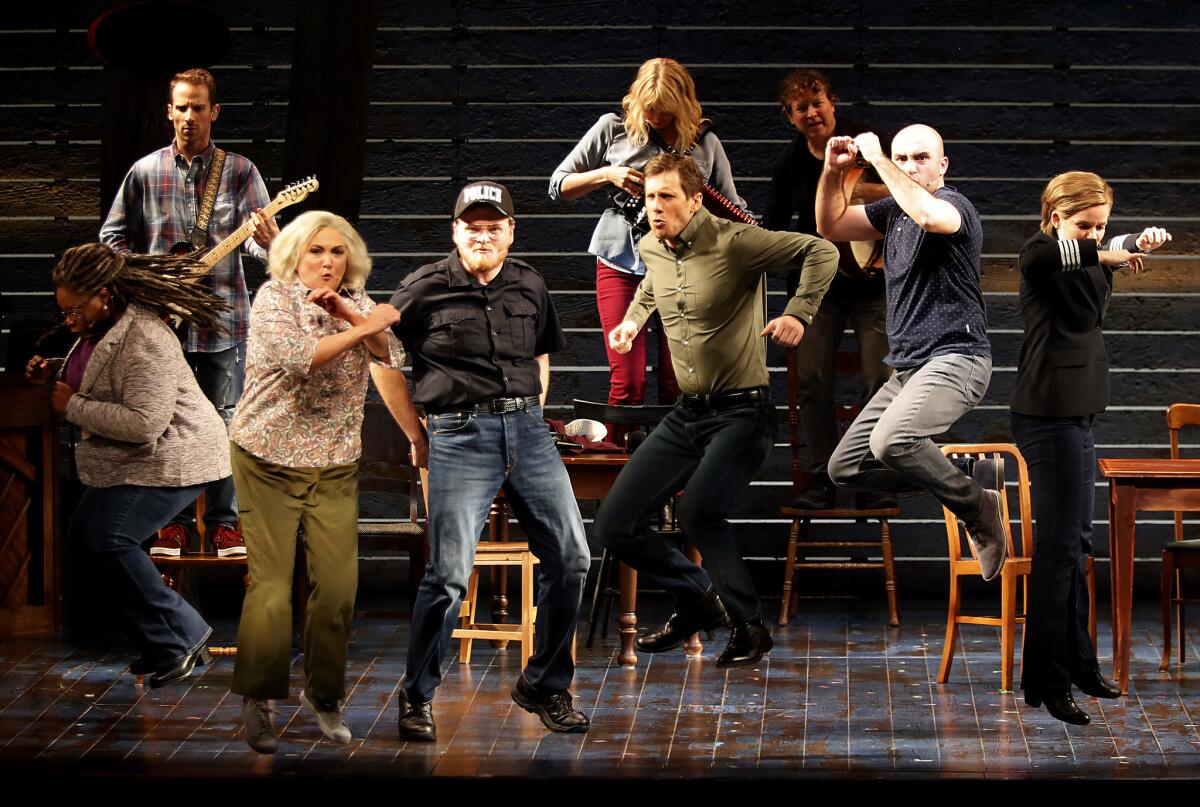 Theater Critic
A feel-good musical with a 9/11 hook? "Come From Away," the Broadway juggernaut with a Canadian nice streak a mile long, follows the Mister Rogers approach to national calamity by focusing attention on the helpers.
The story takes place in a world elsewhere. Gander, Newfoundland, once famous for its busy airport, where transatlantic flights in an earlier era of jet travel had to stop to refuel, was wrested from its small-town sleepiness on Sept. 11, 2001, when U.S. airspace was closed after the terrorist attacks.
Thirty-eight planes carrying roughly 7,000 passengers were diverted to this Canadian town, nearly doubling the population in a matter of hours. Tired, hungry and scared, these weary international travelers needed not only food, toothbrushes and lodging but also medicines, translators, and some whiskey and compassion to get them through the unsettled nights.
The noble citizens of Gander rose to the challenge, as this warmhearted musical, written by the married team of Irene Sankoff and David Hein, tenderly recounts. At a time when strangers in need are targets of demagogues' manipulative ire, "Come From Away" offers a potent antidote to the cynicism and partisan rancor running amok today.
The show, which opened Wednesday at the Ahmanson Theatre, is best approached with modest expectations. Let the provincial charm of these northern good Samaritans sneak up on you. This isn't a musical that blows you away with its showmanship. The score, a simmering "Riverdance" stewpot that only briefly erupts into a full boil jig, often feels like underscoring for the steady, straightforward narration.
When I first encountered "Come From Away" at La Jolla Playhouse (where the show had its 2015 world premiere in a co-production with Seattle Repertory Theatre), I was touched by the spirit of the work but didn't imagine it would succeed to the extent it has on Broadway. The musical underwent some tinkering before it arrived in New York, but it has remained faithful to its folksiness.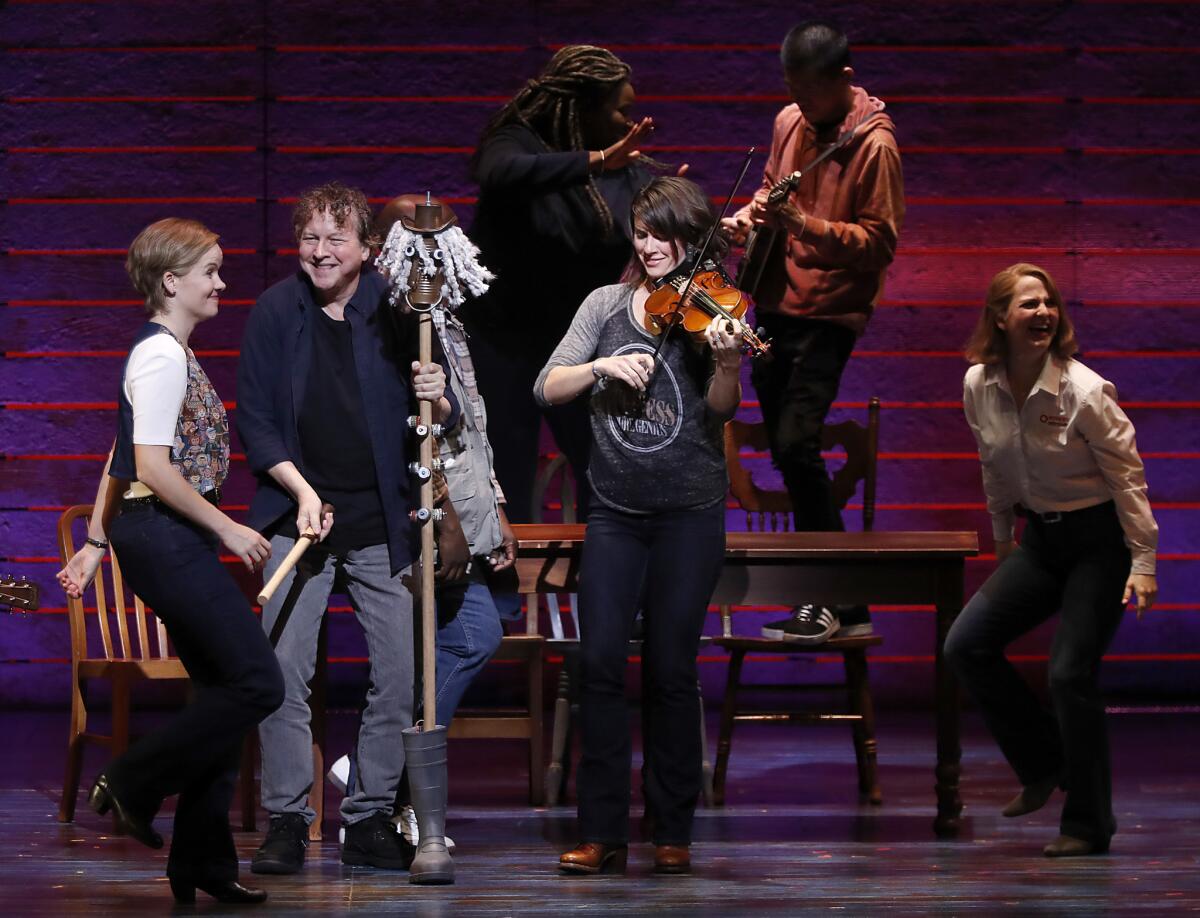 'Come From Away' offers a potent antidote to the cynicism and partisan rancor running amok today.
Christopher Ashley, La Jolla Playhouse's artistic director, deservedly won a Tony Award for his direction, which managed to be polished and precise without any glitz or unnecessary gleam. The touring production is clumsier. The topnotch level of "The Humans" and "Dear Evan Hansen," two recent Tony-winning offerings that passed through the Ahmanson this year, isn't matched by "Come From Away."
The staging is still the same arrangement of wooden desks and chairs in an impressionistic forest of trees (the vision of scenic designer Beowulf Boritt). Howell Binkley's lighting lends subtle emotional contour while allowing the onstage band, with its fiddle, whistles, flute and pipes, to generate its agreeable music from the shadows.
But the opening number, "Welcome to the Rock," which spryly sets up everyday life in forgotten Gander, is performed with all the outsize bustle one might expect from a solid community theater group. The multicast actors pitch in to flesh out the "plane people" and the townies alike, so it's broad strokes all around as we get acquainted with the characters, whose stories are recapped in a kind of Noah's Ark fashion.
There's a gay couple, a female pilot, a chef who's Muslim (and routinely subjected to special scrutiny), a British oil engineer who falls for a divorced Texas woman, a mother worried about her firefighter son, a jaded New Yorker who learns to trust and a flicker of others who don't speak a word of English and are therefore dismissed as soon as they're introduced.
Gander is represented by, among others, the down-home mayor, a TV news reporter starting out on the hardest day imaginable, an air-traffic controller and his wife who runs the animal shelter, and the compassionate, take-charge woman who heads the Gander Academy.
The harsh simplicity of the local life, with its bracing storms and seafaring lore, has endowed residents with the wisdom that no man is an island. For the Americans in particular who are unaccustomed to the selflessness of foreigners, Gander is a kind of Oz.
Differentiating this crew isn't the subtlest acting game in town. Stereotypical color is thickly daubed at times. And the comedy of Sankoff and Hein (authors of the show "My Mother's Lesbian Jewish Wiccan Wedding") can get a bit kitschy. (No, the cod fish kissing ritual at the pub that turns visitors into honorary Newfoundlanders isn't the worst of it.)
The performers who fare best find their characters not in the flat or twanging accents but in moral constitutions and in quieter truths. Julie Johnson, who plays Beulah, the woman who turns her academy into a shelter for hundreds of stranded passengers, and Danielle K. Thomas, who plays Hannah, a mother swamped with worry about the fate of her New York firefighter son, exemplify this best in their scenes together.
Beulah, whose son is also a firefighter, develops a strong emotional bond with Hannah. But this connection is never overplayed. Johnson and Thomas, whose singing is as richly individualized as their characterizations, don't need to sentimentalize the women they're playing. What passes between their characters is beyond words.
Becky Gulsvig might be insufficiently commanding as Beverley, the American Airlines captain, but the tale of this female pilot's path-breaking career is still rousing. Andrew Samonsky brings a welcome restraint (and fine voice) to his portrayal of Kevin T., whose relationship with Kevin J. (the strenuously flamboyant Nick Duckart) is severely tested by their shared ordeal. The love story between Chamblee Ferguson's Nick and Christine Toy Johnson's Diane may not be acted with much granularity, but the unexpected romance blossoms touchingly all the same.
"Come From Away" doesn't need a perfect production to work. The staging at the Ahmanson, good enough to get the job done, more than satisfies the hunger for uplifting goodness that has made this musical such a runaway hit.
'Come From Away'
Where: Ahmanson Theatre, 135 N. Grand Ave. L.A.
When: 8 p.m. Tuesdays-Fridays, 2 and 8 p.m. Saturdays, 1 and 6:30 p.m. Sundays; ends Jan. 6 (call for exceptions)
Tickets: $30-$155 (subject to change)
Running time: 1 hour and 40 minutes (no intermission)
Follow me @charlesmcnulty
Get our L.A. Goes Out newsletter, with the week's best events, to help you explore and experience our city.
You may occasionally receive promotional content from the Los Angeles Times.